Unique Meeting Venue Spotlight: Cypress Manor in Cary, N.C.
Thursday, April 11, 2019, 11am by Visit Raleigh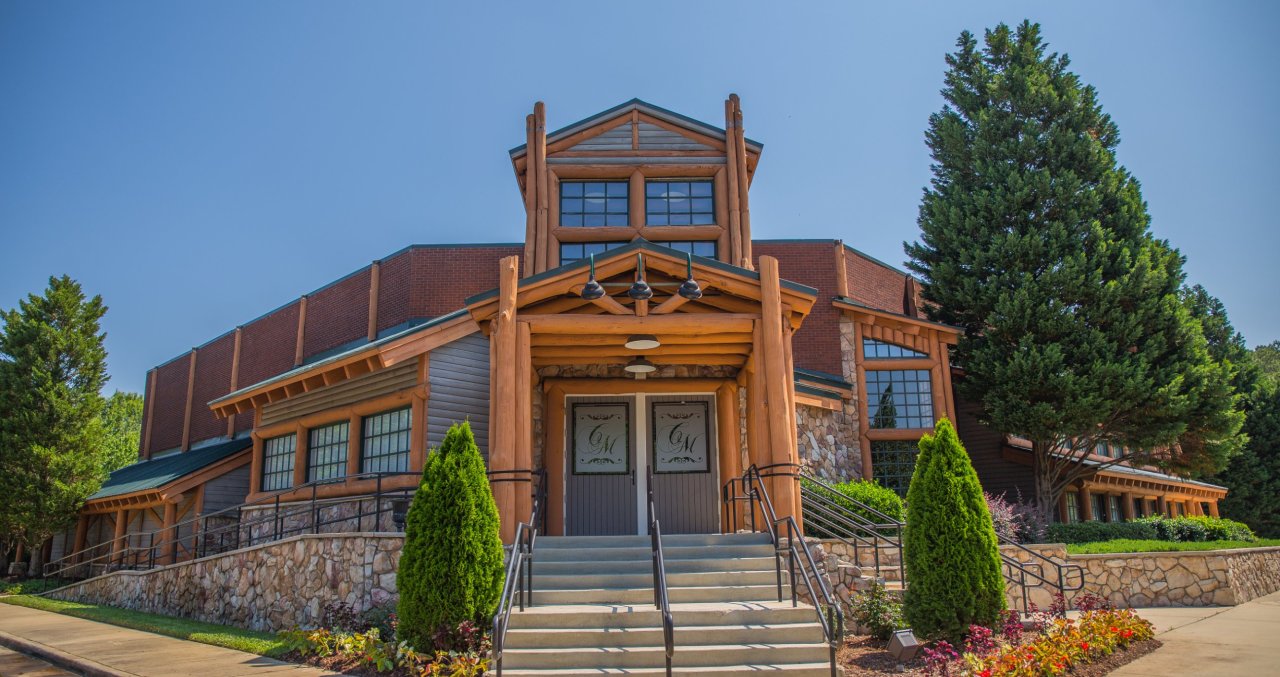 Tucked away in a private, but readily-accessible corner in the town of Cary is Cypress Manor, a uniquely-innovative event venue that straddles the line between rustic charm and sophisticated elegance. The venue is known to host an array of corporate, private and public events ranging from intimate gatherings to extravagant affairs.
While it has all the trappings of a log cabin in the woods, the location of Cypress Manor is actually conveniently close to many other Raleigh, N.C., attractions and accommodations—Crossroads Plaza, one of the area's biggest shopping havens, is just down the street (along with a handful of newly-built hotels). You'd never know it given the forest of trees encircling the property and the polished Cypress pillars and beautiful stone facades that shape the venue's distinctive exterior and grand entrance. This rustic look and feel continues inside with warm, wood paneling and stone mingling seamlessly with brass chandeliers, impressive white columns and decorative accents. Large windows also add plenty of natural light.
Encompassing both intimacy and luxury, Cypress Manor offers space and comfort for you and your guests. At more than 9,000 square feet, the venue accommodates up to 300 guests for sit-down dinners and can hold in excess of 500 guests for cocktail events and other standing affairs. The space is incredibly versatile, giving event planners more flexibility when bringing their unique ideas to life.
The Manor's floorplan consists of three levels, which are subtly divided by decorative terrace railings. The upper deck offers a nice spot for guests to mingle while overlooking a middle deck area featuring a minibar. Across from the mid deck is the banquet hall space, which has plenty of room for tables and chairs as well as a full bar, chandelier lighting and a semi-private nook with standing cocktail tables. On the main floor, the lowest level, you'll find a fireplace, a dance floor and a large stage perfect for presentations or live music setups.
Other venue amenities include a kitchen fully equipped with icemakers, cooktops, walk-in coolers and more. Planners can also take advantage of a private room right off the venue's entrance for a bridal suite, dressing room or storage space. With all of this and more, Cypress Manor offers a unique combination of rustic and city ambiance just perfect for your next event.
Have questions or want to know more about Cypress Manor or any other meeting spaces in Raleigh, N.C.? Contact our sales team today!
Header photo via Cypress Manor

Author: Visit Raleigh
Visit Raleigh is the official and accredited destination marketing organization (DMO) for all of Wake County.
Comments