15+ Upcoming Arts Events You Can't Miss in Raleigh, N.C., This Summer
Wednesday, July 31, 2019, 1pm by Tabletop Media Group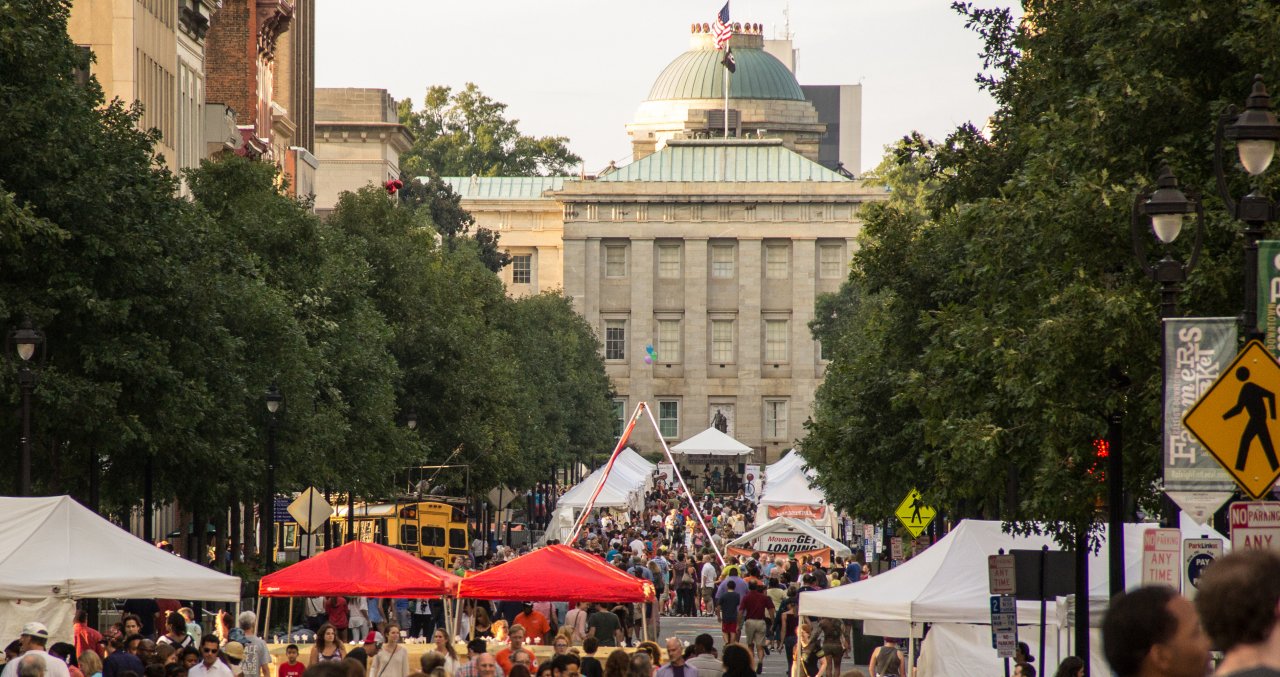 The Raleigh area is home to an incredibly-vibrant and diverse arts scene, with all kinds of events celebrating the great talent we're so lucky to have here. Spend the dog days of summer at a prominent festival, dip into a museum to witness a one-of-a-kind exhibition or catch a fabulous concert or theatrical performance. Take in the 15+ events below, and see the full list of arts events ahead here!
 
The Original Sewing & Quilt Expo
Aug. 1-3
If you've always wanted to learn how to sew, now's the time. The Sewing & Quilt Expo at the Raleigh Convention Center offers a variety of classes over its three days, not just for sewing but for mosaic making, beading, home decor and more. If you'd rather observe than create, check out fabulous quilts in the Expo Display Gallery, watch a runway fashion show, meet the trendsetters behind the expo or shop for popular sewing tools and supplies at the Exhibit Hall, which features retailers from all over the world.
Downtown Raleigh First Friday
Every first Fri. of the month
This downtown-wide occasion showcases the vibrant art and creative community of downtown Raleigh, with hot spots from art galleries to local shops staying open late to welcome thousands of art-seeking enthusiasts. A detailed map/guide is available at each location, with locations offering special First Friday activities and events! Look for the First Friday flag outside of businesses as you're walking through downtown, too—another way to see who's celebrating. Pro tip: Take advantage of participating restaurants' First Friday specials to experience art in all of its forms!
Downtown Raleigh Art Walk
Aug. 2
Join process artist Annelies Gentile on a walk through downtown Raleigh's Warehouse District arts community, where you'll learn about local artists, downtown history and how creativity can lead to a meaningful life. The tour is similar to a walking TEDtalk; Annelies, who's lived in Raleigh since 1985, will cover a variety of interesting topics, giving insight to what Raleigh was like in the past and how art has allowed people and communities to deepen connections overtime.
Triangle Youth Chamber Orchestra with International Ballet Company
Aug. 2
The dancers of the International Ballet Academy and musicians from the Philharmonic Association join together for a fantastic summer performance at the Cary Arts Center, complete with original works and classical repertoire.
Theatre Raleigh is a homegrown theatre company that boasts several well-known acts while maintaining an intimate experience for its guests. Check out these productions coming up this summer at the Duke Energy Center for the Performing Arts!
The Bridges of Madison County, Aug. 7-18
Based on Robert James Waller's best-selling novel, The Bridges of Madison County delivers a passionate romantic act about the various paths of life.
The Scottsboro Boys​, Sept. 4-15
Based in the South in 1931, The Scottsboro Boys portrays the racial hardships of nine young African American men.
Aug. 16-18
In celebration of adored North Carolina singer, songwriter, musician and civil rights activist Nina Simone, the North Carolina Museum of Art partnered with the National Trust for Historic Preservation, N.C. African American Heritage Commission, N.C. Arts Council and Come Hear North Carolina to host a series of events at the museum. Activities include a dance performance and documentary, music master classes, a conversation with her daughter Lisa Simone and a concert featuring her.
Raleigh Little Theatre presents A Gentleman's Guide to Love & Murder
Aug. 16-Sept. 1
Based on the novel by Roy Horniman, A Gentleman's Guide to Love & Murder features Monty Navarro, a charming man who uses both allure and murder to speed up the succession of his inheritance to the D'Ysquith family fortune. The lively show with Raleigh Little Theatre is filled with music, laughs and creative twists.
CAM is Raleigh's esteemed contemporary art museum, featuring bold, non-traditional works by living artists. You don't want to miss these current exhibitions and artists!
Justin LeBlanc: Probable Normal Hearing, through Aug. 18
This engrossing exhibition explores how being deaf can have an affect on others.
Miller Taylor, through Aug. 18
Miller Taylor's stunning photography documents spaces and objects he's witnessed.
Alan Stewart, through Aug. 18
A collection of paintings exploring color, texture and space.
Marsha Cottrell: Black and Light, through Sept. 8
Cottrell's alluring art plays with concepts of black, white and light. The exhibition will showcase a selection of her work from 1997 to the present.
Michael Klauke: In So Many Words, through Sept. 8
Klauke's intriguing artistic work adheres to the theme, "language as art." While most of the installation will be comprised of his paintings and drawings, some of his videos will also be on display.
43rd Annual Lazy Daze Arts & Crafts Festival
Aug. 24-25
For more than 40 years, the Lazy Daze Arts & Crafts Festival has put local artists and craftsmakers in the spotlight. Today, the Cary festival has grown to two days, features more than 300 artists from 16 states, has multiple stages of live music, a beer garden and plenty of food trucks to keep everyone happy.
African American Cultural Festival of Raleigh and Wake County
Aug. 31-Sept. 1
An annual celebration of African American culture expressed through art, music, food and community, this two-day downtown Raleigh festival showcases local, national and international artists, performers, food vendors and area business owners. Now in its ninth year, the free-admission festival draws nearly 40,000 attendees per year to what's now considered Raleigh's premiere destination for teaching, sharing and celebrating the distinctive folk and cultural traditions of African Americans here in North Carolina and from around the world.
Hopscotch Music Festival
Sept. 5-7
Three days, nearly 150 bands, 12 venues in downtown Raleigh, 50 totally-free day parties and 25,000 fans—it's no wonder why Hopscotch Music Festival is time and time again named one of America's can't-miss music events. The acts—and genres—are as wide ranging as the venues they play in (the 5,000-seat Red Hat Amphitheater and a tiny dive bar, Slim's Downtown, for example). Headliners for 2019 include Sleater-Kinney, James Blake, Jenny Lewis, Chvrches, Phantogram, Little Brother and more!
Carolina Ballet presents Rubies
Sept. 12-29
This incredible performance by the Carolina Ballet of George Balanchine's Rubies returns to the Duke Energy Center for the Performing Arts to kick off another season of impressive razzle dazzle. Rubies will be set to the music of Igor Stravinsky, and the program will also feature Robert Weiss' beloved Thais Meditation and his Classical Ballet set to the music of Prokofiev.
SPARKcon
Sept. 13-14
SPARKcon, the totally-weird, totally-awesome creativity festival that takes over downtown Raleigh each Sept., is truly a grassroots event. The "for the people, by the people" approach uses an open-source planning process that allows more than 2,000 artists to be involved each year. Dance, fashion, music, film, food—if you can name it, you can find an event for it at the festival that spans nearly 15 city blocks.
Raleigh Symphony Orchestra Fall Pops Concert
Sept. 15
Enjoy popular tunes from your favorite movies from the 80s to today at Raleigh Symphony Orchestra's casual pops concert in Raleigh Little Theatre's Cantey V. Sutton Theatre. With music from a variety of film titles, it's sure to be fun for everyone. Dancing in the aisles is encouraged!
Through Sept. 15
In conjunction with the North Carolina Museum of Art putting John James Audubon's The Birds of America on display (a nearly 200-year-old book containing more than 400 hand-colored, life-size illustrations of birds in the U.S.), The Audubon Experience is an immersive video room that surrounds visitors with scenes from forests and jungles, mimicking with Audubon would have experienced in his travels throughout the world.
Temporary public art displayed through the end of summer
Livening up seven storefronts in downtown Raleigh and giving local artists an opportunity to showcase their work, Downtown Raleigh Alliance spearheaded ARTivation, in which they selected seven artists to decorate storefronts with temporary paintings or vinyl images around town. Instagram photo opps galore!
Fantastic Fauna: Chimeric Creatures by Beauvais Lyons at the Gregg Museum of Art & Design
Through Jan. 26, 2020
The latest opening at North Carolina State University's Gregg Museum of Art & Design, this engrossing new exhibition showcases factitious historical and scientific parodies by Dr. Beauvais Lyons, director of the Hokes Archives and an art professor at the University of Tennessee. Lyons curated a unique collection of illustrations depicting rare zoological creatures like the Giraffe Boa, Monkey Centaur and Nordic Hare Falcon.
Header photo: Brian Magee Photography
Comments