30 Things to Do in Downtown Raleigh's Glenwood South District
Wednesday, September 04, 2019, 10am by visitRaleigh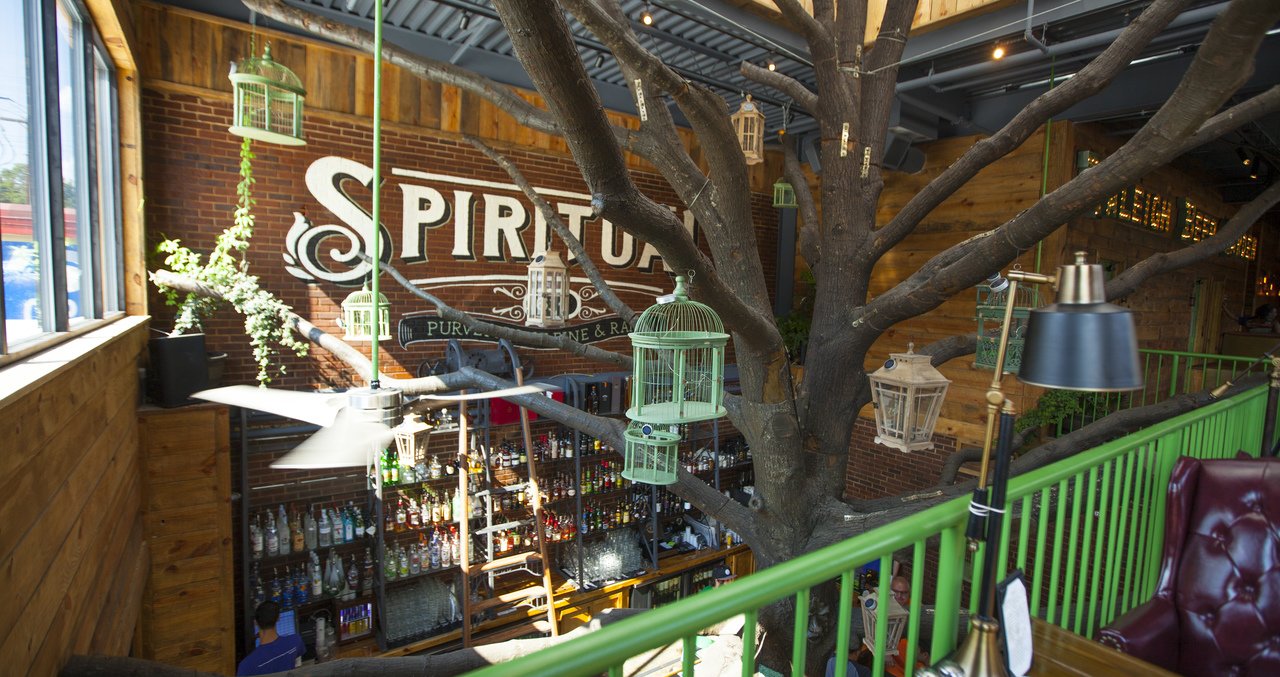 Stacked with restaurants, clubs and shops, downtown Raleigh's Glenwood South district dazzles and entertains visitors with its progressive energy and sophisticated cool. Here's a list of eating, drinking, dancing and shopping spots to help build your perfect itinerary.
 
Where to stuff your face
 
For (quite possibly) the best burger in Raleigh, N.C., swing by MoJoe's Burger Joint on the corner of Glenwood Ave. and Peace St. This quaint hole in the wall presses patties of premium beef by hand every day to create their list of signature burgers. Try the Classic Big Mo' (dressed however you like it) or really go for the gusto with the Hall of Fame Burger—a massive 1-pound burger. Finish the Hall of Fame and your photo goes up on the Joint's Instagram page.
If you're hankering to "put some South in your mouth," then a trip to Southern Charred is an absolute must! Walk in and inhale the undeniable aroma of smoked barbecue sure to get your mouth watering. Crack open the menu and choose from a list of decadent sandwiches, hearty platters and lighter snack options. You can also crack open a cold one or sip on delicious hand-crafted cocktails with an ample selection of libations available.
For more Southern goodness, check out Plates Neighborhood Kitchen and The Rockford.
Savor every flavor and moment that comes along with a dining experience at Vidrio. A colorful window into a Mediterranean kitchen, the restaurant's intriguing décor is just as exciting as the menu's artfully-crafted cocktails, bold wines and expertly prepared plates. Dishes highlight fresh fish, slow-roasted meat, village olive oil, seasonal fruits and vegetables.
Since its humble beginnings in 1931 as a grocery store offering oysters and draft beer, 42nd St. Oyster Bar has given its patrons what they want: the freshest seafood in Raleigh. This restaurant is vintage Raleigh tradition, so be sure to add it to your travel list.
You can also enjoy a meal at The Cortez—another Glenwood South location offering locally- and responsibly-sourced seafood.
Dive taste buds first into flavors straight from the streets of Mexico. Xoco Raleigh, with its vibrant atmosphere and eclectic dining room filled with Mexican art and handmade crafts, offers authentic and drool-worthy dishes like enchiladas, taquitos, tacos, chile relleno and more. There's a pretty spectacular tequila bar worth checking out as well. Local tip: Xoco's dishes are named after ghosts that haunt the establishment, so it's a spooky good time!
There no shortage of south-of-the-border eats in Glenwood South. Mix it up with visits to La Santa Modern Mexican Food and the Armadillo Grill.
Awesome food, great music and warm hospitality all come together in one place: Sushi Blues Café. Sit back, relax and enjoy the best sushi and Japanese fare in a casual, bluesy atmosphere. It's an ideal spot to meet up and hang out with local friends and family.
Far out, far East flavor can also be enjoyed at Anise Pho, Sushi O Bistro & Sushi Bar and Thaiphoon Bistro.
Locally-owned and -operated, DeMo's prides itself on crafting high-quality pizza and cheesesteaks made with the highest-quality ingredients. DeMo's deli line looks like your standard N.Y. style deli where you can chow down on homemade tuna, chicken and egg salad made daily. And let's not forget the deli sandwiches—masterpieces of sliced meats are piled high on fresh bread delivered daily.
Get an additional bite of Big Apple cuisine over at New York Bagel Café & Deli right across the street.
When you're looking to get a little fancy with your evening meal, Glenwood South has a pretty swanky steakhouse. Billed as a Chicago-style steakhouse, Sullivan's serves up the finest, hand-cut steaks, fresh seafood and choice cocktails. While the food is excellent, the décor and ambiance are even better—dark, polished wood galore, crisp white linens, a wine wall displaying an impressive inventory of vino and swinging live music played regularly. Reserve your table and turn your night up an octave or two.
Enjoy the old-world flavor and new vibrancy of Ireland without ever leaving the comfort of Raleigh. Hibernian—owned by passionate mind Niall Hanley—puts the relaxing nature of an Irish social club and the warmth of a Gaelic Kitchen on full display for your utter pleasure. From sports fans dropping in to watch a game, to families having a meal together, to business professionals stopping by for lunch, you'll find all walks of life enjoying themselves here. The second-floor patio is a prime eating and drinking spot year-round.
As a sweet beginning (or ending) to a fun day exploring Glenwood South, The Cupcake Shoppe Bakery delights visitors with a verifiable smorgasbord of made-from-scratch confections. From breakfast pastries to brownies, cookies to cupcakes, this cute little shop, resembling a quaint French patisserie, comes complete with patio sitting perfect for people watching.
Where to shop yourself silly
 
Fancy yourself a fashionista always on the hunt for serious vintage threads? Then be sure to put Raleigh Vintage on your shopping list. This small boutique carries a collection curated for quality, style and relevancy to modern fashion trends. You'll even find a small selection of beauty products to shop offered by the store's apothecary.
A little gem for new and used vinyl, The Record Krate offers an enviable and well-organized selection of rock, jazz, punk, funk, classic country, new wave, '90s and more in the Glenwood South district. You can also find cassettes, old-school video games, movies, CDs, speakers and turntables along with one-of-a-kind vintage tees and stickers. Before heading over, bone up on their recent arrivals by checking their Facebook page.
The Glenwood South district is also home to Sound Off Records & Hi-Fi. Not only can vinyl enthusiasts sell and buy used records here, but also a wide range of vintage audio equipment. The shop even offers vinyl cleaning and repair services. Local tip: Sound Off resides in the basement of the Carter Building, but there's a side entrance through the red door at the end of the driveway.
This bright spot is a fun blend of vintage and antique. Union Camp Collective functions as an event space, workshop, gallery and window into the imagination of owner Charlotte Smith.
DRINK, which is less of a store and more of a home, provides lovers of great wine a different spin on your traditional wine shop. Here, the focus is on family and the interesting stories behind their selection of small production wines. Settle into The Living Room to enjoy a much more intimate retail experience through special events, educational talks and more.
For more beverage shopping in the area, check out The Wine Feed, the Raleigh Wine Shop and North Street Beer Station.
For affordable finds, look no further than Revolver Consignment Boutique, where high-quality apparel from vintage to designer begs to be modeled. Local tip: You can also consign your clothes for cash, or even better, a discount on other items in the store.
Where to craft beer (or cocktail) and chill
 
With more than 350 beers on tap, Raleigh Beer Garden—another spot from Niall Hanley—has one of the largest beer selections in the world. Not a bad place to start when you're looking to enjoy a tasty brew or two. Pair that massive beverage selection with ample outdoor seating, a rooftop garden and full food menu, and you've got yourself one heck of a good time.
If you prefer to keep things local, hustle over to Little City Brewing Co.—a craft brewery with local roots taking pride in the quality of their craft. Savor popular and unique styles while relaxing inside their bright and airy bar/tasting room.
Speaking of local craft beers, Clouds Brewing offers some of the finest pours from around the state and country. Clouds also serves its own craft beers which mesh well with a German-inspired menu of bar bites and appetizers. Swing by to take a pull from the self-pour beer wall featuring 10 rotating taps.
If you highly enjoy the pour-it-yourself experience, you'll also want to visit Tapworks—just one block over—which features a 50-tap wall with beer, cider and various wines.
Tobacco Road has it all: a restaurant serving up scratch-made food, a private event space, a game room, a patio and Tobacco Road beers brewed on-site. The industrial feel of the place with its steel girders, exposed brick and hardwood floors makes it an ideal hangout spot to relax with traveling buddies, meet local friends or both.
At the southernmost tip of Glenwood South, you'll find the ever-popular Dram & Draught, a neighborhood bar that prides itself on its relaxing atmosphere. Craft beer fans, whiskey fanatics and cocktail enthusiasts alike all flock to this space to enjoy the comfy seats, the approachable serving bar and the friendly service.
Where to party hardy
 
When night falls, Glenwood South comes alive with a variety of nightlife options open to the wee hours of the morning. Places like C. Grace and its sister bar, Empress Room, elevate a fun evening out with old-school craft cocktails, comfy lounge spaces and live music (mostly jazz) that gets your toes to tapping. Best part: The bars are in the same building making it easier to enjoy both setting in one night.
Raleigh's newest live music venue (expected to open in early Sept.), Tin Roof Raleigh is expected to feature live music every night with a mix of local, regional and national acts across all genres.  Weeknights will showcase original songwriter nights, acoustic sets during dinner along with lots of other fun, music focused special events. Weekend nights are when the Roof really rocks with live bands on stage playing your favorite songs while a DJ spins tunes on the second floor rooftop patio to keep the dance floor rockin' until last call!  
Visiting Clockwork is like stepping back in time when the music was groovy, the drinks were far out and the atmosphere was out of sight. Modeled after a liquor den straight out of the 1960s and 70s, this neighborhood watering hole is truly a psychedelic trip for your mind, body and soul. Bonus: The small plates, tacos and pizza are more than enough to keep hungry groups satisfied.
At Havana Deluxe, you can experience what can only be affectionally called a comfy cave with low lights, deep leather chairs and inviting sofas. The bar is the truest definition of the word "chill" with an impressive liquor cabinet of scotch, whiskey and bourbon as well as beers (both bottled and on draft). It's also a cigar bar, so be prepared to enjoy the aroma of cigar smoke wafting in the air.
Cornerstone Tavern—one of the most popular bars in Raleigh (especially among the 20-something crowd)—gives visitors the space to enjoy themselves both indoors and out. With room to break out your dance moves inside and a spacious patio outside, the naturally-relaxed vibe and unique style of the place clearly shines through. Local tip: Cornerstone's patio stays open year-round. Cozy up to a fire pit on chillier nights to let the good times roll on.
Quite an unusual name for a pretty awesome bar serving cocktails, offering games like Skeeball and pool and featuring music from DJs and live bands, Milk Bar gets its name from the building it's housed in: the historic Pine State Creamery Building. So, while you probably won't find any milk or ice cream there, you may discover a nightlife experience worth telling stories about later.
Crank up the energy with a visit to Alchemy's dance floor—one of the most dependable places where you can boogie down to Raleigh's hottest DJs. From its lavish patio to its interior bathed in neon light, this nightclub keeps the party rocking way into the early morning.
For stunning views of Glenwood South, be sure to make your way over to Solas. This multilevel entertainment complex offers a private venue space, a lounge with a glass bottom dance floor as well as a rooftop patio complete with cabana-like seating. Dance the night away and sip your favorite cocktails in an upscale yet casual setting under the stars.
Last, but certainly not least, there's Parliament, the laid-back, but always classy go-to spot to wind down from a hectic day and kick off an adventurous night. Enjoy perusing a menu of creative twists on classic cocktails, vodka spiked fruit nectars and house-made syrups paired with carefully-selected liqueurs. With drink in hand, ease into a relaxing vibe complete with music from a resident DJ.
Comments