Artist Caitlin Cary's New Exhibit Features 'Raleigh's Humble Landmarks'
Monday, September 11, 2023, 10am by David Menconi
Note: Authored by David Menconi, this piece has been produced in partnership with Raleigh Arts. Menconi's next book, "Oh, Didn't They Ramble: Rounder Records and the Transformation of American Roots Music," will be published in the fall of 2023 by University of North Carolina Press. His podcast, Carolina Calling, explores the history of the Tar Heel State through music.
---

In many ways, Caitlin Cary is as much documentarian as visual artist, creating portraits of countless major people, places and things over the past decade. Local buildings, both iconic and obscure, have always been subjects for her, and they serve as the focus of Cary's new show, Raleigh's Humble Landmarks.
The exhibition will include about a dozen of Cary's original 24-inch-by-30-inch works showing key local places, on display and for sale at Rebus Works, an art gallery, market, coffee and tea shop in downtown Raleigh's Boylan Heights neighborhood. There's an opening reception at Rebus the evening of Sept. 22, 2023, and the show will run until Oct. 21.
Cary made all the pieces in this set during 2023, using her unique "needleprint" technique with fabric and stitches on stiffened canvas. The lineup of landmarks featured includes some of the most notable buildings in town. There's the Holiday Inn Raleigh Downtown on Hillsborough St., built in 1969 but soon to be razed and eventually replaced by a new Kimpton hotel in its place; the old Piggly Wiggly grocery store on Fairview Dr. that became the Five Points restaurant NoFo @ the Pig; and buildings out at the North Carolina State Fairgrounds in West Raleigh.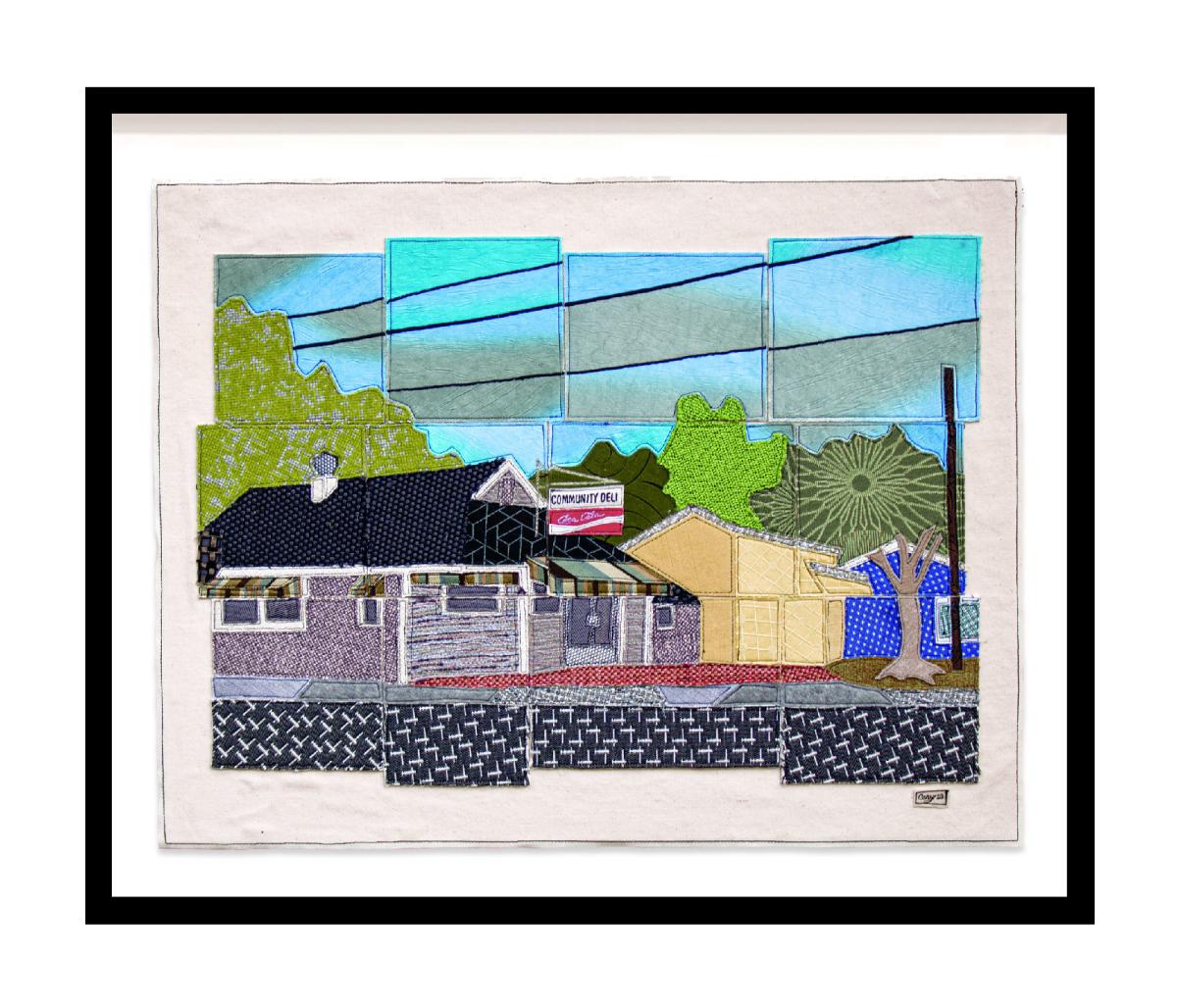 "It's funny because I really don't want to have 'The Lady Who Makes Landmarks' on my tombstone, or tattooed on my body," Cary says with a laugh. "But there was something about when people started talking about the Holiday Inn being torn down, that really hit me. And the Oberlin (Community) Deli closed around the same time. That wound up being the first one I made of this series."
Cary has been a major artistic presence in Raleigh since the 1990s, going back to her days at North Carolina State University. She was fiddler/singer in the acclaimed alternative-country band Whiskeytown, going on to play in Tres Chicas and Small Ponds. She was also one of the activist musicians who helped organize the politically themed group the North Carolina Music Love Army a decade ago.
One of the places memorialized in Raleigh's Humble Landmarks, the long-gone Hillsborough St. sandwich/beer joint Sadlack's (pictured in the header), played a major part in Cary's own history. Whiskeytown formed there in 1994, made up of a group of Sadlack's employees. The only surprising thing about Cary doing a needleprint rendition of Sadlack's is that it took her this long.
"Believe it or not, this is the first Sadlack's piece I've done," she says. "I just never found the right, suitable photo to use, one that jibed with my memory and feelings about the place until now. That really was my place for a minute, back in the years when years seemed long. The center of my universe."
While Cary isn't really an active musician at this point, she has made an enduring mark as a visual artist. She usually works with discarded materials, repurposing fabric or carpet samples. Where houses and buildings were the subjects of some of her earliest work, she has moved into portraiture in recent years, including brilliant renditions of Tar Heel State musical luminaries Doc Watson and Elizabeth Cotten. She's one of the most recognizable, collectible visual artists in town.
Cary also co-owns and operates the Pocket Gallery at 222 N. Bloodworth St. in downtown Raleigh's Historic Oakwood neighborhood with her husband, graphic artist/drummer Skillet Gilmore. In addition to Cary and Gilmore's own work, Pocket showcases a revolving cast of other local artists.
Another aspect that Raleigh's Humble Landmarks captures is the changing face of a fast-growing city as it remakes itself. The show features some buildings that are still here and some that are already gone, but also places on the move.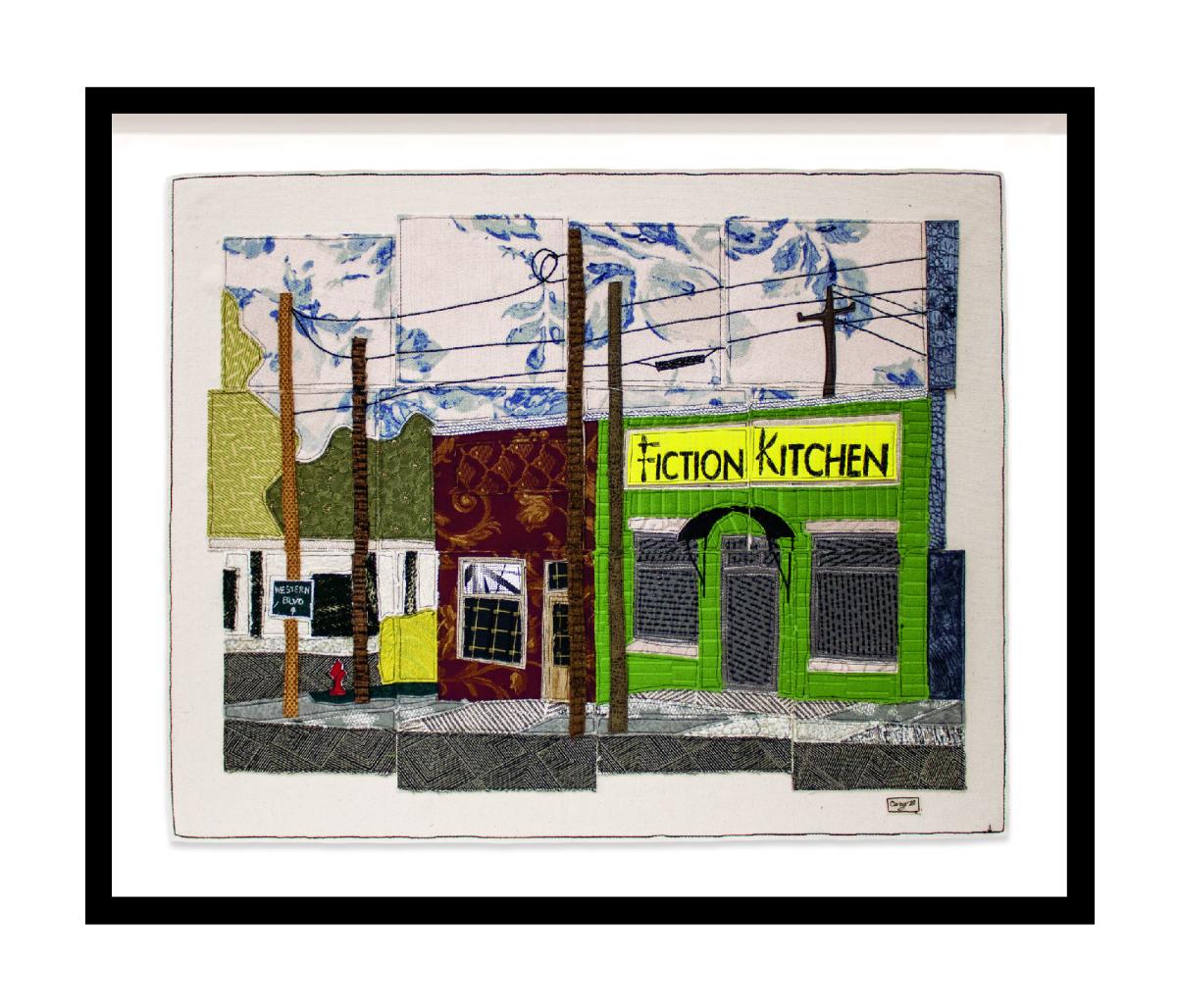 One piece shows 217 W. Martin St. just south of Nash Square Park, the brick building currently housing the downtown eatery the Berkeley Café, which is scheduled to be torn down for new construction next year. That's when the Berkeley will relocate a few blocks southwest to 428 S. Dawson St., a space currently occupied by The Fiction Kitchen—also in the show, and a restaurant that is moving across town to Gateway Plaza at the corner of Capital and Crabtree Blvds.
"I can't tell whether or not I hear about buildings coming and going because people know what I do, but I feel like it's on everyone's lips everywhere I go," Cary says. "The changes and nostalgia for what was. Even people who haven't lived here long are always remarking on it. Is it just a Raleigh thing, or a national or even worldwide phenomenon? I don't know. It's funny, being nostalgic about this."
Caitlin Cary's Raleigh's Humble Landmarks will be on display from Sept. 22 to Oct. 21 at Rebus Works, 301-2 Kinsey St. in Raleigh. There is an opening reception from 6-8pm on Fri., Sept. 22. Admission is free.
Images courtesy of Caitlin Cary
Comments