Caitlin Cary and Skillet Gilmore's Pocket Gallery in Raleigh, N.C.
Thursday, March 11, 2021, 4pm by David Menconi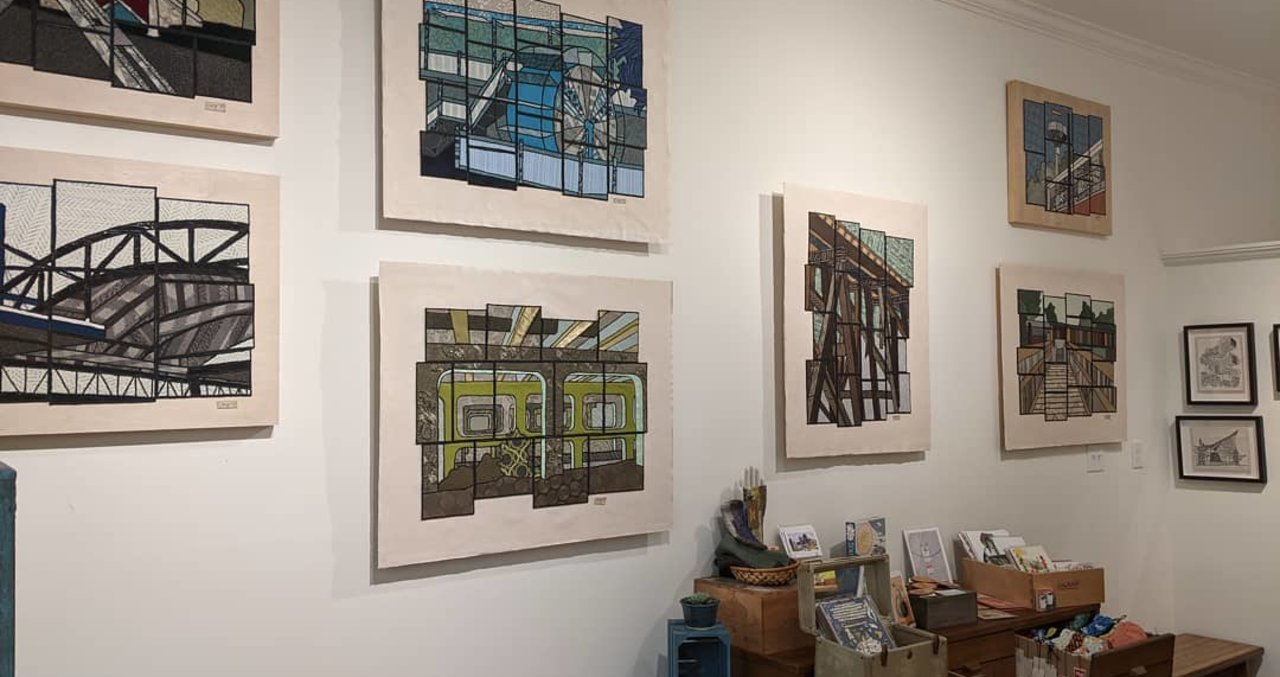 Note: Authored by David Menconi, this piece has been produced in partnership with Raleigh Arts. Menconi's latest book, "Step It Up and Go: The Story of North Carolina Popular Music, from Blind Boy Fuller and Doc Watson to Nina Simone and Superchunk," was published in Oct. by University of North Carolina Press.
---

Caitlin Cary and Skillet Gilmore have been a focal point of the local music and arts communities in Raleigh, N.C., going back to the 1990s, when live shows with their band Whiskeytown were can't-miss events that drew faithful crowds of peers as well as fans. That has persisted over the years with their other bands (Tres Chicas and Patty Hurst Shifter among them) and activist collective NC Music Love Army, and it's taking an intriguing new form in their contemporary incarnations as visual artists.
The couple has just opened Pocket Gallery, a display and work space in a building at the corner of N. Bloodworth and E. Lane Sts. on the edge of downtown Raleigh's Historic Oakwood neighborhood. It's a showplace for not just their own wares—her needleprint portraits and his Crawlspace Press screenprints—but also their fellow local artisans. At any given time, the Pocket Gallery art on display feels like the collected artworks of people who might have all been in the audience at a Tres Chicas show at the old Brewery nightclub.
"It's cool to have this guest-star area," Cary says. "Skillet and I brainstormed on who to show and of course came up with a wish-list way longer than our three-year lease. We're already booked through the end of this year and into 2022. Everyone has said yes so far, which is an honor. It's gratifying that real artists have faith in what we're doing. And it's gratifying to offer this opportunity to people whose work I admire."
Nestled between Louis Cherry Architecture on one side and B Side Hair Studio on the other (with Side Street Restaurant, Gringo A Go Go and SmokeStacks Cafe providing good eats nearby), Pocket Gallery is a small space. But it has a lot of wallspace, the better to display numerous items. More than a dozen artists' works are currently on display, including ceramics by local-music superfan Molly Flynn; Kat Lamp, show-poster artist of choices for the likes of Avett Brothers and Mandolin Orange; photographer/guitarist Holden Richards; Davis Choun, whose visual art uses the very imaginative medium of painted clothespins; and jewelry by Claire Ashby, "since that seems to be the only jewelry I ever wear," Cary says.
Cary and Gilmore had Pocket open last month in time to assemble and sell Valentine's Day gift packages with art and foodstuffs from their circle—prints, Dani Nation's pimento cheese, jams and hot sauce by Lutie Cain and floral adornments by Vanessa Smith (North Carolina Museum of Art's 2019 Art in Bloom People's Choice winner). They plan to do similar packages for Mother's Day, and eventually hold First Friday receptions and nearby pop-up markets if the pandemic ever subsides.
Most days, you'll find Cary working away at her sewing machine toward the back making another needleprint out of fabric samples or wallpaper, between entertaining walk-in visitors. Previously she had a studio in Artspace (a large gallery and studio for artists in Raleigh's City Market), and she also worked for a time out of the home she shares with Gilmore.
"Working at home turned out to be unsatisfying," she says. "I was not knowing who I was making the work for. We've long had a fantasy of a place like this. It's small, a size that feels manageable. And working this way suits me. Even when people come in at an inconvenient moment, I get something out of stopping work and discussing what I'm doing. It helps me. I think I'll like it here."
Pocket Gallery at 222 N. Bloodworth St. is open noon to 6pm, Wed.-Sun., or by appointment. Follow on Instagram at @pocketgallery_raleigh.
Header photo by David Menconi
Comments