A Walking Tour of Historic Oakwood in Raleigh, N.C.
Thursday, October 15, 2020, 5pm by visitRaleigh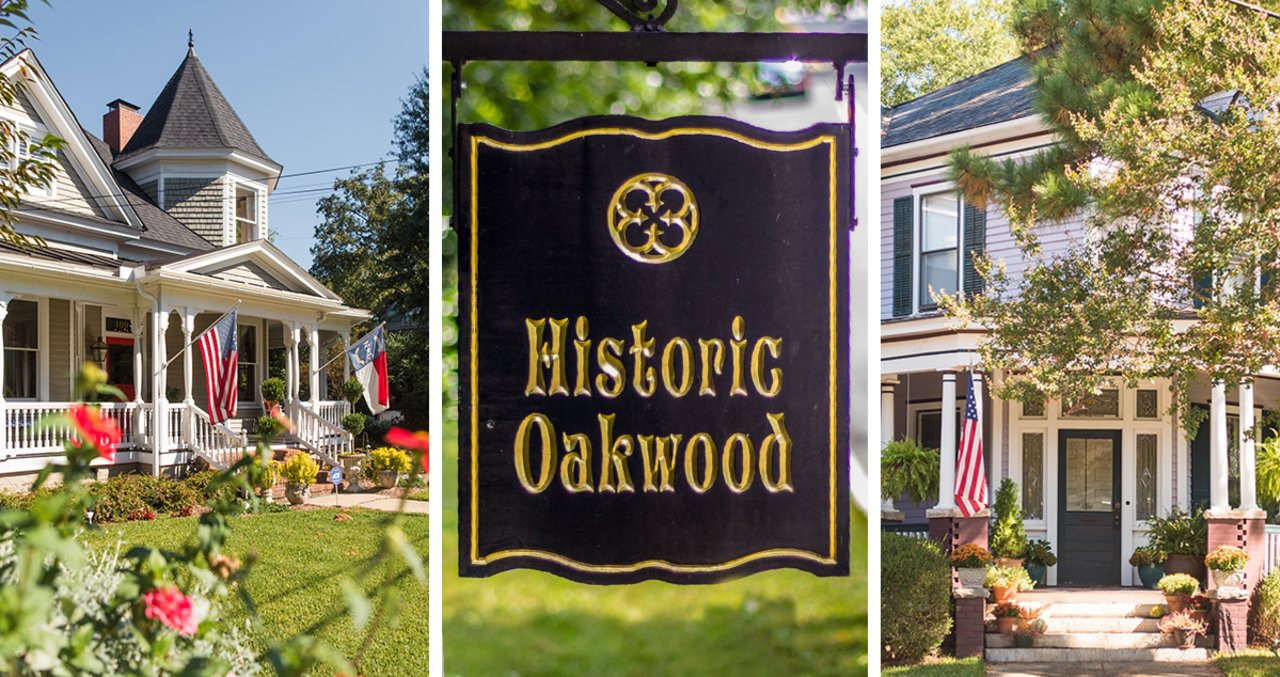 One of Raleigh, N.C.'s longest-standing and unique neighborhoods, Historic Oakwood—on the edge of downtown Raleigh—is a 19th-century gem, full of tree-lined streets, incredible architecture and homes with tons of character. A visit for a walking or driving tour—especially in the fall—is on our annual must-do list. 
---

If you're stir-crazy on a Sunday afternoon and looking for something that is steeped with history, perfectly safe for you and your family as well as artful, here's a great suggestion—spend a few hours in downtown Raleigh's Historic Oakwood neighborhood.
Start with lunch at one of the nearby restaurants that are open and offer outdoor seating or takeout. Try Side Street Restaurant (for some of the best sandwiches in town), Gringo A Go Go (for tacos and chilaquiles on a favorite local patio) or Transfer Co. Food Hall (for an abundance of choices that includes everything from burgers to bulgogi).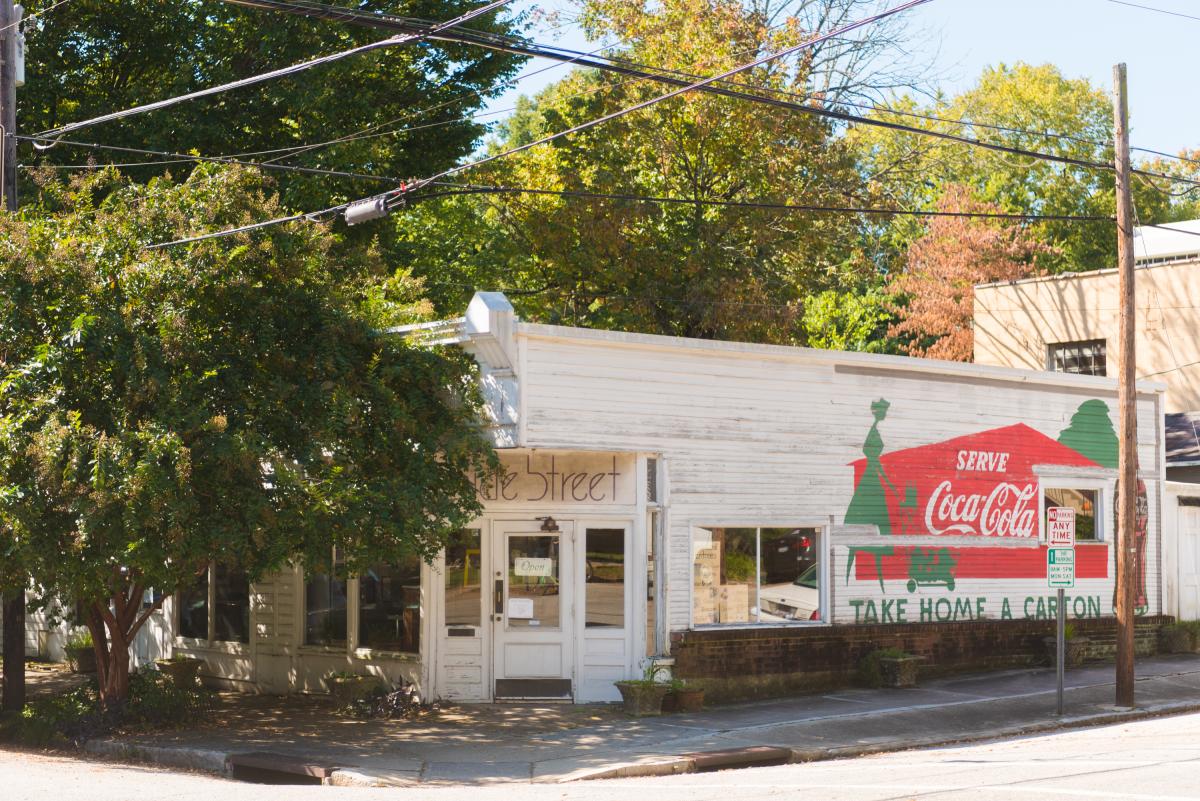 You can tour Historic Oakwood by car, or download a free walking brochure here, provided by the Society for the Preservation of Historic Oakwood (Raleigh's bikeshare program, offering short-term electric bike rentals, also has a docking station within the neighborhood). Please be respectful of the folks who live here, but don't be too shy—they love showing off their neighborhood.
In fact, each Dec. for nearly 50 years now, the neighborhood has hosted the Oakwood Candlelight Tour, a ticketed affair inviting guests and visitors into a dozen private homes—dressed for the holidays—with docents to tell you about the rich history that occurred here. Due to COVID-19, this event will look different in 2020, but plans are in the works for a free, walkable outdoor tour of decorated homes. 
---

Raleigh, N.C.'s welcome mat is always out for you.
See more safe dining and things to do, plus local travel safety info, here.
---
Before you go, here's a little history about Oakwood.
Before the Civil War, the Oakwood neighborhood was nothing but trees and fields and was actually a campground for General William Tecumseh Sherman and his troops in April 1865. After the war, the area was divided into parcels and sold to some of Raleigh's more prominent citizens—those whose names you can find today on street signs, building facades and parks in Raleigh (Col. J. M. Heck, Richard Stanhope Pullen, W. C. and A. B. Stronach and Thomas H. Briggs, to name some).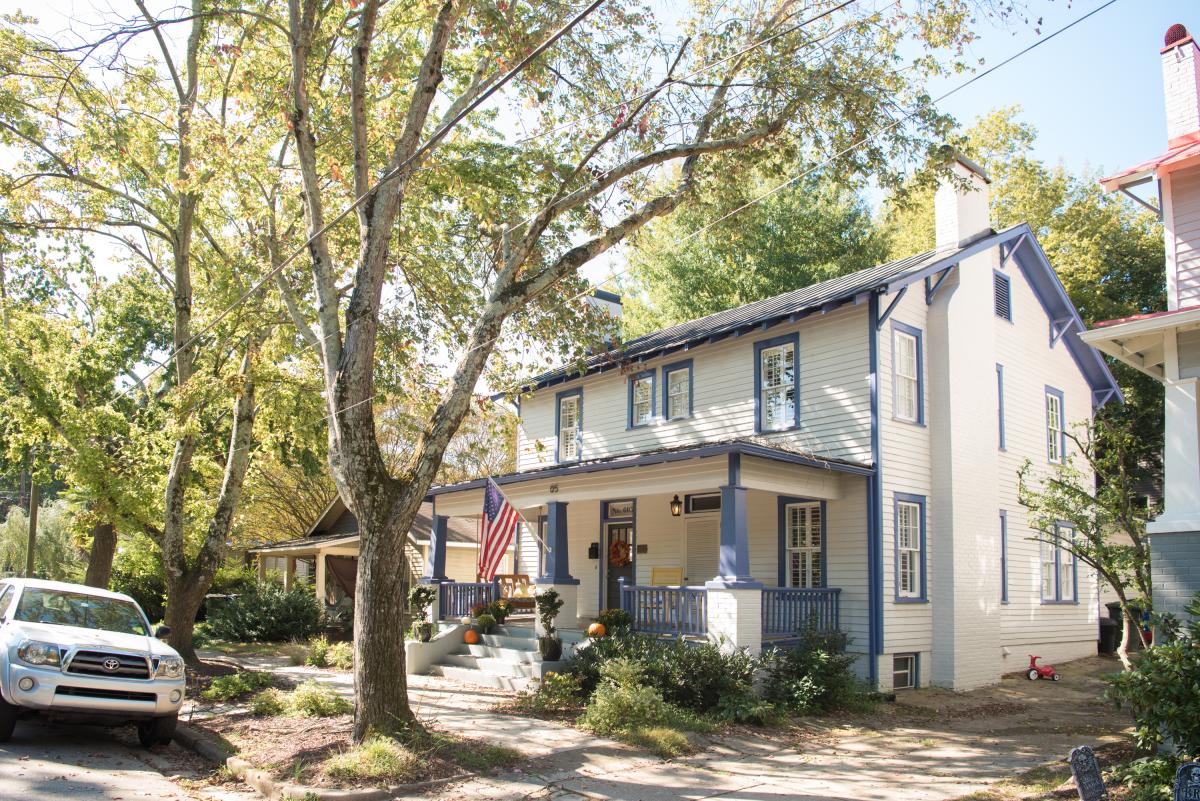 The architecture of many of the homes in the neighborhood is indicative of the tastes of the middle class business and political leaders in Raleigh during the period after the war. Some homes were built in the Italianate style with arched windows and cornices. Others are French-inspired, but most were designed in the North Carolina Victorian style—known for wraparound porches and sawn work details.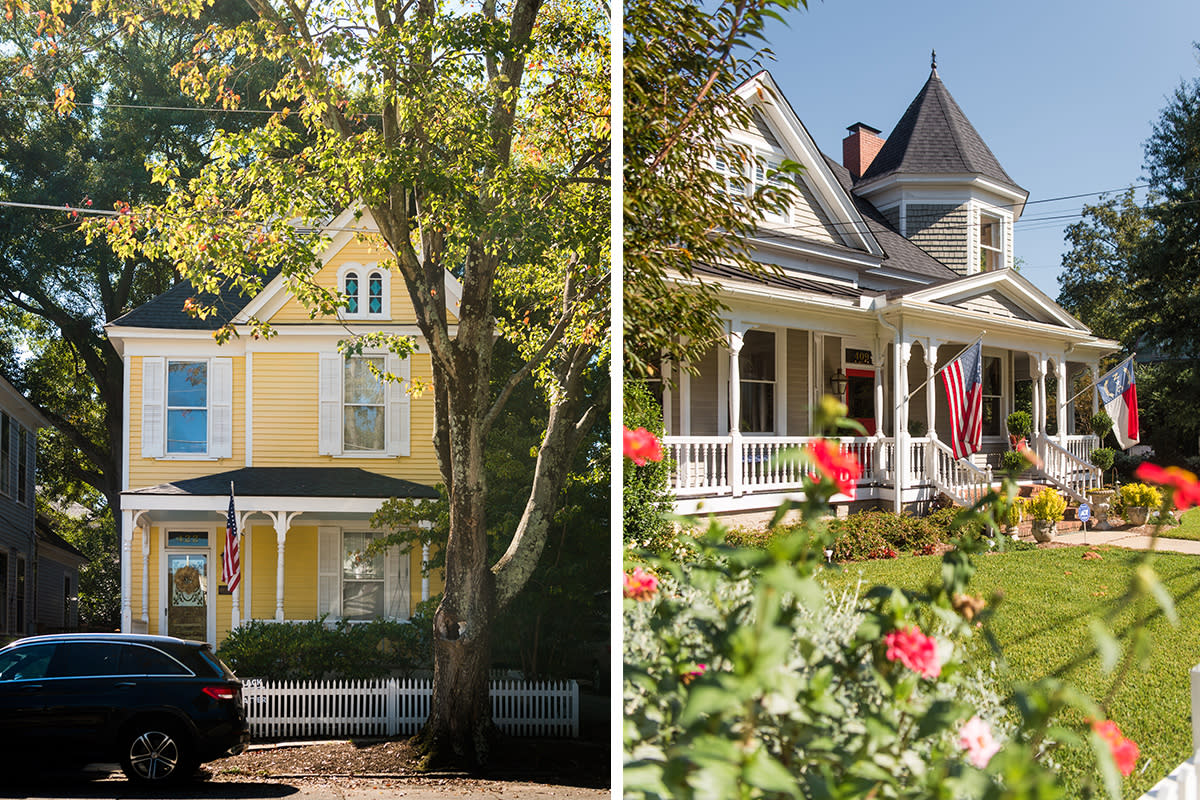 By 1880, gaslights and water pumps had made way into the area and homes built during this time were largely Queen Anne style. The residents were a mixture of state officials, merchants, craftsmen and teachers. Both whites and African Americans called the neighborhood home.
Oakwood peaked in the early 20th century with the addition of streetcars and electric streets and the construction of several neoclassical homes, easily identified by their classical columns, lead windows and pastel colors.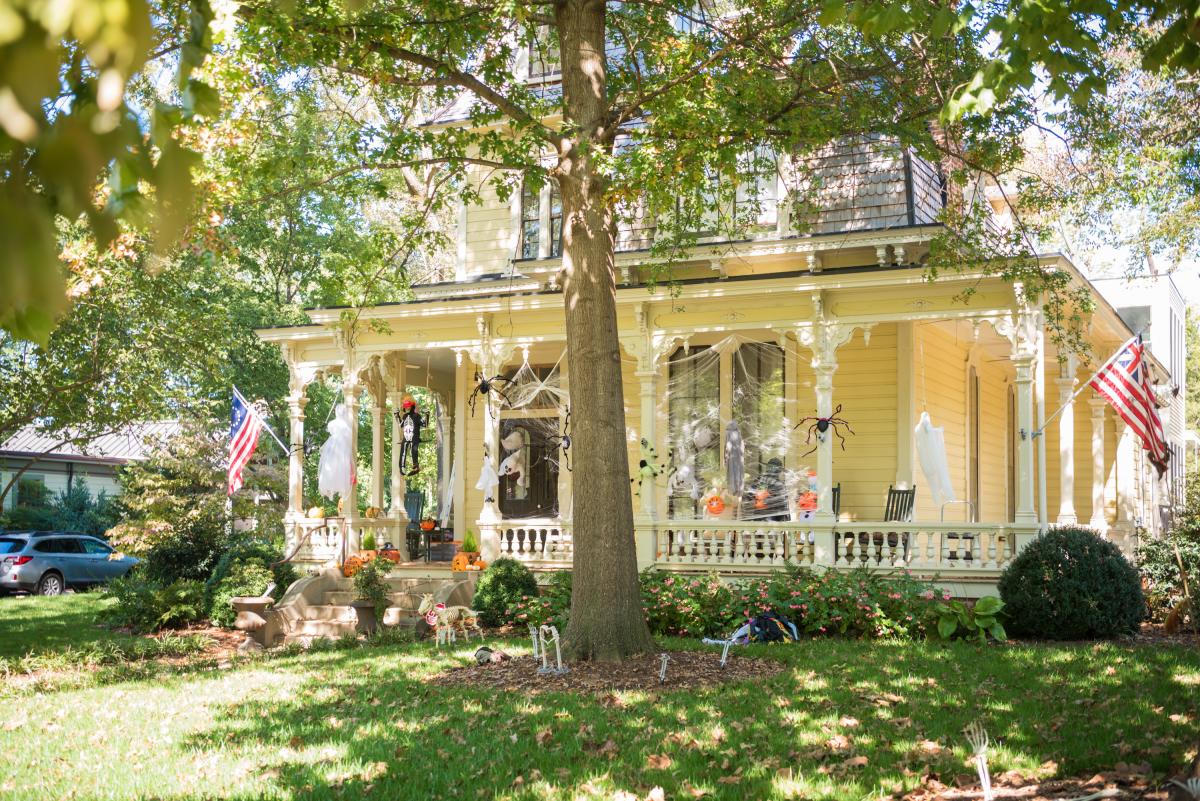 The popularity of the area ebbed over the years and in 1970, the neighborhood was targeted for demolition with city leaders planning to build a thoroughfare through the neighborhood. But passionate advocates saved the neighborhood for demolition, and Oakwood was ultimately listed on the National Register of Historic Places in 1974.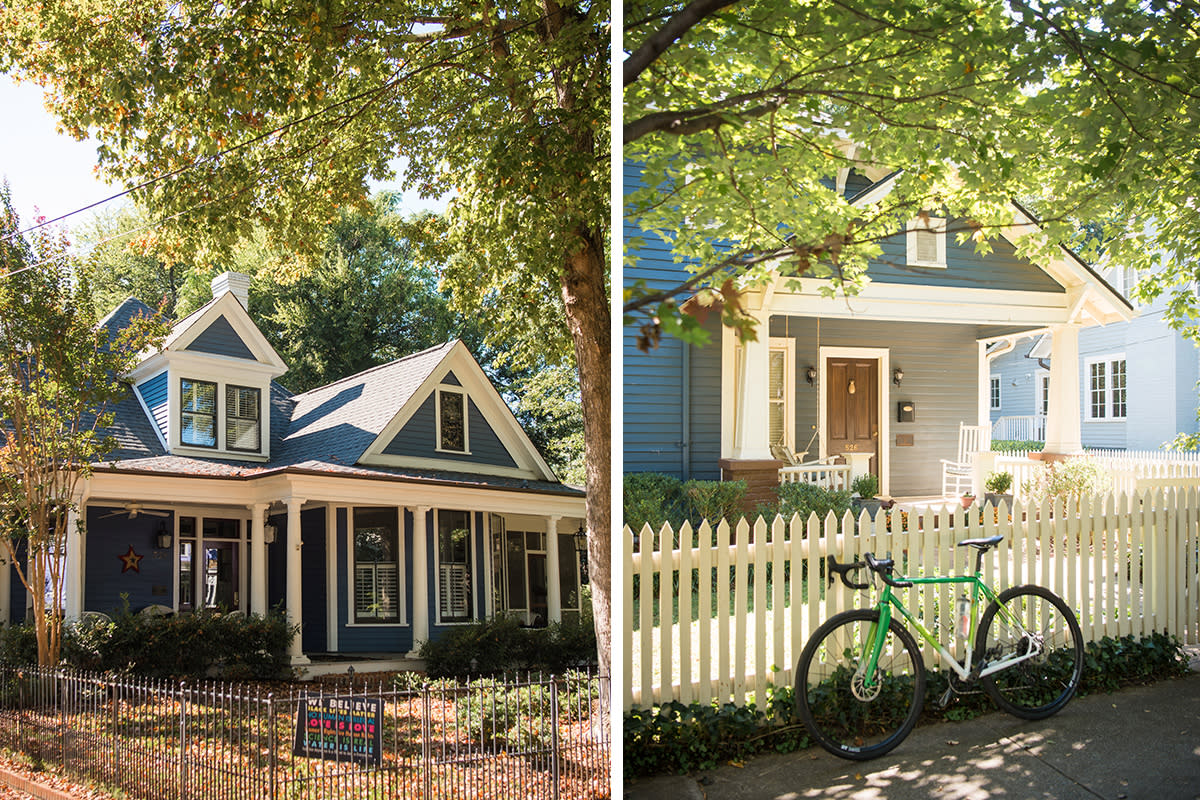 When you're touring these homes, take note of the architectural style, fine details and color palettes. The walking tour brochure notes that the homes were "modified for a Southern climate. Better than 90% of the houses have at least one porch. The roofs have a deep pitch in order to form large attics for added insulation. Latticework appears on rear service porches and under the houses to maintain circulation of air on warm summer days."
"Some of the homes still retain the blue porch ceilings to resemble the sky and, according to Southern folklore, to scare flies away. The transoms and sidelights seen often on the homes, were methods of lighting the hallways before electricity. Decorative and unusual vents in the attics were also a reflection of the individual tastes of Victorian homeowners."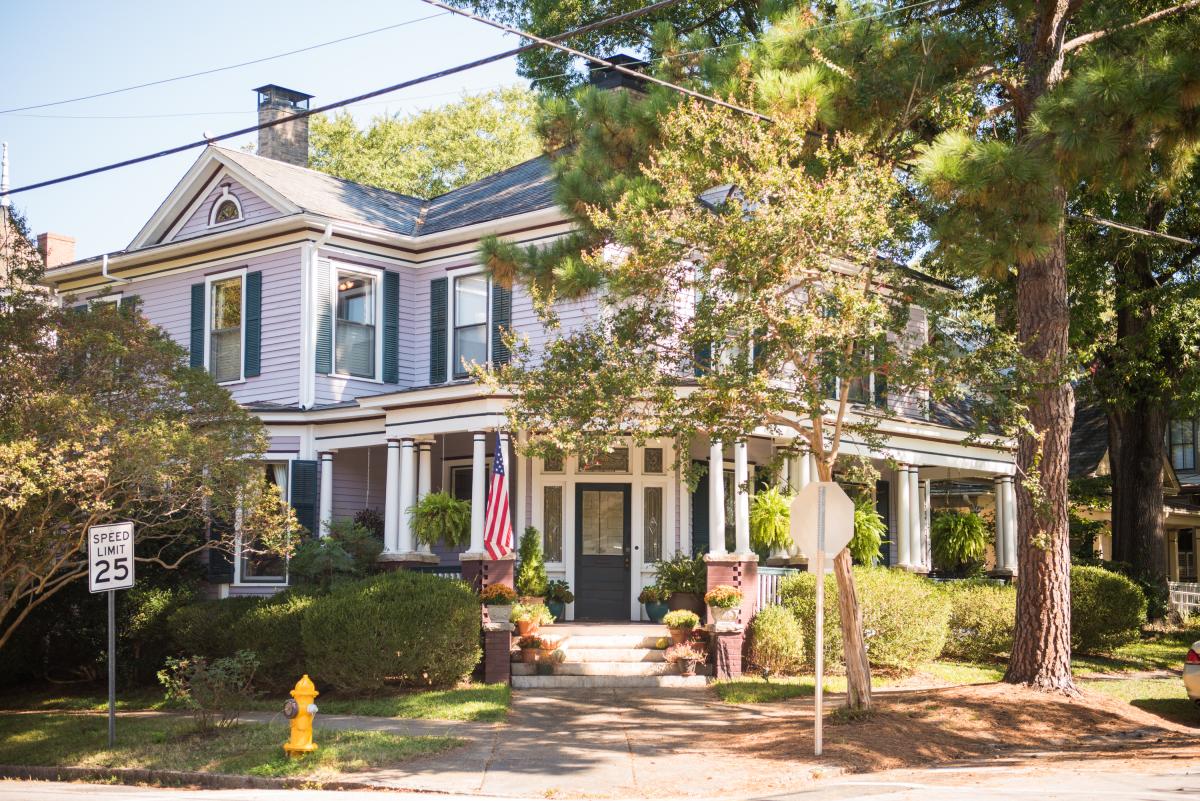 The brochure outlines over 125 properties, but we'll highlight just a few here to pique your interest. 
Theophilus H. Snow House c.1840
6 N. Bloodworth St.
The oldest house in Oakwood, this home was built for Theophilus Snow, who made some of the original furniture for the North Carolina State Capitol. The house originally faced New Bern Ave. and was turned to face Bloodworth St. in 1915. The porch was replaced at the same time.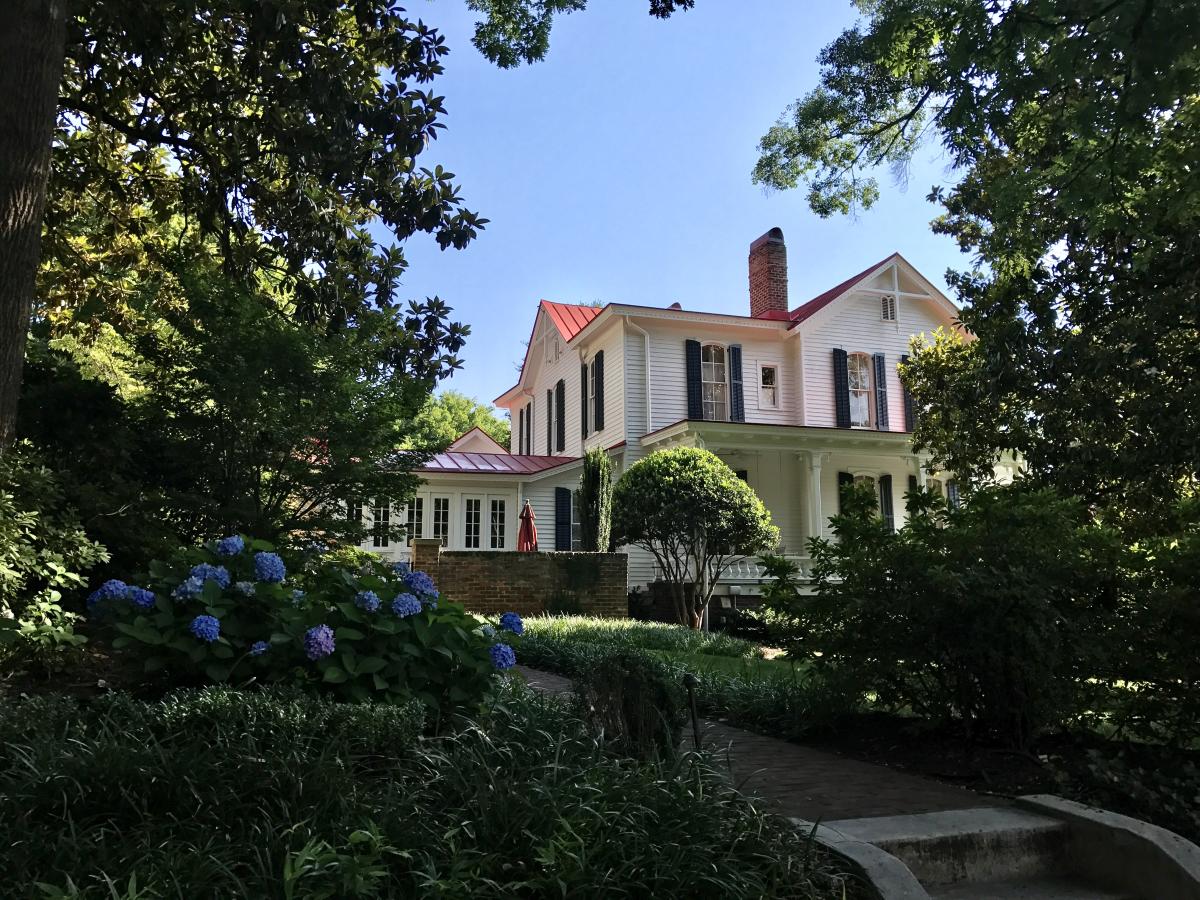 Thomas F. Wilson House 1895
312 Oakwood Ave.
Thomas Wilson was a conductor for the Seaboard railroad. Notable about this home is the cutaway bay window and sawtooth wooden shingle siding in the gable, both representative of Queen Anne architecture.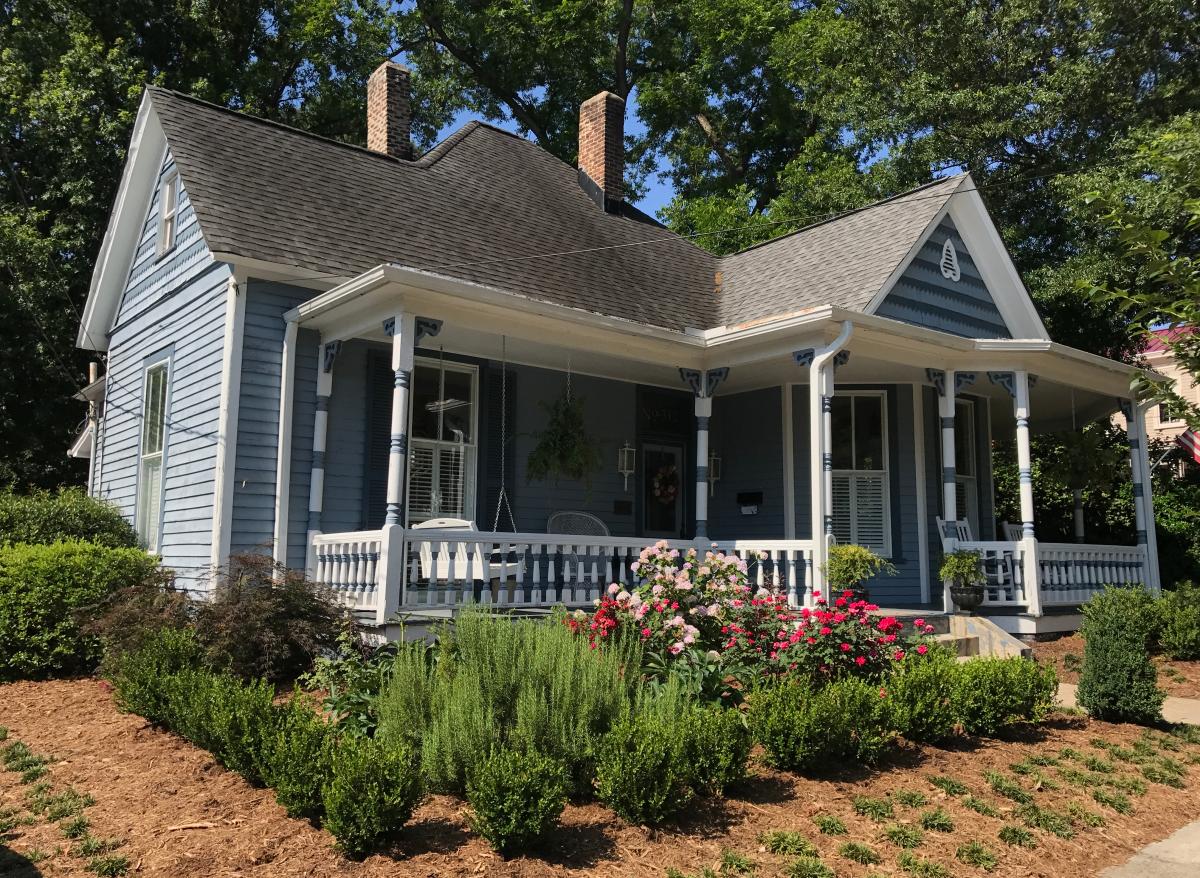 Marcellus Parker House 1879
312 Oakwood Ave.
Just down the street is the Marcellus Parker House. Prominent contractor Thomas Briggs built this home for cotton broker Marcellus Parker. The windows and double front door are arched in the Italianate style. The porch posts are chamfered and have elaborate capitals. The Second Empire-style central tower has a balcony and a mansard roof topped with an iron finial.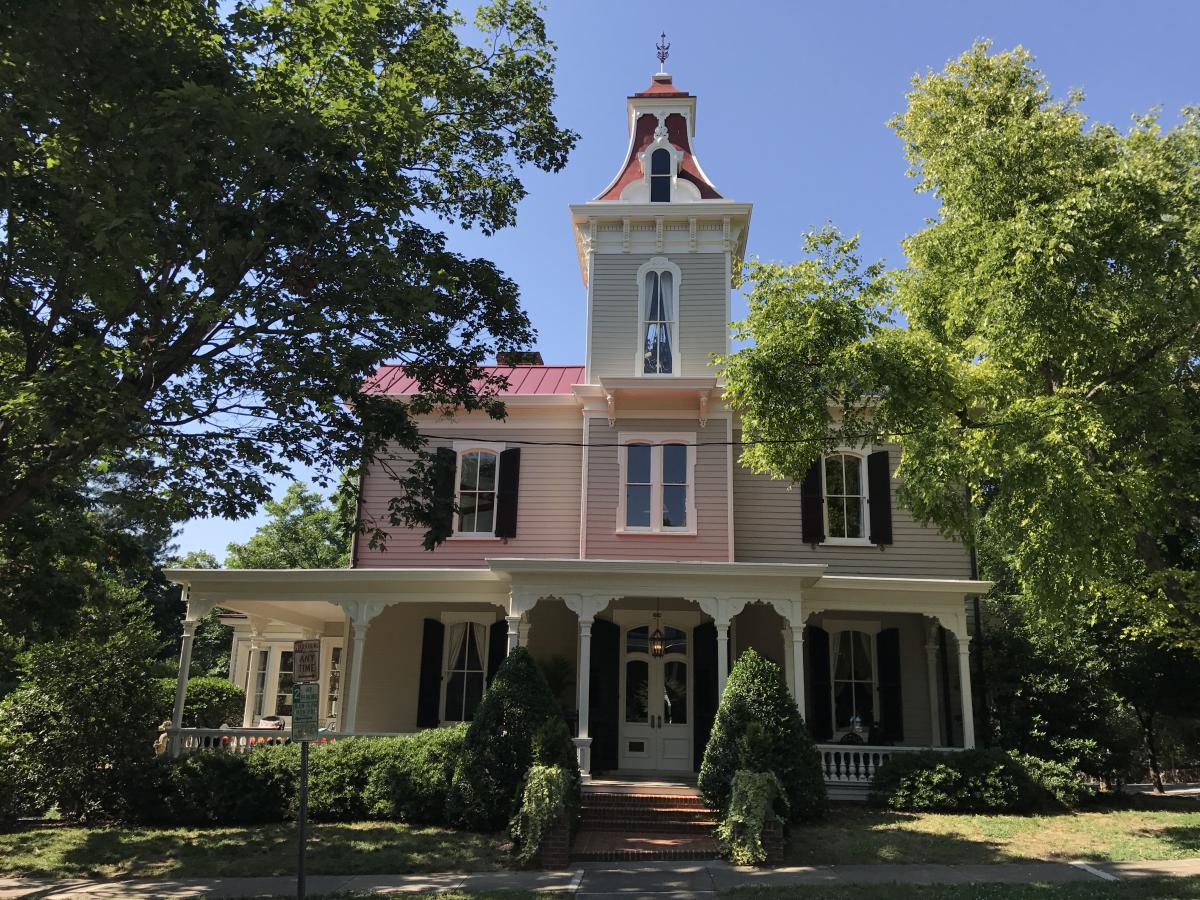 Vivian E. Denton House c.1912
415 New Bern Ave.
This Neoclassical Revival house has a grand wrap-around porch forming a porte-cochere on the left. Look for the beveled leaded glass in the sidelights and transoms around the front door.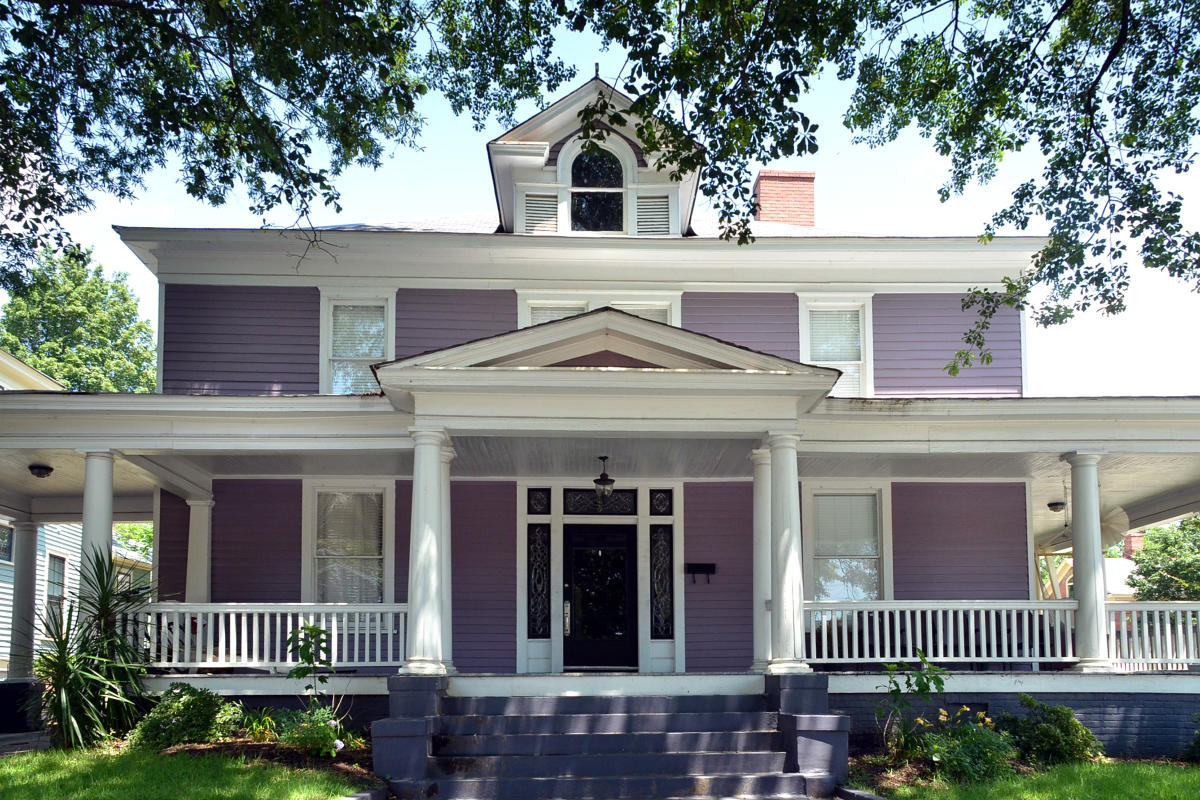 Octavia Winder Skinner House c.1905
506 N. Person St.
This Neoclassical Revival house was built for Octavia Winder Skinner, an author best known for the novel "An Arresting Voice." There are some skeletons in the closets of this house—Octavia's second husband, Ludlow Skinner, was shot in 1903 by lawyer Ernest Haywood following an argument about an affair between Mr. Haywood and Octavia's sister Gertrude Winder Tucker (the scandal was reported in The New York Times). 
Octavia gave this property to her daughter, also named Octavia, on the condition that she build her home on it. The finest features about this property are on the left side of the house: a bay window with leaded glass, and three stained glass windows following the staircase. The slate roof has tin cresting on the ridge. From 1942 to 1982 this was the "Restover Tourist Home." 
Oakwood sign in header by Keenan Hairston; Denton House photo by Chris Richman
---
Planning a trip? Whether driving or flying, exploring the outdoors or tasting the area's best food and drinks, we look forward to soon welcoming you to Raleigh, N.C. From transportation to lodging, dining and attractions, your health and safety are top priority for the hospitality industry. No matter how you travel, or what you do, you can travel confidently. Click here for the latest updates on COVID-19 and openings in the Raleigh area.

Comments