Citrix Cycle, a Bikeshare Program for Raleigh, is Now Rolling!
Tuesday, March 19, 2019, 9am by Michael Robson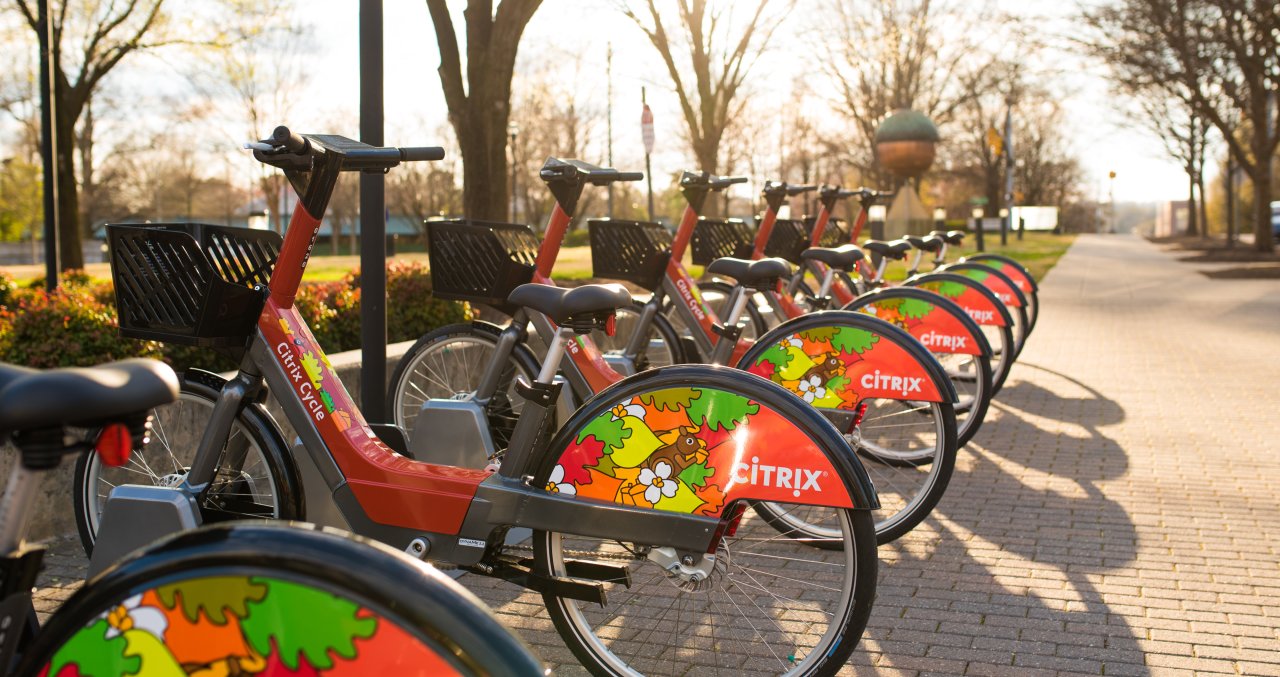 Looking for a fun way to get outside, get some exercise and find your way to some of Raleigh's best parks, restaurants, shops and attractions? Well good news, bike fans—Citrix Cycle, a bikeshare program meant for short-term bicycle rentals to help you going from point A to point B, is now rolling!
The docked bikeshare program (meaning bikes are rented from and returned to any of the 30 docking stations around town) launched in March 2019. A fun new way to get around town on two wheels, Citrix Cycle offers 45-minute rides for as little as $2.
---
Citrix Cycle fast facts
300 bikes are available across 30 docking stations, centered in and around downtown Raleigh
200 of the bikes include electric assist, meaning you can go faster and farther without breaking a sweat
Yearly, monthly and daily memberships allow unlimited 45-minute rides; single ride passes are available for $2
The program is open to riders ages 18 and up; helmets are encouraged but not required
---
Phase I of the program includes 30 docking stations—mostly centered in and around downtown Raleigh—and 300 total bikes (decked out with a snazzy red paint scheme and fitted with a handy front basket) available for rent.
Approximately 200 of the bikes include electric assist, meaning riders get a smooth boost from a battery powered system that matches your pedaling strokes, making getting across town (and up some hills!) a breeze.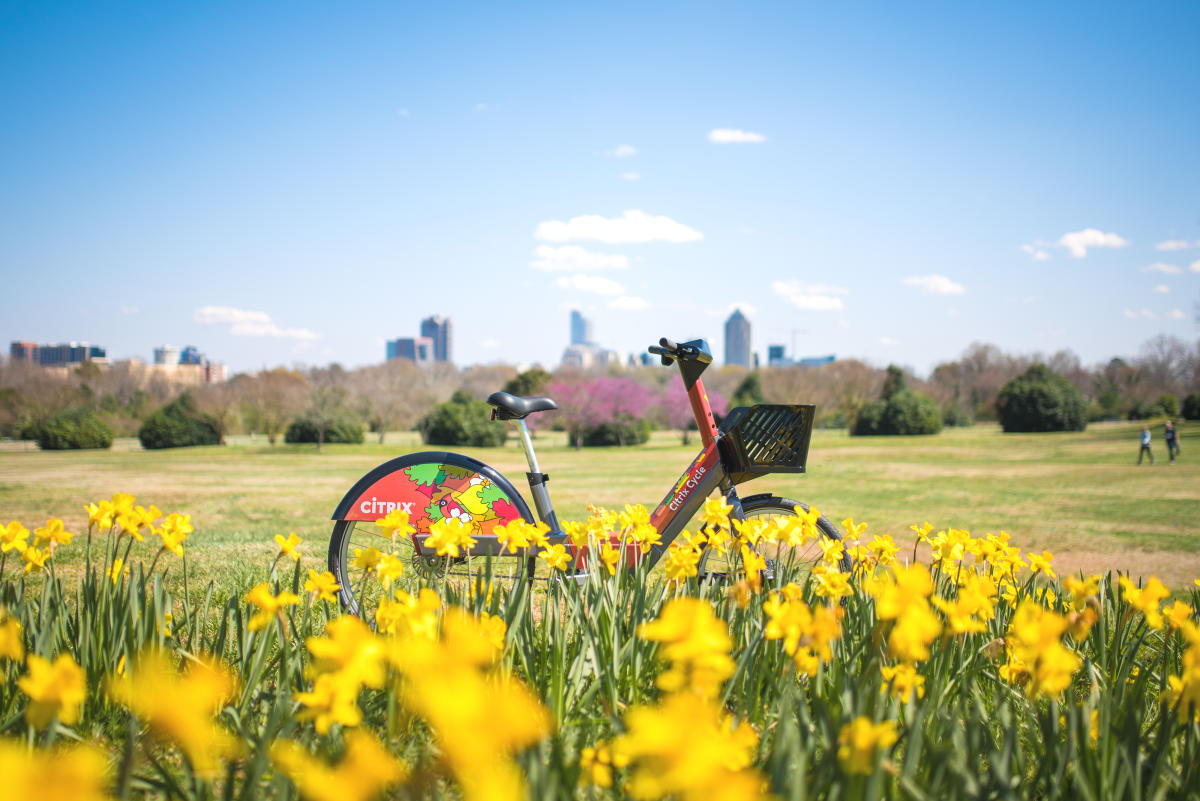 To get started, visit citrixcycle.com or download the mobile app from the App Store or Google Play to sign up (some docking stations also have kiosks where you can register). From there, several membership options are available:
Yearly membership ($85)
Monthly membership ($20)
Day pass ($6)
Single-trip pass ($2)
Excluding the single-trip pass, all membership options include unlimited 45-minute rides.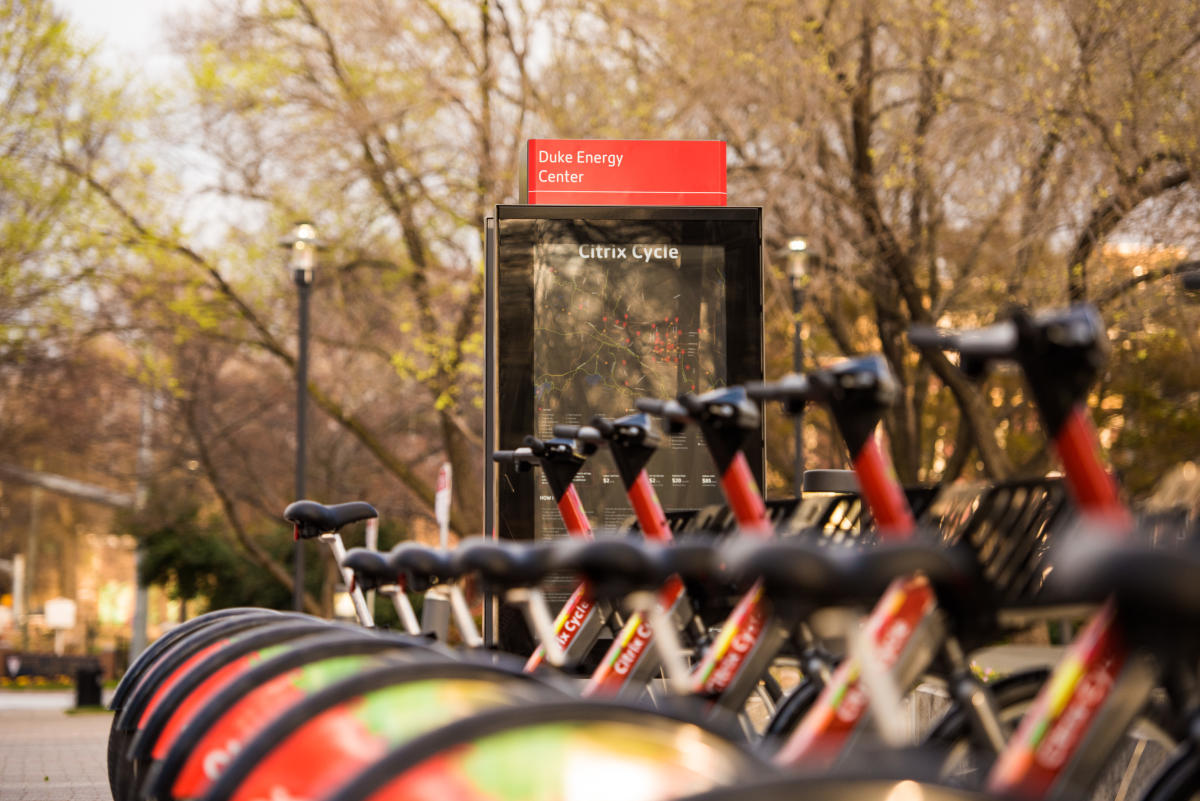 The 45-minute time limit means that riders need to dock their bicycle at a station within the allotted time. For each half-hour over the time limit, riders will be charged an additional $2 (if you arrive at a dock to find that there are no spots available to return your bike, you can request additional time at no charge to find another station). A small screen on the bike's handlebars gives you information about your current ride, including your distance traveled and time remaining before needing to dock.
A secondary lock comes with each bicycle—meaning you can lock it up to any bike rack just like you would any other bicycle—allowing you to temporarily hold the bike at a location while you take a break, pick up some pastries etc. (the 45-minute clock continues to run during this time).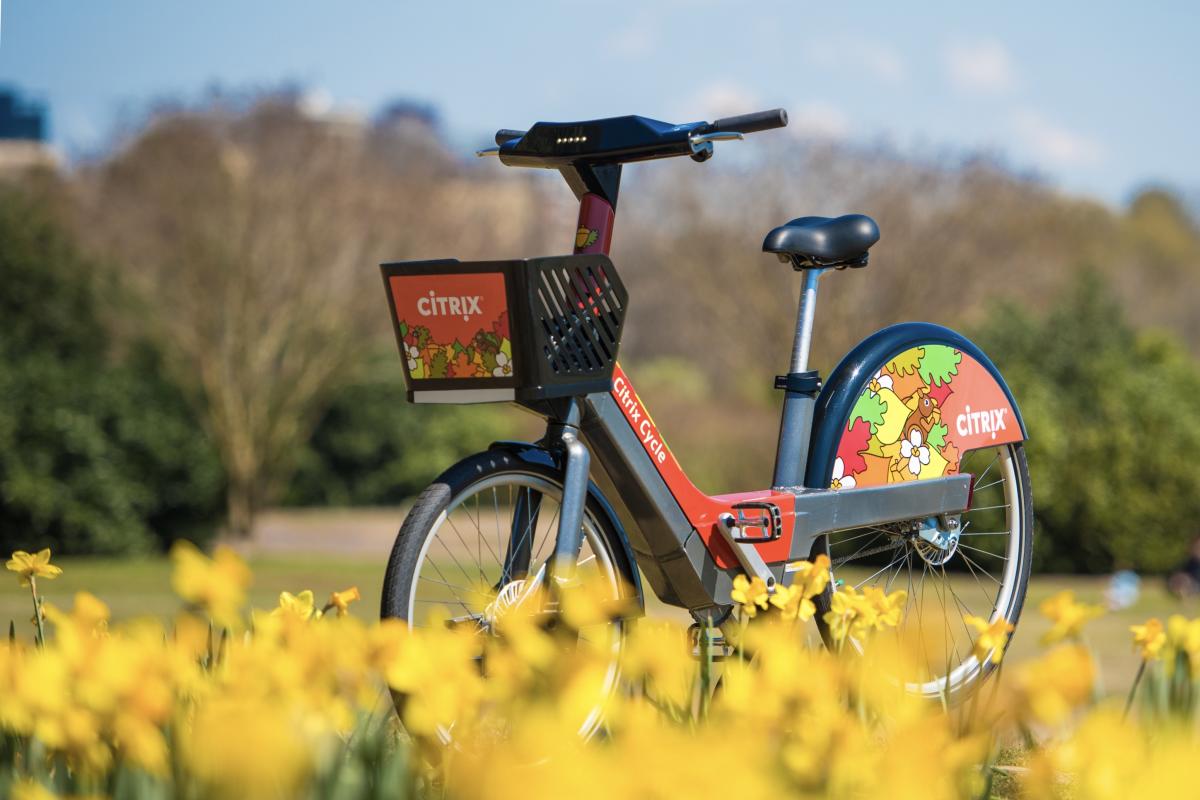 So, where can you ride?
A full map of stations (including how many bikes are located at each docking station near you) is available on the mobile app and on citrixcycle.com, but a few noteworthy stations for visitors to consider cruising to: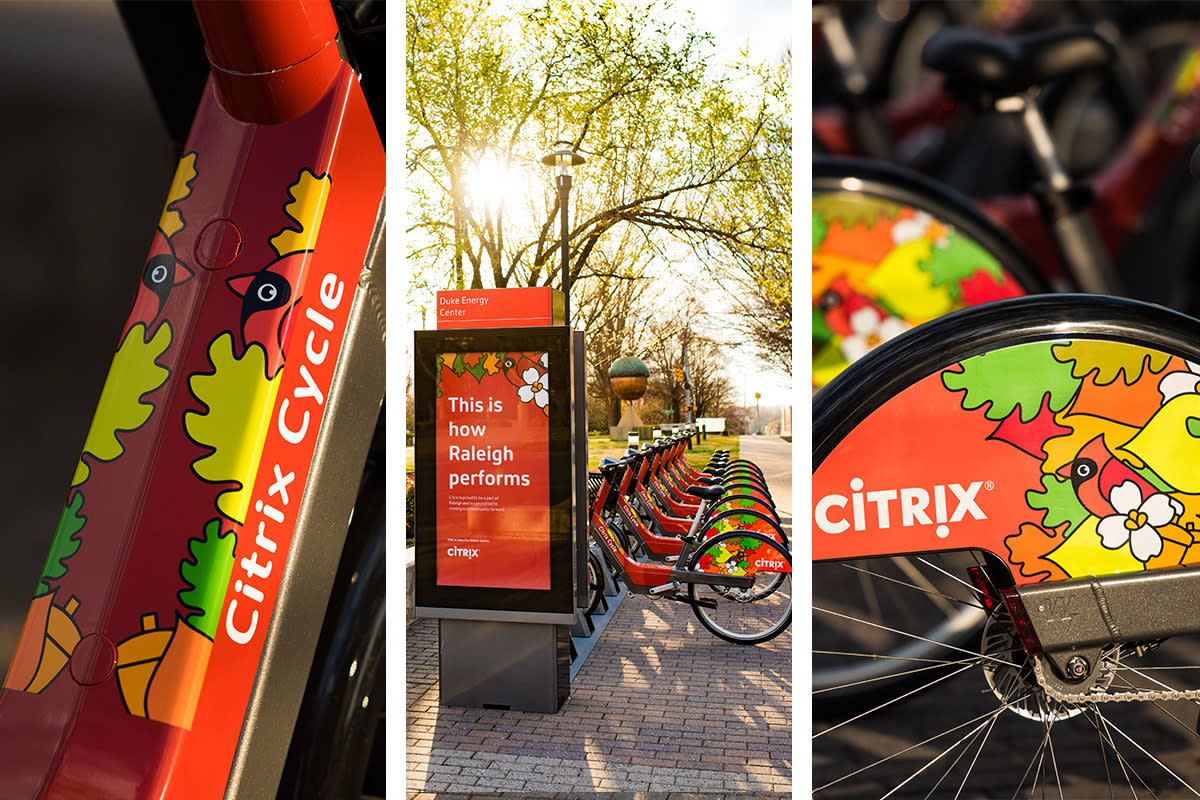 Future stations at or near the North Carolina Museum of Art, Transfer Co. Food Hall, State Farmers Market, Village District, the North Carolina Museum of Natural Sciences and North Carolina Museum of History, Dorothea Dix Park and more are expected go live in early spring 2019.
It should be possible for most riders to get from any docking station to their destination of choice in 45 minutes or less. Most of the downtown-centric stations are just a few minutes away from each other, and many are connected to bike lanes or greenways (download a PDF map of Raleigh's bike system here).
Questions? Shoot us a message on Twitter or Facebook—we're here to help! Good luck and happy riding!
Comments