Final Days for Dare Coulter's "Dare to Dissent" Mural in Downtown Raleigh
Thursday, February 24, 2022, 10am by David Menconi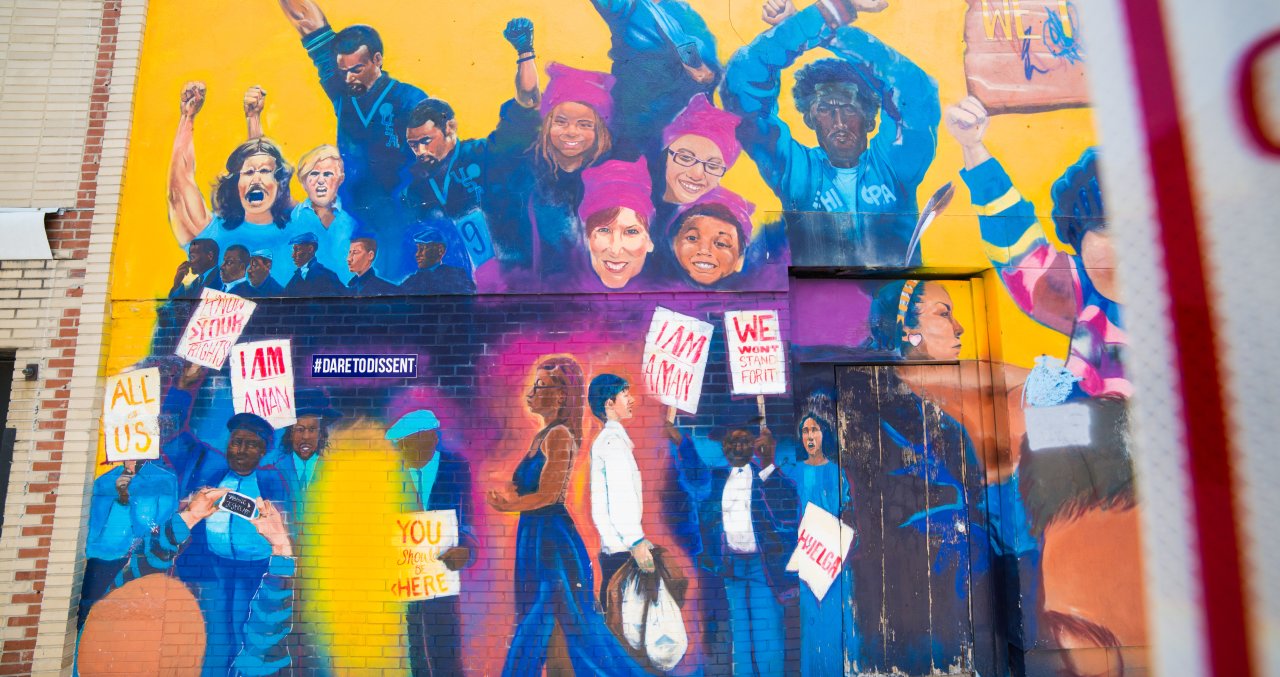 Note: Authored by David Menconi, this piece has been produced in partnership with Raleigh Arts. Menconi's latest book, "Step It Up and Go: The Story of North Carolina Popular Music, from Blind Boy Fuller and Doc Watson to Nina Simone and Superchunk," was published in Oct. 2020 by University of North Carolina Press.
---

The days grow short for "Dare to Dissent" in downtown Raleigh. Sponsored by the American Civil Liberties Union, the mural showing scenes of social protest has occupied an outside wall of the Boylan-Pearce Building on the east side of South Salisbury St. since 2017. But it's coming down because that space is destined to become a retail storefront soon. After that, it will only live on in pictures—of which there are many, as it's been one of the most popular downtown selfie spots for nearly five years.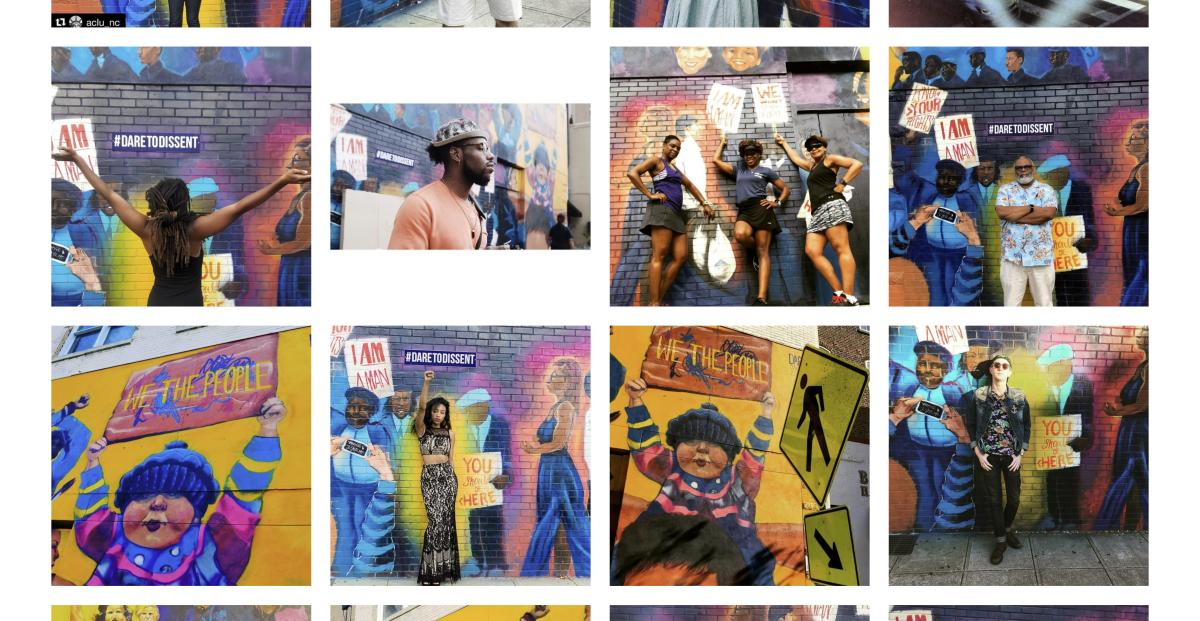 Screencap of visitor photos at "Dare to Dissent" in downtown Raleigh. Image from darecoulter.com/daretodissent
"There's a life-cycle to murals and public art," says "Dare to Dissent" artist Dare Coulter. "When you paint something, most of the time it will not last forever because stuff changes. I've had at least two and maybe three murals that don't exist anymore. The lifespan is kind of like regular life and death, because there's only a limited quantity of walls out there and the art ends up meaning so much to people."
After "Dare to Dissent" disappears, that will leave Coulter in an unfamiliar position for the first time in years: not having a mural anywhere in downtown Raleigh. Nevertheless, she remains one of the most visible visual artists on the local scene, in a run going back to when she was designated as City of Raleigh's Artist of Tomorrow while in high school more than a decade ago.
Along with painting a recently completed mural at the UNC REC Cancer Care Center, Coulter is also serving as artist in residence for the public-art component of the in-the-works New Bern Avenue Corridor of the Wake BRT (Bus Rapid Transit) program. She has also been commissioned to illustrate a number of books, including one with internationally renowned children's author Kwame Alexander. And she just might have another downtown mural in the works for the not-too-distant future, if she can find the time.
"It's exciting and I'm lucky to get to do this," she says. "Even when it feels too hectic and I'm having a bad day, I'm living my dream. When the Kwame book comes out, the whole world will be different for me. I'm really busy now, but it's still pared down and I've said 'no' to some things. I tend to over-commit, but I'm trying to give myself the space to get engrossed in projects and give everything to them. It's just hard to find the time to make everything fit."
There's certainly no lack of great murals across downtown Raleigh, including Sean Kernick's tribute to NC Central basketball coach Lavelle Moton, which is also on Salisbury St. There's also music muralist Scott Nurkin's John Prine rendition on Martin St. and Taylor White's "Abstracted Motion" augmented-reality mural on the Alfred Williams building on West Davie St.
But "Dare to Dissent" has been something special, getting visceral reactions since it was first unveiled—pro and con both. It inspired enough passion that vandals actually defaced it with racist messages in 2018. While Coulter quickly undid the damage, bad feelings lingered.
"When ('Dare to Dissent') first came out, I saw a comment somewhere that called it 'anti-police,'" Coulter says with a bewildered laugh. "There's nothing specific to that in it, but people have their own narratives. There is certainly a lot more intentionality to the local public-art program, a lot of questions of representation. But it's still weird that mural was 'controversial,' because what's controversial about human rights? It shouldn't be considered controversial to paint a black person, but that's now considered provocative."
Keep up with Dare Coulter's work by visiting her website or following her on Instagram.
Comments