Bus Rapid Transit Project Will Feature Culturally Significant Art From 11 Local Artists
Thursday, February 17, 2022, 10am by David Menconi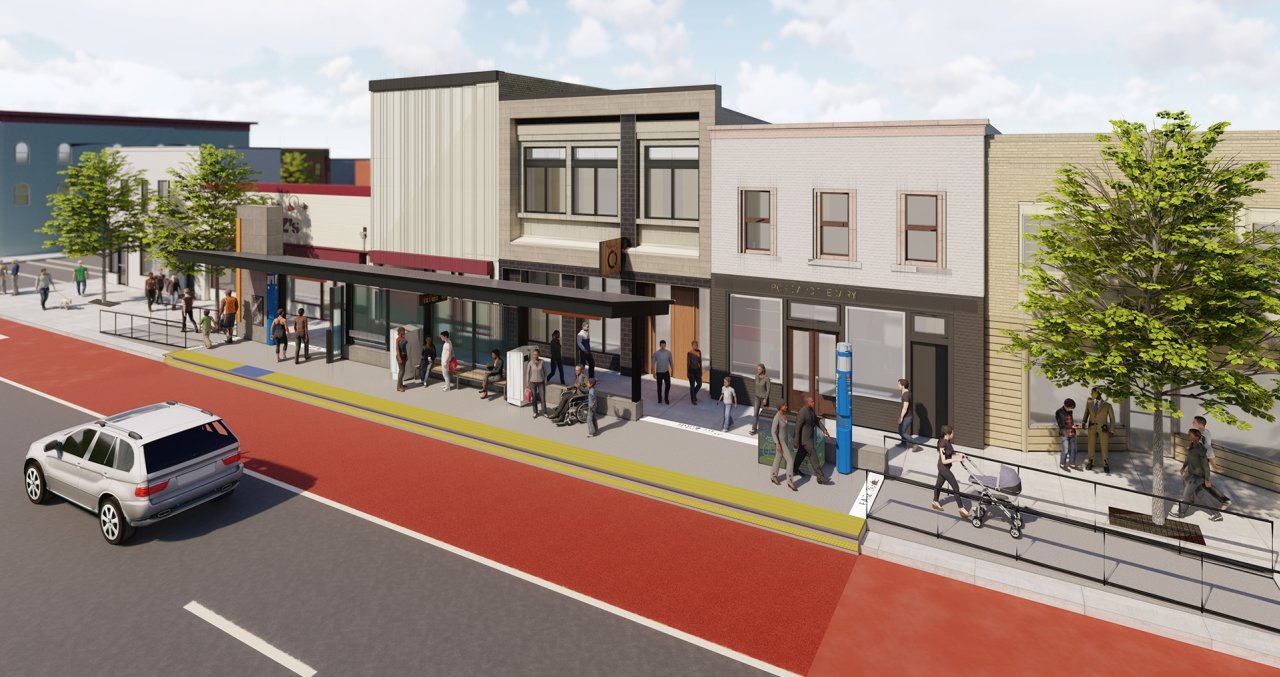 Note: Authored by David Menconi, this piece has been produced in partnership with Raleigh Arts. Menconi's latest book, "Step It Up and Go: The Story of North Carolina Popular Music, from Blind Boy Fuller and Doc Watson to Nina Simone and Superchunk," was published in Oct. 2020 by University of North Carolina Press.
---

It will be the better part of two years before visible results emerge, but one of the City of Raleigh's most ambitious long-term public arts projects is starting to take shape. It's a series of art pieces along the New Bern Ave. Corridor of the upcoming Wake Bus Rapid Transit (BRT), spanning a several-mile stretch of New Bern Ave. from just east of downtown Raleigh out to New Hope Rd. on the other side of the main WakeMed Raleigh campus and I-440 Beltline.
[Ed. note: The New Bern Ave. BRT system is one of four BRT corridors adopted by the 2016 Wake Transit Plan. The New Bern Ave. project is a 5.1-mile stretch that will consist of dedicated transit lanes, 19 BRT stations, improved ADA access, new multi-use paths and sidewalks and more. Construction is expected to start in summer of this year, with service beginning in 2024.]
Some 11 artists have been commissioned to design and create "artworks that connect commuters, different people from different backgrounds, with the public memory of this community." The artwork will be on and around bus shelters along the New Bern BRT route, covering glass, railings and concrete.
Dare Coulter, a renowned local artist who has painted a number of distinctive murals in the area, is Artist in Residence for the program. She coordinated with the city on a report that lays out a plan for art integration across the Wake BRT system (PDF: Wake BRT Art Integration Report and Recommendations). The city did several calls for artists in the fall of 2021, with a selection panel of local artists and community members drawn from Saint Augustine's University, the City of Raleigh's Public Art and Design Board, Bicycle and Pedestrian Committee and the New Bern Avenue Corridor Alliance.

Among the 11 artists chosen by the panel are Kiara Sanders, whose North Carolina music mural "Nina, a Monk and a Trane" is visible on a bus shelter on Pecan Rd. south of downtown; multimedia artist and musician Wendy Spitzer; Mayanthi Jayawardena, founder of Serendib Creative; and Alberto Ortega, a painter featured in last fall's Block Gallery show "A Collection of Changes."
The BRT art initiative goes back to the Nov. 2016 election, during which Wake County voters approved a public-transportation plan. The plan implemented four local BRT corridors, one of them along New Bern Ave., to expand and better connect the transit system. The Raleigh Arts Office used this as an opportunity to add a public art component.
New Bern Ave. runs through a quadrant of Raleigh that has seen rapid changes in recent decades, brought on by a wave of development that has brought along growing pains: challenging issues of equity, affordability and character preservation, especially in the College Park and Idlewild neighborhoods, a stretch of the north side of New Bern Ave. between East St. and Raleigh Blvd.
Earlier this month, an online panel discussion about the issue was held via Zoom. Moderated by artist and Saint Augustine's professor Linda Dallas, the discussion featured community members with deep historical and family ties to the East Raleigh community. One panelist, high-profile activist and community leader Octavia Rainey, is writing a book on the history of the College Park neighborhood. The grandfather of another panelist, Esther Delany, kept a neighborhood house that was listed in the famous Depression-era "Green Book" of safe spaces for African Americans traveling during the Jim Crow era of segregation. That house hosted many notable travelers, among them bandleader Cab Calloway, a giant of the big-band era.
All that and more came up in the discussion, along with panelists expressing hope that the BRT artwork will pay tribute to the area's rich history and legacy. There were calls for truth, engagement, pride and hopefulness, with more than one panelist invoking the memory of Molly Houston Lee, a legendary local librarian at College Park's Harrison Library. Lee famously said that librarians can't just pass out books but have to be out with the people "to find out their wants and needs to supply them with materials" to help them make sense of the world and find their place in it.
"Art needs to inspire something," said panelist Cianna Jackson, a Saint Augustine's employee and alumnus. "Either memories of the past, things happening in the present or looking to the future."
Comments