Holiday Favorite: WRAL Nights of Lights at Dorothea Dix Park
Thursday, November 11, 2021, 4pm by visitRaleigh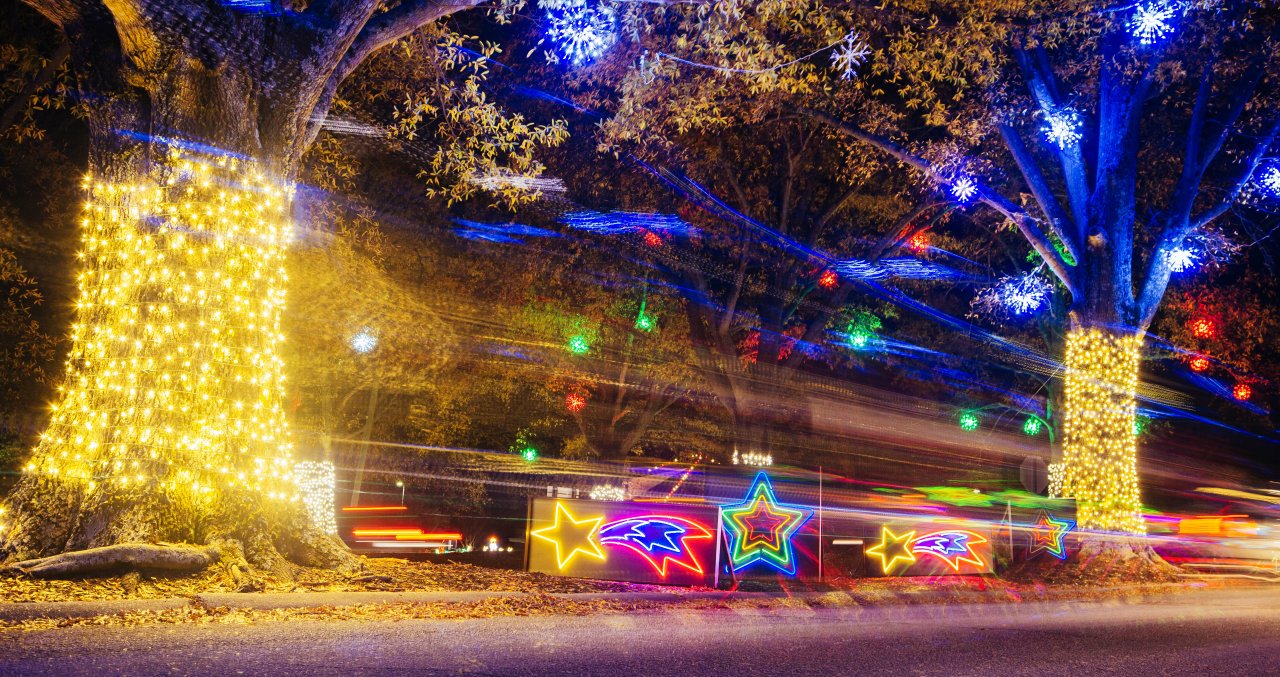 Ready to brighten your holiday season? The WRAL Nights of Lights drive-thru light show is making its way back to Dorothea Dix Park for the second year in a row in Raleigh, N.C.! Brought to you by WRAL/Capitol Broadcasting Company in partnership with the City of Raleigh, this new jolly Raleigh holiday tradition dazzles, shines and lights up one of the area's most beautiful public parks. Here's everything you need to know to take part!
 
When is WRAL Nights of Lights? What are the days and hours?
WRAL Nights of Lights takes place in Raleigh at Dorothea Dix Park, Fri., Nov. 26, though Fri., Dec. 24. Event hours are 6:30-9:30pm.
Do I need a ticket to enjoy WRAL Nights of Lights? How much do they cost? 
Tickets are required for entry to WRAL Nights of Lights, and visitors must purchase them online in advance. Admission prices are as follows:
General admission for vehicles is $20 and $25 for premium nights, Dec. 17-24.
VIP Fast Lane tickets are $40 and $50 for premium nights, Dec. 17-24.
For Bike Nights (Nov. 20 and Dec. 13), admission is $10 per bike.
VIP tickets will allow vehicles to enter through a special entrance to access the park, reducing wait-time. Pro tip: Have your tickets pulled up on your phone in advance. Save tickets to your photos for easy access and set your phone brightness to high for easy scanning.
What can I expect when visiting WRAL Nights of Lights?
Towering oaks, rolling hills and open fields throughout the park will serve as the magical backdrop for a dazzling light show. Come marvel at illuminated trees, festive light displays and local art installations along a 1.3-mile route that's sure to delight visitors of all ages. Best of all, you can enjoy the experience from the comfort, warmth and safety of your vehicle!
This year, in addition to brand-new light displays, look for a new commissioned art installation from local neon artist Nate Sheaffer. Visitors can also make a canned food donation to Food Lion Feeds in support of Inter-Faith Food Shuttle. Bring five canned goods to the event and receive a $20 Food Lion gift card. Last but not least, expect to see an appearance from the Durham Bulls and MIX 101.5 along the lighted route.
Nights of Lights is a festive experience for families and friends to safely celebrate the season. COVID-19 precautions have been established to ensure the health and safety of all guests and staff.
Can I only experience the light show via car?
You can choose to walk or run through the experience by entering the Nights of Lights 5K Fun Walk/Run presented by Runologie. Enjoy the dazzling view on foot with no car traffic to distract you on Sat., Nov. 20, starting at 7pm.
If two wheels are more your speed, hop on your bike and cruise through on Bike Nights, happening Sun., Nov. 21, and Mon., Dec. 13. The bike route winds through the park and clocks in at 2.6 miles.
What else do I need to know?
This year's event will feature more nights (29 in total). The number of cars per night will also be cut in half to help with traffic and wait times. To secure a preferred date and time, be sure to order your tickets early. Even with the additional days and reduced capacity per night, plan for traffic and wait times, especially on the busiest nights before Christmas.
Guests should arrive no earlier than 15 minutes before their ticket time and enter the park on Hunt Dr. and Western Blvd. for general admission. VIP ticket holders will enter at Lake Wheeler Rd. and Umstead Dr. Be sure to have your tickets pulled up on your mobile device for easy scanning. Ticket scanners will be masked and maintain safe distance throughout the scanning process. Please remain in your vehicle at all times.
Once exiting the ticketing lanes, turn off your headlights to fully enjoy the magic of the experience. Allow passengers to take photos and video, so drivers can stay alert and safe. As you exit the park, make sure your headlights are turned on. Visitors will exit onto Lake Wheeler Rd. with easy access to downtown Raleigh or I-40.
More upcoming holiday events in Raleigh, N.C.
North Carolina Chinese Lantern Festival-Cary, opens Nov. 19
Downtown Raleigh Tree Lighting, Nov. 19
77th Annual ABC11 Raleigh Christmas Parade, Nov. 20
Annual North Hills Tree Lighting, Nov. 20
Raleigh Little Theatre presents Cinderella, Dec. 3-19
Theatre In The Park presents A Christmas Carol, Dec. 9-12
50th Annual Historic Oakwood Candlelight Tour, Dec. 11-12
Carolina Ballet presents The Nutcracker, Dec. 17-24
Header photo courtesy of Dorothea Dix Park
Comments