The Biggest Holiday Events in Raleigh, N.C.
Wednesday, November 06, 2019, 10am by visitRaleigh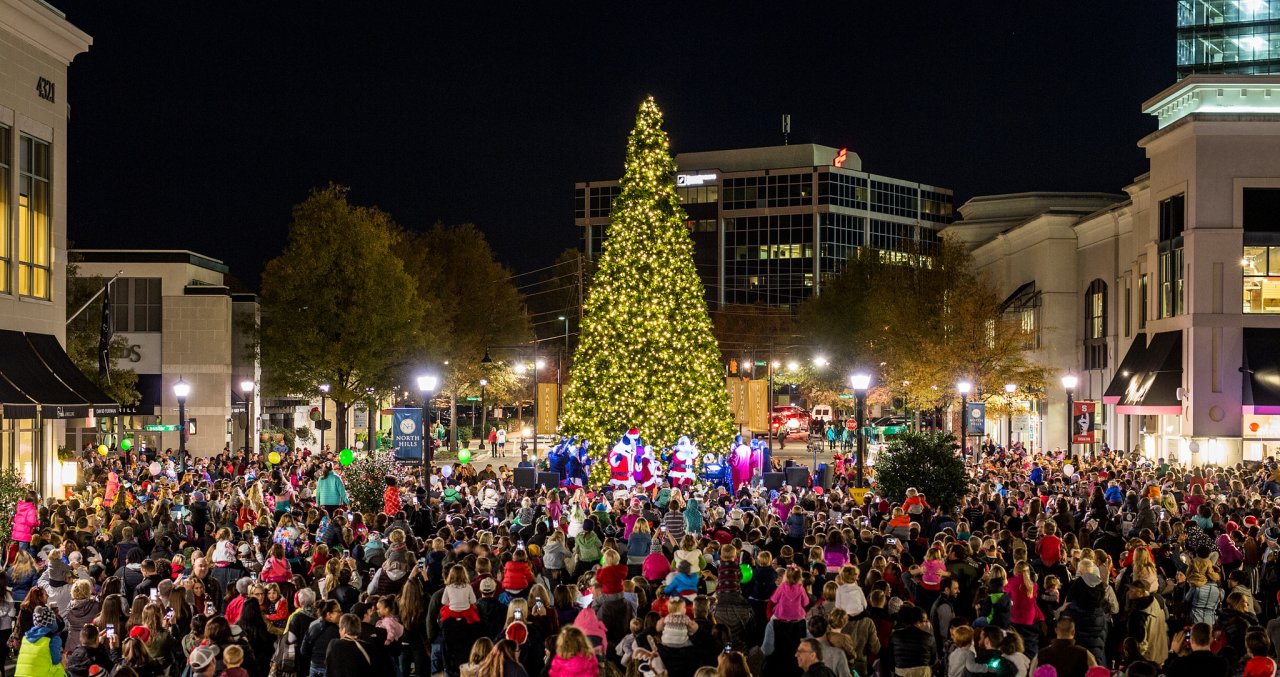 Every two weeks, we send out a newsletter that includes the best of the best upcoming events. If you sign up for our E-magazine, you'll get those, plus all the best new content (the details on America's best new pizza joint, for example, or the inside scoop on the best free things to do in Raleigh).
---

The holidays are the perfect time to come together with friends and family, celebrating the magic of the season and taking part in the Raleigh area's holiday traditions, old and new. This list, full of events and activities in N.C.'s capital city area, should get you started on planning special ways to capture the holiday spirit this season. From performing arts productions to incredible light displays, these are some of the tried-and-true and can't-miss things to do during the holidays.
 
North Carolina Chinese Lantern Festival-Cary
Nov. 22, 2019-Jan. 12, 2020
A super trip-worthy event for the whole family returns for a fifth straight year! The North Carolina Chinese Lantern Festival brings more than 20 larger-than-life lanterns to Koka Booth Amphitheatre in Cary. Made up of thousands of LED lights, displays light up the skies and mesmerize visitors on this one-hour walking tour (have your cameras ready for the spectacular phoenix that sits on Symphony Lake!). Beyond beautiful lanterns, the ticketed festival also welcomes a showcase of Chinese culture—nightly performances featuring martial arts, traditional dance, acrobatics, drum performances and more.
75th Annual ABC11 Raleigh Christmas Parade
Nov. 23
The largest Christmas parade between Atlanta and Washington, D.C., will march through downtown Raleigh for more than two hours, drawing nearly 60,000 visitors to the streets to see marching bands, dancers, classic cars, superheroes and Santa Claus. Bring the whole family (including pets!) plus some chairs—there's great street-side viewing everywhere on the 1.4-mile route.
Annual North Hills Tree Lighting
Nov. 23
The annual lighting of a 41-foot-tall Christmas tree, a visit from Santa Claus, trackless train rides for kids, live music and plenty of vendors on hand make this celebration an equally great event for families and a fun date idea in North Hills. Arrive a tad early to join in on the Holiday Sip & Shop to knock out some shopping at local retailers like Peter Millar, Quail Ridge Books, Scout & Molly's plus more while enjoying complimentary hot chocolate and cider.
If you can only see one or two of the nearly 200 performances by the North Carolina Symphony each year, this may be the time to do it! Special performances include Cirque de Noel (11/27-30), Handel's Messiah (12/6-7), Holiday Pops (12/13-14) and New Year's Eve: Vienna With a Twist (12/31).
Downtown Raleigh Tree Lighting Celebration
Nov. 23
Save the date for the Downtown Raleigh Tree Lighting Celebration! Arrive early for dinner and socializing in downtown with family and friends, then make your way to Lichtin Plaza at the Duke Energy Center for the Performing Arts at 6pm to enjoy some tasty snacks and beverages from local vendors (Videri Chocolate Factory, lucettegrace, Che Empanadas and more), live performances, a Marbles Kids Museum booth, local retails shops and free activities for every age. Mayor Nancy McFarlane will light the holiday tree, and a variety of performers will fill the stage for the duration of the event.
Wendell Wonderland/Lake Myra Christmas Lights
Light show runs Nov. 27-Dec. 31; Wendell Wonderland festival is Dec. 6
A perfect chance to experience historic downtown Wendell, with a visit from Santa Claus, trolley rides through town, live music local vendors and more. One of the area's most popular light shows, the Lake Myra Christmas light display will also be in full swing, featuring more than 400,000 lights—and it's all free! Wendell Wonderland is a one-night event, but the light show runs daily through the end of the year.
Rudolph the Red-Nosed Reindeer: The Musical
Nov. 29-Dec. 24
Based on the animated television special "Rudolph The Red-Nosed Reindeer" and the stage production directed and conceived by Jeff Frank and First Stage, the characters you know and love—Rudolph, the Abominable Snowman, Yukon Cornelius, Hermey, Santa and Mrs. Claus and more—come to life in this Broadway Series South production at the Duke Energy Center.
Dec. 4-8; Dec. 11-15
This year-round favorite destination for families is now all dressed up for the holiday season, festively decorated with thousands of lights. The major attractions? A rideable, miniature train that meanders through and around the park plus a carousel that keeps kids of all ages happy for hours. Note: This incredibly-popular event sells out quickly when tickets go on sale in mid-July—mark your calendars to plan ahead for next year!
Christmas on Salem Street
Dec. 6-8
Christmas carols, a tree lighting, horse-drawn carriages, cookie decorating and a visit from Santa in charming historic downtown Apex—this annual tradition has so much to love. Don't miss the Grand Christmas Parade on Sat.! 
Theatre in the Park presents A Christmas Carol
Dec. 11-15
This theater production from local passionate mind Ira David Wood III, celebrating its 45th year this holiday season, has wowed more than a million guests throughout the years. The beloved musical comedy, in which Wood himself puts on an incredible performance as Scrooge, has been a longstanding tradition for families in the area—tickets tend to go quickly so plan ahead! 
Holiday Open House at the North Carolina Executive Mansion
Dec. 12-15
The North Carolina Executive Mansion, designed by prominent architect Samuel Sloan, is one of the state's architectural gems and serves as a repository for a fine collection of 18th- and 19th-century N.C. furnishings and paintings. Completed in 1891, the house has been home to the state's governors and their families and has served as a political, social and cultural center of the state for more than 100 years.
For four days, visitors are invited to tour the home, take in the decorations and enjoy seasonal musical entertainment by local performing groups. The first floor of the mansion will be decorated with N.C.-grown Christmas trees, floral and mixed evergreen arrangements and ornate mantle displays. The Holiday Open House is one of the only times each year for visitors to enter the house without a prior reservation or group tour scheduled.
State Capitol Tree Lighting Ceremony
Dec. 12
With luminaries lighting the Capitol grounds and local choral groups filling the air with seasonal songs, the lighting of the tree at the North Carolina State Capitol building is a sign for many that the holiday season is officially here. After the lighting of the tree, stick around to tour the inside of the Capitol, covered in wreaths and draped in garland.
48th Annual Historic Oakwood Candlelight Tour
Dec. 14-15
Historic Oakwood, a community of homes, many of which are dated to the mid-1800s to early 1900s, has its own small town feel. Elegantly decorated for the holidays, you can step inside about a dozen private homes, staffed with docents who tell the rich history of this Century Victorian neighborhood.
The Justice Theater Projects presents Langston Hughes' Black Nativity
Dec. 15-17
This gospel music experience, a production of The Justice Theater Project, takes the audience on a journey back to the Bethlehem of Mary and Joseph, resplendent in African costumes and uplifting songs of worship. With a joyous inspirational score, Black Nativity is a legendary family show that shares this unforgettable story of the Nativity through compelling gospel music and the beautiful poetry of Langston Hughes. Through love and faith, the story finds strength and triumphs over adversity to offer powerful messages of joy and hope, all brought to life by more than 70 show-stopping singers, dancers and musicians.
North Carolina Master Chorale presents Joy of the Season
Dec. 17
The North Carolina Master Chorale, hailed by critics as the area's premier choral ensemble and the recipient of a Raleigh Medal of Arts award, has performed choral masterworks with orchestra since 1942. Joy of the Season celebrates its 20th anniversary this year--this Raleigh holiday tradition fills Meymandi Concert Hall with nearly 200 voices, guest choirs, brass ensemble, Meymandi's pipe organ and incredible accompanist Susan McClaskey Lohr's piano playing. 
Carolina Ballet presents The Nutcracker
Dec. 18-29
Grace, grandeur and mysterious illusions. Carolina Ballet's holiday classic is a can't-miss tradition for locals, visitors, families and friends. The only production in the country using illusions created by renowned magician Rick Thomas, The Nutcracker will make characters levitate, disappear and reappear before your eyes in 14 performances at the Duke Energy Center.
25th Annual Kwanzaa Celebration
Dec. 27
A celebration for all people, focusing on family and friends, Town of Cary and the Ujima Group, Inc., will host the 25th annual Kwanzaa Celebration at the Cary Arts Center. During Kwanzaa, people are invited to ponder the Nguzo Saba, seven powerful principles derived from African heritage, as a means of taking stock, celebrating achievements and entering the future refreshed and renewed. The event will feature a vendor market, a children's village, dance performances and more.
WRAL First Night Raleigh 2020
Dec. 31
Raleigh's biggest New Year celebration fills the city's center with crowds and activities: entertainment, tons of live music, vendors and an epic grand finale that sees a giant copper acorn drop from the sky as the clock strikes midnight.
Visiting one of Raleigh's most treasured, family-owned restaurants is never a bad idea. Open for more than 55 years, Angus Barn is an institution—an award-winning steakhouse with one of the largest wine cellars in the country. During the holidays, gorgeous decorations adorn the red barn building inside and out. It's no wonder visitors who have experienced Angus Barn around this time keep returning year after year.  
More Raleigh area town tree lightings and events
In addition to the town main street events mentioned above (in Wendell and Apex), look out for even more festive events in the towns surrounding Raleigh on our holiday events page. For starters, join in on the Fuquay-Varina Town Tree Lighting (12/5), Garner's Light Up Main (12/6) and the Morrisville Tree Lighting (12/6) the weekend after Thanksgiving!
 
Header photo via North Hills and Terrence Jones Photography
Comments