The Biggest Holiday Events in Raleigh, N.C.
Tuesday, November 01, 2022, 1pm by visitRaleigh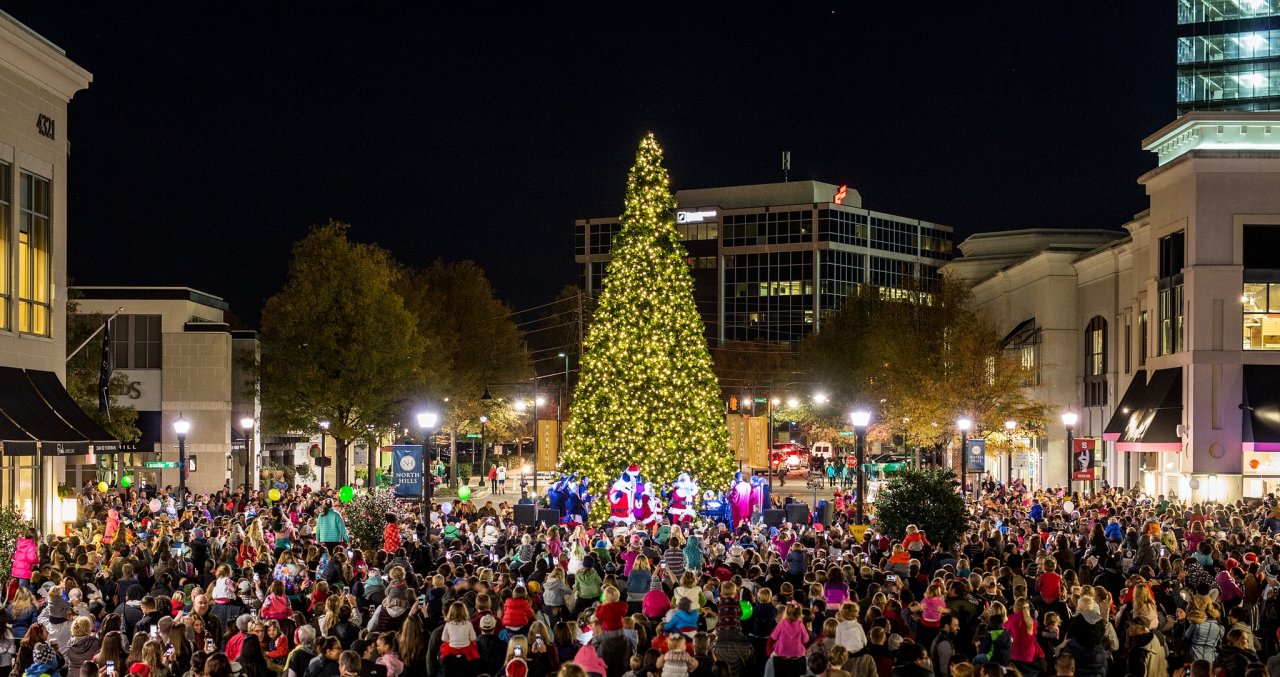 Every two weeks, we send out a newsletter that includes the best of the best upcoming events. If you sign up for our E-magazine, you'll get those, plus all the best new content (the details on our favorite fall hikes, for example, or the inside scoop on the best free things to do in Raleigh).
---

The holidays are the perfect time to come together with friends and family, celebrating the magic of the season and taking part in the Raleigh area's holiday traditions, old and new. This list, full of events and activities in N.C.'s capital city area, should get you started on planning special ways to capture the holiday spirit this season. From performing arts productions to incredible light displays, these are some of the tried-and-true and can't-miss things to do during the holidays.
 
Skate the Square at Fenton
Nov. 5-Jan. 16, 2023
At Fenton—the mixed-use, 440,000-square-foot live-work-play district in Cary—an outdoor skating rink is set to be put to good use this holiday season. Surrounded by spectacular food, trendy shops and wintry holiday cheer, the skating rink will be open every day—including Thanksgiving and Christmas—through Jan. 16.
Related: Light the Square Christmas tree lighting, Nov. 19.
North Carolina Chinese Lantern Festival-Cary
Nov. 18-Jan. 8, 2023
This annual favorite is back for a seventh year! A super trip-worthy event for the whole family, the North Carolina Chinese Lantern Festival brings more than 20 larger-than-life lanterns to Koka Booth Amphitheatre in Cary. Made up of thousands of LED lights, displays light up the skies and mesmerize visitors on this one-hour walking tour (have your cameras ready for the spectacular Chinese Dragon that sits on Symphony Lake!). Beyond beautiful lanterns, the ticketed festival also welcomes a showcase of Chinese culture—nightly performances featuring martial arts, traditional dance, acrobatics, drum performances and more.
Downtown Raleigh Tree Lighting
Nov. 18
Save the date for the Downtown Raleigh Tree Lighting celebration! Arrive early for dinner and socializing in downtown with family and friends, then make your way to Lichtin Plaza at the Duke Energy Center for the Performing Arts to enjoy tasty snacks and beverages from local vendors, holiday music and festive activities before the grand finale of the tree lighting around 6:25pm.
Magic of Lights
Nov. 18-Dec. 30
A dazzling, drive-through holiday lights experience at Coastal Credit Union Music Park at Walnut Creek, Magic of Lights features favorite holiday scenes and characters of the season using the latest LED technology and digital animations. Tickets begin at $20 per car.
Annual Christmas Tree Lighting Celebration at North Hills
Nov. 19
The annual lighting of a 41-foot-tall Christmas tree, a visit from Santa Claus, trackless train rides for kids, live music and plenty of vendors on hand make this celebration an equally great event for families and a fun date idea in North Hills. Arrive a tad early to join in on the Holiday Sip & Shop to knock out some shopping at local retailers while enjoying complimentary hot chocolate and cider.
THE RINK presented by UNC Health at Red Hat Amphitheater
Nov. 19-Jan. 16, 2023
Enjoy the thrill of ice skating in a wintry village created in the heart of downtown Raleigh! THE RINK features a natural ice skating rink with stunning views of the downtown Raleigh skyline, cozy lounging stations with heat warmers and fire pits, a snack bar, games, photo opportunities and more! This is a ticketed event, with recommendation that you purchase in advance ($6 for non-skaters, $11 includes skate rental).
WRAL Nights of Lights at Dorothea Dix Park
Nov. 25-Dec. 24
Illuminated trees, festive light displays and local art installations will delight visitors of all ages once again at the WRAL Nights of Lights drive-through event at Dorothea Dix Park. The 1.3-mile driving route features towering oak trees, open fields and rolling hills—plus views of the Raleigh skyline peaking above the trees—making it a perfect location for this holiday event. This is a ticketed experience, and purchases must be made in advance ($20 per vehicle with up to eight passengers).
If you can only see one or two of the nearly 200 performances by the North Carolina Symphony each year, this may be the time to do it! Special performances include The Polar Express (Nov. 23-25), Handel's Messiah (Dec. 2 and 3) and Holiday Pops (Dec. 9 and 10).
Lake Myra Christmas Lights
Nov. 23-Dec. 31
This spectacular, drive-in style light show, featuring more than 400,000 total lights synced to holiday music, was created by the Williams family of Wendell, who painstakingly design and assemble the glowing (and growing) event each year. Visitors park (or stand) and watch the show—which typically runs between 30 and 45 minutes depending on the year—from the viewing area in front of the display, plus use walkways that lead to some of the biggest displays. Dogs are welcome (on a leash!). Admission is free, and donations are accepted. Join in on the fun seven days a week from Nov. 23 through the end of the year at 10 S. Cypress St. in Wendell.
Downtown Raleigh Illuminate Art Walk
Dec. 2-Jan. 6, 2023
Downtown Raleigh comes to light with Illuminate, a light-based art walk. This six-week activation takes place in downtown Raleigh's Fayetteville St. and Glenwood South districts, transforming plazas and underutilized spaces with a large-scale interactive installation, light-based sculptures and projection art. 
Details about art pieces and locations for this year will be revealed soon!
Holiday Express at Pullen Park (update: sold out)
Dec. 1-11 and 13-18
This year-round favorite destination for families is now all dressed up for the holiday season, festively decorated with thousands of lights. The major attractions? A rideable, miniature train that meanders through and around the park plus a carousel that keeps kids of all ages happy for hours. Note: This incredibly popular event sells out quickly when tickets go on sale (Nov. 10 this year, but typically in mid-July)—mark your calendars to plan ahead!
Raleigh Little Theatre presents Cinderella
Dec. 2-18
Cinderella returns to Raleigh Little Theatre (RLT) for its 38th year in 2022! This musical comedy is a holiday sugarplum for the whole family. Just the right mixture of comedy and romance can add the sparkle of magic to your holiday season. This visually stunning musical combines elegant costumes and scenery with singing, dancing, conniving step-relatives and resourceful fairy folk. This version of Cinderella is inspired by the style of British Pantos. It's the perfect family outing during the holiday season, with the Royal Ball taking place on Christmas Eve. Join the cast in singing "We Wish You a Merry a Christmas," and celebrate the holidays at RLT!
Wendell Wonderland
Dec. 2
A perfect chance to experience historic downtown Wendell lit up for the holidays, with a visit from Santa Claus, trolley rides through town, lighting of the town tree, live music, hot chocolate, food trucks, a craft market and more. The previously mentioned Lake Myra Christmas light show—one of the East Coast's most dazzling displays—will also be in full swing, featuring more than 400,000 lights—and it's all free! More details on food vendors and toy donation opportunities for the 2022 event are expected to be announced soon.
Lighting of Wake Forest
Dec. 2
A chance to visit beautiful downtown Wake Forest to experience the wonder and magic of the holiday season! Presented by Wake Forest Downtown, Inc., and sponsored by Holding Village, this year's ceremony will begin with musical performances by local groups followed by the lighting of a 20-foot Christmas tree and Santa's exciting arrival upon a Wake Forest fire truck.
Santa's Reindeer Roundup Express
Dec. 3, 4, 10, 11 and 17
Visitors to the New Hope Valley Railway—just 30 minutes southwest of Raleigh—are in for a treat this season as they line up to ride a real locomotive. The train and railway route are festively decorated, and Santa Claus will once again be in the rail yard to take photos with families (using your own camera) and young train fans can search for Santa's nine missing reindeer (including Rudolph) during the 50-minute ride. Children will also receive one individually wrapped candy cane. Tickets for these rides sell out fast!
Heart of the Holidays in Town of Cary
Dec. 3
This festive celebration in downtown Cary will culminate in the official tree lighting ceremony—with the help of actors, singers and musicians—at 6pm. From 3-6pm visitors can also take part in a Victorian Christmas at the Page-Walker Arts and History Center, featuring an old-fashioned Christmas atmosphere with cookies, carolers, an activity for kids, heritage music and opportunities for festive photos in the garden.
Apex Rotary Christmas Parade
Dec. 3
Christmas carols, a marching parade, shopping and food vendors and a visit from Santa in charming historic downtown Apex—this annual tradition has so much to love!
Fuquay-Varina Christmas Parade
Dec. 4
A wonderful local tradition, the Fuquay-Varina Christmas Parade is thrilled to present marching bands, Santa Claus, decorated floats and more for attendees that line the streets!
State Capitol Tree Lighting Ceremony
Dec. 8
With luminaries lighting the Capitol grounds and local choral groups filling the air with seasonal songs, the lighting of the tree at the North Carolina State Capitol building is a sign for many that the holiday season is officially here. After the lighting of the tree, stick around to tour the inside of the Capitol, covered in wreaths and draped in garland.
Theatre In The Park presents A Christmas Carol
Dec. 9-11
This theater production from local passionate mind Ira David Wood III has wowed more than a million guests throughout the years. The beloved musical comedy, in which Wood himself puts on an incredible performance as Scrooge, has been a longstanding tradition for families in the area—tickets tend to go quickly so plan ahead!
Happy Holly Days Christmas Parade
Dec. 10
Floats, bands, dancers, decorated vehicles, horses, marching groups and other entertainment are ready to take to the streets in Holly Springs!
51st Annual Historic Oakwood Candlelight Tour
Dec. 10 and 11
Historic Oakwood, one of Raleigh's prettiest and most historic neighborhoods (many of which are dated to the mid-1800s to early 1900s), has its own small-town feel. Elegantly decorated for the holidays, this favorite event gives you the rare chance to step inside about a dozen private homes, each of which is staffed with docents who tell the rich history of this Century Victorian neighborhood.
The Justice Theater Projects presents Black Nativity in Concert
Dec. 10
This gospel music experience, a production of The Justice Theater Project, takes the audience on a journey back to the Bethlehem of Mary and Joseph, resplendent in African costumes and uplifting songs of worship. With a joyous inspirational score, Black Nativity is a legendary family show that shares this unforgettable story of the Nativity through compelling gospel music and the beautiful poetry of Langston Hughes. This year's 45-minute gospel concert is free open to the public, taking place at the outdoor amphitheater at the North Carolina Museum of Art!
North Carolina Master Chorale presents Joy of the Season
Dec. 13
The North Carolina Master Chorale, hailed by critics as the area's premier choral ensemble and the recipient of a Raleigh Medal of Arts award, has performed choral masterworks with an orchestra since 1942. Joy of the Season fills Meymandi Concert Hall with nearly 200 voices, guest choirs, a brass ensemble, Meymandi's pipe organ and the Master Chorale's newly established Youth Choir.
Trans-Siberian Orchestra: Celebrating 25 years of Christmas Eve and Other Stories
Dec. 14
Multi-platinum, progressive rock group Trans-Siberian Orchestra is bringing its highly anticipated Winter Tour back to PNC Arena for 2022! Celebrating more than 25 years of the bring-the-whole-family rock holiday tradition which has now been played to more than 17 million fans all across the nation.
Raleigh Ringers Holiday Concerts
Dec. 17 and 18
There's no better way to ring in the holidays than by joining The Raleigh Ringers for their annual holiday concerts at the Duke Energy Center for the Performing Arts in downtown Raleigh. This Raleigh holiday tradition will feature the group's unique interpretations of sacred, secular and popular music, including a little bit of rock 'n' roll.
Carolina Ballet presents The Nutcracker
Dec. 16-24
Grace, grandeur and mysterious illusions. Carolina Ballet's holiday classic is a can't-miss tradition for locals, visitors, families and friends. The only production in the country using illusions created by renowned magician Rick Thomas, The Nutcracker will make characters levitate, disappear and reappear before your eyes in 14 performances at the Duke Energy Center for the Performing Arts.
Hanukkah Menorah Lighting
Dec. 19
Taking place outside of the Cary Arts Center, there will be treats, fun for kids and holiday music to enjoy as the menorah is lit on the second night of Hanukkah.
2022 Kwanzaa Celebration
Dec. 30
A celebration for all people, focusing on family and friends, Town of Cary and the Ujima Group, Inc., will host the annual Kwanzaa Celebration at the Cary Arts Center. During Kwanzaa, people are invited to ponder the Nguzo Saba, seven powerful principles derived from African heritage, as a means of taking stock, celebrating achievements and entering the future refreshed and renewed. The event will feature a vendor market, a children's village, dance performances and more.
Dec. 31
Raleigh's biggest New Year celebration fills the city's center with crowds and activities: entertainment, live music, vendors and an epic grand finale that sees a giant copper acorn drop from the sky as the clock strikes midnight.
Lighting of the Trees at Lafayette Village, Nov. 19
Roshambo Holiday Bazaar at Transfer Co. Food Hall, Nov. 19
Roshambo 5th Annual Holiday Market at Compass Rose, Nov. 26
Cary Players present A Christmas Story, Dec. 2-5
Fuquay-Varina Chorale Holiday Concert, Dec. 2 and 3
Garner Christmas Parade, Party and Tree Lighting, Dec. 3
Christmas Open House at the Joel Lane Museum House, Dec. 3
Scandinavian Christmas Fair, Dec. 3
Zebulon Christmas Parade, Dec. 3
Marbles Evening with Elves, Dec. 9
MAKRS Holiday Fest, Dec. 10
Concert Singers of Cary presents Holiday Pops Concert, Dec. 10
One Christmas Night in Memphis, Dec. 16-17
Cary Ballet Company presents The Nutcracker, Dec. 16-18
Marbles Gingerbread Jamboree, Dec. 17 and 18
Jim Brickman: A Very Merry Christmas, Dec. 20
Pure Life Theatre presents A Motown Christmas, Dec. 21, 22, 28 and 29
Header photo via North Hills and Terrence Jones Photography
Comments