Major Festivals and Events Scheduled for 2021 in Raleigh, N.C.
Thursday, June 17, 2021, 2pm by visitRaleigh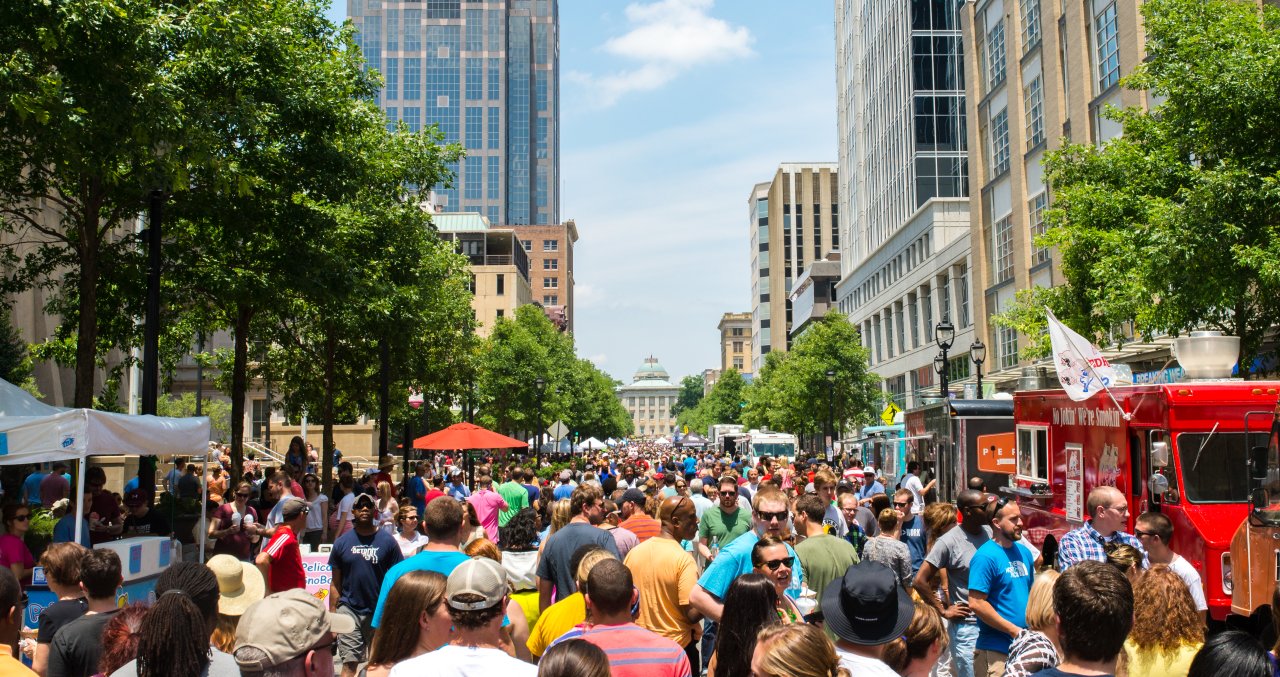 Ready for a comeback—months full of major festivals and celebrations are ahead in Raleigh, N.C.! These events serve an important purpose—they mark history and sense of pride, plus they showcase talent, creativity, culture, delicious foods and beverages (and provide us with space to reunite with friends and family!).
Make plans now to spend a day or a weekend in the Raleigh area around these trip-worthy events in 2021!
June 19, 2021
This inaugural event, celebrating the emancipation of the last enslaved African Americans in the U.S., will feature a morning of chalk drawings of the Juneteenth flag and names of Raleigh freedmen and freedwomen at the North Carolina State Capitol, followed by a jubilant afternoon at Dorothea Dix Park where guest speakers, musical entertainment, food and more will be on offer.
June 26, 2021
This all-you-can-taste beer and tequila festival takes you south of the border for foodie fun—tacos, margaritas, 80-plus beers, mariachi bands and other live music, pinata punching, contests and other surprises await at the North Carolina State Fairgrounds (a new location for the event this year).
Garner July 3 Independence Day Celebration
Sat., July 3 (includes fireworks)
Grab a blanket and head to Garner's Lake Benson Park for an evening of patriotic entertainment. The Independence Day Celebration starts at 5pm with food vendors, kids crafts, tours of the Garner Veterans Memorial and more. The North Carolina Symphony will put on a patriotic program at 8:30pm, followed immediately by fireworks. Picnics, coolers and beach umbrellas are welcome! Admission and parking are free.
Sun., July 4 (includes fireworks)
Relax under the pines at Koka Booth Amphitheatre for the Town of Cary's July 4th Celebration. With doors opening at 3:30pm, the Cary Town Band kicks off music at 5:30pm, followed by a patriotic performance by the North Carolina Symphony and fireworks over beautiful Symphony Lake to cap the evening. General admission seating is available free to the public on a first-come basis (table seating has sold out). Food vendors will be available outside of the venue gates.
July 23-24, 2021
Live music, a beer garden, a barbecue competition (sanctioned by the Kansas City Barbecue Society) and more make for one of Apex's tastiest events of the year.
GalaxyCon Raleigh
July 29-Aug. 1, 2021
A three-day festival for fans of pop culture, superheroes, science fiction, anime and more, GalaxyCon Raleigh will be back and better than ever at the Raleigh Convention Center in late July. Featuring celebrity guests, comic book creators, artists, cosplayers and other industry guests, GalaxyCon Raleigh is expected to bring an incredible 30,000 attendees together in downtown Raleigh to see and be seen, to meet celebrities, go head-to-head in video games and have a blast participating in all things geek!
Aug. 6, 2021
One of America's best (and fastest) track events, the Sir Walter Miler, is a free-admission event featuring an elite field of men and women runners and allows fans onto the track at Meredith College to scream and cheer as athletes look to set some of the fastest mile times of the year in the U.S. Since the inception of the Sir Walter Miler in 2014, the collective men's elite field has broken the four-minute mile barrier a total of 26 times, and the women's elite field has broken 4:30—a time that had never previously been beat in the history of N.C.—nine total times.
Raleigh's 5th Annual International Food Festival
Aug. 28, 2021
Celebrate Raleigh's diverse community and welcoming spirit by trying food, beer and wine (plus listen to live music and see more entertainment) from around the world. Nearly 20,000 attendees are expected in downtown Raleigh's City Plaza for the event.
Aug. 28-29, 2021
For more than 40 years, the Lazy Daze Arts and Crafts Festival has put local artists and craftsmakers in the spotlight. Today, the Cary festival has grown to two days, features more than 300 artists from 16 states, has multiple stages of live music, a beer garden and plenty of food trucks.
Sept. 3-5, 2021
An annual celebration of African American culture expressed through art, music, food and community, this two-day downtown Raleigh festival showcases local, national and international artists, performers, food vendors and area business owners.
Sept. 9-11, 2021
Three days, nearly 150 bands, 12 venues in downtown Raleigh, 50 totally-free day parties and 25,000 fans—it's no wonder why Hopscotch Music Festival is time and time again named one of America's can't-miss music events. The acts-and genres-are as wide ranging as the venues they play in (the 5,000-seat Red Hat Amphitheater and a tiny dive bar, Slim's Downtown, for example). Headlining acts in recent years have included Angel Olsen, Big Boi, Solange, Run The Jewels, Margo Price, The Flaming Lips and more.
Beer, Bourbon & BBQ Festival
Sept. 10-11, 2021
Beer sipping, bourbon tasting, music listening and barbecue eating-what's not to love? Don't miss the two-day Beer, Bourbon and BBQ Festival at Cary's Koka Booth Amphitheatre. Admission buys you a souvenir sampling glass so you can enjoy an all-you-care-to-taste sampling of beer and bourbon, plus chow down on some pulled pork, ribs, biscuit and more, all while enjoying all-day live music.
Sept. 10-12, 2021
A tradition in Raleigh since 1982, the Raleigh Greek Festival—held at the North Carolina State Fairgrounds—features live music and traditional folk dancing plus all the authentic food options you could ask for (gyros, souvlaki, baklava, cookies, pizza, stuffed grape leaves, wine and more). 
40th Annual Apex PeakFest
Sept. 11, 2021
Salem St. in historic downtown Apex comes alive with more than 20,000 visitors during PeakFest. For 40 years now, the arts and crafts festival has brought families together for a day of fun, food and fellowship. The town of Apex's largest annual event, PeakFest has all-day live music, all the arts and crafts you can imagine, entertainment for kids and food vendors that bring their best State Fair-style goodies.
Date TBA (mid-Sept.)
Experience more than 100 exhibits, crafts, games and activities at BugFest, North Carolina Museum of Natural Sciences' annual event that lets you interact with entomologists and other scientists while learning about the fascinating world of bugs. Featuring the ever-popular Café Insecta, where the brave can sample buggy dishes prepared by local chefs. The best part? The event is totally free for the expected 35,000 attendees.
Sept. 19, 2021
Back for a 27th year, La Fiesta del Pueblo, a Hispanic cultural event held in the Fayetteville Street district in downtown Raleigh, draws nearly 20,000 attendees each year and showcases music, art, dance performances, educational booths, children's activities and food from different regions of Latin America, all in celebration of the diversity of Latin-American culture.
Brewgaloo
Sept. 17-18, 2021
Voted America's best beer festival two years in a row now by USA TODAY readers, N.C.'s largest craft beer event features 100 breweries, 50 food trucks and draws 30,000 people to downtown Raleigh each year. Brewgaloo, which has free admission on Sat. (so bring plenty of friends!), allows you to purchase either beer samples or full pints from breweries located across the state. 
Sept. 26 and Nov. 7, 2021
Food trucks as far as you can see (literally!). The Downtown Raleigh Food Truck Rodeo brings more than 50 food trucks to the city center, spanning a half-mile and 11 city blocks and drawing thousands of hungry visitors to taste the best of the best from local trucks. It's one of the biggest rodeos in the country!
Oct. 1-2, 2021
The arrival of a toe-tappin', banjo-strummin' week of non-stop week of bluegrass in downtown Raleigh is one of the most anticipated times of the year. The International Bluegrass Music Association brings their business conference, along with the world's most talented bluegrass musicians, to Raleigh during this week. Those musicians then perform in clubs, on street corners and in hotel lobbies—anywhere they can find a jam session—during the week and during the IBMA Bluegrass Ramble. Then the week is capped off with IBMA Bluegrass Live! powered by PNC, a two-day festival that sets up five stages of free music, a dance tent, a barbecue championship, tons of art vendors and more. The free Main Stage at Red Hat Amphitheater has featured the Steep Canyon Rangers with Steve Martin, Sierra Hull, The Infamous Stringdusters and more in recent years.
Oct. 1-2, 2021
The sixth annual Triangle Oktoberfest at Koka Booth Amphitheatre in Cary is set to provide plenty of family-friendly activities including live music, storytelling, dancing and traditional Bavarian food and fare (plus local and authentic German beers on hand).
Oct. 2, 2021
A celebration of Latino culture (and a search for the best tamale in Raleigh!) at Dorothea Dix Park, this free-admission event will include authentic performances from local groups, games and inflatables for kids, Latin dance lessons, local art exhibits, food trucks and a variety of tamales to purchase. Guests may bring their own food as well. Dogs are permitted (on a leash).
Artsplosure - The Raleigh Arts Festival
Oct. 9-10, 2021
One of the Southeast's premier arts festivals, Artsplosure - The Raleigh Arts Festival attracts more than 80,000 people to downtown Raleigh during the third weekend of May each year. Celebrating fine visual art and live music since 1980, the festival puts more than 180 artists' work, using countless mediums, on display for all to see and enjoy during the free festival.
Oct. 12-17
Based on the hilarious hit film, 9 to 5—presented by North Carolina Theatre at the Duke Energy Center for the Performing Arts—is an outrageous, 1980's era revenge story of friendship and female empowerment. Three women, working at the mercy of their manipulative misogynist boss, live out their wildest workplace fantasy—giving the boss the boot. With a high-energy, huge-hearted score by the iconic Dolly Parton, 9 to 5 is about finally getting credit (and getting even!).
Date TBA (mid-Oct.)
Diwali is the most widely-celebrated religious and cultural event in India, and marks the victory of good over evil, light over dark, and the beginning of the New Year. Each year Cary Diwali includes music, dance, theater performances, a handicraft bazaar, Indian food vendors, sponsor booths, an exhibition of Indian art and culture, activities for children, demonstrations and so much more at Koka Booth Amphitheatre!
2021 N.C. State Fair
Oct. 14-24, 2021
Worth. The. Wait! Back after cancelation in 2020, the state's largest annual event draws one million visitors through the gates each Oct., and marks what many consider to be the unofficial beginning of the fall season. Eleven days of high-flying rides, deep-fried foods, live music, stunt shows and other entertainment (including nightly fireworks) has been a can't-miss event for generations of families—the 2021 version of the N.C. State Fair marks the 153rd year of the event!
Oct. 14-31
Marking a triumphant return to live performances, Carolina Ballet will open the 2021-2022 season with this new Halloween tradition—The Legend of Sleepy Hollow. Fans of the supernatural will enjoy this program of frights and delights that include director Robert Weiss' Lady in the White Veil and The Raven. Spine-tingling and eerie, do not be surprised if you stumble upon an ominous ghost, a creepy blackbird or the Headless Horseman himself!
Nov. 19, 2021-Jan. 9, 2022
The beloved North Carolina Chinese Lantern Festival, now a holiday tradition for many Raleigh area residents and visitors alike, will return to Cary's Koka Booth Amphitheatre in Nov. This is the fifth year the event will light up the amphitheater for the holiday season (the festival was canceled last year due to COVID-19). Look forward to more than 20 new displays, each including thousands of LED lights. In addition to the displays, there will be nightly performances on the main stage as in years past. Any-day tickets are on sale now, special package tickets go on sale July 9 at noon and tickets for specific days go on sale Aug. 6 at noon.
Nov. 20, 2021
A Raleigh tradition for more than 75 years, the Raleigh Christmas Parade is the largest parade of its kind between Atlanta and Washington, D.C. The parade—filled with marching bands, dancers, classic cars, super heroes and more—marches through downtown Raleigh for two hours along a 1.4-mile route that draws a crowd of 60,000 spectators.
Early Dec. 2021
This theater production from local passionate mind Ira David Wood III, celebrating its 47th year during the 2021 holiday season, has wowed more than a million guests throughout the years. The beloved musical comedy, in which Wood himself puts on an incredible performance as Scrooge, has been a longstanding tradition for families in the area—tickets tend to go quickly so plan ahead!
Dec. 17-24, 2020
Grace, grandeur and mysterious illusions. Carolina Ballet's holiday classic is a can't-miss tradition for locals, visitors, families and friends. The only production in the country using illusions created by renowned magician Rick Thomas, The Nutcracker will make characters levitate, disappear and reappear before your eyes on stage at the Duke Energy Center for the Performing Arts.
Mid-Dec. 2021
The North Carolina Executive Mansion, designed by prominent architect Samuel Sloan, is one of the state's architectural gems and serves as a repository for a fine collection of 18th- and 19th-century N.C. furnishings and paintings. For four days, visitors are invited to tour the home, take in the decorations and enjoy seasonal musical entertainment by local performing groups. The first floor of the mansion will be decorated with N.C.-grown Christmas trees, floral and mixed evergreen arrangements and ornate mantle displays. The Holiday Open House is one of the only times each year for visitors to enter the house without a prior reservation or group tour scheduled.
Dec. 31, 2021
First Night Raleigh, a downtown Raleigh New Year's Eve celebration for more than 25 years, is an all-day event with more than 100 performances (music, dance, theater, comedy and more) across 35 venues. Tons of kids' activities, a 90-foot-tall Ferris wheel and a countdown to midnight (where, yes, a giant acorn drops from the sky as the clock strikes 12) and celebratory fireworks highlight a full day of festivities. 
Comments