Vinyl Record Stores in Raleigh, N.C.
Wednesday, February 24, 2021, 4pm by David Menconi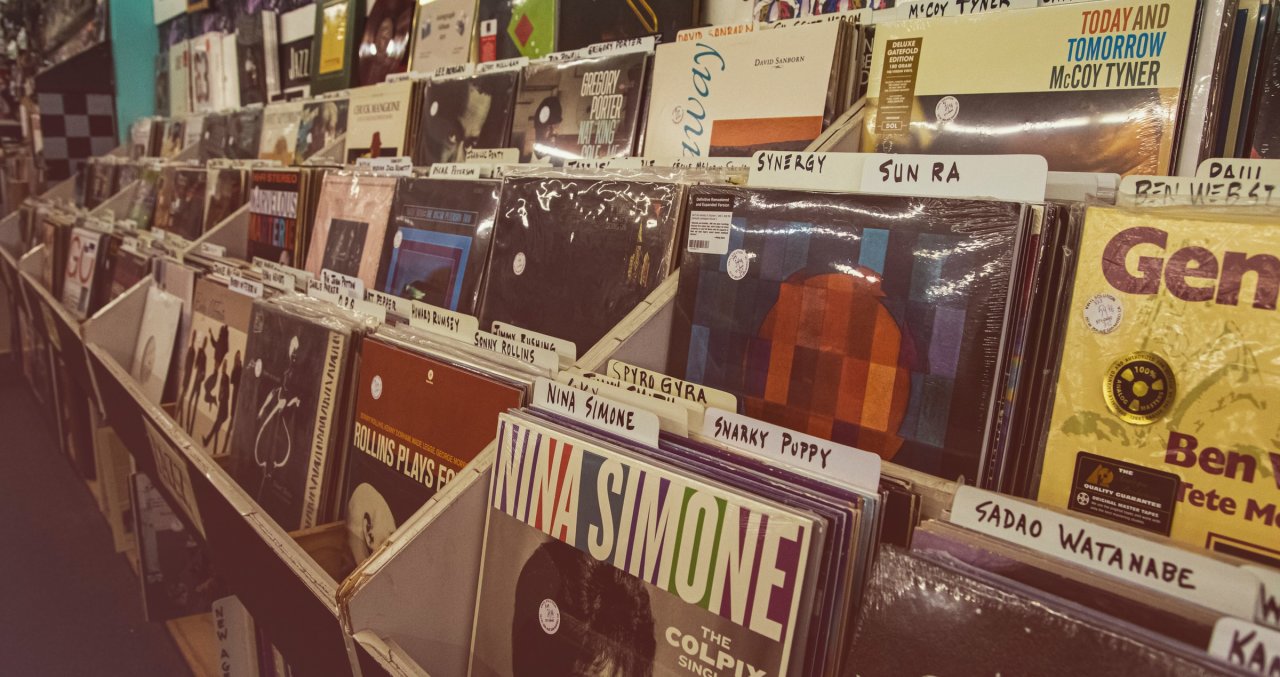 Note: Authored by David Menconi, this piece has been produced in partnership with Raleigh Arts. Menconi's latest book, "Step It Up and Go: The Story of North Carolina Popular Music, from Blind Boy Fuller and Doc Watson to Nina Simone and Superchunk," was published in Oct. by University of North Carolina Press.
---

A pandemic-plagued year presented brutal challenges for businesses of all types and sizes, including record stores. Yet somehow, record stores in the Raleigh area are finding new ways to not just survive but thrive, often by honing in on new features or niches.
Here's a survey of stores on the scene. All have the standard coronavirus protocols with mask-wearing, hand-sanitizing, occupancy limits, social distancing and such. Most of them offer curbside pickup or mail-order delivery if you want to truly keep your distance.
As the pandemic picked up speed during the spring of 2020, the record store upstairs at the Pour House Music Hall was ill-prepared for a shutdown, lacking a website. So they had to do what co-owner Adam Linstaedt calls "a quick pivot," with co-owner Lacie Linstaedt getting a fully functional website up and running by the middle of April.
Online sales got the shop through the dark days of the shutdown, and they have since reopened four days per week. The inventory continues to be vinyl-only, and they have done their best to keep things fun even in the midst of harsh times.
"Sometimes people are queued up in the alley to get in," says Adam Lindstaedt. "So we have markers six feet apart, with posters that have fun-fact ways to gauge how long six feet is. We put those up for Record Store Day to give people in line something other than a brick wall to look at. All about the experience."
Hours are noon-5pm Thurs.-Sun., and noon-7pm Fri. and Sat. (or by appointment).
Follow on Instagram: @pourhouserecordshop
Long an institution on the Raleigh area's record-store landscape, Schoolkids Records' Mission Valley location still has among the widest top-to-bottom selections in the area. It also still does a fair amount of business with compact discs as well as vinyl records.
Online orders were key in getting through the past year. That worked out because business has boomed the second half of 2020 and into 2021.
"Vinyl sales have skyrocketed during the pandemic, reaching some of our highest levels in over five years," says owner Stephen Judge.
Hours are 10am-9pm Mon.-Sat., and noon-7pm on Sun.
Follow on Instagram: @schoolkidsrecords
Record Krate is one of Raleigh's best in-the-know spots, because you have to go around back to find the store. But the good part is you don't even have to physically show up, because Adam Kirk will bring the show to you through the miracle of his YouTube channel, where he'll do online sales several times a week.
"Days that aren't good sales days for the brick-and-mortar store, I try to make it happen online," he says. "I've built up good relationships with people from Australia, Canada, England—as many as 100 people are watching at a time."
Kirk also has a store with a wide selection in downtown Wake Forest.
Raleigh hours: 11am-7pm Wed. and Fri., and 11am-5pm on Sun. (or by appointment).
Wake Forest hours: noon-6pm Tues., Thurs. and Sat. (or by appointment).
Follow on Instagram: @recordkrate
Long before North Carolina State University's main drag was redeveloped, Nice Price Books & Records was holding down the western end of Hillsborough St. The store offers a huge assortment of used records and compact discs, not to mention books of all sorts and even DVDs.
There's nothing better than getting a to-go cup of coffee from Cup A Joe next door and thumbing through the Nice Price bins to see what treasures await.
Hours are noon-7pm Mon.-Sun. There's currently a five-customer limit. Online ordering also available.
Follow on Instagram: @nicepricebooks
In the before times prior to the pandemic, The Vinyl Destination had four locations—in Clinton and Dunn, N.C., to go with two Raleigh stores. Unfortunately, the shutdown put the Clinton store out of business. But after the initial shock, vinyl sales at the remaining three "bounced back strong," says owner Eric Barnhill. 
"Online just exploded," he says. "Everybody was stuck at home, bored. So they were ordering records online, and it turned out better than Christmas for us. I've always thought music was the most powerful thing in the world, more than religion or love to some people. A lot of folks are struggling right now and leaning on music to get through these times, at least based on my sales."
Hours are 10am-5pm Mon.-Sat., and 1-5pm on Sun. Locations are inside of Cheshire Cat Antique Gallery and Trunk Show in Raleigh.
Follow on Instagram: @thevinyldestinationnc
This longtime Durham staple expanded to Raleigh's Seaboard Station in 2020, retrofitting a newly empty space from coffee bar to record store. The Raleigh Hunky Dory opened in Aug. 2020, during the summertime depths of the pandemic—less than ideal, but it's worked out pretty well.
Hunky Dory offers "Beer. Records. Dankness." Asked about that last part, owner Michael Bell laughs. 
"'Dank is just a word that's followed me around since college," Bell says. "Not like 'dank basement,' more about things being real, real good—dank food, dank beer. Embrace the dankness! We just do vinyl, especially reissues of classic albums. 'The Velvet Underground & Nico,' things like that. And hip-hop, I cannot keep enough of it in stock."
Store hours are noon-8pm Mon.-Sat., and noon-6pm on Sun.
Follow on Instagram: @hunkydoryraleigh
Formerly named In The Groove Records, Sound Off Records occupies a pretty unique niche. The shop also does stereo repairs in addition to vinyl record sales, and it has a minimal online presence. That is by design.
"Used and old-school is our general gist," says co-owner Anna Cassano. "We are ultra-local, and we don't really list anything online. We'll sometimes post on Instagram or Facebook, but we're more into the idea that we have something rare and want it to go to someone here as first option. Our priority is our customers we see all the time. We like to think we have a community we cater to."
Store hours are noon-3pm Sat. and Sun., or by appointment during the week.
Follow on Instagram: @soundoff_hifi
Small but mighty, Sorry State Records has a reputation that goes well beyond Raleigh for its punk and heavy metal selection. That put Sorry State in good stead when the pandemic forced it to go online-only last year, since it had been doing so much business that way already.
"When everything happened, I sat down with my employees and told them the ideal would be to come out stronger," says owner Daniel Lupton. "I feel like we have. Jan. 2021 was way up over Jan. 2020. It's cool the way everybody rolled with it and stuck with us, and we worked hard to stay connected with customers."
Now that its physical location is open again, Sorry State is limited to a capacity of just two customers in the shop at a time. So they reserve noon-2pm each day for private appointments, for customers who prefer not to have to wait in line outside to get in.
"A lot of people don't know we have a way wider selection than just punk and metal," says Lupton. "Probably the deepest jazz section in the area, tons of classic rock, soul, reggae, electronic. Flip through the racks and there's not a lot of chud."
Hours are 2-8pm Mon.-Sat., and 2-5pm on Sun. (noon-2pm daily available for private appointments).
Follow on Instagram: @sorrystate 
Other places to shop for vinyl, books, antiques and more
Comments