Six Barbecue Spots Offering Takeout, Delivery and Dine-In Service Right Now in Raleigh, N.C.
Wednesday, May 13, 2020, 1pm by visitRaleigh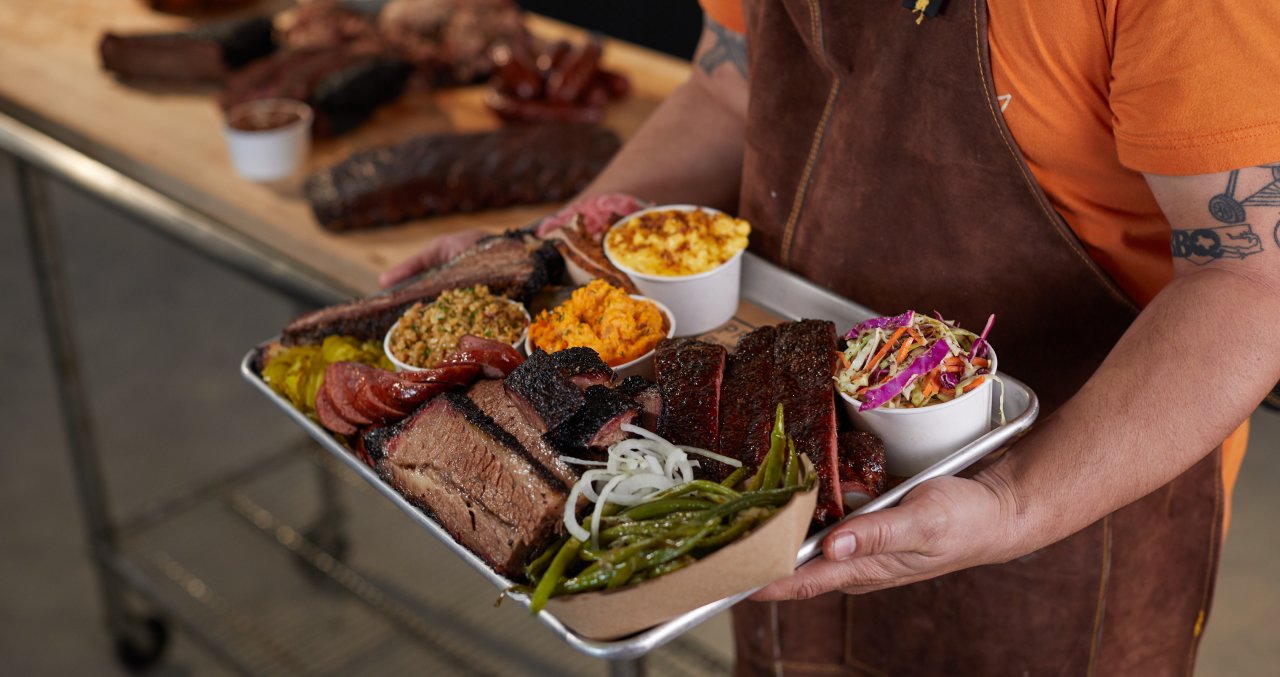 Barbecue. Barbeque. Bar-b-que. BBQ.
No matter how you spell it, we can agree on one thing: with a plate of barbecue in hand, all is right with the world.
While restaurants are battling tough times due to COVID-19, many in the Raleigh area have been serving the community through takeout and delivery options, and Phase 2 of the state's reopening plan now allows for restaurants to open their dining rooms with reduced capacity. So let's eat some 'cue—because we need good eats, and the hospitality industry needs our support!
 
One of the year's most highly-anticipated restaurant openings has arrived. Prime Barbecue (pictured in the header) brings together the flavors of Texas, North Carolina and Kansas City barbecue in the best way possible. Christopher Prieto, a champion pitmaster, self-proclaimed "barbecue nerd" and the mastermind behind this destination 'cue concept, broke ground on his first restaurant in Knightdale in May of 2018, and they are now ready for action.
Prieto's award-winning brisket, ribs and pulled pork can be ordered by the half-pound, and a myriad of sides, sandwiches and salads are available as well. Orders must be either placed online at least 48 hours in advance, or you can place a takeout order in person at the restaurant Tues.-Sat. beginning at 11am.
At Transfer Co. Food Hall—the massive foodie attraction that opened in early 2019—Longleaf Swine is bringing all the smoked meat eats to their first brick-and-mortar location (hoping to open this year). From food trailer in 2016 to locally-loved 'cue truck—named for the state's signature pine—the partnership between Adam Cunningham and Marc Russell showcases smoked pork, ribs, brisket, sausages, homemade sides and more via pop-up opening events around town.
Longleaf Swine is currently offering contact-free delivery in the Raleigh area, with ordering taking place online and deliveries occurring on Fridays.
For more than 25 years now, roadside barbecue joint Ole Time Barbecue has delivered old-school 'cue to a loyal customer base. The Eastern N.C. (vinegar-based) barbecue is typically served to jam-packed restaurant made up of a dozen or so booths and handful of counter seats (plus an overflowing gravel parking lot). Today, Ben Hart's restaurant is fulfilling a steady flow of takeout orders of barbecue, whole chickens, Brunswick stew and more. Business is still tough, but things have been helped by a recent feature on Good Morning America.
To order, call the restaurant at 919.859.2544. Delivery is available through DoorDash, Grubhub and other services (subject to change). The restaurant expects to open the dining room in early June.
The Pit makes no bones about it, this barbecue place serves everything but the squeal. Steeped in Eastern style, The Pit cooks up a few whole hogs each night and serves them every day. But The Pit isn't married to whole hog—they serve baby back ribs and a richer Carolina-style rib as well, fork-tender brisket, chopped smoked turkey and a fried chicken that rivals any other in the area.
What about the extras? The Pit adds a gourmet touch to classic sides. The collards are an heirloom variety and perfectly tender. Fried okra and even candied yams are dishes that push beyond what your granny used to make. And the cole slaw—especially after a dash of barbecue sauce over the top—is a knockout.
You can order online for same-day pickup, or you can now make a reservation to eat inside the reopened dining room.
What do you get when a brewer decides to open a restaurant? A barbecue joint with 22 beers on tap, right across the street from the Tap House.
Mark Doble started Aviator Brewing Company in 2008 after a few years of homebrewing in an airplane hangar. The SmokeHouse followed soon after, opening in 2011 with Doble unleashing his backyard-tested barbecue recipes and inventive sauces on the world. We're glad he did.
Aviator SmokeHouse takes their barbecue seriously, but not too seriously. A mix of barbecue and pub grub—which means everything goes with the beer—SmokeHouse dishes up onion rings, mountainous plates of nachos (topped with chicken or barbecue, naturally) and loaded tater tots. Then there's the wings, smoked then deep-fried when you order them so they have the right mix of succulent, smoky goodness and crispy skin.
And, of course, the barbecue—whole hog, ribs, brisket, smoked chicken, even bacon-wrapped meatloaf—is always a main draw.
Order online or by phone and pick up at the restaurant, or call ahead for a reservation in the reopened dining room.
Smokey's BBQ Shack
Serving some of the best East-meets-Lexington sauce in the area, Smokey's BBQ Shack walks a fine line between North Carolina's native barbecue styles. Heavy on the hickory smoke, this barbecue and the accompanying sauces show off a subtle hand at the pit as it strikes a balance that others don't often achieve.
The platters here are filling, and the regular size is enough for many folks. Regular or large, each platter comes with four hush puppies and a pair of sides—sweet tater tots (a must have), baked beans in a sauce of their own devising, potato salad and Brunswick stew are among the options.
This family-run restaurant is a favorite among 'cue connoisseurs in the Raleigh area—a sliced brisket platter or pulled pork sandwich will be happy to show you why!
Smokey's has reopened their dining room with reduced capacity and has plenty of seating outdoors. Or you can place a pickup order by calling the restaurant at 919.469.1724.
Header photo: Natalia Weedy
Comments