Top 10 Reasons to Meet in the Midtown Raleigh District
Friday, December 16, 2022, 9am by Visit Raleigh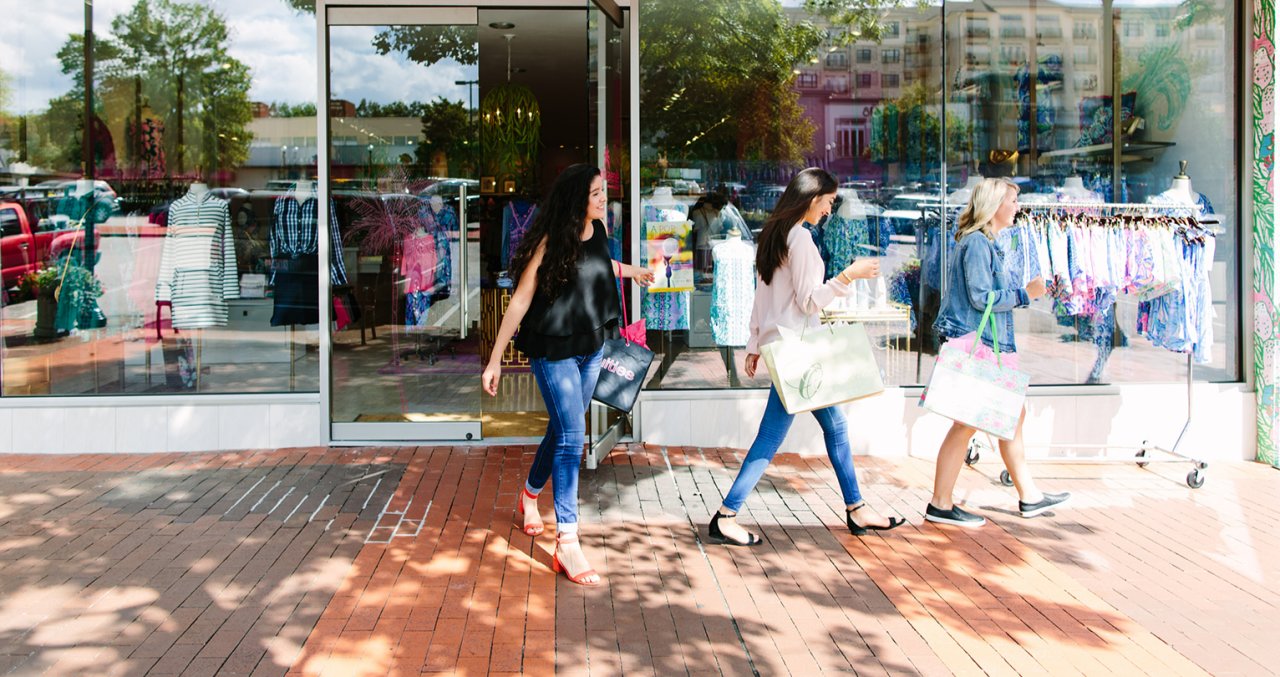 When deciding where your group should meet in Raleigh, N.C., the Midtown Raleigh district is always an excellent choice. The lively district is full of entertainment, easy to get around and is a tried-and-true shopper's paradise. 
Four entertainment areas—North Hills, Crabtree Valley, Village District and the Five Points neighborhood—help make up the Midtown Raleigh district. Each provides a unique experience with plenty of awesome things to do.
If you need any more convincing on why the meeting district is a perfect spot for your next gathering, we've compiled a list of the top 10 reasons.
 
Crabtree Valley Mall
Raleigh's premier shopping mall—Crabtree Valley Mall—is located in Midtown Raleigh. With over 200 stores (including Michael Kors, Coach, Apple, The North Face, Tommy Bahama, H&M and more) and yummy food options, it's easy to spend hours at the mall.
Plus, directly across the street is the Raleigh Marriott Crabtree Valley, offering up delicious dining at its Braise restaurant, plus a beautiful terrace to enjoy drinks from the bar and time with friends. 
North Hills
The North Hills Mall opened in 1960. Although the mall is no longer standing, the North Hills area is still a major shopping destination. The giant, open-air, walkable district offers more than 130 shops, restaurants, bars, spas and more. Shop for a new outfit at Voda Boutique, be pampered at Blown Away Raleigh or pick up a book at Quail Ridge Books—there's so much to do!
The great outdoors
Not only does Midtown Raleigh provide excellent shopping amenities, but also tons of natural beauty. Get some steps in at one of the many nearby nature trails. Head to the Capital Area Greenway Trail System's Crabtree Creek Trail, where you can run, walk or bike through miles of scenic trails—and it connects to the Neuse River Greenway Trail.
Live music
After your meeting, unwind and jam out to some live music! The Midtown Raleigh district is a prime spot for entertainment, with awesome events at North Hills' Coastal Credit Union Midtown Park. Mark your calendars for the ever-popular Midtown Beach Music Series (April-Aug.) and Friday Night Tributes (Aug.-Oct.) See the full schedule here as events are posted.
Dining and drinks
Looking for eats and drinks in the Midtown Raleigh district? Whether you're in the mood for sushi, burgers, or tacos—Midtown Raleigh has it all! Start at one of these 15 highly recommended restaurants. Then head to STIR Raleigh (known for their artisanal ice that has been hand-cut to complement each one of their imaginative craft cocktails), Level7 or Vita Vite Midtown for delicious drinks. Those looking for local beer will want to swing by Clouds Brewing Taproom, Sneaky Penguin Brewing or Funguys Brewing, just outside the Midtown Raleigh district.
Major meeting hotels
Multiple meeting hotels sit in the Midtown Raleigh district in the Crabtree Valley area and feature great space for your next event. Midtown Raleigh's major meeting hotels include the Raleigh Marriott Crabtree Valley (mentioned above!), DoubleTree by Hilton Raleigh Crabtree Valley, Embassy Suites by Hilton Raleigh Crabtree and the Hilton Garden Inn Raleigh/Crabtree Valley. Each are full-service hotels with 2,500 square feet or more of meeting space. Bonus: The total hotel meeting space between the four hotels is 40,034 square feet!
Other popular major meeting hotels in the Midtown Raleigh district include the Renaissance Raleigh North Hills Hotel and Hilton Raleigh North Hills—both in the North Hills area. The Four-Star Renaissance Raleigh North Hills Hotel has 13,400 square feet of meeting space and 229 luxury guest rooms, while the Hilton Raleigh North Hills totals 30,000 square feet of meeting space and 333 deluxe guest rooms.
Public art 
Midtown Raleigh is home to tons of great public art installations and murals. Slip on your walking shoes and hit the streets to find inspiring pieces that will have you clamoring for the perfect Instagram photo or TikTok. The Art Walk at North Hills features 20 unique pieces—including The Art Box, which features a rotating gallery of original works by regional artists in an urban setting.
Village District
Village District has been a Raleigh favorite since 1949, transformed through the years and spanning six city blocks. Locals and visitors have mingled in the shopping area for decades, making it a tradition and a classic spot to dive into local offerings and also national favorite shops and restaurants. Check out MODE Consignment for some second-hand treasures or Light Years Jewelry for some unique accessories. We also recommend stopping by Village Deli for fresh, locally sourced dishes (and heading over to Tiff's Treats for something sweet afterwards!)
Five Points
The Five Points neighborhood brings together a network of local shops and restaurants. Grab a local beer at Nickelpoint Brewing Co., Neuse River Brewing Company or Lonerider at Five Points, then head down to Lilly's Pizza for a delicious pie or NOFO @ The Pig for Southern dining and an eclectic gift shop to explore. Another must is Hayes Barton Cafe and Dessertery, with its 1940s nostalgia feel and award-winning desserts.
Transportation
RDU International Airport serves Raleigh, N.C., and the Research Triangle Region with two terminals and nonstop flights from 50+ other markets. The highly rated airport (recently ranked one of the top five large airports for customer satisfaction in the latest J.D. Power North America Airport Satisfaction Study) is only a short distance from the Midtown Raleigh meeting district. After landing, it takes about 15 minutes to get from the airport to North Hills, Crabtree Valley Mall or the Village District via car. Tip: Call your hotel beforehand to see if they offer free airport shuttle for visitors.
Additionally, each area within the district is very walkable/easy to access, with plenty of parking.
Header image by Rob Laughter

Author: Visit Raleigh
Visit Raleigh is the official and accredited destination marketing organization (DMO) for all of Wake County.
Comments