Meet Duarte Morais, Ph.D., Associate Professor at North Carolina State University
Friday, August 12, 2022, 12pm by visitRaleigh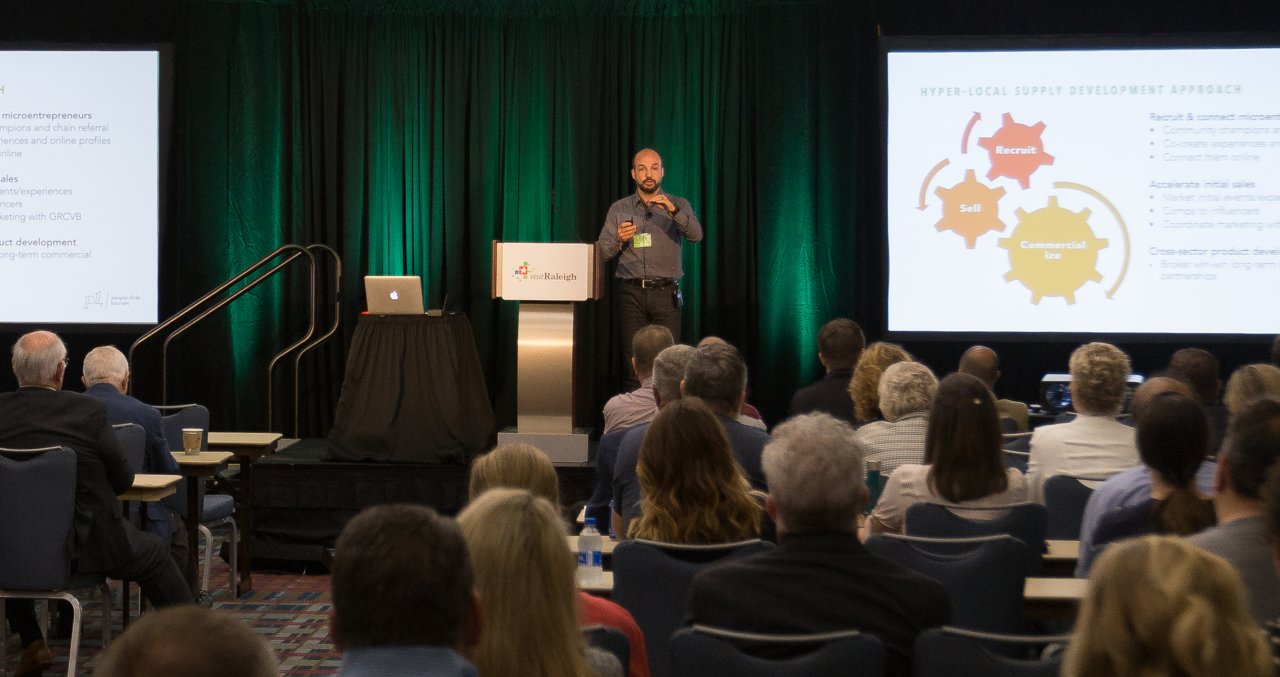 We believe there are some people in our area whom every hospitality partner ought to know (or at least know about). Today we want to introduce you to Duarte Morais, Ph.D., associate professor in the Department of Parks, Recreation and Tourism Management at N.C. State. Dr. Morais is the cofounder of People-First Tourism (as a movement and as a company), an increasingly important facet of Wake County's tourism offerings.

Tell us about your background. Where you are from, what is your educational background, and what brought you to Raleigh?
I am Portuguese—more specifically, from Chaves, a small touristy mountain town next to Portugal's northern border with Spain. I was raised by tourism—I grew up in a rural tourism farm (Quinta da Mata), where I chatted daily with tourists from all over the world about my country, my region and my family.

I went to college in Lisbon and then came to the U.S. for grad school. During my doctoral work at Clemson University, I fell in love with the Carolinas—maybe because of the region's geographic similarities with Portugal. I think that Carolinians' and Portuguese people's renowned hospitality must have also made me feel at home here. So in 2010 after a decade of working at Penn State University, I was delighted to move to Raleigh to work at N.C. State University.
What was it about tourism in general that was appealing to you and led you to choose it as your academic discipline?
From a very early age I realized that tourism is like fire—tourism can bring equitable prosperity when it is harnessed well, but it will burn everything down if left unbridled.

For example, I experienced firsthand how my family was able to keep our land viable and to sustain our livelihood with our tourism business, but my friends and I also felt unwelcomed in destinations popular with international tourists. I experienced how my small, economically humble country cultivated its relevance in global affairs through its prominent role as a top international destination.

However, our economy was also extremely dependent on sociopolitical fluctuations in dominant market countries (e.g., the decline of visits by British tourists after Brexit). I was seduced by the intellectual challenge of understanding this tension, and I endeavored to gradually develop methods, theoretical frameworks and partnerships that yielded actionable solutions. I am very fortunate to have made my way to N.C. State where I partner with communities across our state to explore these issues.
What is your current role at N.C. State, and what can you tell us about the classes you teach?
As an associate professor of Equitable and Sustainable Tourism, I explore the ways in which communities can share their cultural heritage, natural amenities and way of life with visitors as a way to further develop their economies and well-being. I am also a Tourism Extension specialist, and in this role, I assist N.C. communities in their efforts to harness the power of tourism to achieve their goals. My focus in this work is to find ways to stimulate the involvement of local people in the offer of genuine experiences (e.g., farm visits, art workshops) and products (e.g., produce, crafts) to visitors in symbiosis with local tourism businesses.  
Can you make any broad generalizations about the students in your department? What do they seem to have in common, or what it is about the industry that is influencing them to choose Parks, Recreation and Tourism Management as their major?
The background and interests of students in Parks, Recreation and Tourism vary greatly; nevertheless, most of them seem to be interested in our major due to a conviction that recreation, sports and tourism can bring happiness, well-being, health and other benefits to participants. They want to improve the lives of people in the communities they serve. 

This puts me and my colleagues in a nice position—our role is to nurture students' community-centered ethic and to help them develop state-of-the-art skills and early career connections with industry and government partners so that they can have prosperous and impactful lives.
---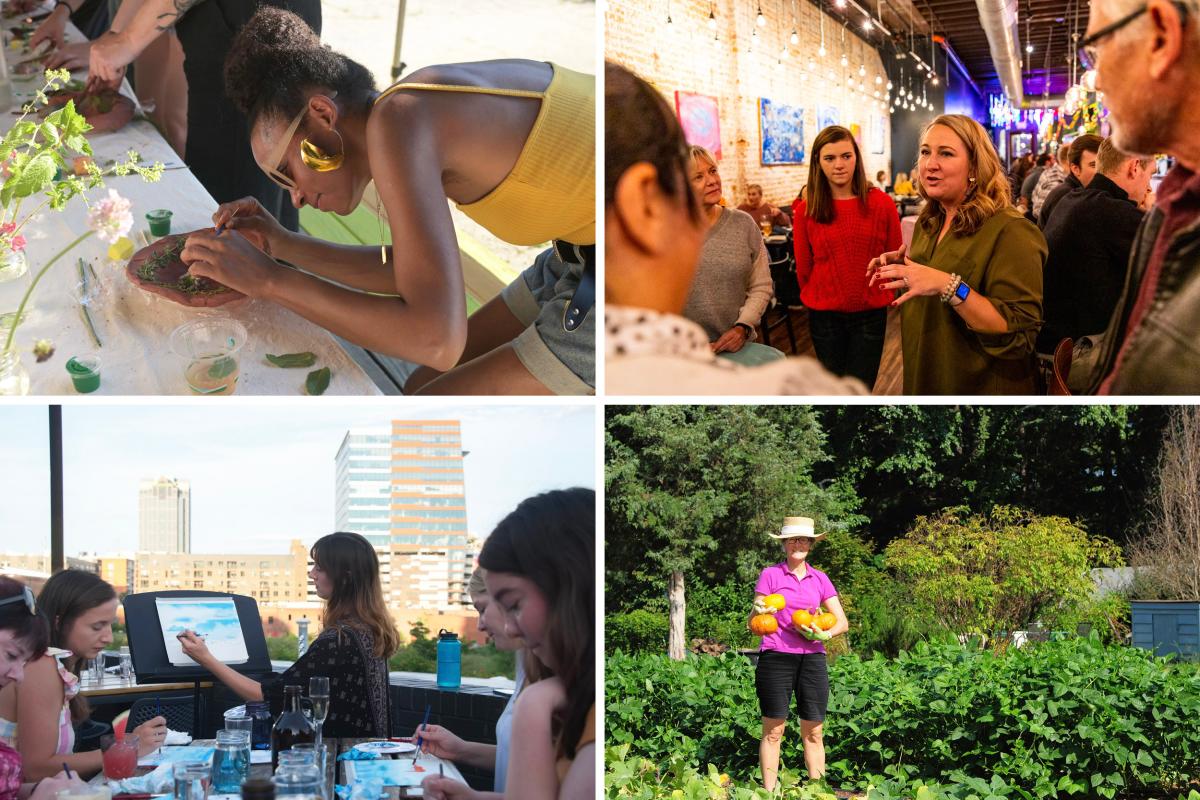 Pictured above: examples of Wake County People-First Tourism experiences
---
Tell us about People-First Tourism. What was the impetus of the program? How has it taken shape over the past few years?
People-First Tourism is a participatory action research program focused on examining (and facilitating) the role of microentrepreneurship in making destinations more competitive and enabling host communities to secure benefits from tourism. In other words, we assist people in offering hyperlocal experiences and products to tourists, and as we do so, we study their motivations, needs and entrepreneurial development journeys. 

We also work with destination organizations and tourism businesses, and in the process, we learn how hyperlocal experiences and products can be integrated into formal tourism systems. This collaborative approach involving academia, local government and the tourism industry (i.e., Triple Helix) is the emerging paradigm for universities like N.C. State that seeks to fuel impactful innovation.
What are the goals of People-First Tourism?
As N.C. State's first social startup, our company goal is to enable the success of the microentrepreneurs who participate in our projects and to improve the competitiveness of the destinations and businesses that partner with us.
As a research lab, we seek to lead scholarship on tourism microentrepreneurship so that the seminal work we are conducting here in N.C. can inspire other researchers globally.
As a collective of human beings, "We seek a world where travelers develop deep connections with their hosts, are transformed by the genuine cultures they experience and improve the lives of the people they visit." (Read more at the Manifesto of the People-First Tourism movement.)
Photos by Jonathan Corbett, David Kuhn, Garrett Poulos and Chris Richman

Author: visitRaleigh
The Greater Raleigh Convention and Visitors Bureau (GRCVB) is the official and accredited destination marketing organization (DMO) for all of Wake County.
Comments