Musical Numbers: Attendance and Economic Impact from IBMA's World of Bluegrass
Monday, November 05, 2018, 8am by visitRaleigh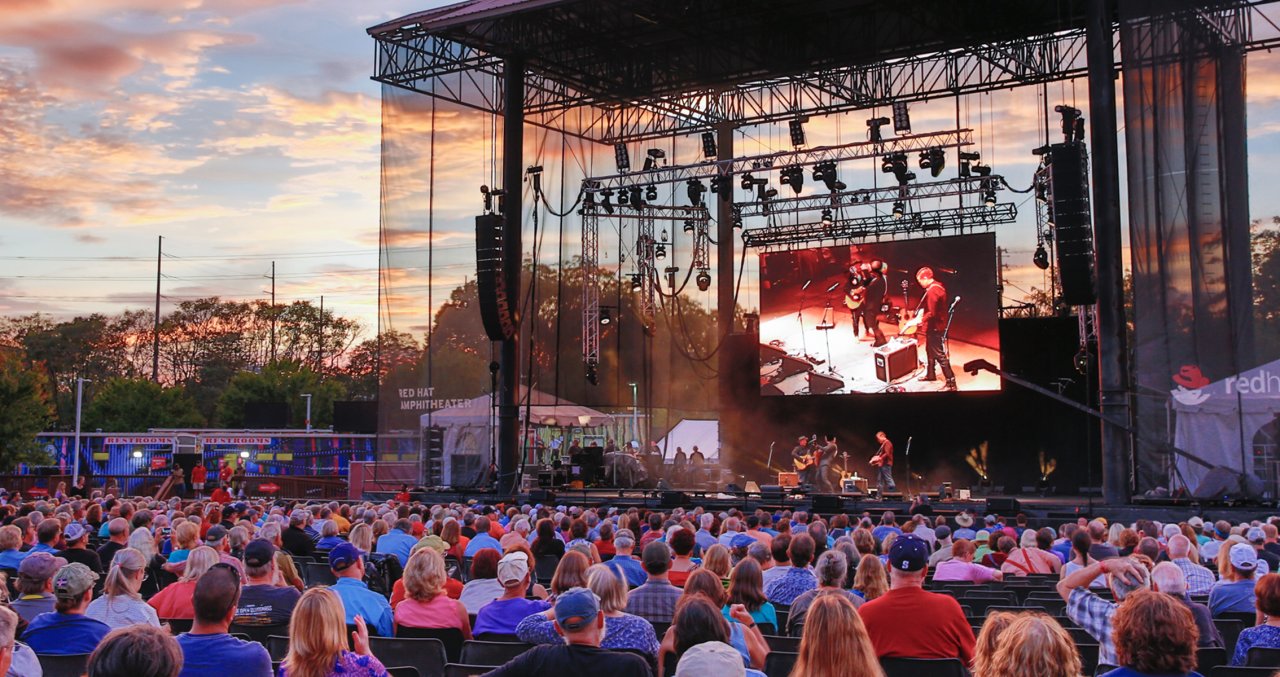 In case you missed the media coverage, we're republishing the press release that went out from GRCVB last week regarding the attendance (which over six years has passed the 1M mark) and economic impact of the International Bluegrass Music Association's (IBMA's) World of Bluegrass week in Raleigh.
Here's a cross-reference—If you have spent any time with the Destination Strategic Plan, you will know that Events is one of the eight priorities for the next 10 years. These numbers can help you understand why...
................................................
IBMA's World of Bluegrass Eclipses One Million Attendee Mark
Biggest week in bluegrass continues to evolve six years after moving to Raleigh
Raleigh, N.C. (Oct. 30, 2018) – The International Bluegrass Music Association's (IBMA) World of Bluegrass, presented by Chiesi USA, saw 223,320 attendees in its sixth year in Raleigh. This year's festivities also generated $12.7 million in direct economic impact within Wake County, the highest single-year total yet according to figures released today by the Greater Raleigh Convention and Visitors Bureau (Visit Raleigh). The week-long event held from Sept. 25-29 this year included: the three-day IBMA Business Conference, the International Bluegrass Music Awards Show, Bluegrass Ramble and the two-day PNC presents Wide Open Bluegrass, as well as the North Carolina Pork Council's 2018 Whole Hog Barbecue Championship.
It is important to note that the $12.7 million is a conservative estimate that does not include locals' spending, nor does it include a multiplier of indirect or induced impacts. It represents tourism economic impact only, which is new money coming into the local economy.
World of Bluegrass has now drawn 1,080,141 total attendees and generated an estimated $61.58 million in direct economic impact over its six years in Raleigh, N.C, dating back to 2013 when the event moved from Nashville to Raleigh. That makes it the largest multi-day festival held in the area each year.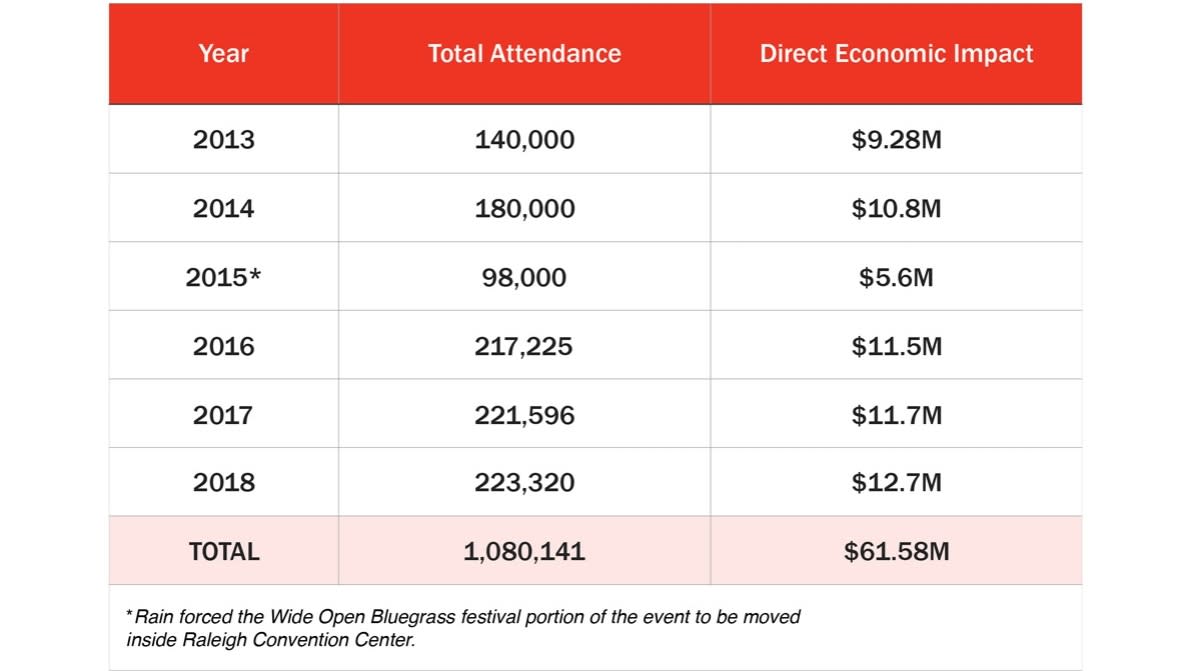 Earlier this year IBMA and the Raleigh Local Organizing Committee—made up of the City of Raleigh, Greater Raleigh Convention and Visitors Bureau (Visit Raleigh), PineCone, Piedmont Council of Traditional Music and the Raleigh Convention Center—announced a three-year extension to keep the event in Raleigh, N.C., through 2021.
"This year's IBMA World of Bluegrass was another incredible week filled with music, energy and generosity everywhere you turned in downtown Raleigh. We are delighted to see greater numbers of young musicians and fans taking part among the record number of people in attendance overall," said IBMA Executive Director Paul Schiminger. "This week is important to the professional bluegrass community to cultivate new business and new fans.
"We are grateful to the City of Raleigh and Wake County, whose strong commitment is indispensable in making World of Bluegrass the signature event it is for us and the city. Thanks to our close partners with the Raleigh Local Organizing Committee, Greater Raleigh Convention and Visitors Bureau, Raleigh Convention Center, PineCone, our terrific sponsors including Chiesi USA and PNC and the more than 250 volunteers, we get to show the world the tremendous excitement surrounding bluegrass music."
"This year we also saw how bluegrass music has an uncommon ability to create community," said Schiminger. "Attendees generously donated more than $14,000 to the IBMA Trust Fund, which provides critical assistance to bluegrass professionals facing financial emergencies. Furthermore, the IBMA's auction of a custom Martin guitar was successful in enabling us to donate the entire proceeds of $4,250 to the N. C. Disaster Relief Fund to help those impacted by Hurricane Florence. What could be better than knowing we're already confirmed to hold World of Bluegrass in this bluegrass-loving city through 2021?"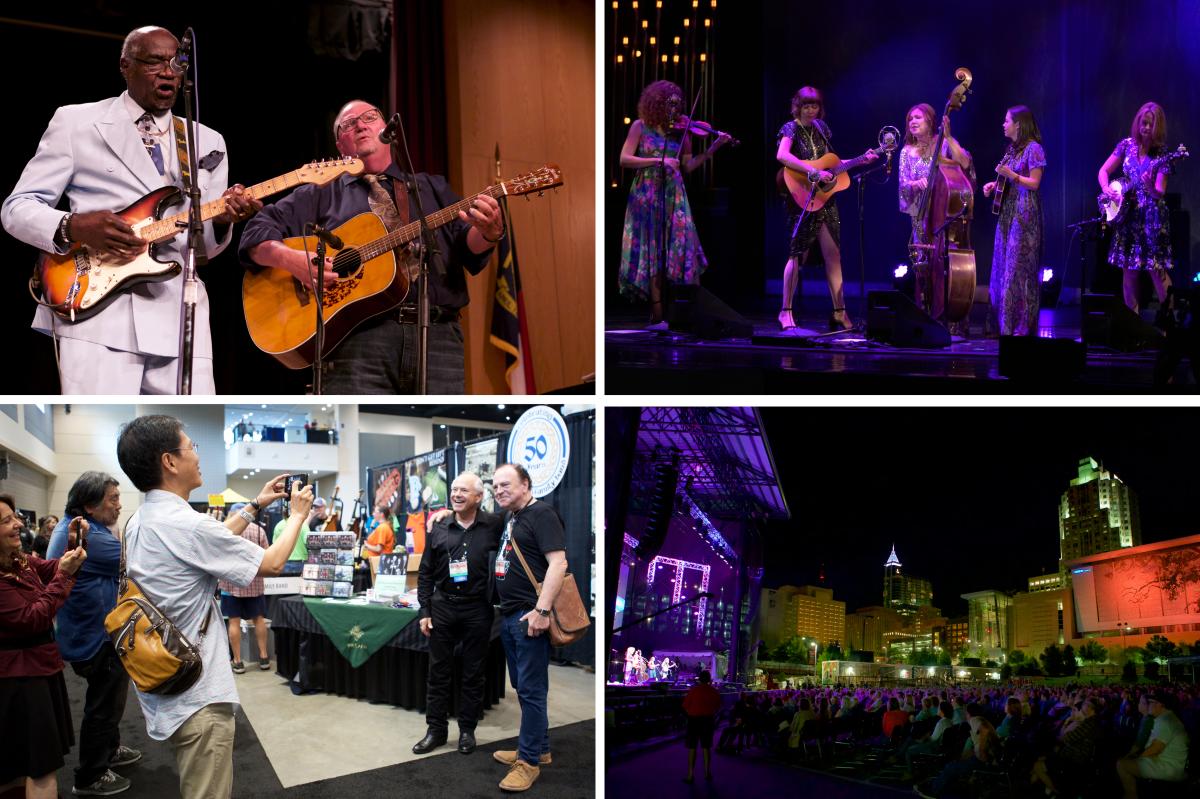 "In its time here in Raleigh World of Bluegrass has grown into the world's largest urban bluegrass festival and conference, and no doubt a hallmark of our city around the globe," said Dennis Edwards, president and CEO of the GRCVB. "Each year our hospitality community works with IBMA to provide the best possible visitor experience for World of Bluegrass attendees. We welcome them with open arms in what has become an annual 'homecoming' for many and strive to ensure they leave with memories of a lifetime from their visit to Raleigh, N.C."
Bluegrass in Schools
IBMA's impact extends beyond downtown Raleigh in other ways as well. Through the "Bluegrass in the Schools" program, funded by the United Arts Council of Raleigh and Wake County's Artists in the Schools program, almost 2,000 Wake County students experienced bluegrass in their schools during World of Bluegrass. Elementary-school students enjoyed performances by musicians visiting N.C. for the event, including two schools that benefited from the bilingual bluegrass of Che Apalache: Rogers Lane Elementary (where 43 percent of the student population speaks Spanish) and Jeffreys Grove (a Spanish immersion magnet school). 
Strings students from two middle schools and one high school even participated in master classes with some of the visiting musicians; improvisation is not taught in most strings classes, but it's a central component of bluegrass, so this program provides a unique opportunity for students to be able to learn about music improvisation and to play along with professional bluegrass musicians.
"The continued success of the partnership between IBMA and the local organizing committee is built on strong relations and broad community support," said William Lewis, tri-chair of the committee, IBMA board member and executive director of PineCone, Piedmont Council of Traditional Music, the local nonprofit organization that produces the music component of both the festival's ticketed Main Stage and the free StreetFest. "And it is Raleigh's creative spirit and genuine hospitality that helped us extend IBMA's contract for three more years. We will continue to fine-tune and evolve the festival so that it keeps pace with the growing needs of an increasingly large and diverse bluegrass community."
Photos by Todd Gunsher and Willa Stein.

Author: visitRaleigh
The Greater Raleigh Convention and Visitors Bureau (GRCVB) is the official and accredited destination marketing organization (DMO) for all of Wake County.
Comments