Hospitality Partner Visibility on visitRaleigh.com
Saturday, May 05, 2018, 11am by Vimal Vyas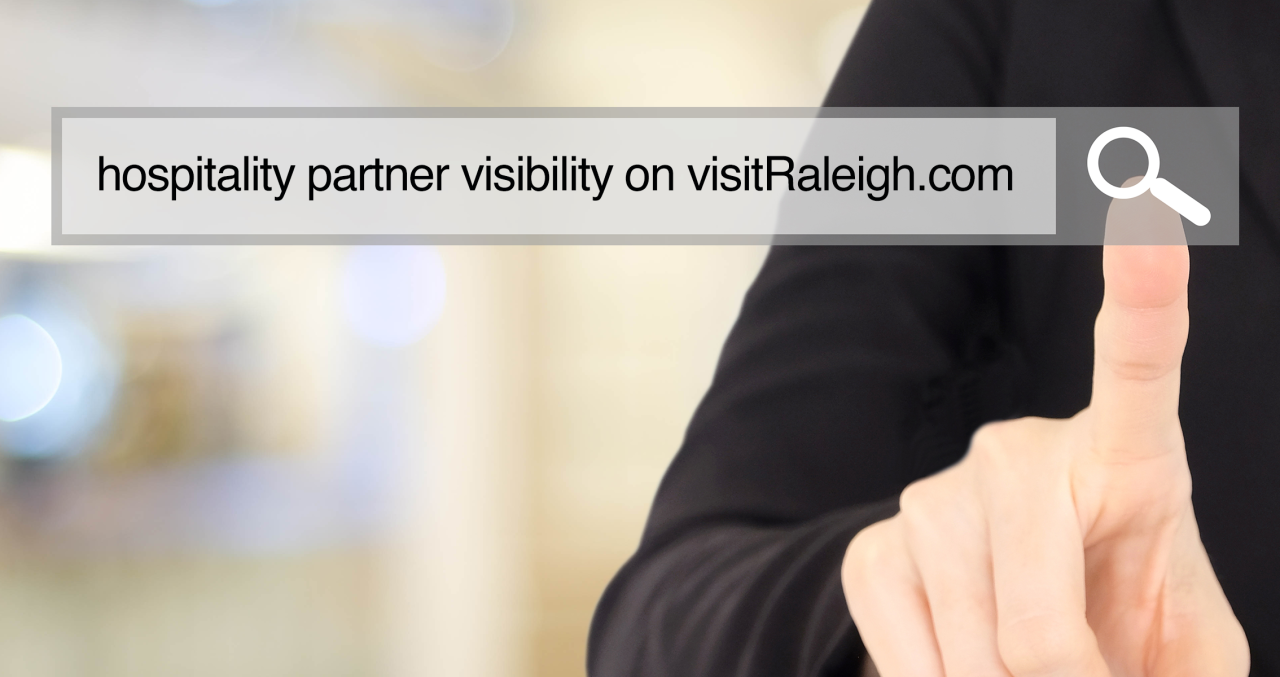 GRCVB's official tourism website, visitRaleigh.com, draws over 2.3 million sessions annually from engaged leisure and business travelers/clients. Those users are on our site for one reason—because they are planning to visit our area and spend money here.
Every hospitality partner in Wake County has a listing on visitRaleigh.com, and some of our partners have increased their visibility by adding a featured listing or sponsored content.
Where does the majority of visitRaleigh.com site traffic come from?
More than half of visitRaleigh.com user sessions come from earned organic search traffic. This means travelers are searching for destination-related topics via popular search engines like Bing, Google and Yahoo. They are clicking on unpaid (or non-CVB-sponsored) links on the first or second pages of their organic search results. 
Because of the relevant content communicated on visitRaleigh.com, visitors are spending more time on the official tourism site and, accordingly, more time viewing partner-related information.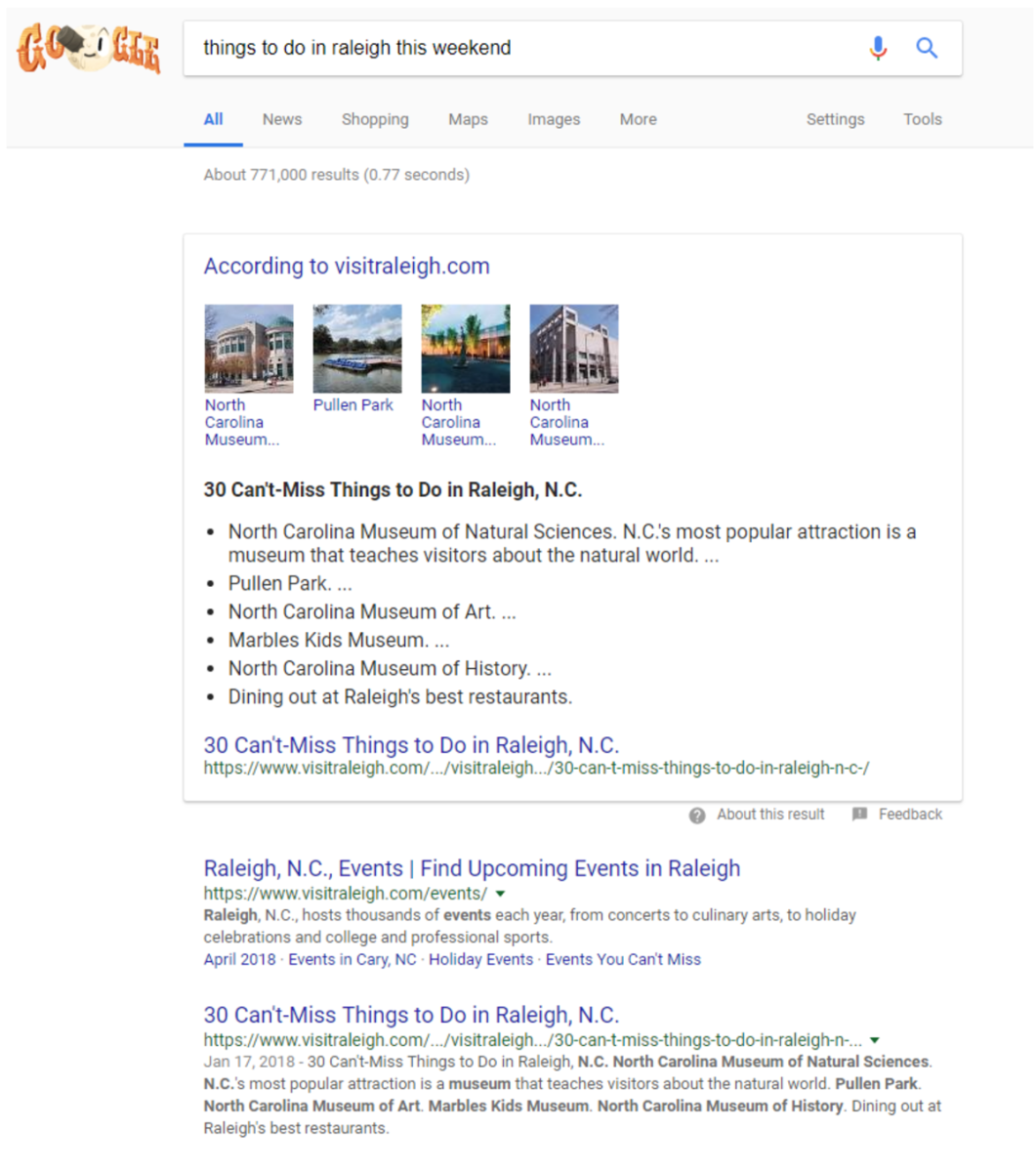 Another earned organic search example is a search of "things to do in Raleigh this weekend." visitRaleigh.com content is pulled into a special, featured snippet block as the first item on the resulting page of the Google search. A Google-featured snippet is an answer to a visitor's search query, and the organic results are where Google programmatically pulls the content that will most likely answer that visitor's question.
How does organic search traffic help a partner on visitRaleigh.com?
Partners are promoted on visitRaleigh.com as a listing, in any user-generated content, through native ads or in new articles published regularly on our site. Based on organic searches where visitRaleigh.com is ranked high, and on referrals from our site to our partners' sites, your business is also ranking at the top of a visitor's real-world search for tourism information.
Partners that are looking to increase their visibility can start for free by updating their listing with strong photos, updated descriptions, social media links or an OpenTable URL (in the case of restaurants). Another great way is through paid advertising on the official tourism site. Just last month alone, the native ads running on visitRaleigh.com received 5,237 referral clicks delivered to partner-advertisers.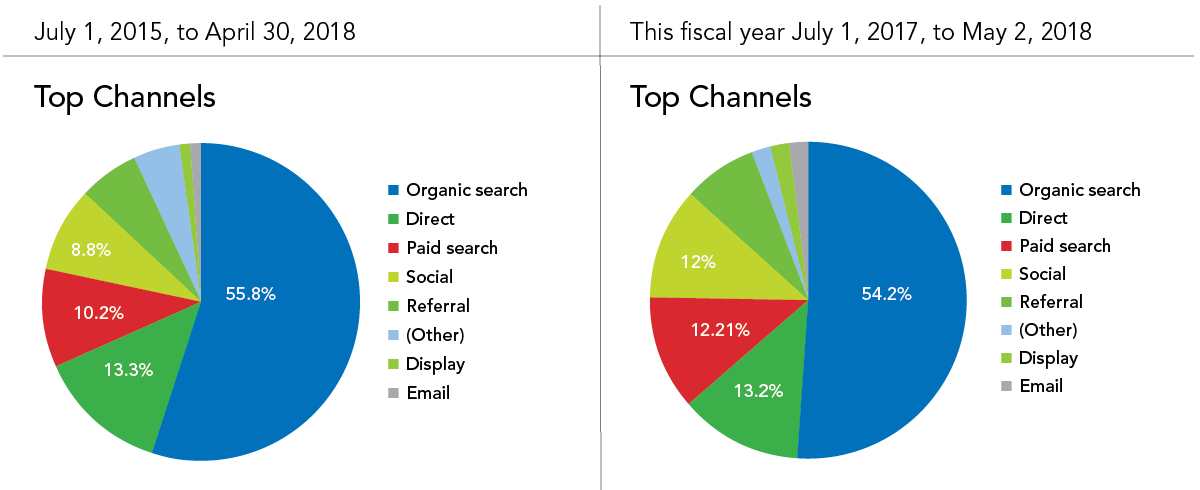 Why advertise on visitRaleigh.com?
Site attracts 2.3 million sessions annually
Qualified audience of identified prospective visitors
Users come to visitRaleigh.com to look for attractions, hotels, restaurants and activities in the Raleigh area
It's a great way to advertise deals, discounts and timely/seasonal offers
Effective opportunity to get out in front of meeting, convention and sporting event attendees, as well as leisure visitors.
Does visitRaleigh.com deploy native advertising, and is the site's sponsored content ever blocked by ad blockers?
Advertising on visitRaleigh.com is creative and fluid, to complement the design of the site that relaunched in Dec. 2017. You will not see any outlandish display banners or popup ads with content that's not relevant to visiting the area; these create "banner blindness" on other websites.
Instead, visitRaleigh.com uses native advertising options, which better increase click-thru rates these days. According to the Interactive Advertising Bureau, native advertising is defined as "paid ads that are so cohesive with the page content, assimilated into the design and consistent with the platform behavior that the viewer simply feels that they belong." Native advertising helps to align partners with the emotional needs of visitors during their trip-planning experience. (GRCVB research participants who have tested the user experience of visitRaleigh.com also found this platform to be unobtrusive.)
Take advantage of what visitRaleigh.com has to offer to help raise your business's visibility to visitors who are looking to experience this destination on upcoming visits. By updating your listing via PIXL, partners can share their detailed information, event listings, deals and discounts, staff changes or submit photos and videos to be seen by visitors on visitRaleigh.com year-round. This is free promotion.
Advertising on visitRaleigh.com additionally puts your organization directly in front of the "perfect, qualified customer" beyond your residential base of customers and patrons. Tourism in Raleigh and Wake County means billion-dollar business, and each of our partners can grow its share while GRCVB helps to grow the area's share of visitation and visitor spending overall.

Author: Vimal Vyas
Vimal Vyas is an industry leader in the technology of marketing (martech), directing the Greater Raleigh CVB's marketing technology efforts since 2004. He is responsible for the Bureau's digital innovation efforts, including digital product (web/mobile) development, data integration, cloud-based software solutions, infrastructure, content and Internet marketing technologies and business intelligence.
Comments