12 Reading Spots, Shops and Libraries to Bookmark in Raleigh, N.C.
Thursday, February 06, 2020, 10am by visitRaleigh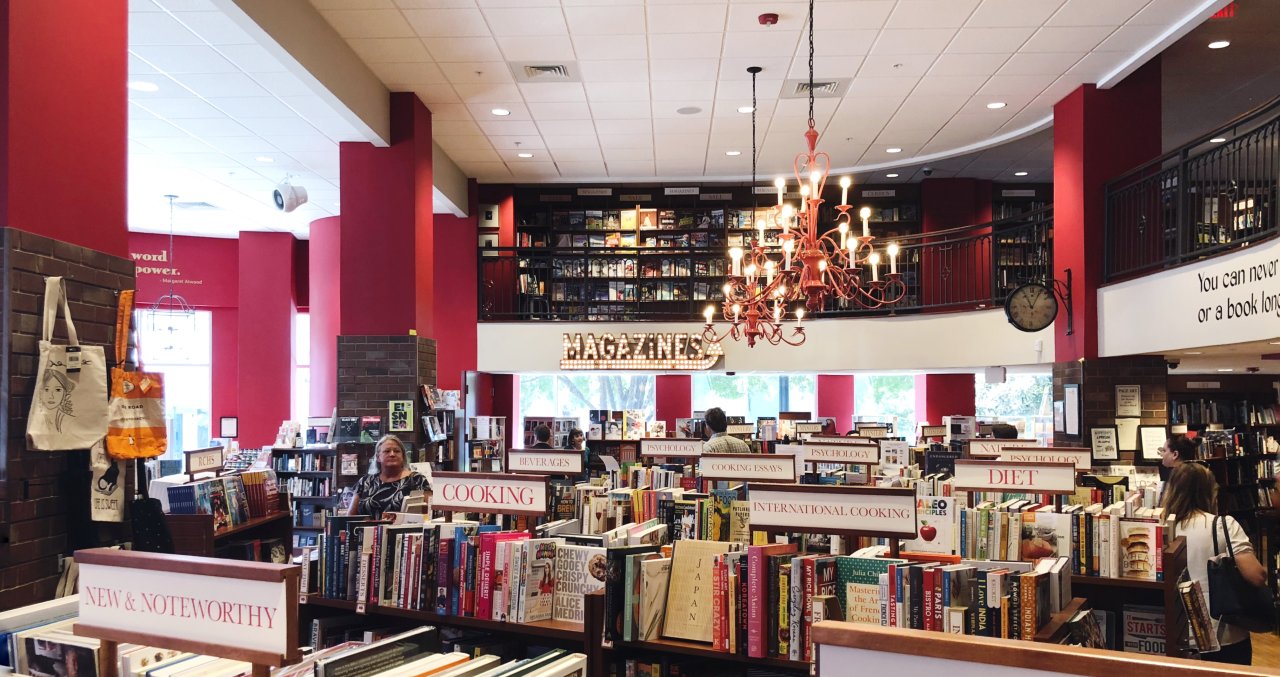 Make no mistake about it, the Raleigh area is a book lover's paradise! From high-tech libraries to independent book shops, you're sure to find the perfect spot to discover as well as enjoy your next great read.
 
Brimming with books from various genres, Quail Ridge Books is two floors of pure, literary joy. Founded in 1984, the shop provides a wide variety of carefully-selected books and hosts a number of events, discussion groups and town hall meetings. Visitors to the bookstore will immediately fall in love with its quiet hum of activity, new book smell and helpful, welcoming staff. Younger kids will also enjoy Quail Ridge for its award-winning children's department with plenty of kid-friendly titles on hand.
Cozy in every sense of the word, Quail Ridge sports a variety of quirky and comfortable seating arrangements in which to get comfy. Curl up with your favorite classics near a faux fireplace, or dive into the latest bestseller, tucked away in a quaint little corner on the second floor. Perfectly located in North Hills with ample parking outside, Quail Ridge is worth adding to your Raleigh to-do list.
Said by some to be the most advanced library in the world, the James B. Hunt Jr. Library—opened in 2013—was built to reflect North Carolina State University's status as a preeminent technological research university. Bold and iconic, the library's architectural design strikes a unique presence with its intriguing design of glass and zigzagging solar fins. Stroll through the library, which is open to the public, to be dazzled by technological wonders like curved digital display screens and touchscreen kiosks.
The coolest tech in the library by far is a subterranean robot programmed to fetch books from an underground storage facility. Glance to the left upon walking through the Hunt Library's front doors, and you'll spy a towering wall of glass housing bookBot. Submit a digital request and bookBot can whiz through some 1.5 million books on command and deliver the book of choice to the library help desk within five minutes.
Opened in late 2019, the new Cary Regional Library is located in the heart of downtown Cary—directly across from the Cary Arts Center and overlooking beautiful Downtown Park. The two-story, 23,000-square-foot library holds 90,000 books, has public computers, free wi-fi, programming rooms and more amenities in a modern space with lots of natural light.
Read With Me
Located steps away from Marbles Kids Museum in downtown Raleigh is Read With Me, a children's book and art shop that sparks imagination and nurtures creativity. Here you'll find an expertly-curated collection of diverse books for kids of all ages, chosen by a knowledgeable and helpful owner who loves children's books.
In the Creativity Corner (in the back of the store), you and your kids can develop writing and illustration skills by making book-themed crafts. Read With Me also has a rotating art gallery and regularly hosts illustration and reading classes.
Page 158 Books, located in Wake Forest, specializes in general interest adult and children's books as well as book-related gifts. As a business highly active in the local neighborhood, Page 158 Books also hosts community events regularly. Owners Sue and Dave Lucey and the caring staff at both locations pull out all the stops to make you feel at home. Local tip: Look for the sticky note recommendations from the staff on various book covers.
Take a page from a local bibliophile's book and shop your next great read at So & So Books. This small, independent shop in Raleigh's Person St. neighborhood carries a carefully curated-selection of titles that you probably won't find easily in mainstream stores. Spend a few hours browsing the shelves and check out their calendar of book club and reading events. 
Nice Price Books has been a purveyor of the good bits of popular culture for almost two decades. That includes records, cassettes, compact discs, and, of course, books. A trip to the store, adjacent to Cup A Joe coffee shop, is like embarking on a treasure hunt through old school décor and plywood bookshelves stocked to the brim. You won't really know what awesomeness you'll discover there until you go. Nice Price also serves as one of the area's favorite record stores, with a masterfully-curated new selection and plenty of used finds.
Blink and you might miss the small red brick building that houses Reader's Corner. Located off one of Hillsborough St.'s many roundabouts, Reader's Corner is a dream come true for lovers of second-hand music, comics, magazines and books! Several page-turners practically greet you at the door from two bookshelves bookending the store's entrance. At Reader's Corner, you can browse, buy, sell and exchange books to your heart's content. Local Tip: Visit during non-peak times and browse the one-dollar bookshelves outside for some great finds.
Stevens Book Shop
Stevens Book Shop in North Raleigh has been serving used-book customers for more than 60 years. Offering more than 500,000 titles, the store also carries CDs, VHS tapes, records and audiobooks. Even with so many books in stock, Stevens Book Shop manages to provide shoppers with enough space to easily peruse its towering stacks. And, if you lose your way, the folks there will always help you find it.
Based on aesthetics alone, Cameron Village Regional Library is a must-see. Clocking in at two stories, the library's clean lines, floor-to-ceiling windows, light wood accents and intriguing art pieces wow visitors on the daily. Its bright and airy atmosphere works to achieve the library's mission of promoting the love of reading and fostering the pursuit of knowledge. And, for a nice quiet place to enjoy a book or two, the library has plenty of nooks and crannies that fit the bill.
Des Livres and Délices
If you're looking to spice up your reading with a bit of international flavor, drop by Des Livres and Delices, a quaint boutique that not only specializes in the finest French literature, but also the finest French groceries. Walk right in and receive a warm-hearted, "Bonjour!" from owners Laurence and Phillipe. You'll find the shop fully stocked with rows of books for all ages and levels of French speaking. Local tip: Many of the books are in French, but those written in English sport a tiny American flag bookmark.
Mix books, beer, flowers, dim sum and downtown Raleigh together and you'll end up with Brewery Bhavana. This fusion concept from passionate minds Van and Vanvisa Nolintha delights visitors and locals alike with a gorgeous interior filled with natural light, plenty of flowers and greenery and thousands of titles waiting to be discovered. Find everything from books on art, design and poetry to relevant readings on conflict resolution and philosophy—all selected to spark thoughtful conversation.
In 1935, a library for African Americans didn't exist in Raleigh. Mollie Huston Lee, a Howard University and Columbia University graduate, set out to change that by opening the Richard B. Harrison Community Library. Mrs. Lee also started and maintained a collection chronicling the African American experience both locally and nationally. Today, the Lee Collection, housed primarily at the library, has more than 8,000 volumes and is a major draw for researchers and avid readers interested in African American history.
Comments