10+ Stellar Cons and Shows in Raleigh, N.C.: Comics, Pop Culture, Anime and More!
Thursday, March 12, 2020, 2pm by Kristy Stevenson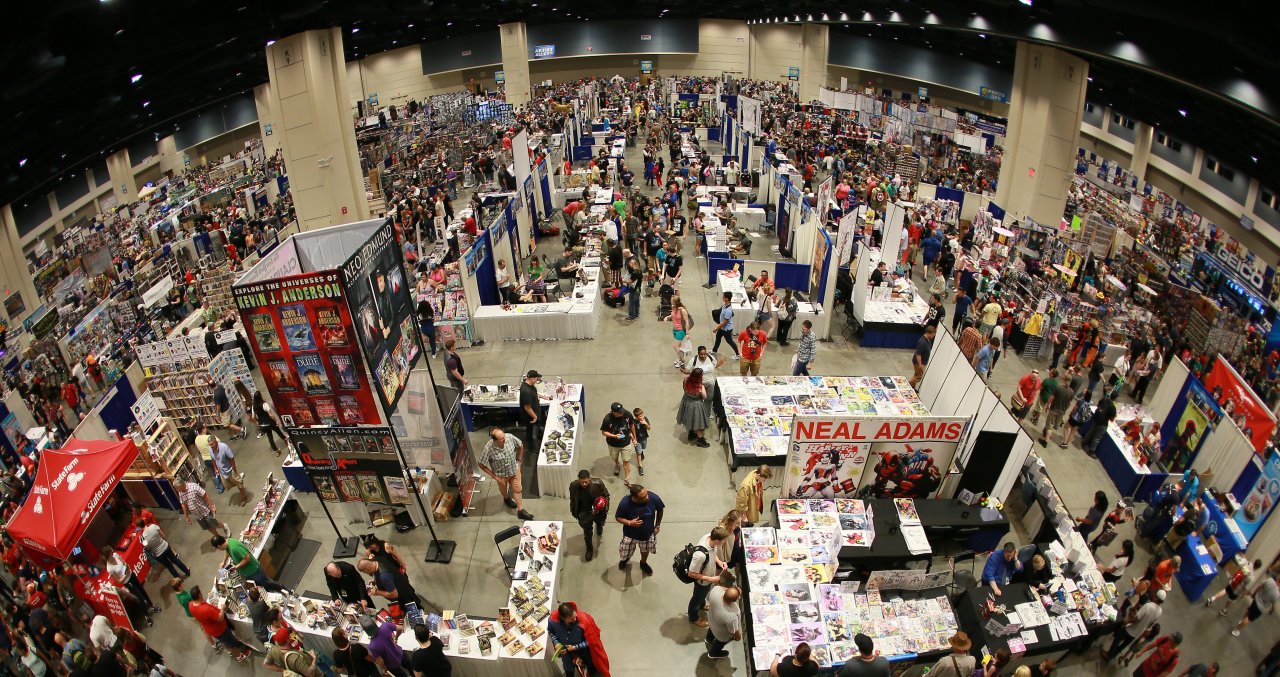 We are closely monitoring event cancellations and postponements and updating visitRaleigh.com info accordingly. However, we strongly recommend double-checking event organizers' websites/feeds to confirm details before traveling.
---

All of your fan favorites are back! Just take a look at the Raleigh area's 2020 con lineup, and you'll agree that fan culture is still on the rise! From small, personable gatherings to big, high-energy crowds—these events celebrate an appreciation for comics and related popular art forms like television shows, movies, video games and associated memorabilia. Cons and shows have a growing and loyal audience here on the East Coast, and the capital city has taken notice. From voice actors, artists, sports cards and animation to panels, autographs and cosplay—you may even get to meet your favorite celebrity! 
 
Festival of Legends: The Mystic Circus
April 18-19
The ninth annual Festival of Legends is a performance art festival, returning to Apex's Optimist Club Farm for a celebration of the mythic arts and the magic of life itself. What would it look like if faeries ran a magic circus? Think dragons, mermaids, music, comedy, food, mead and beer! Celebrate a playground for the imagination—for children as well as adults—with games, fantastical characters, storytellers, a "Myth Quest LIGHT!" adventure and more. The festival offers a journey to the romantic bygone eras that never were and an exploration of the fantastical realms that have always been, with natives including magicians and musicians, acrobats and comedians, artists and crafters, proud knights and fairy-tale creatures. Step into the Festival of Legends, and step into a place of wonder! Follow them on Facebook for more.
Tickets, VIP packages, T-shirts and discount passes available online. Children 12 and under are admitted free with a paid adult. 
Raleigh Comic Book Show
May 3, Aug. 23 and Dec. 6
Visit the Hilton Garden Inn Raleigh/Crabtree Valley throughout the year for comic book shows and sales that are fan favorites. Featuring artists, giveaways and thousands of comic books—including many Golden Age and Silver Age editions for the vintage collector. Organizers promise that although the shows are smaller, the quality of dealers is as good as any comic book show you can find. One reviewer said, "This is one of my favorite shows to go to throughout the year. Been going for over a decade each time it's put on. Always find books that are on my list." And another said, "If you like comic books, it's the best little one-day show you're ever going to find." The event's free admission—follow them on Facebook!
Animazement
May 22-24
The Raleigh Convention Center again hosts the three-day premier Japanese animation and culture event on Memorial Day weekend, with concerts, educational panels, merchandise, unique artwork and more. Guests include composer and recording artist Mason Lieberman, best known for his work in anime and gaming industries, plus voice actors including: Aaron Roberts, known as Uta in Tokyo Ghoul and Klaus Lunettes in Black Clover, just to name a few roles; Tiffany Grant, best known as Asuka from Evangelion; and Hiroaki Hirata, well known for his work as Vinsmoke Sanji in One Piece and Sha Gojyo in Saiyuki, among others. Learn more about the Animator Supporters Group from artists and animators like Jun Sugawara, Shintaro Doge and Toshiya Wakabayashi. This year's event also features FLOW, a five-piece band that has been critically acclaimed internationally and enjoys a global following for its potent, high-energy style that blends melodic-driven punk, rock and pop influences with hip hop.
Cosplay is a huge draw: guests are encouraged to dress up as their favorite characters simply for fun, or to participate in contests showcasing their talents.
As the event emphasizes education, organizers hope every attendee leaves the convention knowing more than when they arrived; are inspired to ask deeper, more thoughtful questions; or simply find a welcoming sense of community.
Fri.-Sat. hours are jam-packed from 9am-2am. Animazement is active on Facebook and Twitter, with announcements largely on Facebook—it's highly recommended to follow them.
Tickets are available online or at the door. Children 5 and under are free.
Oak City Comicon
May 30-31 (new date)
Returning to the Raleigh Convention Center, Oak City Comicon is the region's own premier comic book party. Showcasing comic books, animation, art, cosplay, films and more—this year's event presents comics legend Chris Claremont, writer of Marvel's X-Men and New Mutants; Bob Camp, creator of Ren & Stimpy; William Stout, storyboard artist for movies like Men in Black and Masters of the Universe; Justice League writer Robert Venditti; award-winning comic book artist Afua Richardson; and BrickJournal magazine's Joe Meno, LEGO Master extraordinaire.
Attendees can also enjoy "The Justice League," "Comics Then and Now" and artist spotlight panels, plus an N.C. Gundam Model Competition; sword-fighting demos; and the Big Boss Beer Garden featuring beverages and merch. Follow updates on Facebook, Twitter and Instagram. 
Cosplay America
June 12-14
This is the first East Coast convention specifically dedicated to all things cosplay across all genres. Held at the Embassy Suites Raleigh-Durham/Research Triangle, the event includes and welcomes all styles of cosplay and hopes to create and unite a community of amazing and talented people, encouraging and promoting the do-it-yourself attitude of cosplayers, plus creating a space that celebrates and shares the skills and knowledge of fellow cosplayers around the world. They offer a range of demos and panels, regular and premium workshops to level up your skills, craftsmanship contests (to see and be seen) and a market expo. 2020 guests include Sophy Wong, December Wynn, Cowbutt Crunchies and Jacqui of Alchemical Cosplay. Tickets for full-weekend badges are available online and at the door. There is a special admission rate for children 6-12, and those 5 and under are free. Register now and receive a free workshop ticket.
GalaxyCon Raleigh
July 30-Aug. 2; pictured in header
This four-day "Festival of Fandom" is a multi-genre pop culture convention for fans of superheroes, science fiction, anime, cartoons, video games and more. And it's returning to the Raleigh Convention Center for more than 500 hours of Q&As, photo opps, live cosplay wrestling, costume contests, fan panels, workshops, speed friending and gaming tournaments. Fans dress up as their favorite characters, shop the vendor hall (think art, collectibles, toys, posters, T-shirts and books) and meet their favorite celebrities, creators, voice actors, entertainers, gamers, streamers, artists, writers and fan groups!
With team-ups from Disney, My Hero Academia and Power Rangers, GalaxyCon will also feature appearances from Star Trek's Kate Mulgrew, Brent Spiner and Marina Sirtis; Home Improvement's Richard Karn and Debbe Dunning; Brian O'Halloran, Jason Mewes, Jeff Anderson, Marilyn Ghigliotti and Scott Schiaffo of Clerks fame; Henry Thomas, Dee Wallace, Robert MacNaughton and C. Thomas Howell from ET: The Extraterrestrial; Dino Stamatopoulos (Community); Ethan Suplee (Mallrats, My Name Is Earl); Denis Lawson (Star Wars); Arrow's John Wesley Shipp (also of The Flash) and John Barrowman (also of Doctor Who and Torchwood); plus additional stars from Finding Nemo, Dragon Ball Super, JoJo's Bizarre Adventure, The Magicians, The Umbrella Academy universe and all corners of fandom including TV, movies, video games, wrestling and anime. 
There are a variety of entertainment options including panels, Q&As, stand-up comedy, costume and cosplay contests, sing-a-longs and shadowcasts.
Tickets available online or at the door. Children ages 4 and under are admitted free. Only Thurs. and Fri. Single-Day tickets will be sold on-site—so if you plan to attend only Sat. or only Sun., you must purchase online. 
Wake Forest Comic-Con
Aug. 15
It's the fifth year for this "mini" con—held at the Wake Forest Renaissance Centre for the Arts—that includes vendors and artists, a cosplay contest, comics, toys, art, craft items and various other ephemera. The event runs from 10am-5pm. Admission is only $5, and children under 12 are admitted free. Follow them on Facebook for more details.
NC TOY CON 2020
Sept. 12
NC TOY CON is back for another year at Marbles IMAX in downtown Raleigh. As a toy- and action figure-focused convention, this event brings together some of the best toy dealers in the state with some of the top experts in collectibles to lead informative panels on the hobby of collecting vintage and modern action figures and toys. The show will offer discounted admission to Marbles Kids Museum, as well as tickets to see a feature film on the IMAX screen. Updates can be found on Facebook, and highlights from past events are viewable on Instagram. Tickets available online.
Toy, hobby, memorabilia and comic shows at the North Carolina State Fairgrounds
The North Carolina State Fairgrounds hosts great comics and collectibles events in 2020!
Raleigh Sports Card, Memorabilia & Comic Book Show
March 28-29, July 24-26 and Dec. 11-13
Dabbling in whatever the hot trend is in the hobby, Tidewater Cards and Collectibles' Raleigh Sports Card, Memorabilia & Comic Book Shows specialize in oddball, regional and one-of-a-kind items on individual sports players and teams. They've also accumulated one of the largest Benchwarmer collections in the country. Feel free to email them your wish list, and check out the shows throughout the year (the Dec. show is a perfect opp for holiday shopping!). All shows offer daily admission or a weekend pass, and children 12 and under are free.

Inside Pitch Promotions Toy, Hobby and Sports Collectibles Shows
March 28-29, June 20-21, July 24-26, Sept. 19-20 and Dec. 11-13
Inside Pitch Promotions shows offer a variety of sports cards, vintage and modern toys, comics and collectibles (TV memorabilia remains a hot seller) in a family-friendly atmosphere. Organizers recommend to plan for two to three hours at the shows for you to enjoy the experiences, and they remind you of the option to sell your collectibles to vendors on-site. All shows offer daily admission or a weekend pass, and children 15 and under are free.

Carolina Fear Fest
May 22-24
Celebrating all things horror, this Memorial Day weekend convention includes celebrity appearances, vendors, entertainment and more. Learn all about horror from books to film in panels and Q&A sessions; see horror films from local filmmakers and fan-favorite classics; and shop for collectibles. Guests include John Kassir (the Crypt Keeper, Tales From the Crypt), Steven Williams (Supernatural, It, The X-Files), Damien Leone (Terrifier, Terrifier 2), David Howard Thornton (Terrifier, Terrifier 2), Naomi Grossman (American Horror Story, 1BR), Felissa Rose (Sleepaway Camp, Death House, Victor Crowley) and Sharon Smyth Lentz (Dark Shadows). You can follow this event on Facebook. Tickets and VIP packages are available online; a discount is available for children ages 6-12. Friday admission is considered early access and includes special events for VIPs and Weekend Pass holders.
GalaxyCon Raleigh photo via the organizers
Comments