10+ Stellar Cons and Shows in Raleigh, N.C.: Comics, Pop Culture, Anime and More!
Tuesday, March 12, 2019, 7pm by Kristy Stevenson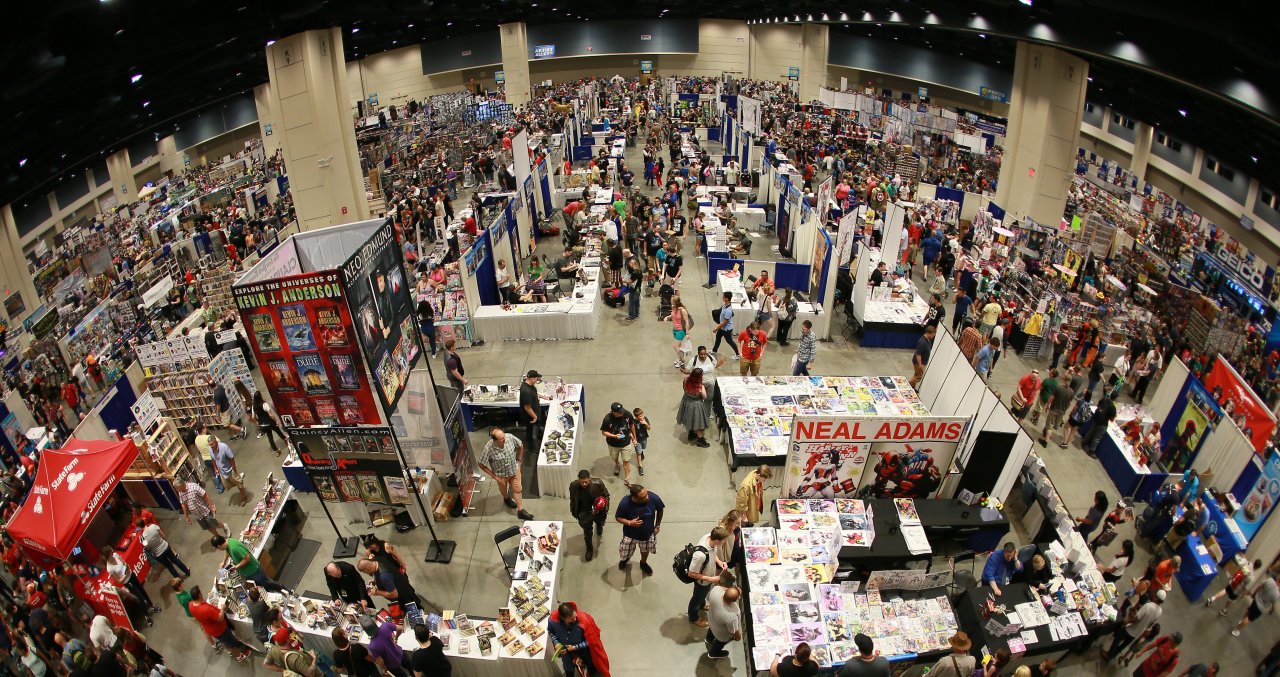 Take a look at Raleigh's 2019 convention (or con) and show lineup, from small to gigantic, and you'll see that fan culture is on the rise! Celebrating an appreciation for comics and related popular art forms like television shows, movies, video games and associated memorabilia, cons and shows have an audience here on the East Coast, and the capital city has taken notice. From voice actors, artists, sports cards and animation to panels, autographs and cosplay—you may even get to meet your favorite celebrity! This year, several events return to N.C. for repeat performances, add additional dates after hosting impressive numbers in recent years or are new to the area altogether.
 
Playthrough Gaming Convention
March 30-31
Playthrough is a weekend-long extravaganza at the Raleigh Convention Center made for gamers by gamers. This fourth annual event showcases the latest games plus vintage games and provides an opportunity for gamers to meet others who share their passion. Tournaments are offered for board and video games, as well as Magic: the Gathering. Attendees can also participate in the Cosplay Showcase, visit exhibitors, attend main stage panels and enjoy lots of free-to-play options for board, PC, arcade, retro console and virtual reality games, Rock Band Jam, Dungeons & Dragons and play-to-win giveaways.
Whether you're interested in video, eSports or tabletop gaming or play-testing new creations, Playthrough has something for anyone who loves gaming. Event updates can be found on Twitter and Facebook. Tickets are available online; children nine and under are free.
NCTOYCON
April 6
NCTOYCON is back! And this year it'll be held at Marbles IMAX in downtown Raleigh. As a toy- and action figure-focused convention, this event brings together the best toy dealers in the state with some of the top experts in collectibles to lead informative panels on the hobby of toy and action figure collecting. 2019 ticket packages include DC's Shazam! movie premier weekend, as well as admission to Marbles Kids Museum. Special guests to be announced. Tickets available online.
Festival of Legends: Tricksters
April 13-14
Festival of Legends is a performance art event, returning to Apex's Optimist Club Farm for the 8th annual celebration of the mythic arts and the magic of life, itself. And a playground for the imagination—for children as well as adults—it's an escape from the mundane world. In fact, their mission is to provide a diversion from the real world while working to improve it at the same time. They regard everyone involved (artists, performers, volunteers and patrons) as partners in this endeavor. The festival offers a journey to the romantic bygone eras that never were and an exploration of the fantastical realms that have always been, with natives including magicians and musicians, acrobats and comedians, artists and crafters, proud knights and fairy tale creatures. Step into the Festival of Legends, and step into a place of wonder!
Tickets, VIP and package deals, as well as t-shirts available online. Children 12 and under are admitted free with a paid adult.
Animazement
May 24-26
The Raleigh Convention Center again hosts this three-day Japanese animation and culture event on Memorial Day weekend. Featuring voice actress Kotono Mitsuishi, best known for the lead role in Pretty Soldier Sailor Moon; as well as Jennifer Cihi (cast as the singing voice of Sailor Moon, plus Nickelodeon's Roundhouse); voice actress Morgan Berry, known for her work on Cartoon Network's [adult swim] and Disney XD; Paul St. Peter, the voice actor twice nominated for BTVA Awards (Kingdom Hearts, Naruto, Digimon, World of Warcraft, Cowboy Bebop); and Derek Stephen Prince, a voice-over veteran of 22 years (Power Rangers, Bleach, Lilo & Stitch, JoJo's Bizarre Adventure).
Cosplay is a huge draw: guests are encouraged to dress up as their favorite characters simply for fun, or to participate in contests showcasing their talents.
As event emphasis is on education, organizers hope every attendee leaves the convention knowing more than when they arrived; are inspired to ask deeper, more thoughtful questions; or simply find a welcoming sense of community.
Fri.-Sat. hours are jam-packed from 9am-2am. Animazement is active on Facebook and Twitter, with announcements largely on Facebook, so it's highly recommended to follow them on social media.
Tickets are available online or at the door. Children five and under are free.
June 22-23
From the creators of BrickUniverse LEGO Fan Conventions comes another fun event at the Raleigh Convention Center with interactive attractions, exhibits, experiences and merchants. As the organizers believe in the importance of playtime in every child's cognitive and creative development, they hope to inspire all kids—and kids at heart—through original and branded toys and geek or children's products. Adult collectors are welcome! From fan displays to demo areas and character appearances, this is an event for the whole family, and the ultimate event for toys and play.
Tickets available online. Children two and under are admitted free with a paid adult.
 
Cosplay America
July 5-7
This is the first East Coast convention specifically dedicated to all things cosplay across all genres. Held at the Embassy Suites Raleigh-Durham/Research Triangle, the event includes and welcomes all styles of cosplay and hopes to create and unite a community of amazing and talented people, encouraging and promoting the do-it-yourself attitude of cosplayers, plus creating a space that celebrates and shares the skills and knowledge of fellow cosplayers around the world. They offer a range of demos and panels, regular and premium workshops to level-up your skills, craftsmanship contests (to see and be seen) and a marketplace. 2019 guests include Jenny Barclay, UbersCosplay and Cowbutt Crunchies. Tickets for full weekend badges are available online and at the door. There is a special admission rate for children 6-12, and those five and under are free. Register now and receive free workshop tokens.
GalaxyCon Raleigh
July 25-28; formerly named Raleigh Supercon; pictured in header
After bringing in 42,000 attendees over three days in 2018, this multi-genre pop culture convention for fans of superheroes, science fiction, anime, cartoons, video games and more is back in 2019 at the Raleigh Convention Center. Fans dress up as their favorite characters; shop the vendor hall (think art, collectibles, toys, posters, T-shirts and books); meet their favorite celebrities, comic book creators, voice actors, industry guests, artists and writers.
With appearances from Star Trek's Wil Wheaton and Jonathan Frakes; The Princess Bride's Cary Elwes, Wallace Shawn and Chris Sarandon; Tim Curry, Barry Bostwick and Patricia Quinn of Rocky Horror fame; Summer Glau (Firefly, Arrow); Chris Sullivan (This Is Us, Guardians of the Galaxy); Graham McTavish (Outlander); and The Office's Kate Flannery, Oscar Nunez, Leslie Baker and Creed Bratton; plus additional stars from MacGyver, Kim Possible, Mystery Science Theater 3000, IT, the Star Wars universe and all corners of fandom including TV, movies, video games, wrestling and anime. 
There are a variety of entertainment options including panels, Q&As, films and shorts, costume and cosplay contests, video game tournaments and workshops.
Tickets available online or at the door. Children nine and under are admitted free with a paid adult. Only Fri. and Sun. Single Day tickets will be sold on-site—so if you plan to attend Sat., you must purchase online. 
The North Carolina State Fairgrounds hosts great comics and collectibles events in 2019!
Raleigh Sports Card, Memorabilia and Comic Book Shows and Auctions
March 16-17, April 20, July 26-28 and Dec. 13-15
Dabbling in whatever the hot trend is in the hobby, Tidewater Cards and Collectibles' Raleigh Sports Card, Memorabilia and Comic Books Shows and Auctions specialize in oddball, regional and one-of-a-kind items on individual sports players and teams. They've also accumulated one of the largest Benchwarmer collections in the country. This year, they're pleased to announce their first-ever, two-day St. Patrick's Day weekend show in Raleigh. Feel free to email them your wish list, and check out the shows throughout the year (the Dec. show is a perfect opp for holiday shopping!). All shows offer daily admission or a weekend pass, and children 12 and under are free.

Inside Pitch Promotions toy, hobby and sports collectibles shows
March 16-17, April 20, June 15-16, July 26-28, Sept. 21-22 and Dec. 6-8
Inside Pitch Promotions shows offer a variety of sports cards, vintage and modern toys, comics and collectibles (TV memorabilia is a hot seller now) in a family-friendly atmosphere. Organizers recommend to plan for two to three hours at the shows for you to enjoy the experiences, and they remind you of the option to sell your collectibles to vendors on-site. All shows offer daily admission or a weekend pass, and children 15 and under are free.
Carolina Fear Fest
May 25-26
New this year and celebrating all things horror, this Memorial Day weekend convention includes celebrity appearances, vendors, entertainment and more. Learn all about horror from books to film in panels and Q&A sessions; see horror films from local filmmakers and fan-favorite classics; and shop for collectibles. Guests include John Russo (author and screenwriter, Night of the Living Dead), Jill Witlow (Weird Science, Porky's, Freddy's Nightmares), Alex Vincent (Child's Play, Chucky), Ken Sagoes (A Nightmare on Elm Street 3: Dream Warriors, A Nightmare on Elm Street 4: The Dream Master), Michael Berryman (The Hills Have Eyes, Weird Science, The Devil's Rejects, One Flew Over the Cuckoo's Nest) and Tyler Mane (Rob Zombie-directed Halloween and Halloween II, X-Men). Coming soon: a free app to provide real-time information on schedules, appearances and entertainment. Tickets and VIP upgrades are available online; a discount is available for children ages 6-12.
 
Raleigh Comic Book Show
April 28, Aug. 18, and Dec. 8
Visit the Hilton Garden Inn Raleigh/Crabtree Valley throughout the year for comic book shows and sales that are fan favorites. Featuring artists, giveaways and thousands of comic books—including many Golden Age and Silver Age editions for the vintage collector. Organizers promise that although the shows are smaller, the quality of dealers is as good as any comic book show you can find. One reviewer said, "This is one of my favorite shows to go to throughout the year. Been going for over a decade each time it's put on. Always find books that are on my list." The event's free admission—follow them on Facebook!
 
GalaxyCon Raleigh photo via the organizers
Comments