Celebrate Spring! 12 Gardens and Parks to Stroll Through in Raleigh, N.C.
Monday, April 01, 2019, 10am by Tabletop Media Group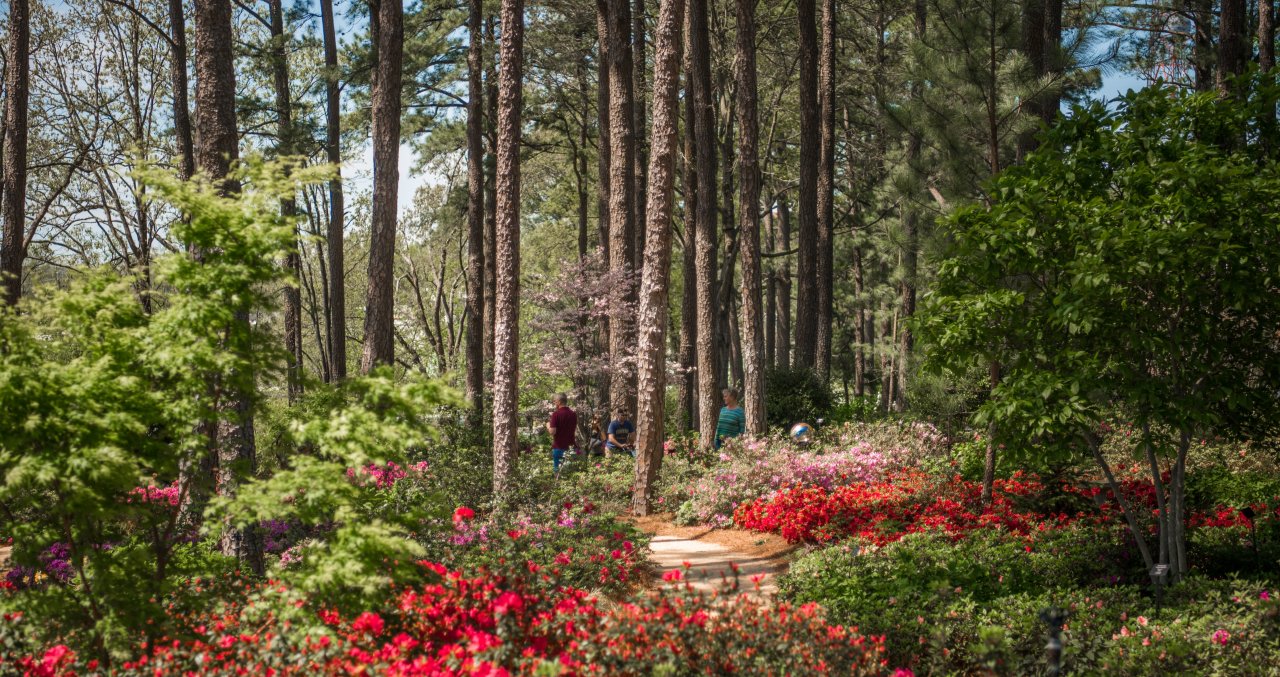 The days are longer, the weather is warmer and the flowers are blooming—we're definitely seeing more green and bright colors in the Raleigh area! Spring is a perfect season to take a stroll through a garden or park budding with colorful flowers. Check out our list of places not to miss:
 
Dedicated in 1951, the Raleigh Municipal Rose Garden is a landmark of the Raleigh Little Theatre campus. The garden offers a year-round display of roses, trees and perennials. One of only three accredited rose gardens in N.C., the grounds include 60 rose beds surrounded by an arboretum of evergreen and deciduous trees. The roses typically steal the show between May until fall's first frost, but plenty of other beautiful plants take the spotlight in early spring. Check out the map and list, here! Local hint: Planning on getting engaged or just want a special moment with your significant other? The rose garden is the perfect backdrop.
Before heading to the arboretum, pay a visit to Neomonde Mediterranean for stuffed grape leaves, hummus and fresh pita—pack a picnic and relax in the beautiful botanical gardens! This 10-acre arboretum is managed by North Carolina State University and is open daily to the public without charge. Don't miss the serene Japanese garden featuring a wide array of Japanese plants and a large, raked-stone Zen garden of contemplation.

 
When the 308-ace property at Dorothea Dix Park was acquired by the City of Raleigh in 2015, it instantly became the largest city park in the City of Oaks—the site blends historic architecture and rich landscapes on the edge of downtown Raleigh. In spring 2019, a gorgeous field of daffodils popped up in the aptly-named Flowers Field, adding a brilliant splash of yellow to a perfect skyline view. During the summer, you'll find thousands of sunflowers that are expected to reach full bloom in the early part of July. Massive open fields, tree-lined streets and very minimal car traffic make this park an ideal place for all sorts of outdoor activities. More info on our Seven of the Best Trails to Hike, Bike and Run article!
Situated behind the WRAL television studios and the campuses of North Carolina State University, the WRAL Azalea Gardens (also pictured in header) offer tranquility in the heart of Raleigh. Take a break from the day to surround yourself with beautiful azaleas of all shapes and colors—"at peak" around mid-April—as wonderful fragrances fill the air.

 
Located adjacent to the campus of North Carolina State University, between Western Blvd. and Hillsborough St., Pullen Park offers offers 66.33 acres of outdoor enjoyment along with walking trails. Dating back to 1911 and listed on the National Register of Historic Places, the Gustave A. Dentzel Carousel is a must-ride (and a great photo opp!). Kids love the kiddie boats, train and pedal boats. Grab some grub at Pullen Place Cafe, which offers fresh, local and seasonal foods.

 
N.C.'s most-visited state park, William B. Umstead State Park remains a peaceful getaway thanks to its sheer size—more than 5,000 acres of forest, trails and lakes sit on the edge of Raleigh, Cary and Morrisville. With 13 miles of multi-use trails that follow a series of rolling hills (perfect for horseback riding, jogging and cycling) and 22 miles of dedicated hiking trails, this is a must-hit destination for outdoor enthusiasts. Get tips on hiking, biking and running the trails of the park on our Seven of the Best Trails to Hike, Bike and Run article, plus how to find the incredible piece of chainsaw art locals have fallen in love with, here! Pro tip: Begin your spring afternoon stroll at the park's entrance off of 70 and then head to the nearby Lonerider Brewing Company to toast to warmer weather with a Shotgun Betty hefeweizen!

 
A hidden gem in downtown Raleigh, Fred Fletcher Park offers an aesthetically pleasing garden with a variety of evergreen and perennial plant species. Enjoy a stroll around the walking paths throughout the park and admire four deep pools located on the grounds. If you're lucky you can see a family of ducks or you can catch a variety of butterflies and dragonflies dancing around the park. The park is also home to the Borden Building and Amphitheater, which can be rented for weddings, parties, bridal portraits and other special events.

 
One of just a few state nature preserves in N.C., Hemlock Bluffs Nature Preserve in Cary makes for a gorgeous walk through the woods on three miles of mulched trails. 140 acres of preserve featuring unique vegetation, scenic overlooks, excellent bird and wildlife watching opportunities and Eastern Hemlock trees make for a fun stroll to take in spring weather.

 
At Swift Creek Bluffs Nature Preserve in Cary, massive beech trees cling to the 100-foot bluffs rising abruptly from Swift Creek. This 23-acre secluded park is located off of Holly Springs Rd. and is managed by the Triangle Land Conservancy, an organization that works to preserve land and green space, and also connect people to nature. As you take a stroll at the park, admire the wonderful wildflowers situated by the creek and take a moment to reflect.

 
Located in the town of Holly Springs, Bass Lake Park is home to a variety of native plants and animals, which can be viewed along the park's beautiful nature trails. A greenway trail runs along the lake and connects to other greenways in Holly Springs. After taking a nice walk at the park, be sure to check out the nature center. This N.C. Environmental Education Center offers native animal exhibits and a reference library.

 
Lake Johnson Park comprises more than 300 acres of land surrounding a stunning 150-acre lake. With miles of walking, running and cycling trails to enjoy, Lake Johnson also offers a variety of other activities to take advantage of afterwards like boat rentals, picnic shelters and concessions. If you'd like to bring your furry companion along on a walk, we highly recommend choosing Lake Johnson Park as it is dog-friendly.

 
The 164-acre Ann and Jim Goodnight Museum Park, located at the North Carolina Museum of Art, offers a trail system that connects to the Capital Area Greenway System. Admire more than a dozen commissioned works of art along the trails, either before or after setting up a blanket or hammock for a day of relaxation.
Comments