Celebrate Spring! 15 Gardens and Parks to Explore in Raleigh, N.C.
Monday, March 20, 2023, 3pm by Tabletop Media Group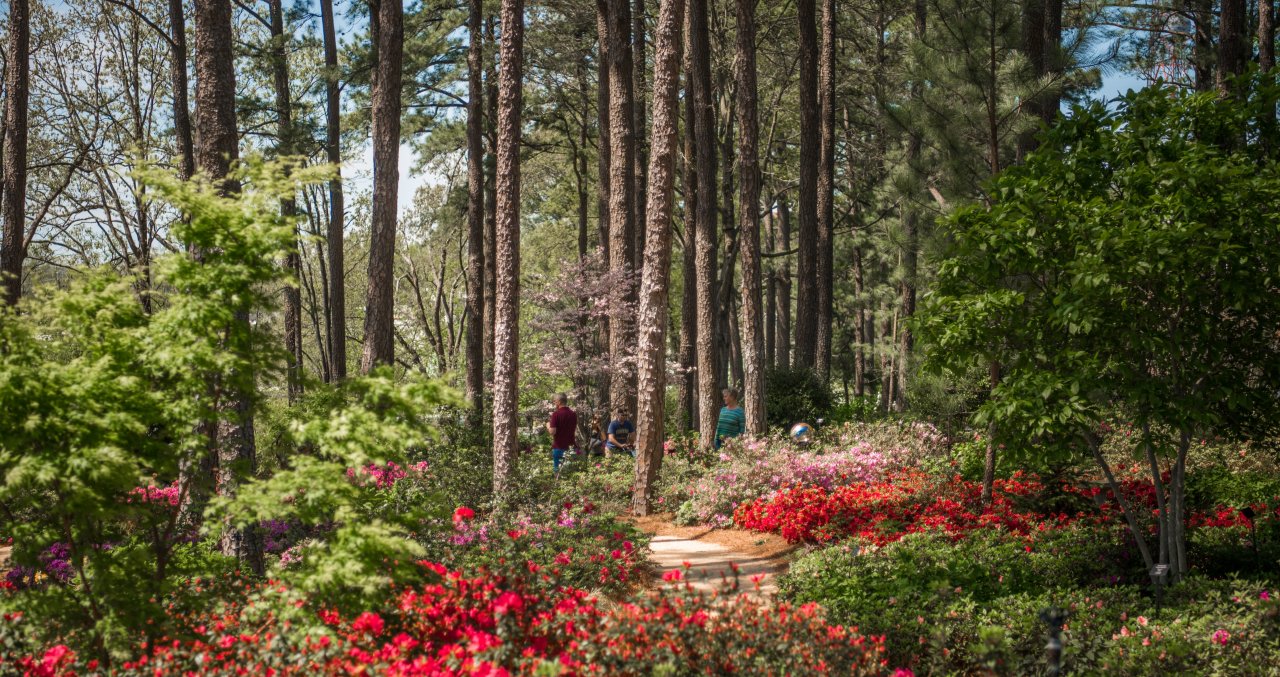 The days are longer, the weather is warmer and the flowers are blooming—sure signs of spring in the Raleigh area! The perfect season to explore parks and gardens budding with colorful flowers, use this list to get out and enjoy sunshine and the beauty of the City of Oaks.
The WRAL Azalea Gardens, created by Capitol Broadcasting Company founder A. J. Fletcher as a service to the community, opened to the public in 1959. Packed with thousands of azaleas, along with other native favorites (dogwoods, hydrangeas, magnolias and more), the 1.5-acre garden is a hidden gem located just a hop, skip and a jump from Dorothea Dix Park, Pullen Park and the campus at North Carolina State University, offering tranquility in the heart of the Raleigh. Open daily from dawn to dusk and free to visit, take a break from the day to surround yourself with beautiful azaleas of all shapes and colors—typically at their very best around mid-April—as wonderful fragrances fill the air. 
Dedicated in 1951, the Raleigh Municipal Rose Garden is a landmark of the Raleigh Little Theatre campus. The garden offers a year-round display of roses, trees and perennials. One of only three accredited rose gardens in N.C., the grounds include 60 rose beds surrounded by an arboretum of evergreen and deciduous trees. The roses typically steal the show between May until fall's first frost, but plenty of other beautiful plants take the spotlight in early spring. 
Stroll through 10 acres of floral beauty at this nationally-acclaimed garden with one of the largest and most diverse collections of landscape plants. With more than 5,000 plants collected from all over the world on display, you catch blooms any time of the year. Nearly 20 different gardens can be explored, each with a unique theme and space—a Japanese garden, a butterfly garden, a rooftop terrace filled with heat-tolerant plants and more. The arboretum is also a popular spot to host an affordable wedding (or a pretty backdrop for engagement photos, bridal portraits etc.).
Upcoming event, April 29: Raulston Blooms!, a day that's packed with garden and nature activities, shopping and outdoor fun (food trucks, family scavenger hunt, birdhouse competition, educational displays, local ice cream and more!).
One of America's most spectacular gardens—a secret among some locals but a sanctuary to plant lovers around the world—is open to the public just eight weekends per year in Raleigh, N.C. Located 12 miles south of downtown Raleigh, Juniper Level Botanic Garden is a 28-acre campus showcasing more than 27,000 different kinds of native perennials, exotic plants, rare delights and unusual specimens of trees and shrubs not found many (or any) other places on earth. This "Eden of rare plants" draws gardeners, researchers and fans of beautiful plants from across the globe each year for select open house dates. Note: The next open house dates are April 28-30 and May 5-7, 2023.
Located near North Carolina State University, Lake Johnson Park is a popular spot for students and professionals to get some exercise—a paved, three-mile greenway loop, plus two miles of unpaved trails, draws lots of joggers and walkers (and dogs, too!). The paved section, east of the boathouse, packs some punchy hills and tends to draw a bigger crowd. The unpaved section, west of the boathouse, is flatter but great for hikers looking for a quieter adventure. The most recognizable feature of the park is the 700-foot-long boardwalk that cuts directly across the center of the lake, often busy with people dangling fishing poles over the side or watching kayakers and pedal boats circle the 150-acre body of water.
When the 308-ace property at Dorothea Dix Park was acquired by the City of Raleigh in 2015, it instantly became the largest city park in the City of Oaks—the site blends historic architecture and rich landscapes on the edge of downtown Raleigh. During spring, a gorgeous field of daffodils pops up in the aptly-named Flowers Field, adding a brilliant splash of yellow to a perfect skyline view (note: mostly past peak bloom by early April). During the summer, you'll find thousands of sunflowers that are expected to reach full bloom in the early part of July. Massive open fields, tree-lined streets and very minimal car traffic make this park an ideal place for all sorts of outdoor activities—hammocking, frisbee tossing, dog walking, yoga and more!
Located adjacent to the campus of North Carolina State University, between Western Blvd. and Hillsborough St., Pullen Park offers 66.33 acres of outdoor enjoyment along with walking trails. Dating back to 1911 and listed on the National Register of Historic Places, the Gustave A. Dentzel Carousel is a must-ride (and a great photo opp!). Kids love the kiddie boats, train and pedal boats. Grab some grub at Pullen Place, a cafe offering fresh, local and seasonal foods.
Event: Open through April 9, LuminoCity Festival brings 10 acres of magically lit displays—making up 20 distinct scenes—that loop around Lake Howell, lighting up the historic Gustave A. Dentzel Carousel and offering children the chance to take a ride in a dinosaur world. This is a ticketed event.
Perched along the southern shores of Falls Lake State Recreation Area, this 157-acre outdoor retreat opened in 2006 as the City of Raleigh's first designated nature preserve. Dr. Annie Louise Wilkerson, a renowned Raleigh doctor with many pioneering achievements in her 53-year career in medicine, donated the property for the purpose of promoting nature and wildlife education. Today, the park office and AWL Education Center offer hands-on displays and craft areas for children, and programs—including bird watching, astronomy nights and art classes—are offered to the public. 
The preserve's open fields and two miles of hiking trails meander between meadows, through an oak-hickory forest, around a one-acre farm pond and past hidden rock crops, making for easy exploring for the entire family.
One of N.C.'s most-visited state parks, William B. Umstead State Park remains a peaceful getaway thanks to its sheer size—more than 5,000 acres of forest, trails and lakes sit on the edge of Raleigh, Cary and Morrisville. With 13 miles of multi-use trails that follow a series of rolling hills (perfect for horseback riding, jogging and cycling) and 22 miles of dedicated hiking trails, this is a must-hit destination for outdoor enthusiasts. 
Pro tip: Begin your spring afternoon stroll at the park's entrance off of 70 and then head to the nearby Lonerider Brewing Company to toast to warmer weather with a Shotgun Betty hefeweizen!
A hidden gem not far from downtown Raleigh, Fred Fletcher Park offers an aesthetically pleasing garden with a variety of evergreen and perennial plant species. Enjoy a stroll around the walking paths throughout the park and admire four deep pools located on the grounds. If you're lucky you can see a family of ducks or you can catch a variety of butterflies and dragonflies dancing around the park. The park is also home to the Borden Building and Amphitheater, which can be rented for weddings, parties, bridal portraits and other special events.
Filled with shade during the warmer months and rich with color in the fall, Hemlock Bluffs Nature Preserve provides an easy, family-friendly way to escape to the outdoors in Cary. The 140-acre park—established 40 years ago and named for the atypical group of nearly 200 Eastern Hemlock trees that can be found here—is highlighted by approximately three miles of mulch-covered walking and hiking trails that lead to a series of small overlooks.
At the 174-acre Historic Yates Mill County Park, more than 250 years of history waits to be explored. Yates Mill, placed on the National Register of Historic Places in 1974, was restored to working order through a grassroots community effort in 2005 and today stands as the area's last operating water-powered gristmill. The park also features approximately three miles of hiking trails, winding through hardwood forests and using footbridges and boardwalks to cross wetland areas.
At Swift Creek Bluffs Nature Preserve in Cary, massive beech trees cling to the 100-foot bluffs rising abruptly from Swift Creek. This 23-acre secluded park is located off of Holly Springs Rd. and is managed by the Triangle Land Conservancy, an organization that works to preserve land and green space, and also connect people to nature. As you take a stroll at the park, admire the wonderful wildflowers situated by the creek and take a moment to reflect.
Located in the town of Holly Springs, Bass Lake Park is home to a variety of native plants and animals, which can be viewed along the park's beautiful nature trails. A greenway trail runs along the lake and connects to other greenways in Holly Springs. After taking a nice walk at the park, be sure to check out the nature center. This N.C. Environmental Education Center offers native animal exhibits and a reference library.
The 164-acre Ann and Jim Goodnight Museum Park, located at the North Carolina Museum of Art, offers both paved and unpaved trails that connects to the Capital Area Greenway system. Admire more than a dozen larger-than-life works of art along the trails, either before or after setting up a blanket or hammock for a day of relaxation.
Event: Opening at the museum on April 1, Ruth E. Carter: Afrofuturism in Costume Design will feature more than 60 original garments from Academy Award-winning costume designer Ruth E. Carter (whose work you've seen in films including "Black Panther," "Malcom X," "Selma" and "Do the Right Thing"). This is a ticketed exhibition that will run through Aug. 6.
Comments