Food and Drink Hidden Gems in the Raleigh Area
Wednesday, August 02, 2023, 9am by visitRaleigh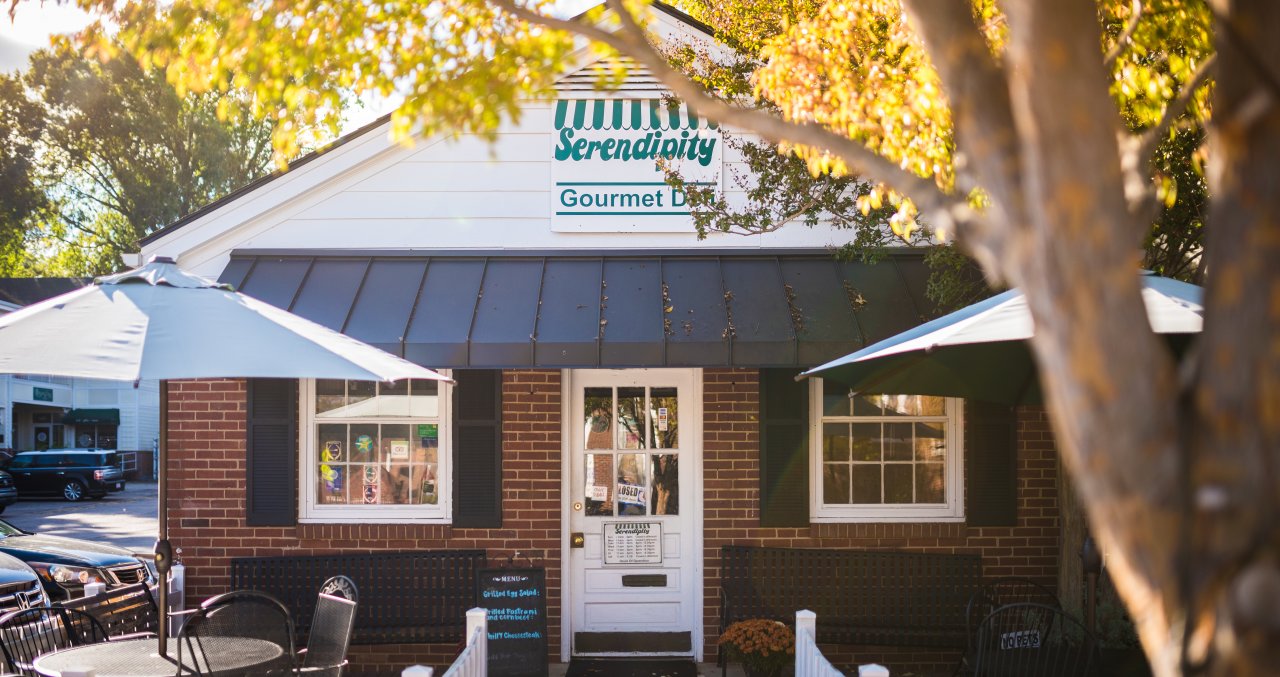 When it comes to food and drinks, the Raleigh area is home to some of the best-kept secret eateries dishing out and serving up some truly awesome experiences. Be sure to add these hidden gems to your travel list.
A blue-collar deli counter and hot dog joint, Steve's Place is tucked inside a busy little plaza in North Raleigh, serving red Bright Leaf hot dogs (a Tar Heel State staple), beef franks from Nathan's and a variety of simple Southern sandwiches. Run by Steve Weiner—a man of destiny, quite clearly—the no-frills approach and friendly service at Steve's has built a loyal following over more than two decades now—the restaurant was named the area's best hot dog by readers of Raleigh's The News & Observer in 2022.
An Oberlin neighborhood staple in West Raleigh, Idle Hour Coffee delights guests with a menu of delicious baked goods, coffee, tea and Vietnamese cuisine. With its minimalistic décor, large green velvet sofa, booth seating and round tables, the boutique shop can attract a crowd—if you want donuts (and trust us, you do), you'll want to arrive early as they tend to go fast.
This raved-about lunch spot in the heart of downtown Cary has played an important role long before soups, salads and sandwiches became local favorites beginning in 1975—the cozy building on Academy St. once served as the town's library (and two outdoor patios remain today as one of the best places to sit with a good book). Friendly staff, hot and cold sandwiches (a Reuben at Serendipity is nearly a rite of passage for Cary residents), daily soup specials and house-made pies and other desserts are more than enough to keep the entire family happy at lunch or dinner while exploring the many shops in the surrounding blocks.
Owner Davina Ray's Mithai Indian Café was the first local artisanal Indian sweet manufacturer in the Carolinas. With a focus on the purity and integrity of their ingredients, this fast-casual café serves up authentic sweets and savory snacks from Ray's home region of Bengal in India. You can also recharge with a variety of drinks as well—choose from organic, fresh-ground coffee to masala chai to fruit smoothies and sweet lassi (yogurt-based drinks). If you're out and about in nearby Cary, pop in for a visit.
Fun afternoons and evenings truly bloom at this hidden nursery/greenhouse/bar. Get lost in rows of lush greenery while enjoying a delightful sip from Atlantic Gardening's custom-built bar featuring garden tool taps serving up locally brewed beers. You can also enjoy cider, mimosas or glasses of wine as well.
Cilantro Indian Cafe has come a long way from humble beginnings serving real, homestyle Indian food from a small gas station. Now situated in Cary's Macgregor Village, this two-level cafe is where you can enjoy steaming hot plates of food prepared fresh and served fast. When it comes to ordering the best thing on the menu, take your pick from the chicken tikka masala, lamb biryani or karahi shrimp. Be sure to also compliment your meal with Cilantro's distinctive naan bread and their house-made desserts.
Escape to Old Havana with a visit to Carmen's Cuban Café and Lounge. This popular restaurant has it all, from savory Ropa Vieja and Platanos Maduros (sweet plantains) to refreshing Cuban mojitos. Rhythmic sounds of live Latin music permeate the air and set the tone for weekend visits (one of the area's most popular dancing spots, undoubtedly), and with festive décor that includes vintage artwork, exotic palms, gilded mirrors and leather bar couches, Carmen's charms the socks off patrons and keeps them coming back for more.
Groovy Duck can only be classified as a down-to-earth, American bakery that's a bit of this and a bit of that. While they specialize in turning out a variety of scrumptious muffins, they're also known for their cakes, cupcakes, cookies, bars, pies, pastries, tarts and other creations. It's the good stuff you'd normally find in French, Italian, Jewish and New York bakeries all rolled into one location. 
Locals in Morrisville, a town just outside Raleigh proper, swear by the traditional, authentic and inspired Szechuan and Thai food served at C&T Wok. Settle into a cozy and quaint dining area for a lunch or dinner driven by spicy curries, delectable noodle dishes and go-to favorites like the Orange Chicken and Pineapple Fried Rice. The C&T Wok experience is even better with a group, so grab your friends and family and dig in family-style.
Unassuming from the outside, The Blind Barbours's signature set of whiskey-themed cocktails are sure to leave an indelible mark. On any given day, patrons can choose from almost 200 whiskey, scotch and bourbon options. With a throwback vibe exuding old-school charm, the space draws inspiration from the speakeasies of old and even gets its name from how patrons would gain entry—asking for "the blind pig."
Recipient of numerous "best tacos in the Raleigh area" awards since opening in 2007, Chubby's more than delivers using the best and freshest ingredients to create its signature dishes (and famous salsa bar). Easily missed if you're not looking for it, your taste buds are in for a fantastic journey accented by an impressive selection of tacos, burritos, tortas, salads, bowls and more. 
At SmokeStacks Cafe, having an unforgettable dining experience is par for the course. For more than 20 years, this cozy cottage of a restaurant in Raleigh's Historic Oakwood neighborhood has offered the local community a welcoming and relaxing atmosphere to both dine and chill. Swing by to gobble up brunch favorites like French toast, biscuits and shrimp and grits, or make it a dinner date with plates of barbecue sandwiches, ribs, salads and more—easily be paired with the perfect glass of wine. During lovely weather, patio dining at SmokeStacks is a must.
The Optimist is known as the neighborhood coffee house and local haunt for residents of the Oakwood and Mordecai neighborhoods. Through partnerships with Raleigh businesses like Black & White Coffee Roasters and Trophy Brewing, patrons enjoy the pleasure of some of the best coffee, pastries, baked goods and snacks locally available. Truly satisfying weekend eats, plus new and unexpected sips are also regularly available. Drop in and instantly feel at home with The Optimist's familiar and inviting vibe.
Walk into Tin Roof Teas and instantly be soothed by the aroma of more than 250 premium teas from around the world. Founded in 2009, the shop grew from a family's passion for tea and a strong desire to provide the world's finest teas, teaware and honey to N.C. and beyond. Browse the shop's selection while sipping a refreshing mug, snag some tangy tea leaves to brew at home and even attend one of Tin Roof Teas' monthly classes and tastings to up your tea game!
Award-winning, authentic Chicago-style deep dish pizza makes its way south to Raleigh thanks to Gwynn and JP LaRussa, the husband-and-wife duo that opened ACME Pizza in Holly Springs in 2013 (and another location in Morrisville in 2022). Every ingredient in this shop's recipes is carefully hand selected, sourced, prepared, and assembled to make sure the food that's served and enjoyed by many is made with love. Have your forks and knives ready—you'll be needing them!
For more than thirty years now, Frank's Pizza--located in East Raleigh near Alamo Drafthouse Cinema--has staked it's claim as one of the Raleigh area's best pizza joints. Make your way over for hand-tossed pizzas made daily with fresh dough and homemade sauce, plus Philly cheese steaks, hoagies and more. Pay a visit to find out for yourself why this not-so-fancy eatery has been a favorite for more than three decades (and say hello to Frank himself, who you'll likely find behind the counter!).
Amazingly delicious, Chuan Café delights diners with authentic, Szechuan-style cuisine as well as other Asian-inspired dishes. Get a taste of it all from delectable dim sum to crave-worthy chicken, pork belly and veggie dishes. Chuan is also known for having some of the best noodles in all of Raleigh. Drop by to appreciate a tasty meal as well as friendly and courteous hospitality while dining inside a well-designed interior space with faux bamboo and wicker accents.
A hot-spot in Cary for locals and visitors, Dame's "almost world famous" chicken and waffles pair world-class, comfort food combinations meant to fulfill your appetite's and heart's desire. Here's how it works: choose your waffle type (classic, sweet potato, vegan and more), a cut of chicken, a shmear (flavored butter that you will make you forget syrup) and final toppings (nuts, sauces and other goodies) to create the ultimate chicken and waffle dish that's screaming your name.
Raleigh is technically landlocked, but you can still escape to the beach if you know where to eat. Feel the vibes of a tropical getaway over at Lola's Beach Bar in Raleigh's Five Points neighborhood. This vintage hangout spot serves some of the best island style tacos, nachos, margaritas, cocktails and beer in town. This hidden gem is also easy to spot, too. Just look for the big sea foam-colored awning covering a spacious outdoor seating area. Inside, you'll find that the beach theme continues with a large tiki bar, metal bar stools and gorgeous, seascape photos and artwork.
Comments