Cary, N.C., Celebrates 150 Years of History, Growth and Community
Thursday, April 01, 2021, 1pm by visitRaleigh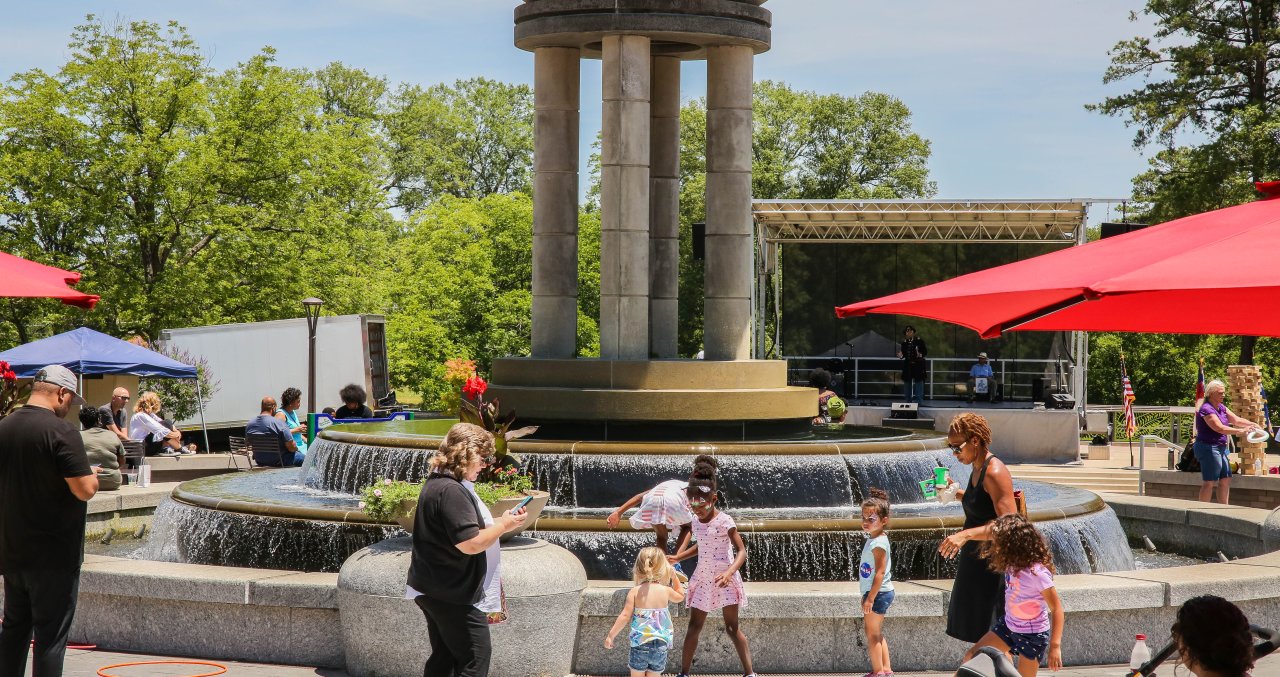 Incorporated on April 3, 1871, Cary, N.C., turns 150 years old in 2021! The town will hold a series of celebratory events throughout the year, including a virtual celebration on April 3. Read on to learn about the history of this not-so-small-anymore neighbor to Raleigh, and find out why it's booming as a place to both live and visit.
---

Cary, N.C.—the seventh-largest municipality in the state of North Carolina and the second-biggest town in America—will celebrate its sesquicentennial on Sat., April 3. The date marks 150 years of history, growth, culture, arts and community for a place that's been named as one of the best places to live in the U.S. (plus sports a visitor appeal that has increased significantly in recent years).
 
Railroad roots
Born as a railroad town, Cary was incorporated on April 3, 1871. That's 17 years after Allison Francis "Frank" Page purchased 300 acres of local land for $2,000 in 1854, the same year the North Carolina Railroad laid down tracks that ran through Page's property (Chatham Railroad followed in 1868). Page built a family homestead, became Cary's first postmaster, opened a sawmill, ran a dry goods store and developed a hotel to cater to train passengers (built in 1869, today that hotel is the Page-Walker Arts and History Center, a beautiful example of French Second Empire architecture that acts as a special events venue, art gallery and heritage museum).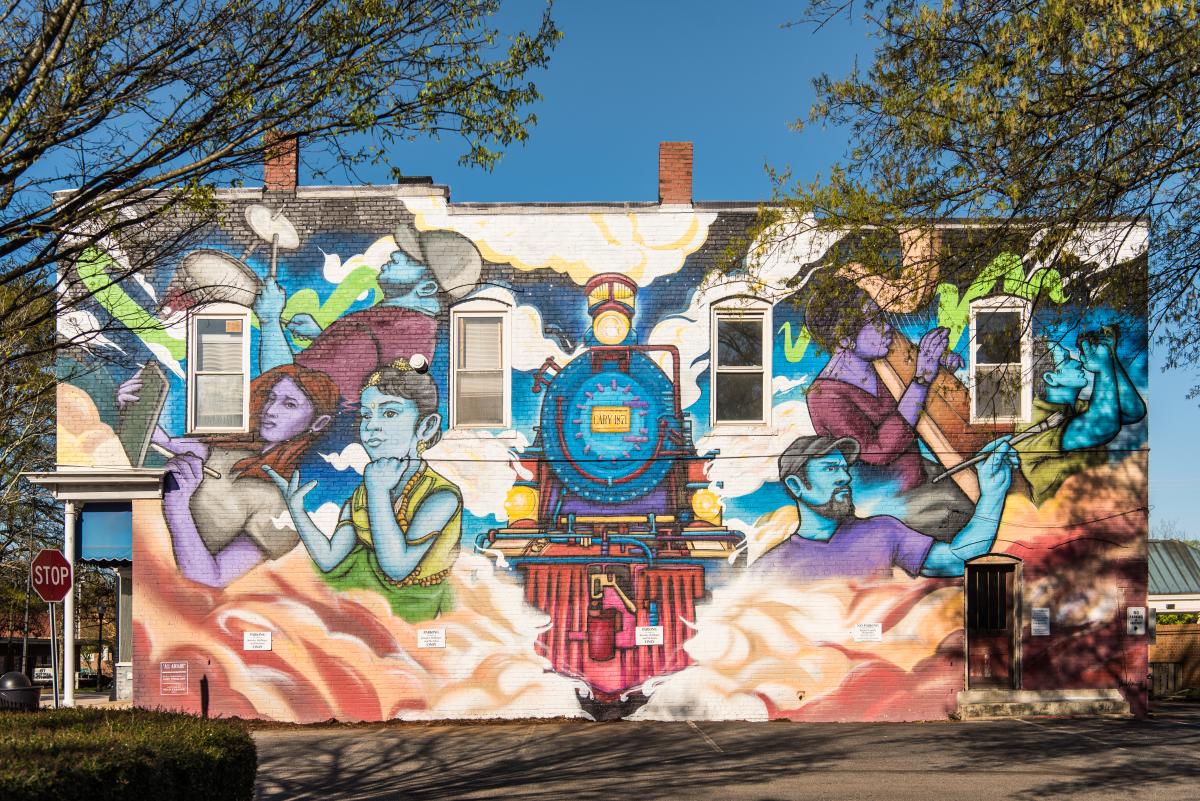 Above: Artist Sean Kernick's larger than life "All Aboard" mural in downtown Cary, paying homage to the town's roots as a railroad stop and celebrating a diverse and growing art community. Completed in 2019. Located at 122 W. Chatham St.

Page also became the town's first mayor and chose to name the area after Samuel Fenton Cary, a prohibition leader from Ohio that had previously visited the area and whom Page admired (Cary was established as a dry community—the consumption of alcohol remaining outlawed for nearly 100 years).
Also recommended: A driving tour of Cary's African American history (PDF download).
Founded with a population of less than 150 and an area that spanned just one square mile in 1871, Cary sat nine miles west from the North Carolina State Capitol in Raleigh (a clerical error originally spelled the town as "Carey"—this was ultimately corrected but the spelling lived on for some years through business signs and maps).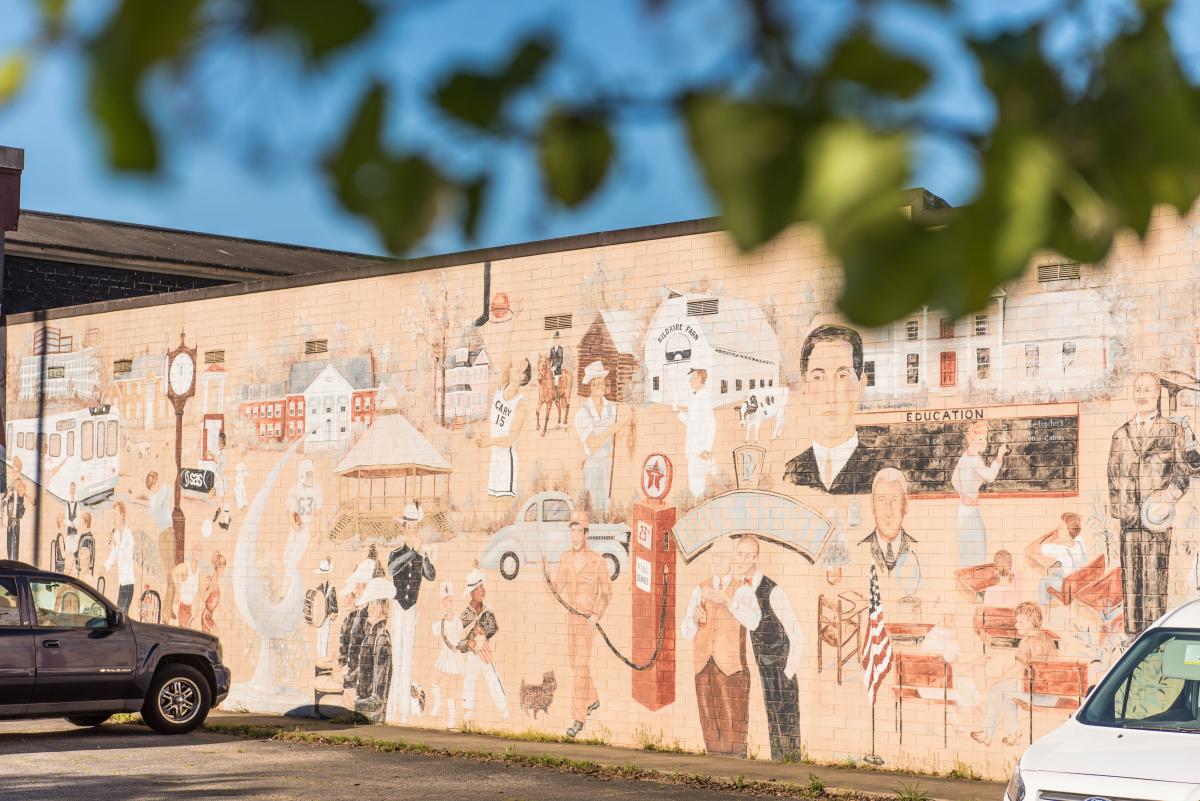 Above: Artist Val Fox's 2003 mural "Cary Then and Now," a 150-foot-long story that tells the 150 year history of the town, reading from right to left. Read more about many of the details depicted in the mural here. Located at 220 W. Chatham St. 

Growth would come to Cary—eventually. In 1971, 100 years after establishment, the population stood at 8,000. But the development of Research Triangle Park had arrived, bringing big businesses and good jobs to the area, and rapid change was on the way. By 1975, the population had hit 15,000; 21,000 by 1980; 44,000 by 1990; and today more than 170,000 residents live across 60 square miles after Cary spent a number of years as one of America's fastest growing places.
 
---
Recent accolades for Cary, N.C.
#1 most under-the-radar place you need to visit (Expedia)
#1 best place for raising a family (Forbes)
#1 safest place to live in the U.S. (Homes.com)
#1 city where women are most successful (SmartAsset)
#4 happiest city in the U.S. (Zippia.com)
#5 best place to live in America (Money)
#6 highest quality of life in the U.S. (Nerd Wallet)
---

Fully grown (and getaway-worthy)
Looking at the list of accolades above, it's easy to see why the Cary community is proud of what they've built, why companies like SAS Institute, Epic Games and numerous other technology companies are headquartered here. Today Cary is known for its friendly people, tree-lined streets, rapidly diversifying population, top-notch recreation amenities and a revitalized downtown area. Those same qualities—and the hospitality services that have popped up to cater to a growing population—have also helped to attract out-of-town visitors to the area. 
It could be said that The Umstead Hotel and Spa—the only five-star hotel in the Tar Heel State—is the ticket that finally gave Cary a spotlight in the tourism world. Opened in 2007 by Jim and Anne Goodnight, the hotel—plus the on-site restaurant and spa—sit tucked away in 12 acres of woodlands overlooking a private lake. The Umstead is one of just a dozen properties in the entire world to earn triple Five-Star status from Forbes Travel Guide (a Five-Star rating for each of the hotel, restaurant and spa).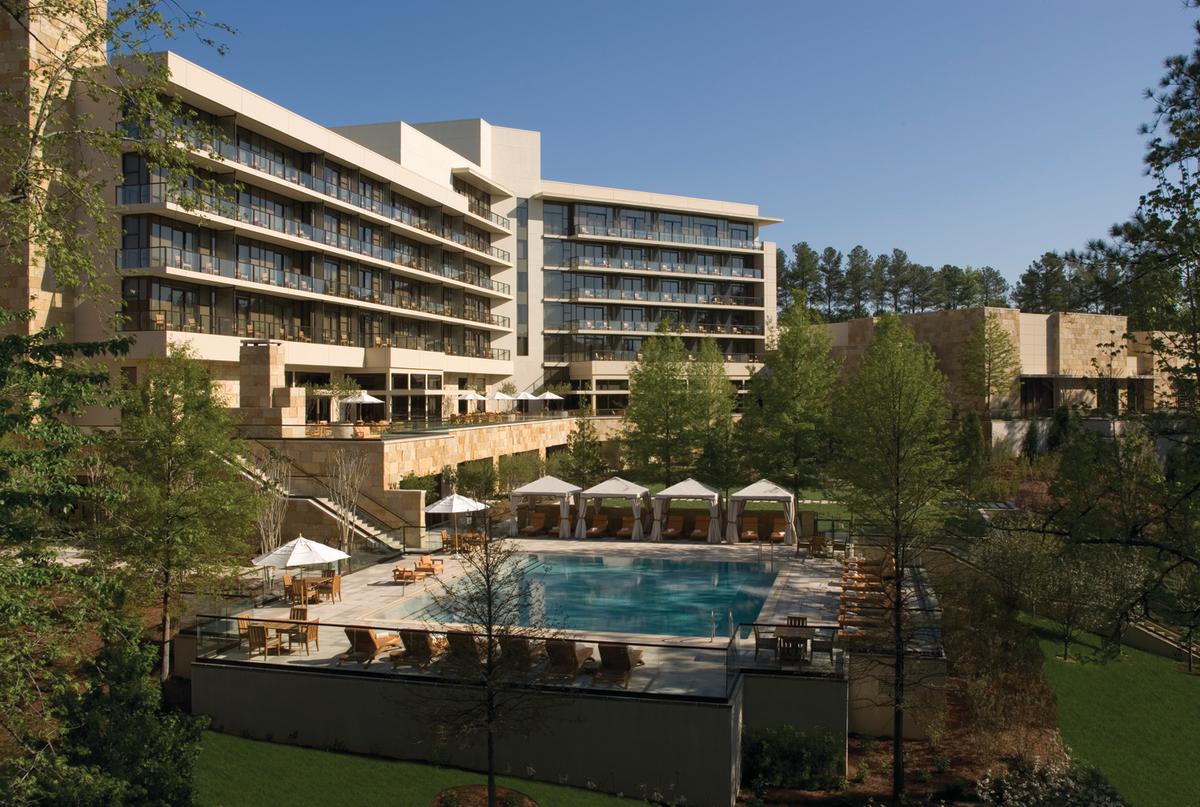 For a more urban retreat, downtown Cary's The Mayton—opened in 2016—is more than happy to make guests feel at home. The Georgian-style boutique hotel boasts 44 completely unique guest rooms, plus a bistro, bar and event space that's become one of the area's most sought-after wedding venues. 
Walking distance from The Mayton—and sitting within that original square mile that made up Cary 150 years ago—are many of the area's favorite eating and drinking spots.
Ashworth Drugs has been a downtown icon for more than 60 years, serving generations of families as both a pharmacy and a soda/hot dog shop; Academy Street Bistro has an A-plus location with the food and cocktails to match, meaning you can't go wrong with either a Sat. night dinner or Sun. brunch; family-owned Crosstown Pub & Grill has thrived for more than six years now, with so much business they opened up a breakfast-focused shop, Daybreak, in 2020; Serendipity Gourmet Deli has been a no-brainer for a low-cost lunch on a beautiful day since 1977, and next door, the wonderful Esteamed Coffee is a nonprofit coffee shop that employs individuals with disabilities. 
Zach and Amber Faulisi opened the critically acclaimed wood-fired pizza shop Pizzeria Faulisi in 2017 to much fanfare, perhaps matched only in anticipation by the 2021 opening of Di Fara Pizza, the famed Brooklyn pizza shop that opened their first restaurant outside of NYC in the heart of Cary. And because nothing goes better with pizza than beer, two massively popular downtown breweries with plenty of outdoor seating are open seven days a week—Bond Brothers Beer Company and Cotton House Craft Brewers.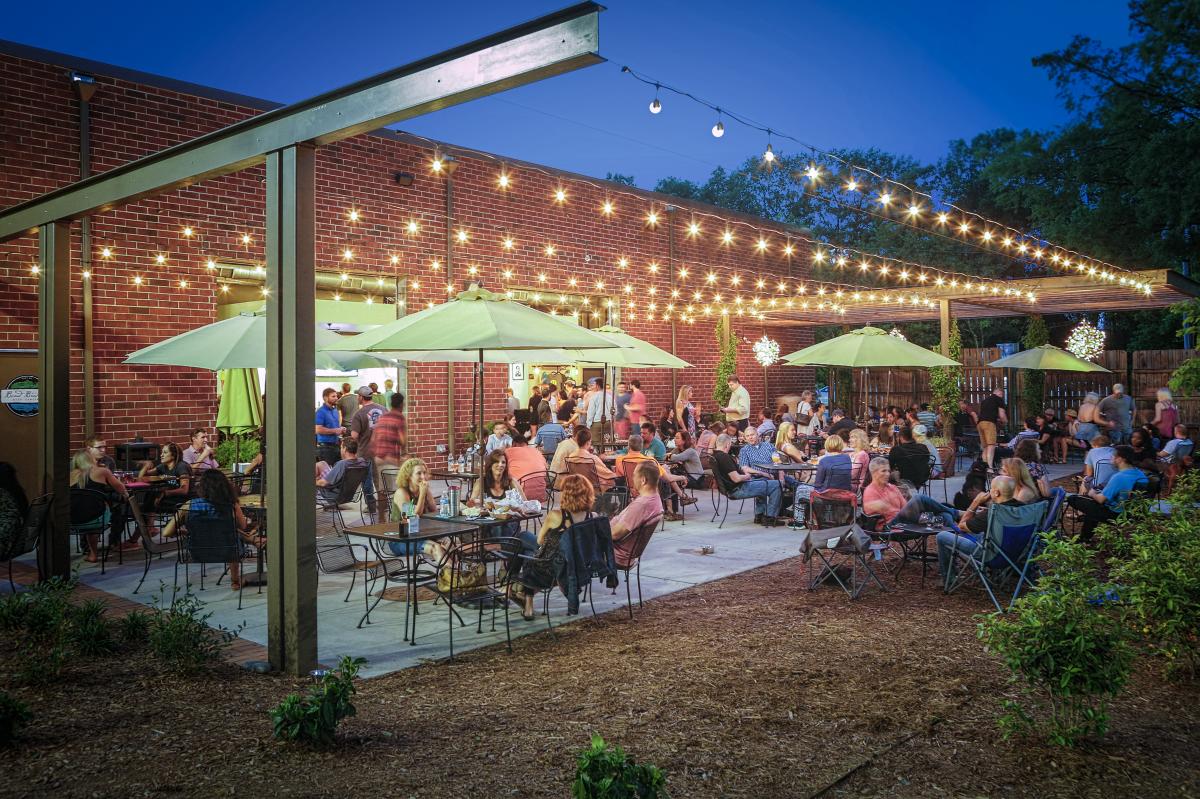 A trio of bakeries—La Farm Bakery (French), Annelore's German Bakery (German) and Once in a Blue Moon Bakery & Cafe (the go-to for pies and cakes)—provide enough goodies for a lifetime of happiness (and the Cary Downtown Farmers Market sits just a couple blocks from all three, open Saturdays year-round).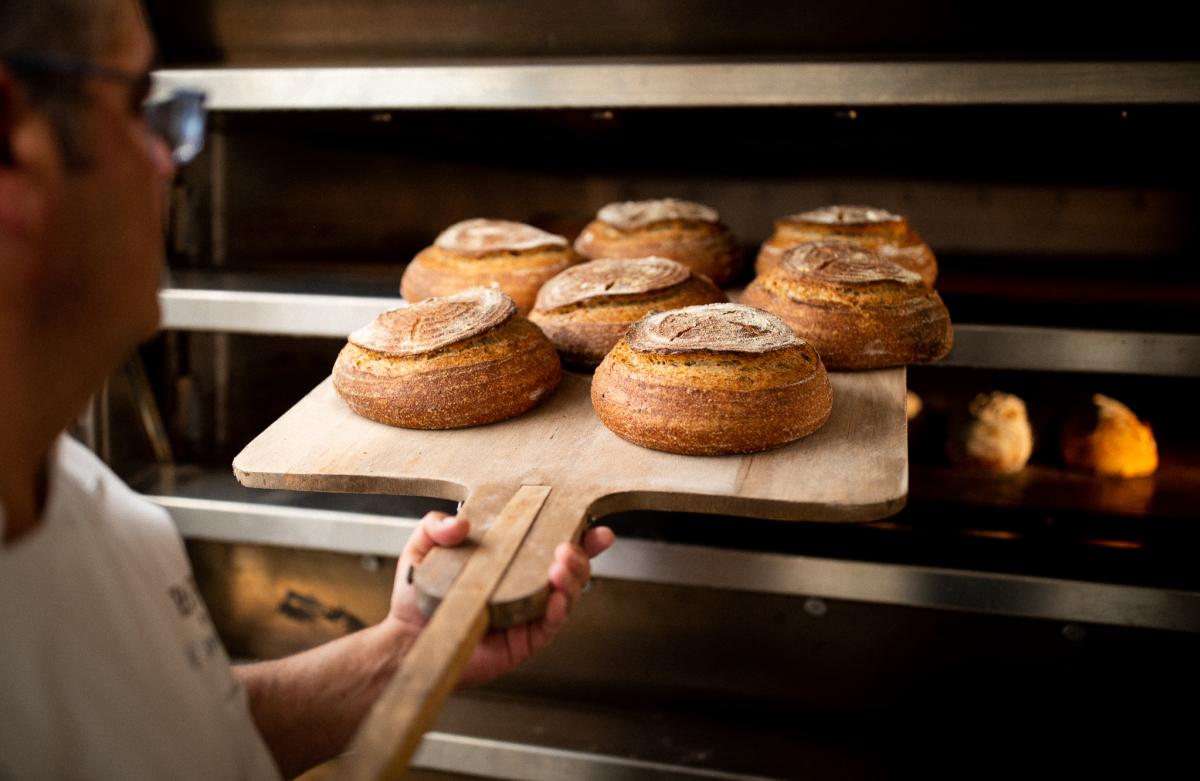 Booming diversity and community gatherings
Cary's population boom in recent years has also been a diversity boom. The U.S. Census Bureau estimates that 22% of the population in Cary is foreign-born, and the town has documented that the Asian population—Cary's largest minority—tripled during the 1990s and is estimated to have doubled again since 2000, now making up about 20% of the total population (and that's been good news for fans of great food). 
Longtime downtown Cary staple Taipei 101 is no stranger to big accolades, earning the honor of being named top Chinese restaurant in the Raleigh area for five years running by The News & Observer; just down the street, husband and wife duo Syed Yousuf and Samreen Nawaz opened the award-winning Kabibish Café in 2015, serving Indian-Pakistani-Mediterranean cuisine (both owners point to the haleem as their favorite dish, a stew made with slow-cooked chicken, lentils and plenty of spices); for a number of years, Bosphorus Restaurant has been one of Cary's self-proclaimed best-kept secrets, but the Turkish flatbreads, kebabs and baklava are simply too good for us to keep to ourselves; Cilantro Indian Cafe earned a cult following during their time as a small gas station takeout eatery, and they've now fully blossomed into a fresh, fast casual restaurant serving (arguably) the best tandoori wings in town; and just a few doors down from Cilantro, Hanadi Asad's Mediterranean Asali Desserts & Café is a local treasure, using family recipes to serve up tarts, cheesecakes, baklava, kenafa and more.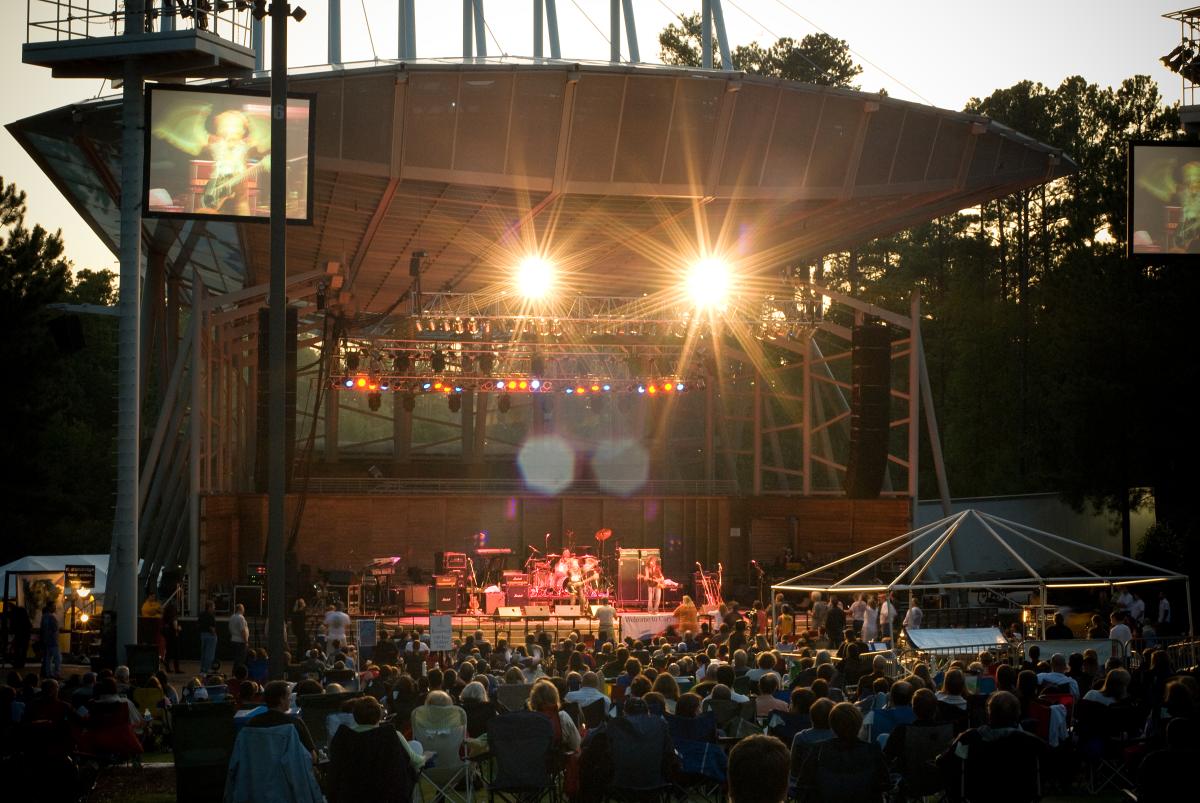 Cary's diverse population is celebrated through community events and festivals as well. At Koka Booth Amphitheatre—the town's gorgeous, 7,000-seat outdoor amphitheater that opened in 2001—Cary hosts more than 60 large events each year, including one of the South's biggest Diwali festivals, the always-popular North Carolina Chinese Lantern Festival and Triangle Asia Fest (which also includes the Triangle Dragon Boat Festival), among others. Dates for these events are to be determined for 2021. 

A focus on downtown revitalization in recent years has yielded other community gathering spots. The previously mentioned Page-Walker Arts and History Center was opened fully to the public in 1994 after spending much of the 1900s as a private residence. The Cary Arts Center, on a site that was first opened with the help of Frank Page all the way back in 1870 as educational academy, was unveiled to the public in 2011 after nearly a decade of planning—the 48,000-square-foot building is home to a 400-seat theater and other gallery spaces that are used by countless community organizations. And on E. Chatham St., The Cary Theater—originally opened as a theater in 1946 before spending time as a clothing store, auto parts store and recording studio—was purchased by the town in 2011, underwent a renovation and expansion and reopened to the public in 2014 once again as a film and performing arts venue.
A short drive from downtown, WakeMed Soccer Park completed a major renovation in 2012, expanding to 10,000 total seats and adding new locker rooms and luxury suites. Home to two-time National Women's Soccer League champions North Carolina Courage, as well as men's professional team North Carolina Football Club, the park has held countless special events over the years and will host both the NCAA men's and women's college soccer championships in May 2021.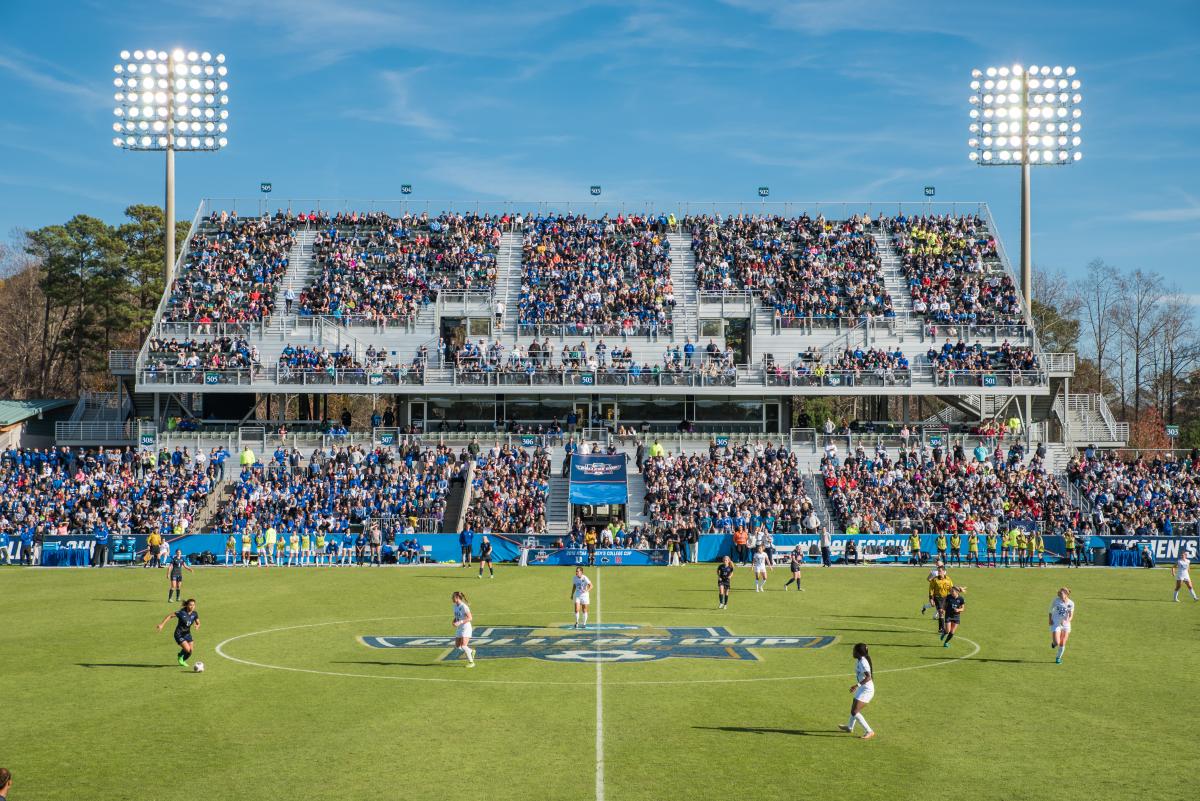 The great outdoors in Cary
One thing many of us learned while dealing with social distancing over the last year: the great outdoors are still great. 
In Cary, 39 greenways span more than 80 miles of paved paths for cyclists, joggers, walkers, rollerbladers, dog walkers and other trail users to enjoy, and 34 parks make up a total of nearly 2,700 acres of natural area for breathing fresh air.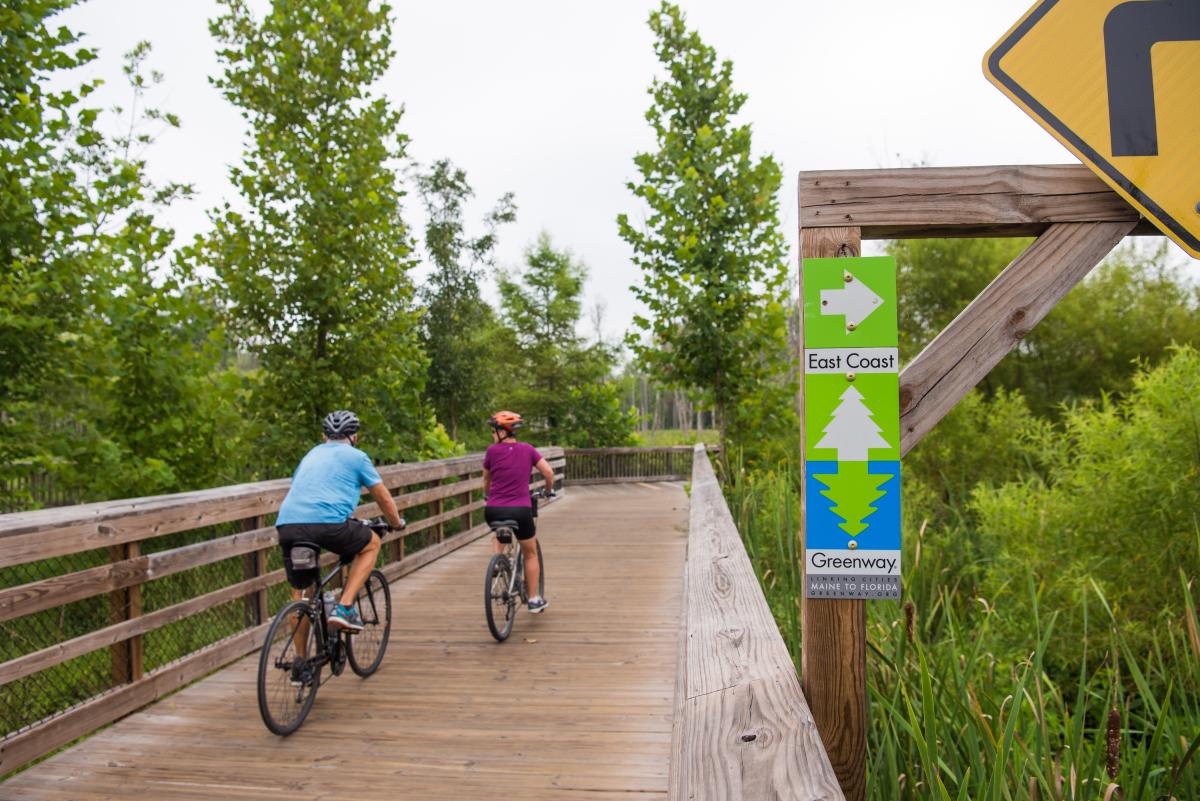 Cary's commitment to greenways goes back more than 40 years, with a greenway master plan adopted in 1979 and the town's first greenway completed in the same year (then named the Tarbert-Gatehouse Greenway, now called the Annie Jones Greenway).
Winding through forests, over wetlands and connecting parks with neighborhoods, Cary's greenways play an important role in both transportation and recreation. That's most evident looking at the Black Creek and White Oak Creek greenways, two of the state's most important paths that help provide a 15-mile continuous connection from William B. Umstead State Park (a 5,500-acre oasis and one of N.C.'s most visited state parks) to the American Tobacco Trail, a 23-mile rail trail that goes all the way to downtown Durham (nearby, Diavolo Disc Golf Course at New Hope opened in 2020 and was already named one of the world's best courses). 
These paths also play a pivotal role as part of the East Coast Greenway, an in-development route of trails and greenways that will ultimately stretch 3,000 miles up and down the East Coast, meaning each year cyclists from across the U.S. will travel directly through Cary as part of a once-in-a-lifetime journey.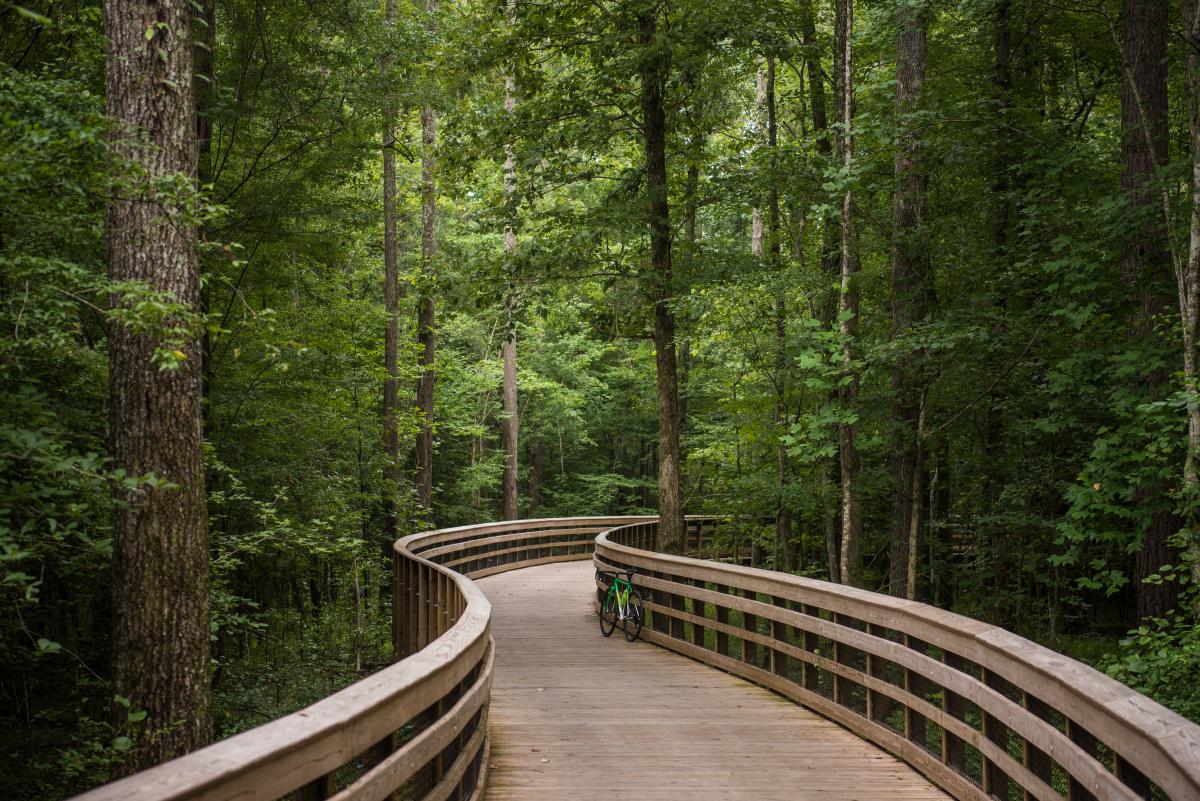 Aside from greenways, Cary's parks feature excellent, family-friendly programming. At Fred G. Bond Metro Park and Boathouse, the 310-acre facility has picnic shelters, athletic fields, hiking trails, a playground, a 300-seat amphitheater and a challenge course (bookable for groups of eight or more), plus the park rents out 6,000 pedal boats, canoes and kayaks each year. And at Hemlock Bluffs Nature Preserve, three miles of kid-friendly trails navigate through Eastern Hemlock trees (some nearly 400 years old), and the 3,700-square-foot Stevens Nature Center provides interactive, educational nature exhibits and historical exhibits from the Piedmont of N.C., plus provides nature interpretation and environmental education programs for all ages throughout the year.

Cary's future
The future of Cary looks to be taller, sportier and greener. According to Mayor Harold Weinbrecht's 2021 State of Cary report, approximately 85% of Cary's 60 square miles has now been developed, with 30% of total land preserved as park and natural area, meaning that much of the new development in town will be adding density (and that's evident by the number of condo, townhome and mixed-use projects being built, particularly in the downtown area where taller residential buildings have previously not been developed).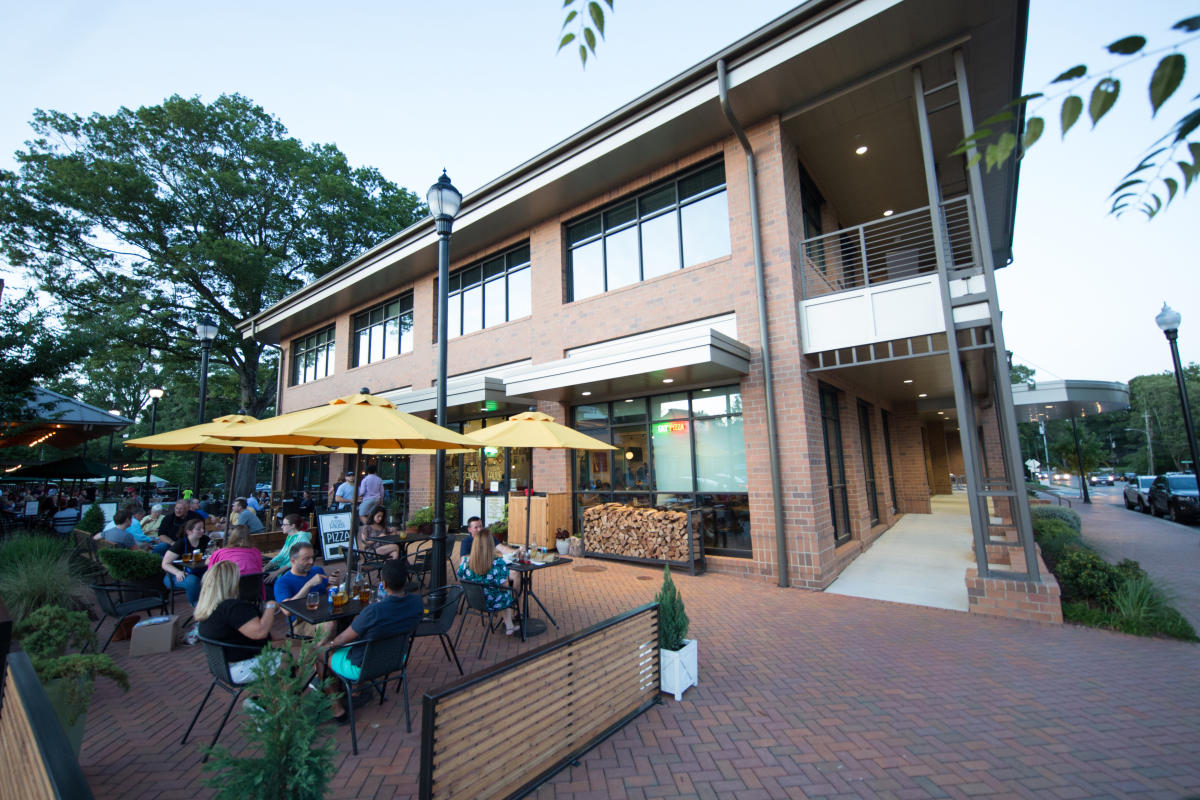 Epic Games, having called Cary home for 20 years now, plans to build a new global headquarters at the 87-acre, former Cary Towne Center site. The space is expected to house both offices and recreational spaces, with plans to be finished in 2024. 
Nearby, the Town of Cary has plans to build a massive, 250,000-square-foot community recreation and sports center. It's expected to hold 12 full-sized basketball courts that can be converted to 20 full-sized volleyball courts, plus the ability to transform into a 4,000-seat arena for championship games, esports tournaments and performances. Locker rooms, commercial kitchen space and other amenities are expected as well. Construction is aiming to be completed in 2025.
Across the street, construction on the privately developed Fenton—a shopping, dining, living and entertainment complex—is well underway, with the 563,000-square-foot phase one of the project preparing to open in spring 2022.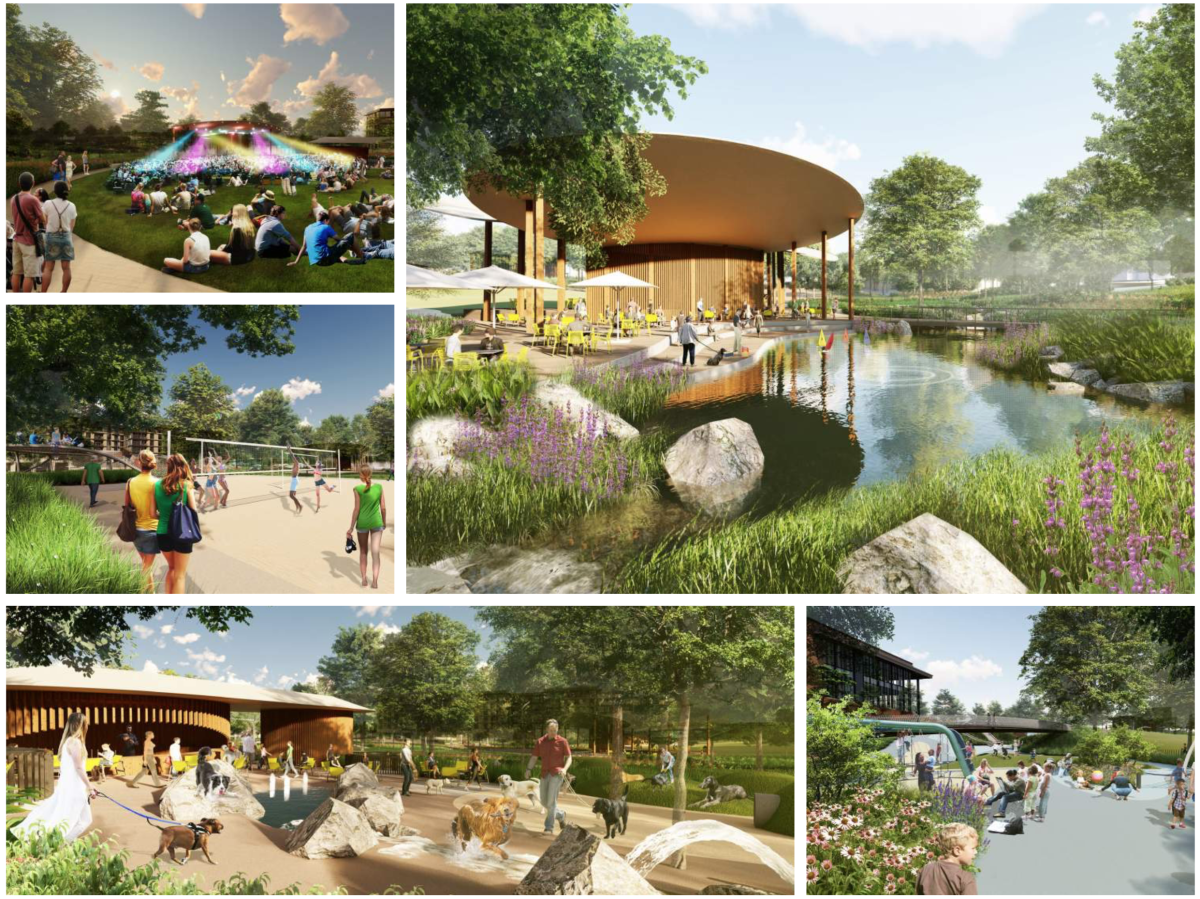 Above: Renderings of Downtown Park from the project's master plan.

But perhaps most notable, for both residents and future visitors to the area, is the development of Cary's Downtown Park, a 20-years-in-the-making, seven-acre, state-of-the-art park project aiming to serve as an iconic outdoor public space. 
A great lawn, performance spaces, market areas, elevated walking trails, numerous interactive water features, food and beverage facilities, a dog park, children's play areas and much more are planned for the space that sits directly in the center of town. It's considered one of the most ambitious park projects in the area's history. Construction begins this year and should be completed in 2023.

Cary 150 celebrations
COVID-19 has delayed what would have been major in-person celebrations for April 3, but the town is still planning virtual and in-person events for later in the year including a summer festival, an original, live-performance play about the Cary's history that will hit the stage in the fall and a gala—Masquerade 150—planned for Nov. 13 of this year. 
Visit Cary150.org for more information on Cary's history and ways to celebrate the special occasion.  
Header photo by Keenan Hairston; Bond Brothers Beer Company photo by Duffy Healy; Pizzeria Faulisi photo by Brian Strickland
Comments