Juneteenth Events in Raleigh, N.C.
Tuesday, June 06, 2023, 9am by visitRaleigh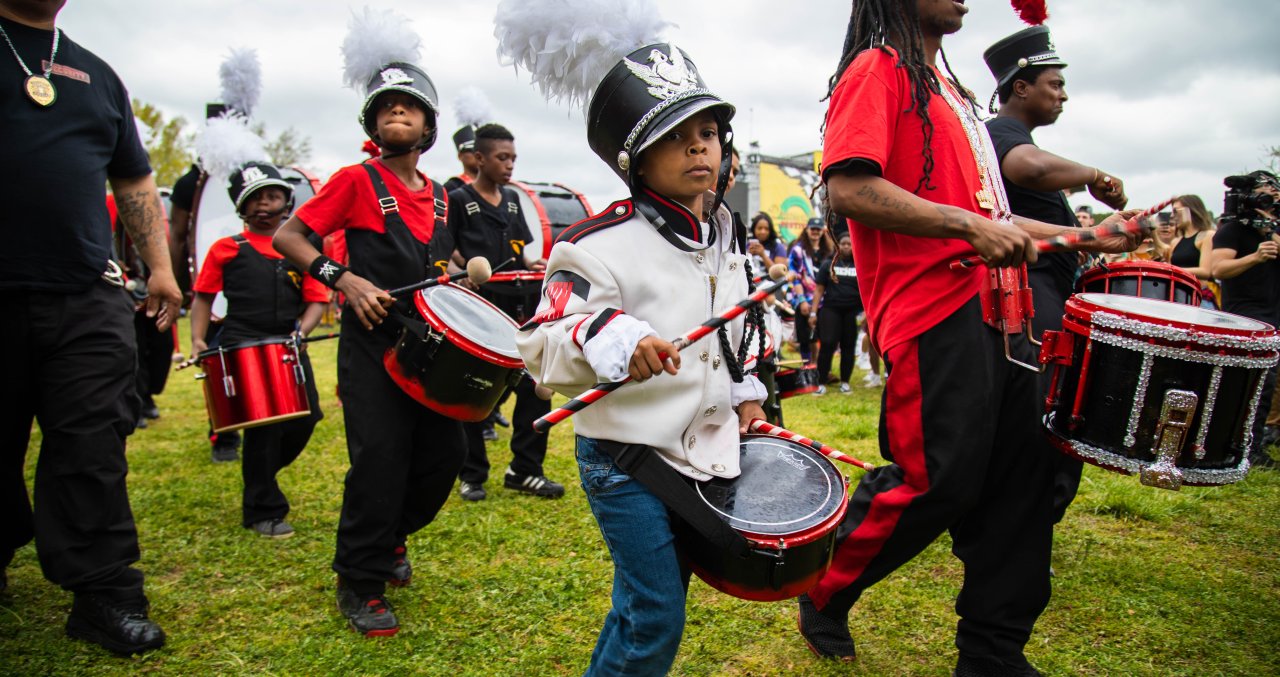 Juneteenth—the oldest nationally celebrated commemoration of the abolition of slavery in the U.S.—became a federal holiday in 2021, 156 years after slaves in Galveston, Texas were notified on June 19, 1856, that they were now free after the Civil War had come to an end.
In 2020, both the City of Raleigh and Wake County voted to recognize June 19 as a holiday, and in 2021 the City of Raleigh held it's first Juneteenth Celebration at Dorothea Dix Park. That event is back this year, and so are a number of other new and returning events honoring freedom of Black Americans. 
June 10, 11am-3pm
Celebrate the emancipation and the achievements of Morrisville's African American community on Saturday, June 10, at Cedar Fork Community Center. There will be food trucks and local vendors on hand, plus a kids' corner, live entertainment, interactive history experiences and more.
June 12-16
This week-long series of events at John Chavis Memorial Park and Community Center in downtown Raleigh will offer insights on Black history in Raleigh, dance parties, a movie night, games, activities and more. Full schedule here. 
June 16, 4-6:30pm; June 17, 11:15am-8pm
Two days worth of free fun and excitement for the entire family, featuring giveaways and fun at the Taylor Street Park Sprayground, plus a freedom/history walk, DJs and dance groups and a guest presentation from motivational speaker Eugene Brown.
June 16-17
The third annual Capital City Juneteenth Celebration returns to Raleigh this year, with a number of events taking place over the holiday weekend across various venues. Some highlights:
Family day at Dix Park is a free-admission afternoon of food and entertainment, with live music, guest speakers, dancers, kids' activities and more. Entertainment includes jazz, R&B, blues, African dancers, cheerleading, spoken word, inflatables, face painting, story corner and more—blankets and lawn chairs are encouraged. More than 20 food trucks will be on site but attendees may bring their own food and drink. Dogs on a leash are welcome. 
June 16, 10-11am; June 17, various times for walking tours
As the only African American house museum in the state, the Pope House offers a look into the life of one of Raleigh's prominent African American citizens, Dr. Manassa Thomas Pope. For Juneteenth, join storyteller Pat Lambe as she weaves imagery and songs to tell the story of Black emancipation and determination on Friday June 16, then sign up for a walking tour on Saturday or Sunday to learn about the surrounding area's history as one of Raleigh's historic Black neighborhoods. All events are free but registration is required for the walking tours.
Related: Find more Juneteenth events sponsored by the City of Raleigh here.
June 16, 5:30-8:30pm; June 19, 6pm
Held at the Fuquay-Varina Arts Center, the third annual M.A.N.iFest (Music, Art and Networking) will feature a hip hop and STEM crossover event focused on entertaining and education about how and why both disciplines are academically and artistically symbiotic on June 16, followed on June 19 by a performance of Freedom to What, an original production by Qisoundra Flowers, Shaun Harris and Jennifer Holt that tells the story of Juneteenth. Tickets are required to see Freedom to What. 
June 16, 7pm; June 17, 6pm
A Juneteenth weekend kickoff at the North Carolina Museum of Art, Friday evening at the museum park will feature uplifting music from local legends and Grammy-winning artists: The Clark Sisters, John P. Kee, Pastor Shirley Caesar and Charles Jenkins.
On Saturday evening, celebrate Black culture and the 50th anniversary of hip-hop music by joining in on a dance party set to the tunes of DJ Brian Dawson, followed by a screening of the 1989 Spike Lee film "Do the Right Thing." 
Note that these are both ticketed events.
June 16, 6-9pm; June 17, 11am-4pm
A two-day event featuring a ceremony, live performances (including a Friday night concert with Legacy Motown Revue), spoken word, bounce houses, vendors, car show, community resources and food trucks.
June 17, 11am-6pm
A full day of fun in downtown Apex, including live music and entertainment with NiiTO and ET Drum Prophet.
June 17, 11am-12:15pm
A chance to learn together about the birth and growth of freedom in America and appreciate its long and challenging journey to reach everyone, the Town of Garner will celebrate Juneteenth at the Garner Performing Arts Center with remarks and performances by Duke professor Mary Williams as well as performances by gospel legend Lena Mae Perry and The Wake Baptist Grove Church Choir. Mayor Ken Marshburn will read the town's Juneteenth proclamation.
June 17, 4-9pm
The Town of Knightdale's first African American Festival will provide an opportunity to showcase and celebrate the unique traditions, customs, and beliefs of the African American community through live music, arts, food and more at Knightdale Station Park.
June 17, 11am-3pm
Programming at Bond Park in Cary will include African dance by The Collective, a presentation from Dr. Blair Kelley (Director of the Center for the study of the American South), gospel music from Black Angels, storytelling by Zayd Shakur and Erim Akpan, history discussions with Darrell Stover and Tom Hancock and jazz music by Iajhi Hampden & The Dialect. 
Related: Rhythm & Rhyme: A Celebration of Liberty at The Cary Theater will take place Thurs., June 15 from 7-9:30pm (featuring poetry, music, and more). This is a ticketed event.
June 17-19
North Carolina's first Black-owned children's bookstore is set to open in downtown Raleigh with three days of weekend festivities that coincide with Juneteenth celebrations. Featuring bestselling and award-winning Black children's book authors and illustrators, Black historians and even Black equestrians, the grand opening and ribbon cutting will take place on June 17 from 11am-3pm. Located at 208 Fayetteville St., Ste. 201. Full schedule here.
June 18, 1-3pm; game vs. Lexington Sporting Club at 3pm
North Carolina Football Club is partnering with Black-owned businesses to bring you local exhibits and entertainment, a player-inspired merch auction, food trucks and more before their June 18 game against Lexington Sporting Club at WakeMed Soccer Park in Cary.
Header photo by Garrett Poulos
Comments