Six Murals That Honor Black History and Culture in Raleigh, N.C.
Wednesday, February 08, 2023, 2pm by visitRaleigh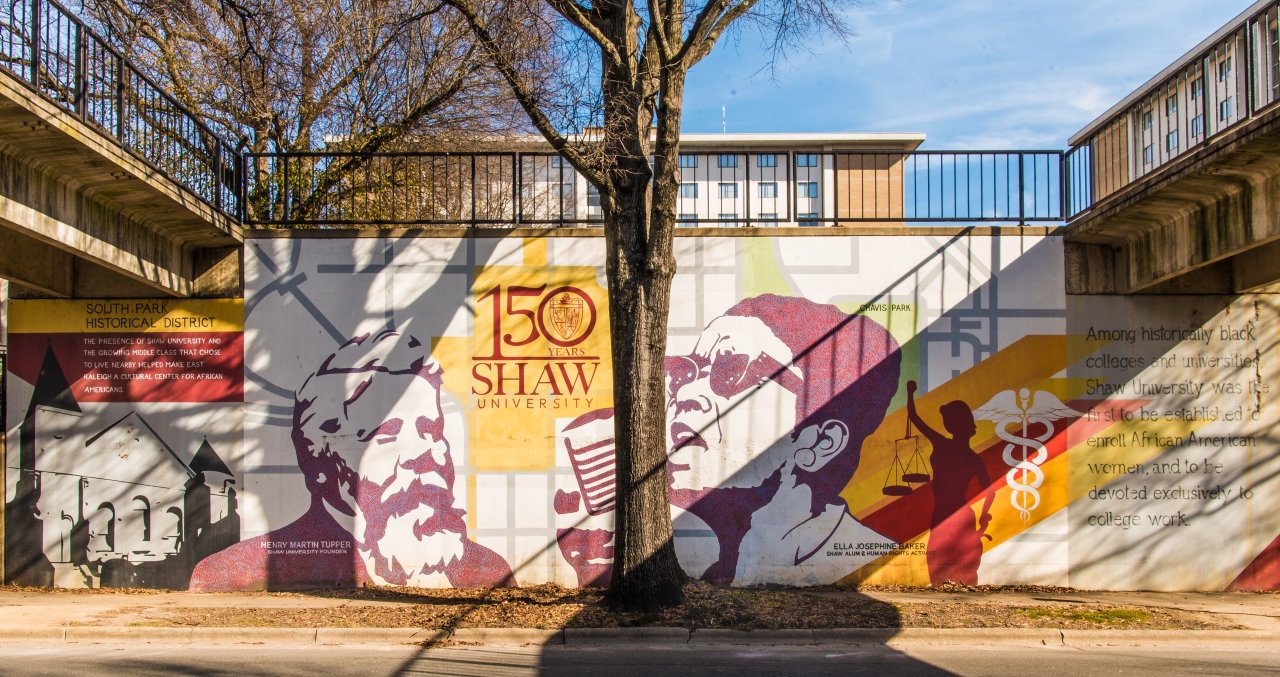 The Raleigh area is home to a vibrant collection of murals that pay tribute to the rich history and cultural heritage of the City of Oaks and beyond. A number of those murals are dedicated to Black history, community and culture—triumphant depictions and stunning works of art that bring color and life to the city's streets and serve as powerful reminders of the contributions and resilience of Black Americans. 
Below are six spots to see some of this super important art!
Celebrating John Lewis
This mural by artist Jalel Ronin celebrates the life of the late John Lewis, a towering figure of the civil rights era who served for more than three decades in Congress and is known for his unwavering fight for equality in the 1960s. 
Lewis—who in 2011 was awarded the Presidential Medal of Freedom, the nation's highest civilian honor—was one of the 13 original Freedom Riders, was chairman of the Student Nonviolent Coordinator Committee, was an organizing leader of the March on Washington and led many other protests, sit-ins and marches. Lewis was arrested more than 40 times and repeatedly physically assaulted, including an infamous beating by police that fractured his skull on the Edmond Pettus Bridge in Selma in 1965.
Lewis died at the age of 80 in 2020, and this mural on the exterior of Trophy Brewing + Pizza went up the following month. The mural depicts the Edmond Pettus Bridge with a new name, the John Lewis Bridge, a change that many have advocated for in recent years.
Chavis Reclaimed
During segregation, the 30-acre John Chavis Memorial Park was created as a recreational facility for the city's African American residents. Opened in 1937 and named for John Chavis, an early 19th-century North Carolinian who opened schools for Black children in Wake County, the park attracted carloads of amusement seekers—from Raleigh and well beyond—to its swimming pool, ball fields and historic carousel.
The Civil Rights Act of 1964 brought an end to separate but equal facilities, and over the years Chavis Park received less funding and became in need of a revitalization. In 2021, the first phase of a new master plan for the park finished construction and opened to the public, featuring a new community center, walking track, playground, splash pad, gym and meeting spaces.
Seen below, Durham artist David Wilson was commissioned to create a 300-square-foot painted glass collage as a standout piece of art for the new community center—it depicts the story and history of Chavis Park and the surrounding neighborhoods and community. 
Mount Rushmore of Hip Hop (feat. J. Cole)
Is this the Mount Rushmore of 2010s hip hop? That's what followers of Spotify's wildly popular Rap Caviar playlist decided in 2021, and now murals in Raleigh, Los Angeles, New York and Toronto (the represented artists' hometowns) make that statement loud and clear. 
Head over to S. Dawson St. to see these colossal portraits of artists Drake, Nicki Minaj, Kendrick Lamar and the Tar Heel State's own J. Cole. You should also make plans to catch J. Cole's Dreamville Music Festival (April 1 and 2) at Dorothea Dix Park—one of the most highly anticipated music festivals and signature events in Raleigh—when it returns for a third time in 2023.
Garner's Hidden Figures
Unveiled in 2022 in downtown Garner, this vibrant, two-story work of art from N.C. artist Georgie Nakima shines a light on Black leaders from the town's history, "hidden figures" that Kentrell Perry—owner of Locs, Naturals & More, the business the mural graces the side of—wanted to bring attention to.
The people represented within the mural include Thurman Leach, high school football coach of 34 years and now retired from Garner High School; the late Helen Phillips, a lifelong activist and one of the town's most prominent citizens; Mal Selika-Perry, the recently retired co-owner of Locs, Naturals and More; and the late Jackie Johns, the first Black elected official in town history who served as alderman and later council member for 36 years. 
You can read more about this mural via the Downtown Garner Association here.
Shaw University's 150th Anniversary
Founded in 1865 and located in the heart of downtown Raleigh since 1871, Shaw University—the first historically Black university in the South, the first college in the nation to offer a four-year medical school and the first Black college in the nation to enroll women—celebrated their 150th anniversary in 2015. 
This mural by artist Scott Nurkin showcases three themes—technology, entrepreneurship and sustainability—plus features Henry Martin Tupper—who founded Shaw upon teaching formerly enslaved men how to read and write during his work as a missionary—and Ella Josephine Baker.
Baker grew up in Littleton, N.C., graduated as valedictorian from Shaw in 1927 and went on to become known as "the mother of the Civil Rights movement" through her behind-the-scenes work with three of the 20th century's most influential civil rights groups: the National Association or the Advancement of Colored People (NAACP), the Southern Christian Leadership Conference (SCLC) and the previously mentioned Student Nonviolent Coordinating Committee (SNCC) that John Lewis would later become chairman of. Baker helped found SNCC after hosting a days-long conference for students at Shaw University in 1960. 
Below is one half of the mural, the other half is seen in the header photo of this article.
Honoring Levelle Moton
North Carolina Central University coach LeVelle Moton is a certified living legend, a distinction now immortalized via a beautiful mural at the corner of Salisbury and Hargett Sts. in downtown Raleigh. Designed by Adam Williams and constructed by mural artist Sean Kernick, the piece features Moton surrounded by championship trophies, family and organizations like the Raleigh Boys and Girls Club that helped shape him.
"Coach Mo," who grew up in Southeast Raleigh, leaves his mark on the greater Raleigh area on and off the court, giving back and inspiring through the Velle Cares Foundation as well as transforming his old Raleigh neighborhood by partnering with the city to develop more affordable housing.