Poole'side Pie⁠s—Chef Ashley Christensen's Neapolitan Pizza Spot⁠—is Now Open!
Friday, September 13, 2019, 8am by Michael Robson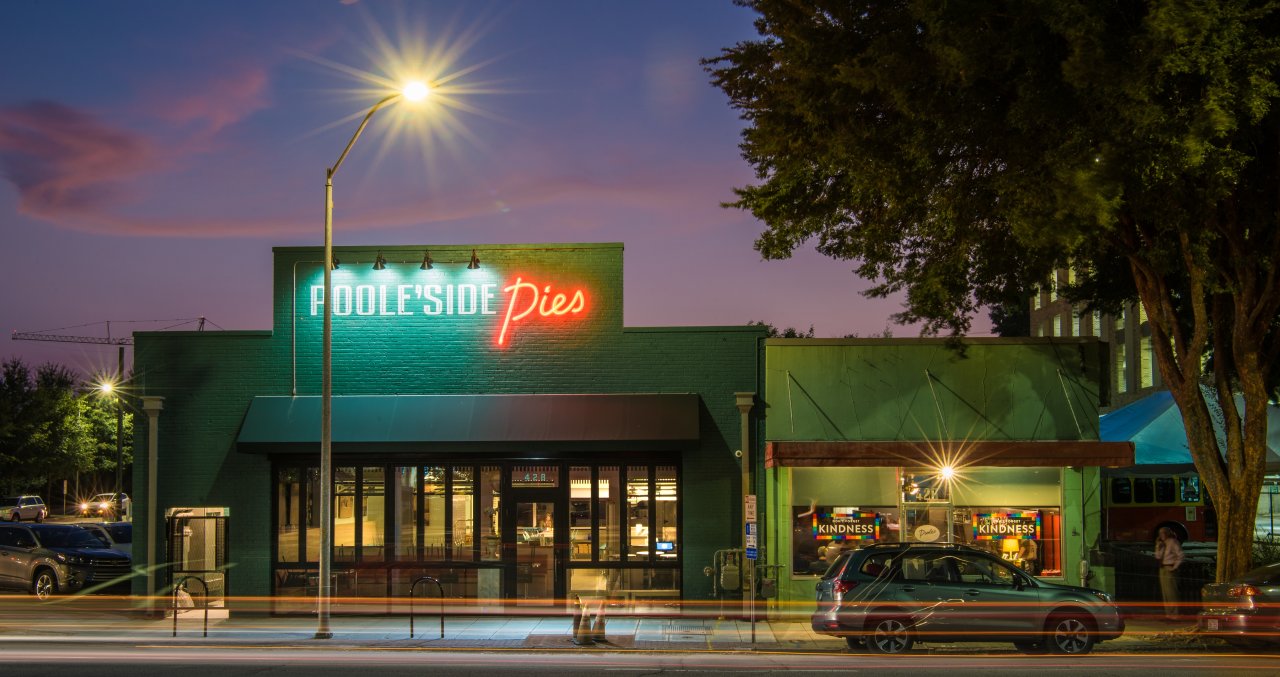 A fierce philanthropist and accomplished restaurateur, chef Ashley Christensen just opened her sixth restaurant in downtown Raleigh. Poole'side Pies is a Neapolitan-style pizza joint, and it's a big deal. Here's why. 
---
Chef Ashley Christensen is having the time of her life. 
In May, the James Beard Foundation named Christensen America's best chef (the only North Carolinian to ever earn that honor); in June, she married longtime girlfriend and AC Restaurants executive director Kaitlyn Goalen in a beautiful Raleigh wedding; and in July, Christensen announced plans for a trio of fast-casual fried chicken restaurants coming to the area in 2020 (code name: Project Xtra Crispy).
Now, Christensen—known to many as the face of Raleigh's booming food scene—has unveiled her newest dining concept in the City of Oaks. 
Poole'side Pies, now open in downtown Raleigh, is a Neapolitan-style pizza shop inside a whimsical, swimming pool-themed setting. This is—without a doubt—Christensen's most fun offering.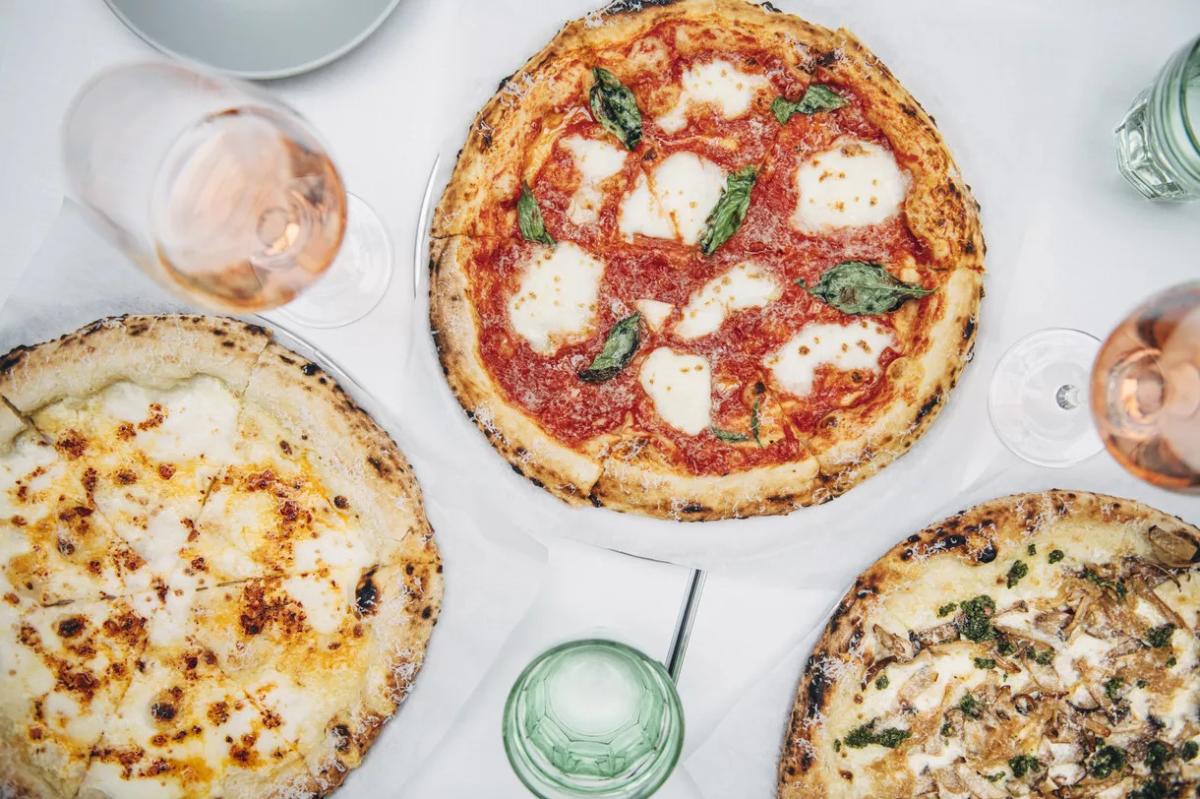 One of the country's most highly-anticipated restaurant openings in 2019, Poole'side has been in the works since it was first announced in 2015 (and if you want to call it "America's best new pizza joint," we won't stop you!). 
 
---
Fast facts
Ashley Christensen's newest venture is Poole'side Pies, a Neapolitan-style pizza shop in downtown Raleigh
Poole'side Pies is one of the most highly-anticipated restaurant openings in America in 2019
Aqua blues and coral hues—plus chrome accents and vintage pool tiles throughout—give the space a fun, beach club vibe
The menu includes pizza, salads and desserts (do not miss the desserts!)
Christensen opened the renowned Poole's Diner in 2007 and now has six eating and drinking spots in downtown Raleigh
---

Christensen's downtown Raleigh culinary empire now spans six eating and drinking establishments (an underground liquor bar named for her father and a raved-about chicken and waffle joint, among others). 
Since opening the flagship Poole's Diner in 2007, her work—both in the kitchen and the community—has earned the attention and admiration of foodies everywhere. In addition to her Most Outstanding Chef award from the James Beard Foundation, Christensen was named National Chef of the Year by popular food and drink website Eater in Dec. 2017.
 
About Poole'side Pies
Located in the building directly next to Poole's Diner (hence the Poole'side name), and impossible to miss with its "All Are Welcome" mural plastered across the outside south-facing wall, Christensen's sixth project is dedicated to Neapolitan-style pies.
In Poole'side's case, that means thin-crust pizza, cooked for 90 seconds at more than 800 degrees in a 6,000-pound, Marra Forni wood-fired oven, using organic Bianco DiNapoli tomatoes, a dough made from local flour and house-made mozzarella.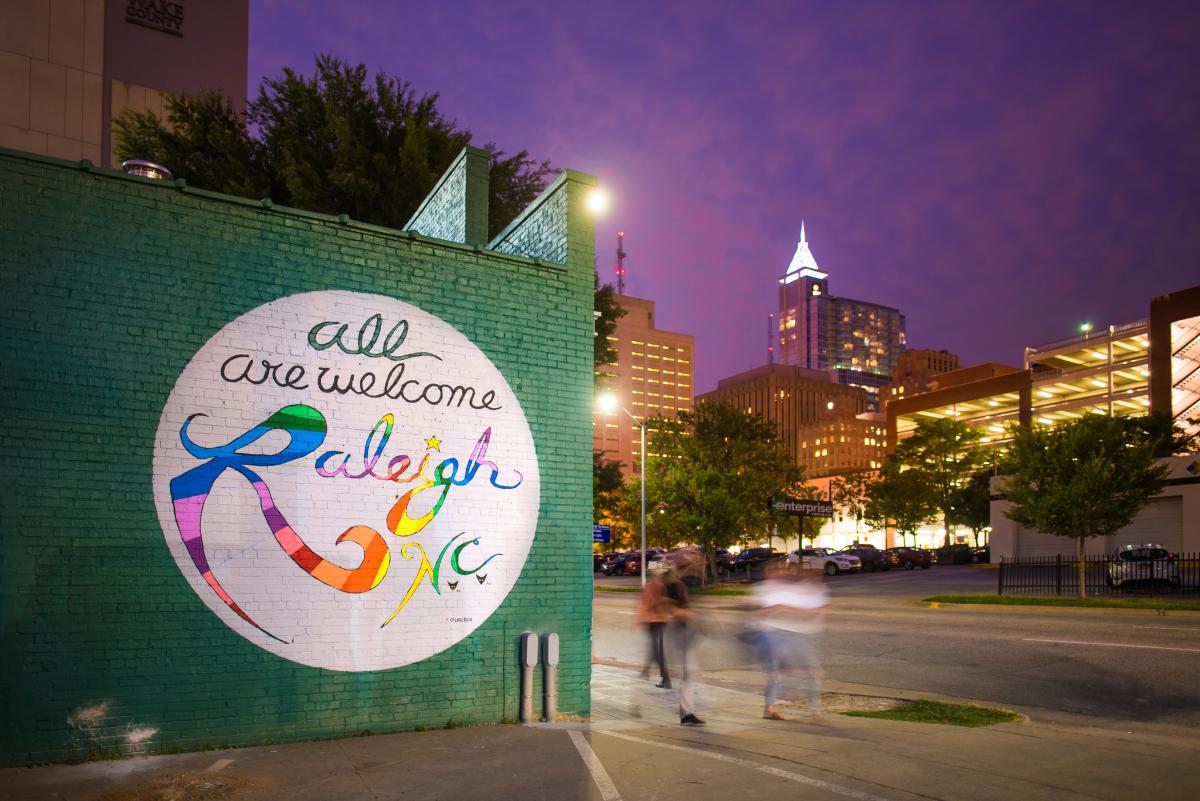 The opening menu includes a handful of options, highlighted by a Margherita pie (the choice of die-hard pizza fans and personal favorite of the chef herself) and an Eggplant Confit option (the adventurous foodie choice and a perfect option for diving into pie number two).
In addition to a rotating selection of pizza, the menu features snacks (such as macaroni and three cheese frittatine plus chicken wings saltimbocca); salads (pickle juice caesar with iceberg lettuce, seeds and parm cracklings); and dessert (including soft serve ice cream sundaes, cannoli poppers and Videri Chocolate Factory chocolate budino).
A corresponding beverage program was developed to pair well with pizza, including a wine list with an Italian focus and a cocktail menu that highlights refreshing spritzes, frozen drinks and more.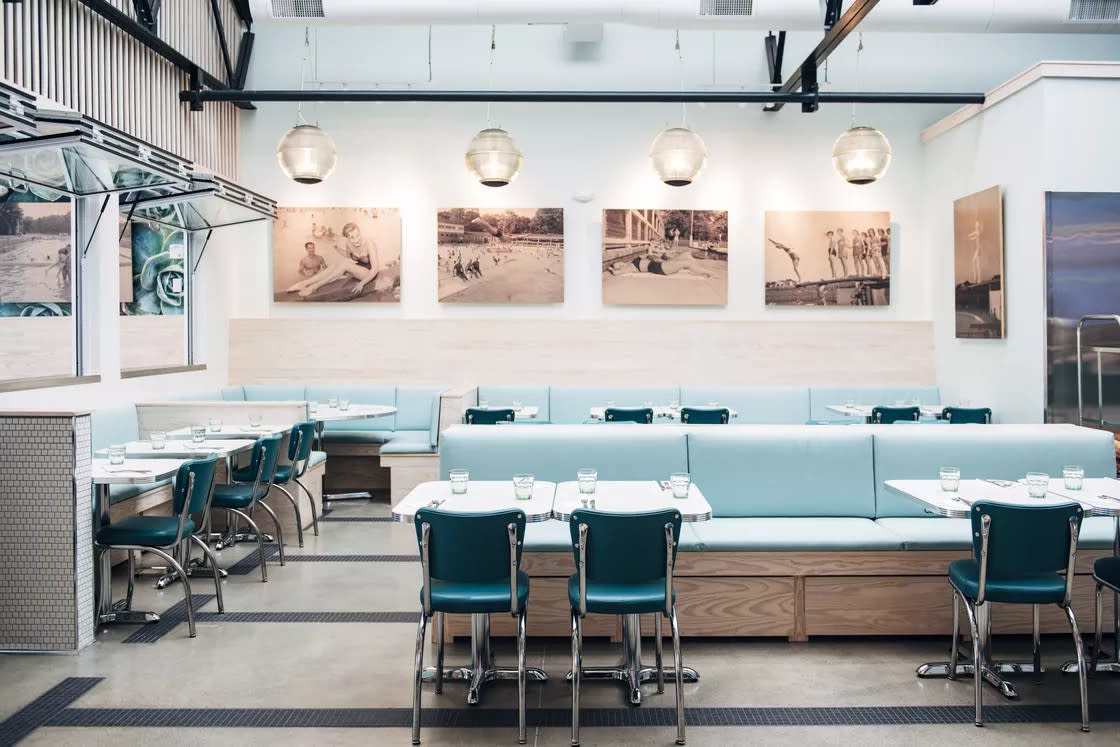 Christensen purchased the Poole'side building, formerly a tire shop and a photography studio, in 2018, and transformed it to resemble a bright, airy swim club.
The 90-seat restaurant, dressed in aqua blue and coral hues, has a distinct vintage vibe. Design details include a 52-foot skylight, custom-built wood banquettes and glass globe chandeliers that were originally used as street lights in Paris. 
Poole'side is currently open only for dinner (Tues.-Thurs., 5-9pm; Fri. and Sat., 5-11pm) but is expected to offer lunch and brunch service in the coming months.
 
Quick hits on Christensen's other restaurants
A visit to Poole'side Pies in Raleigh wouldn't be complete without checking out one or more of Christensen's other highly-regarded eateries (all conveniently located within a few blocks of each other).
Poole's Diner: Christensen's original (and most personal) restaurant, Poole's is a modern diner with retro-chic charm serving hearty, rich and unapologetic comfort food items (including what is likely America's most famous mac and cheese dish, more than 15,000 of which are sold each year!).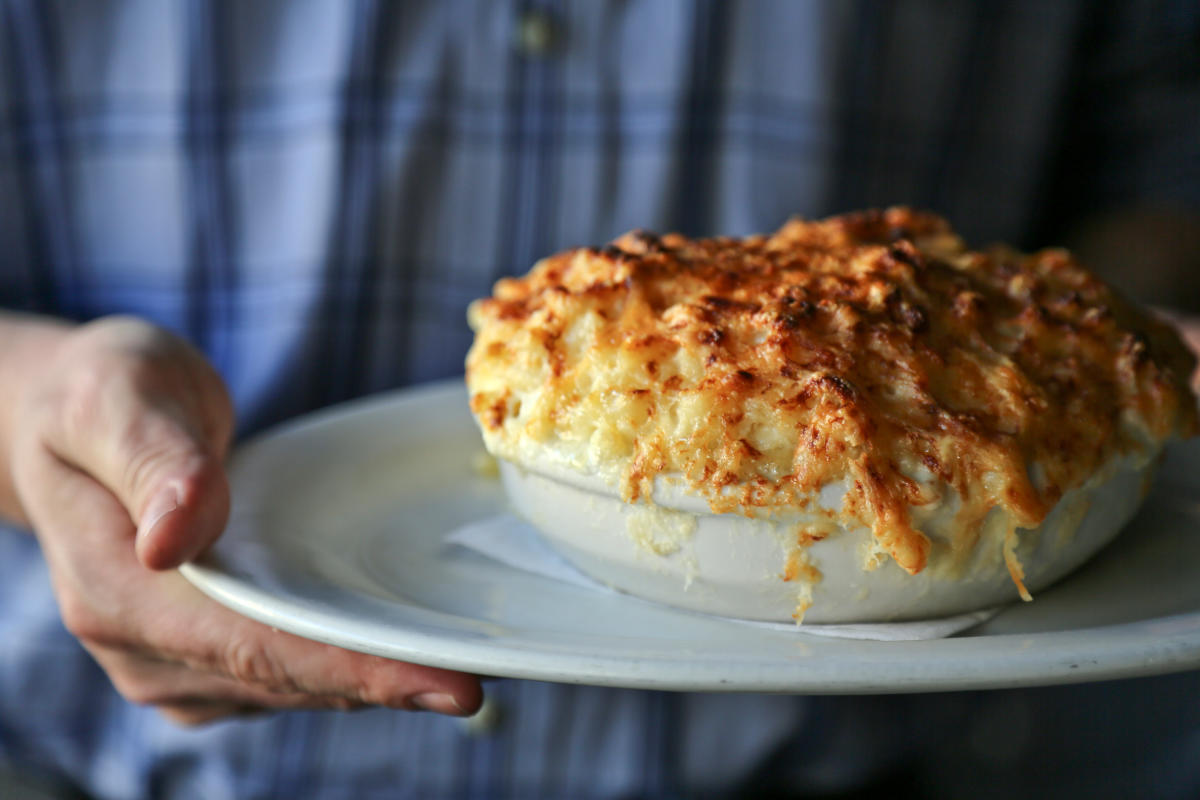 Chuck's: Some of the best burgers, fries and shakes in Raleigh, served in a casual, family-friendly setting.
Beasley's Chicken + Honey: A wildly-popular fried chicken spot (and a definite brunch-time favorite). Food & Wine has named the chicken and waffles among the best in the U.S. Opens a New Window. , and Garden & Gun placed the restaurant on their fried chicken bucket list. 
Fox Liquor Bar: A subterranean drinking den, featuring classic and contemporary cocktails, a laid back vibe, strong drinks and lots of comfortable, dark leather seating. Also a killer late-night eats menu.
Death & Taxes: A contemporary restaurant dedicated to the technique of cooking with wood fire (you'll find steaks, seafood, pastas and more). The restaurant was named one of the five best new restaurants in America by the James Beard Foundation when it opened in 2015.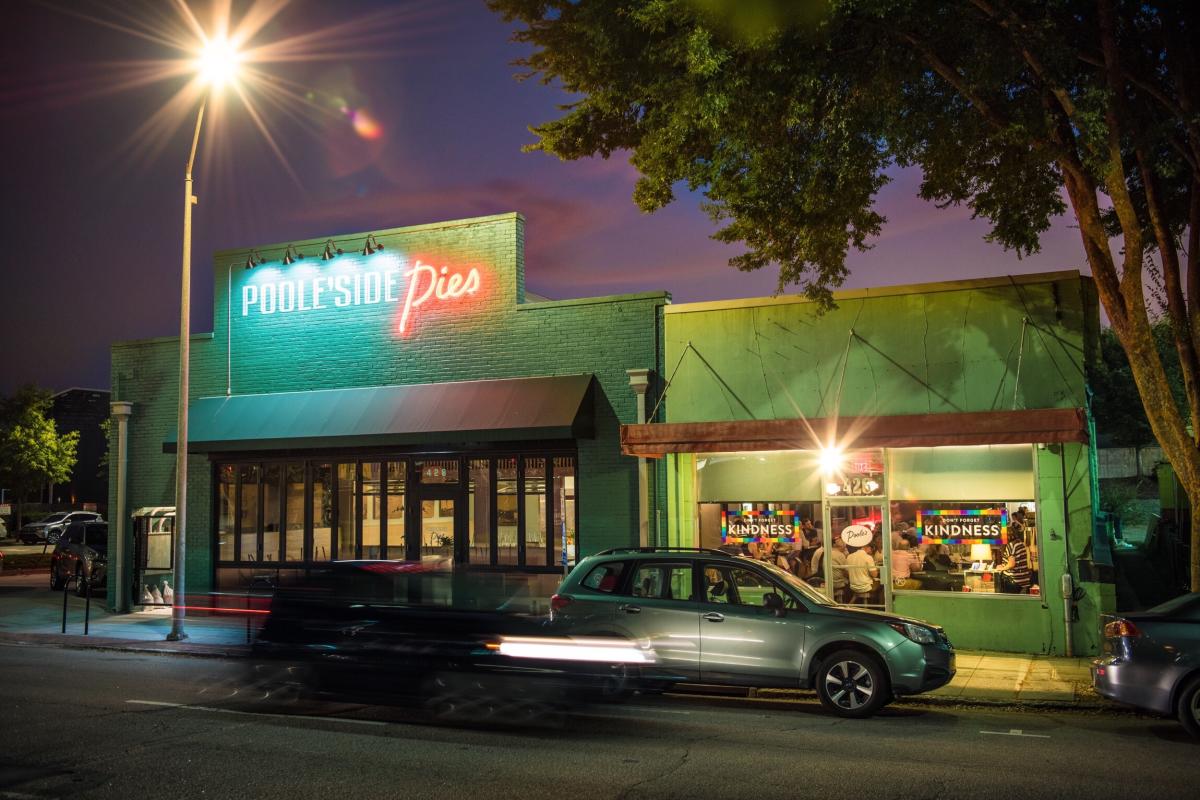 Poole'side pizza and dining room photos by Lauren V. Allen/Pooleside Pies; mural and exterior photos by Michael Robson; macaroni photo by Angie Mosier
Comments