Splash Pads, Lakes and Pools! Water Fun for Families in Raleigh, N.C.
Wednesday, June 30, 2021, 8am by Tabletop Media Group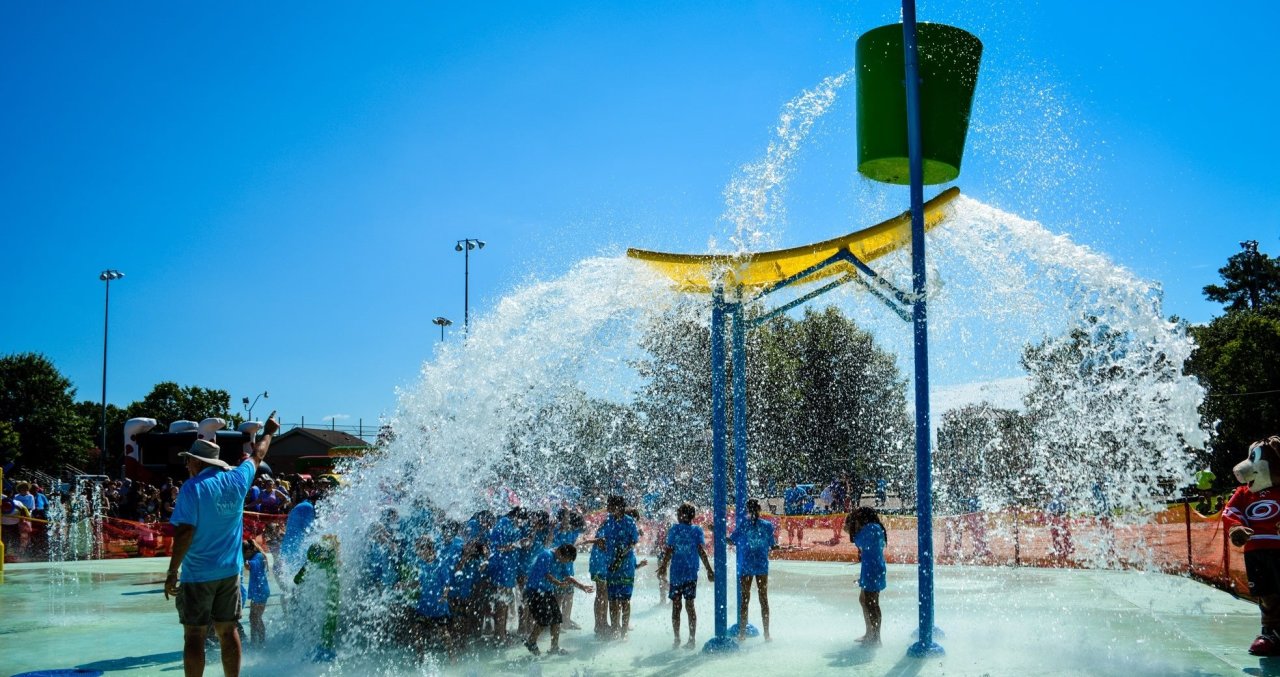 With warmer weather upon us, water fun is a must for families and kids! From splash pads with giant water buckets and plenty of sprinklers to lake beaches with beautiful views, here are some of the best places to get in the water in the Raleigh area.
 
One of the largest recreational facilities in the state, Falls Lake State Recreation Area is a collective of seven access areas scattered around the shoreline of an undeveloped, 12,000-acre reservoir.
Bring a picnic and head to the Beaverdam access, which offers a sandy swim beach area and a separate, quiet lake reserved for kayaks, canoes and stand-up paddleboards. Sandling Beach also has a swim area, plus grills and picnic tables for parents to cook up and serve hot dogs and hamburgers in the summer sun.
Open dates for beach access points: Beaverdam, year-round; Sandling Beach, April 1-Oct. 1
Per-car entrance fees:
Charged daily Memorial Day through Labor Day, and on weekends in April, May and Sept.
Cost per-day: Car, $7; senior citizen (62 or older), $5; bus or van, $20; annual individual pass also available for $90 (can be purchased at park offices)
Moore Square—a four-acre, downtown Raleigh urban park that was originally conceived as one of four public green spaces for the city way back in 1792--finished a major renovation in 2019 that included the addition of a new splash pad (to go along a new lawn for public events, more seating space, a kids play area, an on-site restaurant and more!). A number of weekly events are held at the park, including the Moore Square Market, a farmers' market on Sundays through Oct. 3.
Dates open: April 9-Oct. 31
Admission: Free
Named for early 19th-century free black preacher and teacher of all races John Chavis, this 37-acre City of Raleigh park was opened in 1938 and thrived for many years as one of the state's first urban parks for African Americans. In summer of 2021, the park unveiled a new look, having undergone a complete transformation that added amenities including a splash pad, playground, gymnasium, two-story community center and more. Read more about it here!
Dates open: June 12 through early Sept. 
Admission: Free
The Fuquay-Varina Splash Pad offers hours of outdoor water fun and entertainment for the kids! Located inside South Park, the splash pad features 6,000 square feet of multiple ways to get drenched. From over-sized water buckets dumping waterfalls every few minutes to water guns and misting tunnels, it's impossible to avoid getting soaked. Your kids are sure to have a blast here. Last year, the splash pad introduced two new water features and began accepting credit card payments.
Dates open: June 10-Sept. 6
Admission: All-day admission is just $2 per child for non-residents of the town of Fuquay-Varina (with one parent admitted free); free for ages two and under; free for town residents
Jack Smith Park offers splash pad action in the town of Cary. This park has it all, including a playground for those who want to stay dry and a sprayground for those who don't. The sprayground—for ages 12 and under—has seven features including water jets that shoot up from the ground, giant water buckets and spray hoses. The park also has a climbing boulder for inexperienced climbers all the way to the experts. Take a picnic and also walk one of the greenway trails with public art!
Dates sprayground open: Mid-May through mid-Sept.
Admission: Free
Fun in the sun is what summer is all about, and the Town of Wake Forest's Taylor Street Park is the perfect place to take your kids for outdoor activities. This one-and-a-half-acre park is sure to please any kid! In addition to the playground, Taylor Street Park Sprayground—opened in Sept. 2017—features 16 jet streams, a tot mister, an Ombrello Twirl, buckets and more features. Check out this video to see a good bit of the park. After some water fun, have a picnic and relax under the picnic shelter, or bring meats and veggies to barbecue and use one of the grills available.
Dates open: May 24 through Sept. 26
Admission: Free
A great escape from the summer heat, the Buffaloe Road Aquatic Center is an indoor water park featuring a 6,000-square-foot pool, a three-story water slide and a circular water vortex that spins you around. Parents can have a little relaxation at the aquatic center's bubble bench, a bench with massaging bubbles, while their kids splash around at the current channel, water curtain and dumpers. The center also offers three lap lanes to be used for exercise and a tot play area with a small slide for those with younger children.
Dates open: Year-round
Admission: 
Non-residents: $7, ages 12 and under; $15, ages 13-54; $11, ages 55 and over
Residents: $4, 12 and under; $8, ages 13-54; $6, ages 55 and over
Need to know: Call ahead at 919.996.5600 to make sure the waterslide, vortex or current channel is operating the day you plan to visit
Raleigh's Lake Johnson Pool at Lake Johnson Park offers not only a lap and recreation pool but also a large baby pool with a refreshing shower tower and a sprayground. The sprayground includes sprays of all sizes, hoses to move around, huge buckets and plenty of other features make it a fun spot for kids to play outside and stay cool.
Dates open: April 27 through early Sept.
Admission:
Non-residents: $3, ages 12 and under; $7, ages 13-54; $5, ages 55 and over
Residents: $2, ages 12 and under; $4, ages 13-54; $3, ages 55 and over
Water-buckets of fun are ahead a Millbrook Exhange Pool! Located in Millbrook Exchange Park, the main pool is open year-round, covered by a fabric tension structure. The extra fun for kids comes with the wading pool (from 10 inches deep to 18 in the middle) and the sprayground, which has fountains to run through, giant water buckets and more.
Dates pools and sprayground open: April 27-early Sept.
Admission:
Non-residents: $3, ages 12 and under; $7, ages 13-54; $5, ages 55 and over
Residents: $2, ages 12 and under; $4, ages 13-54; $3, ages 55 and over
Another fun one for the kids! Raleigh's Ridge Road Pool offers up a wading pool and splash pad like Millbrook and Lake Johnson. At Ridge Road, the splash pad and wading pool are side-by-side (not separated by a fence), so toddlers can move to one from the other freely!
Dates open: April 27-early Sept.
Admission:
Non-residents: $3, ages 12 and under; $7, ages 13-54; $5, ages 55 and over
Residents: $2, ages 12 and under; $4, ages 13-54; $3, ages 55 and over
With three bodies of water—including a six-lane, 25-yard lap pool, a children's pool with sprayground features and two water slides with a plunge pool—Wake Forest's Holding Park Aquatic Center has got entertainment for the whole family this summer. In addition to daily admission, frequent visitors can get seasonal passes ($60 for residents and $100 for non-residents) or Parent-Toddler Swim Time passes ($40 for residents and $80 for non-residents), available at the door—get more details on the website.
Dates open: Late May through Sept. 12
Admission: 
Non-residents: $2, ages 2 and under; $6, ages 3-13; $7, ages 13-59; $6, ages 60 and over
Residents: $1, ages 2 and under; $4, ages 3-13; $5, ages 13-59; $4, ages 60 and over
Fresh off of a new 2019 renovation, the Pullen Aquatic Center offers nearly 40,000 square feet of premier aquatic fun. Being one of the top competitive aquatic venues in the area, the Pullen Aquatic Center hosts several large-scale swimming competitions each year. The center offers a 50-meter, Olympic sized swimming pool, a warm water therapy pool, aquatic exercise programs and much more. 
Dates open: Year-round
Admission: 
Non-residents: $3, ages 12 and under; $7, ages 13-54; $5, ages 55 and over
Residents: $2, ages 12 and under; $4, ages 13-54; $3, ages 55 and over
Even more pools and spraygrounds!
If you're looking for more spots to cool off in the water, the City of Raleigh offers up even more pools to access, with a list, here.
(Pictured below is Raleigh's Longview Pool.)

Also, adults and older kids can get some laps in at the open-to-the-public, 72,000-square-foot Triangle Aquatic Center in Cary, with a 50-meter eight-lane competition pool, 10-lane 25-yard pool and warm water teaching pool.
Comments