How to Spend a Perfect Weekend Exploring Downtown Cary, N.C.
Tuesday, July 19, 2022, 9am by visitRaleigh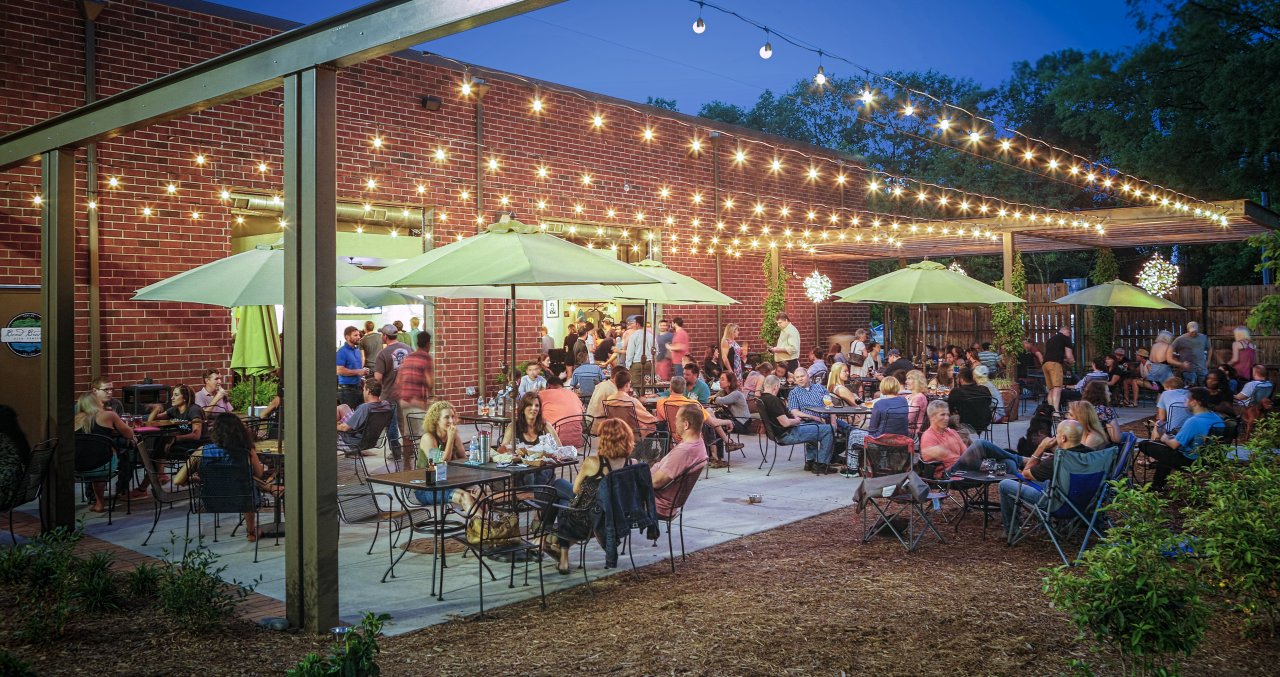 One of the fastest-growing towns in the South, Cary is home to renowned restaurants, great shopping, top-tier arts and entertainment and unique outdoor experiences. The downtown area has seen an influx of fun, new local businesses in recent years—a brewery, bottle shop, neighborhood bar, boutique hotel, bakeries, revitalized arts experiences and more now line downtown's thriving Chatham St. Here are 20-plus spots not to miss!
 
FRESH. Local Ice Cream recently opened in the heart of downtown Cary. This shop is dedicated to serving high-quality ice cream crafted from locally sourced milk. Enjoy a cone or cup of flavors like banana pudding, birthday cake and midnight chocolate crunch.
Spend your night out dining in at the critically-acclaimed Neapolitan pizza spot Pizzeria Faulisi. This small, family-owned, wood-fired pizza shop opened in 2017 to much fanfare, and the hype has continued to build. In addition to pizzas and small plates prepared with a simple way of cooking, the restaurant also offers diners a great selection of desserts, beer and wine. Return visits are also a must as the menu at Pizzeria Fausili changes regularly based on creativity and the seasonality of ingredients.
Artist Sean Kernick—perhaps the most prolific mural painter in the Raleigh area—tackled this project in downtown Cary with the help of Cary Visual Art, Inc. Juxtaposing the old with the new and celebrating creative communities, this mural was completed in May 2019. Find it: 122 W. Chatham St., Cary 27511
Open Saturdays, year-round, the Cary Downtown Farmers Market gives folks a place where they can shop for goods they can feel great about. The market also strives to be the link between Cary residents and visitors and local farmers and makers of handcrafted goods. What's more, the vendors who serve the market reside within a 100-mile radius of downtown Cary. Stroll on through to shop for fresh fruits and vegetables, dairy and meats, desserts and so much more.
Built in 1946 and once home to Cary's first indoor theater, The Cary Theater is now a multi-use cultural facility with a focus on digital arts, including film and youth and amateur theater and music. Catch interesting independent films, enjoy a comedy show or listen to some local music in this historic building. 
No trip downtown is complete without a coffee run. Luckily, Estemed Coffee has you covered. This nonprofit shop offers visitors cold and hot drinks and delicious bakery treats with one important goal in mind—to connect employees with disabilities with the community at large. Since opening its doors in 2020, Esteamed has provided meaningful employment, enriching volunteer opportunities and rewarding experiences all around. Swing by for a pick-me-up both in terms of coffee and positive vibes.
Built in 1868 as a railroad hotel, the Page-Walker Arts and History Center has since turned into a popular arts, history and events venue in downtown Cary. The center, listed on the National Register for Historic Places, hosts a bounty of activities, including educational programs, special events and performances, meetings and art exhibitions displaying local and regional art alike. Take a stroll through the Cary Heritage Museum on-site to learn about the history of the town chronicled by a timeline exhibit and various historical artifacts. There is also the historical architecture and furniture and the beautifully landscaped garden area to appreciate and enjoy.
Voted the "Best New Brewery" in the country in USA TODAY's 10Best Opens a New Window.  in 2017, Bond Brothers (pictured in header) is one of Cary's favorite hangout spots. Sip on one of their excellent sour beers or enjoy classics like an IPA or brown ale. Hungry? Food trucks are typically posted up on-site, and outside food is welcome as well.
One of Cary's self-proclaimed best-kept secrets, the Turkish flatbreads, kebabs and baklava offerings from owner Mustafa Dilekoglu are simply too good for us to keep to ourselves. This lunch-and-dinner gem serves everything super fresh, has a fantastic menu that caters to vegetarians as well as meat eaters and even offers Turkish coffee and tea that make for a tasty end to a delicious meal. 
Often offering tastings of special wines and featured food trucks, Chatham Street Wine Market is a go-to for all of your vino needs. This shop serves wine by the glass that you can enjoy inside or outside on their shaded patio. Take a few bottles home with you to save for later! 
Billed as downtown Cary's hangout, Hank's Downtown Dive works perfectly for grabbing a bite, a drink and one heck of a good time! Grab a menu and marvel at the inspired and creative takes on classic dishes and small plates. We're talking everything from pork belly Bahn mi tacos to grilled N.C. shrimp. Then, there are the craft cocktails which are mixed to perfection for maximum taste. Throw in stellar service and décor that has a vintage feel and you've got a new favorite place to kick back and enjoy.
Looking for a spot to cozy up with a cup of coffee? BREW at The Cary Theater, located on E. Chatham St., is just the place. BREW takes coffee seriously. Enjoy craft coffee options like pour-overs and cortados or simply stick to the classic drip coffee options. All of the beans at BREW are from Southern roasters, many located in the Raleigh area.
Looking to make your downtown visit that much sweeter? Then include Annelore's German Bakery as a stop on your itinerary. The folks here craft authentic and delicious German pastries daily from scratch using the finest local ingredients. Get a little taste of heaven by sampling Bee Sting Cake made with local honey or nibbling on Donauwellen with tangy Morello cherries baked right in. Committed to serving the community with great hospitality, Annelore's delivers more than enough goodness to keep you coming back for more!
Longtime downtown Cary staple Taipei 101 is no stranger to big accolades, earning the honor of being named the top Chinese restaurant in the Raleigh area for five years running by The News & Observer (and we're sure the soup dumplings had something to do with that!). Open for lunch and dinner seven days a week, we think the Sezchuan/Taiwanese specialties are best ordered and eaten family-style inside the restaurant with super-friendly service, but the restaurant's takeout service has certainly thrived during COVID-19 (and either way, you're headed home with extra food—the portions are no slouch). 
One of Cary's newest buzz-worthy restaurants, MC Restaurant offers diners modern, Asian fusion fare from the historic digs of the Jones House which was originally constructed in 1896. Restauranteur and chef Michael Choung packs a weekly revolving menu with Instagram-worthy, signature dishes made from seasonal ingredients and fresh seafood. Reserve a table inside the cozy and intimate Queen-Anne style cottage restaurant to enjoy high-end sushi, or dine al fresco in the outdoor garden or on the wraparound porch savoring entrées like snapper with crawfish tail or Saigon braised beef short rib with roasted baby carrots. You can also pair a delicious meal with any of the restaurant's craft cocktails or numerous wine selections.
Opened in 2016, The Mayton is an independently owned, 44-room, Georgian-style boutique inn that caters to A-plus stays and getaways (and acts as the perfect home base for exploring downtown Cary). It's also a top-rated wedding venue!
Perhaps one of the most highly anticipated restaurants ever to open in Cary, Di Fara Pizza is the sister restaurant of the famed pizzeria of the same name opened by Dominic DeMarco in Brooklyn in 1965—The New Yorker, The New York Times, Zagat and the late chef Anthony Bourdain have all called the original Di Fara the best pizza in New York. It may not be Brooklyn, but this downtown Cary pizzeria opened in 2021 and serves the same family-style, mouth-watering pizza as the original (even using a water filtration system to replicate that N.Y. water). Count us in!
Cary's newest neighborhood bar, SideBar was opened by owner Matthew Bettinger in Feb. of 2018 in downtown's Mid-Town Square. Conveniently located directly next to Pizzeria Faulisi and a few steps away from Bond Brothers Beer Company, spring for a Primm's Cup to enjoy on the outside patio or post up at the bar inside to try the deliciously frothy Whiskey Sour.
In the heart of downtown, at the historic Pasmore House, is a unique brewery and tap house focused on Cary's rich history and community. Cotton House serves up high-quality beer brewed with premium hops from their N.C. farm as well as delicious bites to eat with help from local food trucks and its neighbor, The Mayton. Come on by and settle into a rocking chair on the front porch, hang out on the back deck or even lounge in a cozy spot inside. Either way, you'll discover an atmosphere that is as much "craft" as what's served up by the glass and plateful.
Hungry for a snack? Think back to the simpler times at Ashworth Drugs! The hot dogs, soda fountain and milkshakes are not to miss. Since 1957, Ashworth Drugs has been a happening spot for locals to pick up prescriptions, and while waiting, sipping on an orangeade.
Cary Arts Center is a vibrant and robust center for the town's arts activity. Catch performances by the Cary Players, plus visual art in the gallery. And take advantage of great photo ops: Three artists worked with the center's architect to integrate public art into the building's design. 
Another downtown spot where you can enjoy a great beer is Cary Pharmacy Bottle + Beverage. This unique tap room with 16 drafts on rotation and a retail selection of both beer and wine sits inside the former Mitchell's Pharmacy building. For you history buffs, Mitchell's was one of two pharmacies in town operating early on in Cary's history, the other being Ashworth Drugs. Today, Pharmacy Bottle + Beverage preserves that bit of history while also hosting a friendly and fun atmosphere.
Experience centuries-old bread baking traditions in this modern-day boulangerie headed up by passionate mind and Master Baker Lionel Vatinet. La Farm's downtown Cary location (one of four locations) is a production facility offering a full view of the bakers in action and freshly baked bread and pastry options. You can also grab coffee, desserts, gifts and more to enjoy on the patio or to-go!
This raved-about lunch spot has played an important role long before soups, salads and sandwiches became local favorites—the cozy building on Academy St. once served as the town's second library (and two outdoor patios remain today as one of the best places to sit with a good book). Friendly staff, hot and cold sandwiches (a Reuben at Serendipity is nearly a rite of passage for Cary residents), daily soup specials and house-made pies and other desserts are more than enough to keep the entire family happy at lunch or dinner while exploring the many shops in the surrounding blocks.
Even more places to try!
Header photo: Duffy Healey