Things to Do in Raleigh, N.C.: March 2022
Monday, February 28, 2022, 12pm by visitRaleigh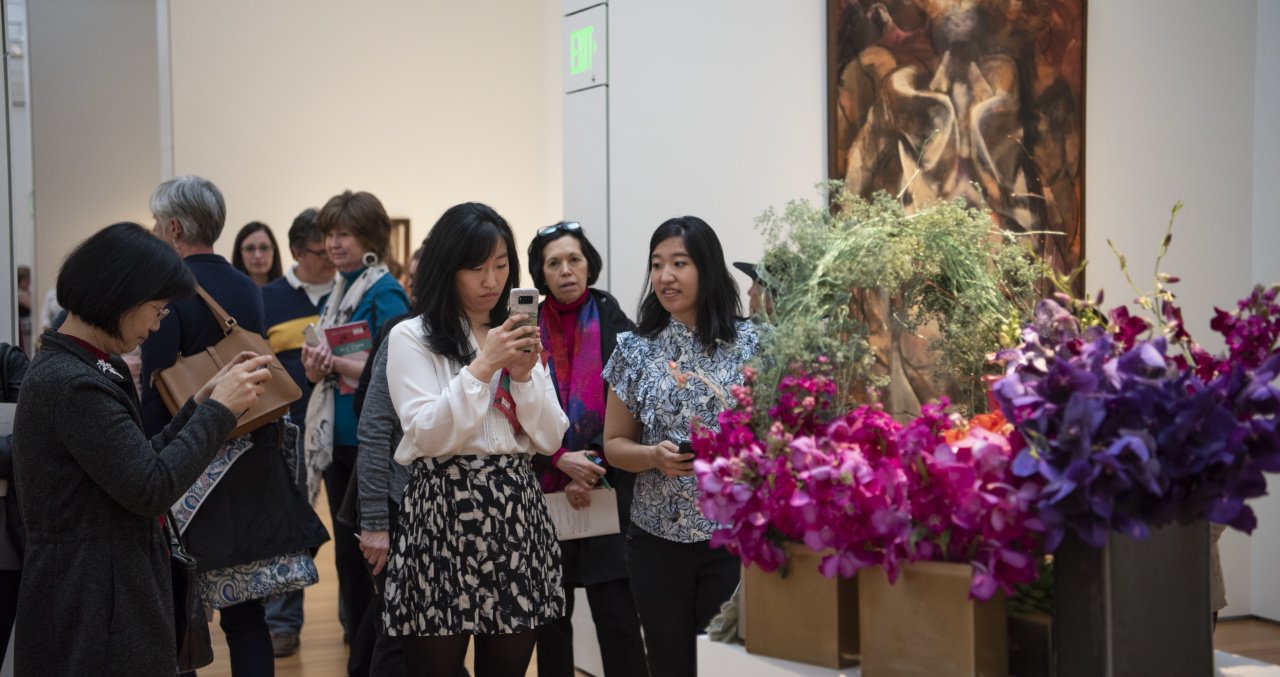 Every two weeks, we send out a newsletter that includes the best of the best upcoming events. If you sign up for our E-magazine, you'll get those, plus all the best new content (the scoop on a new food hall in the Raleigh area, for example, or a list of our favorite restaurants for vegans and vegetarians).
---
Comedy nights, beer celebrations, performing arts events, blooming flowers and more—hello, March! We're jumping feet first into warmer weather and the return of spring in the Raleigh area—here's exactly how we plan to do it!
 
Exhibition: Container/Contained: Phil Freelon Design Strategies for Telling African American Stories
Through May 15
On display at the North Carolina Museum of Art, this exhibition critically examines the work of N.C. architect Phil G. Freelon, which includes museums, libraries, cultural centers and public parks, with a focus on his projects that foreground African American communities and identities.
Freelon was the designer behind the forthcoming North Carolina Freedom Park, scheduled to open in early 2023 in downtown Raleigh. 
March 2
Join Raleigh Astronomy Club (RAC) for views of the starry skies from the rooftop of The Willard, bidding farewell to the winter constellations with glimpses of Orion with his famous nebula and his hunting dog star Sirius.
RAC will have telescopes and hobby astronomers on hand to guide your stargazing and answer questions, and The Willard will offer celestial-inspired cocktail specials for you to enjoy while you take in the skies and get cozy around our dual-sided fireplace and rooftop heaters. This event is free!
March 4-6
One of America's most spectacular gardens—a secret among some locals but a sanctuary to plant lovers around the world—is open to the public just eight weekends per year in Raleigh, N.C. Located 12 miles south of downtown Raleigh, Juniper Level Botanic Garden is a 28-acre campus showcasing more than 27,000 different kinds of native perennials, exotic plants, rare delights and unusual specimens of trees and shrubs not found many (or any) other places on earth. This "Eden of rare plants" draws gardeners, researchers and fans of beautiful plants from across the globe each year
North Carolina Opera presents Sanctuary Road
March 4-6
The world stage premiere of Sanctuary Road from composer Paul Moravec and librettist Mark Campbell, this opera takes you on inspiring and harrowing journeys on the Underground Railroad. Based on first-hand accounts recorded by William Still, a conductor on the railroad, Sanctuary Road gives voice to the passengers who made the dangerous trip to freedom.
March 5
Just like its signature blended whiskey, Ole Raleigh Distillery in Zebulon, N.C., is a blend of old and new. Come take a behind-the-scenes tour with owner Brandon McCraney of this 10,000-square-foot facility that includes the production facility, tasting room, whiskey barrel storage and more (plus, of course, get a taste of the newest batch of handcrafted spirits!). Note: This is a ticketed event with limited spots!
A huge (HUGE!) month of action is ahead for the NHL's Carolina Hurricanes on the ice at PNC Arena. They'll play nine homes in March in an attempt to secure one of the top seeds in the Eastern Conference for the Stanley Cup Playoffs. The biggest—and loudest—crowds of the year are expected to show up big at these games:
The spring concert season is kicking off with a bang in Raleigh, N.C.—save these dates!
The Eagles, March 2 at PNC Arena
Daniel Donato with Dropping Plates, March 4 at The Pour House Music Hall
Wale, March 4 at The Ritz
Rapper Big Pooh, March 5 at The Pour House Music Hall
St. Paul & the Broken Bones, March 6 at The Ritz
Badfish, March 9 at Lincoln Theatre
Carolina Sound, March 10 at Fuquay-Varina Arts Center
Dream Theater, March 11 at Duke Energy Center for the Performing Arts
Jazmine Sullivan, March 12 at The Ritz
Marisela, March 13 at Duke Energy Center for the Performing Arts
Jimmy Eat World and Dashboard Confessional, March 14 at The Ritz
David Archuleta, March 15 at Lincoln Theatre
Winter Jam 2022, March 19 at PNC Arena
311, March 23 at The Ritz
Sparks in Concert, March 25 at Lincoln Theatre
Lúnasa, March 25 at Duke Energy Center for the Performing Arts
Beatles vs. Stones, March 30 at Duke Energy Center for the Performing Arts
Founded in 1932, the North Carolina Symphony puts on an incredible 175 concerts and events per year across the state. They'll take center stage at the Duke Energy Center for the Performing Arts in downtown Raleigh several times this month.
Raleigh Brewing 9th Anniversary Party
March 5
Cheers to nine years of craft beer! Raleigh Brewing Company, which became the first woman-owned brewery in the state upon opening its doors in 2013, will host a massive birthday celebration—thousands of attendees are expected over the course of the day, with seven exclusive beer releases, non-stop live music, outdoor beer tents, swag giveaways, plenty of food trucks and more. Our advice: show up early! The party kicks off at noon and runs through 8pm.
March 6
Music, dancing, drinks, games (and maybe some beads too!) at this ticketed event at Fortnight Brewing Company in Cary, N.C.
Carolina Ballet presents Snow White
March 10-27
The legendary fairy tale of Snow White comes to life in artistic director Zalman Raffael's latest creation, complete with new sets and costumes.
For this long-awaited balletic interpretation of Snow White, Raffael has collaborated again with the award-winning Shinji Eshima—composer of Carolina Ballet's emotionally moving Bariolage from Sept. 2019—to create a uniquely different musical score. Be sure to bring the whole family as Raffael's imaginative new story ballet to Eshima's innovative music will not disappoint!
March 10
Join chef Sair Rahman—named N.C. Chef of the Year by the N.C. Restaurant and Lodging Association late in 2021—and Vidrio for a special evening of a five-course tasting tour of the Mediterranean. This is the first of a new monthly dinner series at Vidrio, and this month's Mediterranean destination is...Morocco! Tickets must be purchased in advance for this event.
March 12
Before Wings of the City—a sculpture exhibit by artist Jorge Marín—leaves Dorothea Dix Park at the end of this month, a community picnic celebrating Mexican culture through art, live music and food will be held on March 12. This is a free event, and attendees can bring their own blankets, chairs and picnics (but food trucks will also be on hand).
March 12
In celebration of the great St. Patrick as well as Irish and Celtic traditions and culture, a parade of dancers, bagpipes, musicians and more march through downtown Raleigh.
8th Annual Winter Seafood Jubilee
March 13
Locals Oyster Bar is hosting their eighth annual Winter Seafood Jubilee at Trophy Brewery and Taproom! They'll be steaming oysters and frying fish from 1-5pm, plus they've invited fishermen and women, oyster farmers and seafood advocates to answer your questions about N.C. seafood.
March 16-20
One of the can't-miss events of the year at the North Carolina Museum of Art, Art in Bloom is a five-day festival of art and flowers. More than 50 floral interpretations inspired by the museum's galleries, some more than 10 feet tall, are created on-site by world-class designers and showcased throughout the museum's West Building (have your cameras ready!). The ticketed event invites participants to attend presentations and workshops, dine at Iris and shop for one-of-a-kind gifts.
March 18-19
The ultimate quilt fanatic gathering at the North Carolina State Fairgrounds, this show allows attendees to view exquisite quilts, from miniature to traditional to modern and beyond! A silent auction, a gift boutique and a chance to get hands-on with sewing machines will also be available. 
One of today's most respected comedians—and known for starring for seven seasons of NBC's Emmy and Golden Globe Award-winning television show "30 Rock"—Tracy Morgan will headline the Raleigh Improv for three shows across two special nights in March (18 and 19). Here's who else is taking stage this month: 
At Raleigh Improv: 
Jessica Kirson, March 4-6
Adele Givens, March 11-13
Corey Holcomb, March 31-April 2
Joe Gatto, March 4-6
K-Von, March 10
Tony Hinchcliffe, March 11-12
B. Simone, March 18-20
Jeff Garlin, March 25-26
At Duke Energy Center for the Performing Arts: 
Lokillo Flórez, March 18
Rodney Carrington, March 26
Whose Live Anyway?, March 28
Henry Rollins, March 31
Raleigh Little Theatre presents Junie B. Jones Is Not A Crook
March 18-27
Directed by Kathy Rudolph and produced by special arrangement with Playscripts, Inc., this hilarious and heartfelt tale follows everyone's favorite almost-six-year-old as she learns valuable lessons of right and wrong and realizes the power of friendship. 
22nd Annual Lebanese Festival
March 19-20
The 22nd annual Lebanese Festival—held at the Triangle Lebanese-American Center this year—promises non-stop dancing and musical performances to go along with Lebanese desserts, beer, wine and more (including all the belly dancing you can handle!).
March 19
The Raleigh St. Pat's Pub Crawl returns for its 16th year as a Raleigh springtime tradition. It's a wild, St. Pat's-themed, day-into-night pub crawl (with leprechaun flair). As part of your paid registration, crawlers receive an Official St. Pat's Pub Crawl souvenir T-shirt, a liquor shooter at each bar, exclusive access to most bars (covers included), complimentary event souvenir photo booth and front-of-line entrance to the after-party.
March 19
This favorite annual event brings hundreds of people together to taste coffee and pastries from local vendors—what more could you ask for? Timed-entry tickets for the general public are just $7.50 for this event at Moore Square (a new location for this year). 
Sober Shamrock Soirée and Drag Show
March 19
This booze-free St. Patty's celebration at Current Wellness in downtown Raleigh includes a drag show and fun, alcohol-free drinks. The alcohol-free drinks will be available for purchase separate from event admission ($12). The drag show will be hosted by Pepper Insult and featuring performances by Alex Thee Rabbit, Dustin Reams and Aris Valentine (cash tips are always appreciated!). 
March 19 vs. Gotham FC; March 26 vs. Orlando Pride
One of America's best club soccer teams is ready to kick off another year of matches at Sahlen's Stadium at WakeMed Soccer Park. The North Carolina Courage will start play this year with the 2022 NWSL Challenge Cup, an early-season tournament before jumping into regular season play with the National Women's Soccer League.
March 19-20
A two-day gaming extravaganza at the Raleigh Convention Center, the fifth annual Playthrough event showcases the latest games and provides an opportunity for gamers to meet others who share their passion. Tournaments are offered for board and video games, as well as card games like Magic: The Gathering. Attendees can also participate in the Cosplay Showcase or Escape Room, visit exhibitors, attend main stage panels and enjoy lots of free-to-play options for board, PC, arcade, retro console and virtual reality games, Rock Band Jam, Dungeons & Dragons and play-to-win giveaways.
ProTown BMX 2022
March 26
Watch pro BMXers catch air in Wendell on the town's Main St. If you're looking for a high-energy, fast-paced day out, you'll find it here. Bike enthusiasts can catch pros showcasing their talents with high-altitude tricks during two shows (11am and 2pm), plus meet them to get autographs and participate in bike clinics.
March 27
Witness basketball artistry, ball-handling wizardry and one-of-a-kind family entertainment when the Harlem Globetrotters roll into town to put on a show at PNC Arena.
March 30-April 2
One of four regional sites for the 2022 NCAA Gymnastics Championships, North Carolina State University and Reynolds Coliseum will host nine teams—plus individual competitors—to battle it out on the floor, beam, bars and apparatus.
Looking ahead: April events in Raleigh, N.C.
Mid-Town Square Spring Festival, April 2
PrideLife Expo 2022, April 2
Tacos 'N Taps, April 2
Dreamville Festival, April 2-3
Burning Coal Theatre presents The Life of Galileo, April 7-24
Bon Jovi, April 9
North Carolina Opera presents Magic Flute, April 8-10
Cary Downtown Chowdown, April 10
North Carolina 'Cuegrass Festival, April 16
Brewgaloo, April 22-23
Jimmy Buffet and the Coral Reefer Band, April 23
Spring Daze Arts and Crafts Festival, April 30
Comments