Visitors Guide to IBMA Bluegrass Live! powered by PNC (Oct. 1-2 in Raleigh, N.C.)
Thursday, September 23, 2021, 3pm by David Menconi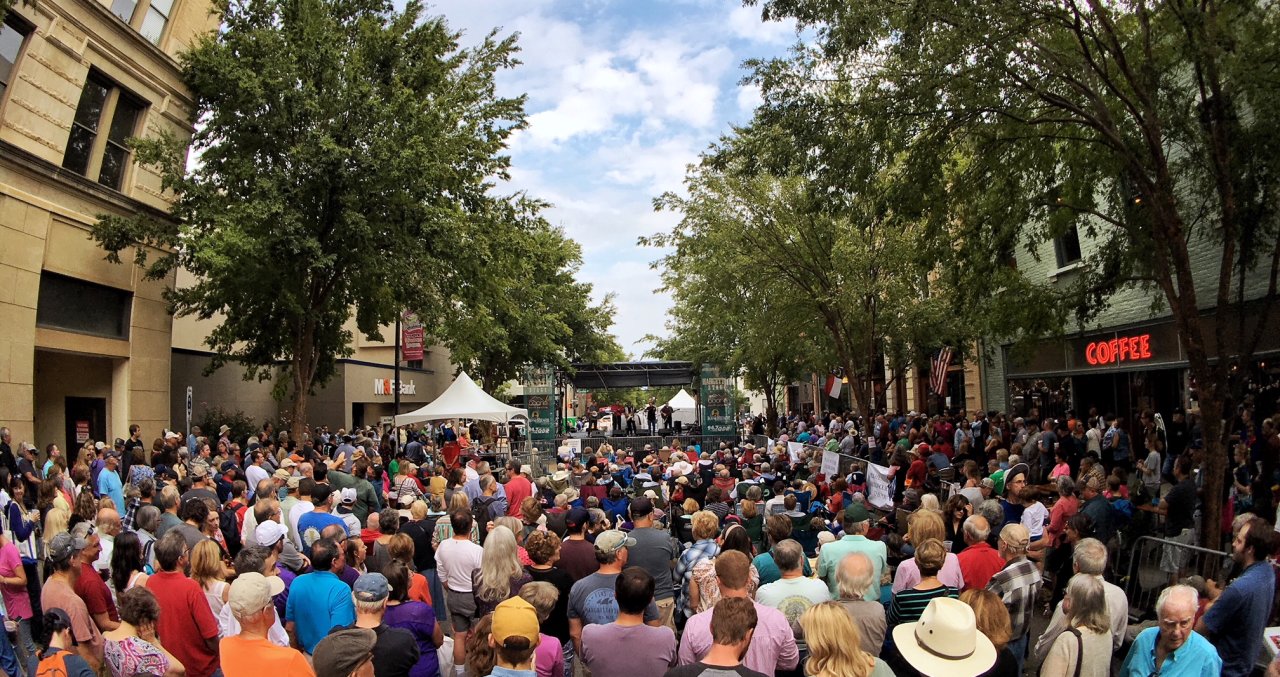 Note: Authored by David Menconi, this piece has been produced in partnership with Raleigh Arts. Menconi's latest book, "Step It Up and Go: The Story of North Carolina Popular Music, from Blind Boy Fuller and Doc Watson to Nina Simone and Superchunk," was published in Oct. 2020 by University of North Carolina Press.
---

After 2020's all-virtual pandemic special, the biggest week in bluegrass music week returns to a live, in-person format in Raleigh, N.C., Sept. 28-Oct. 2. The free street festival, IBMA Bluegrass Live! powered by PNC (Oct. 1-2), will bring music to multiple outdoor stages and—if it's anything like years past—to almost every nook, cranny and street-corner in downtown Raleigh (previous years have drawn nearly 200,000 people to the center of the City of Oaks). 
Because the COVID-19 pandemic has yet to fully subside, however, there are still precautions in place and some uncertainties as to what this year's festival will look like. Keeping in mind that flexibility is key, here are five things to know. 
 
Vaccinations and facemasks (more than just a good idea)
As per a policy enacted by the International Bluegrass Music Association (IBMA) board of directors, proof of vaccination is required to attend all indoor events during IBMA's World of Bluegrass convention events earlier in the week—no exceptions. Proof of vaccination is also required to attend the Fri. and Sat. shows at Red Hat Amphitheater, which is the only ticketed venue of the outdoor festival ($15 and up).
While a vaccination requirement would obviously be impractical for the open, outdoor street festival program, it's still highly recommended. It's worth noting that fully 100% of the performing musicians on this year's showcase bills complied with the vaccination mandate.
"Every banjo picker, fiddler, guitarist and mandolin player," marvels David Brower, executive director of event producer PineCone (Piedmont Council of Traditional Music). "Every. Single. One. It's taken some work and a lot of patience, love and cooperation from the community. But it's for real. I am incredibly grateful to the musicians for supporting this decision. We're doing everything we can to keep people safe and still have fun."
The street festival layout has changed
In the interests of opening up more space to reduce crowding from bottlenecks, the festival footprint has been reconfigured with some new stage locations. The biggest change is that the primary street-festival stage has moved several blocks south. In the parking lots across South St. from Duke Energy Center for the Performing Arts is where you'll find the Come Hear N.C. Stage. 
Where the old City Plaza main stage used to be, on Fayetteville St. adjacent to the Raleigh Marriott City Center, is now the site of the Youth Stage. Up at the north end of Fayetteville St., the Capitol Stage has moved a few blocks down to a location between Martin and Hargett Sts.
Red Hat Amphitheater, the 5,500-seat outdoor venue that sits in the shadows of the Raleigh skyline, is obviously still in the same place on S. McDowell St. across from the Raleigh Convention Center. So is the Davie St. Stage, at the corner of Davie and Fayetteville Sts.
Food, beer, art vendors and more will line Fayetteville St. as usual during the outdoor festival, and things kick off with music at noon on Fri. and run through Sat. evening.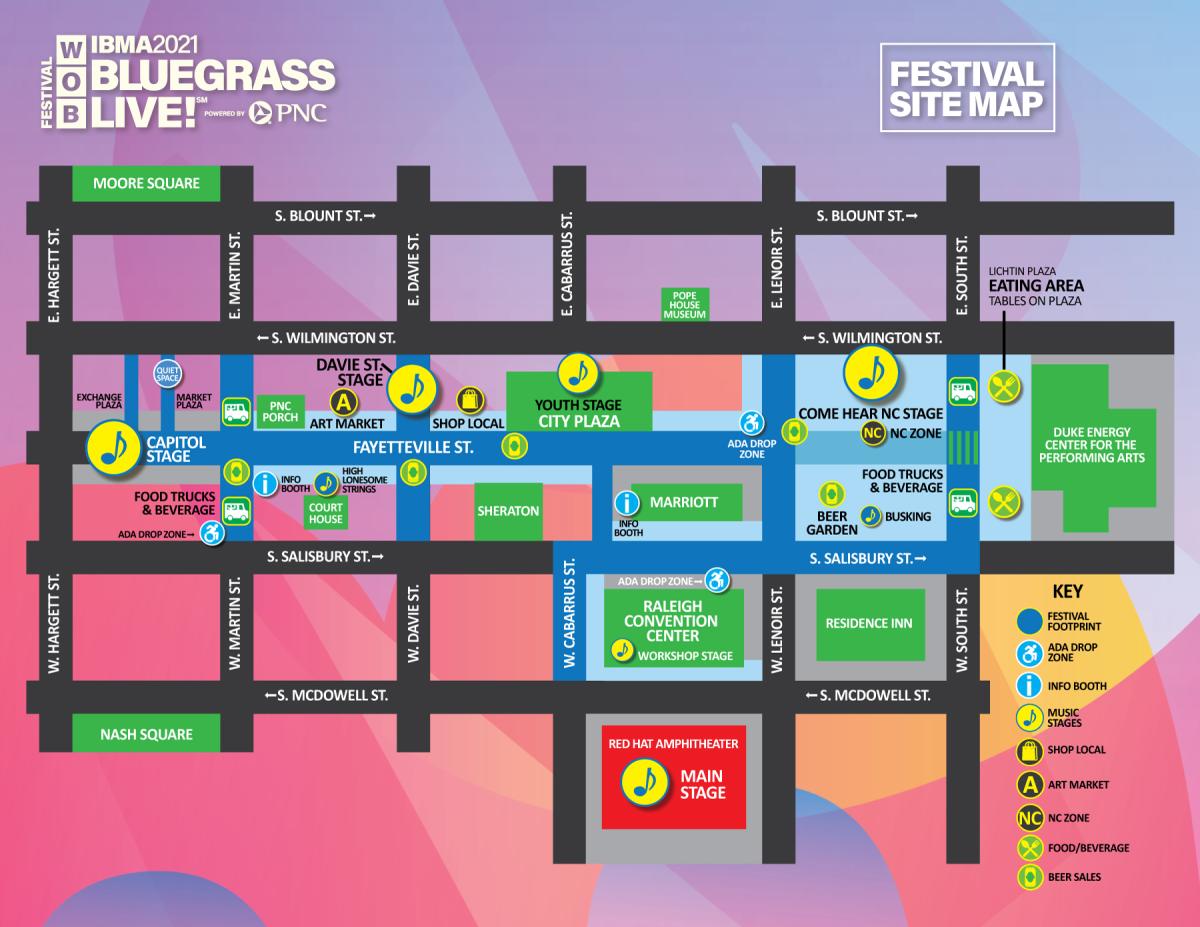 The tradeshow is open
As usual, the tradeshow in the Raleigh Convention Center will be open to the public on Fri. and Sat., for the indoor Workshop Stage and the tradeshow. Admission is free, as always, and mask-wearing is required indoors.
The layout in the convention center basement will also be altered with social distancing in mind. Vendors will be more spread out than in years past.
Jamming will prevail
In non-pandemic years past, the Raleigh Marriott City Center has always been ground zero for round-the-clock jamming in the downstairs lobby as well as rooms on designated "jamming floors" upstairs. That may or may not be the case this year, depending on whatever safety measures seem appropriate during bluegrass week.
"It remains to be seen how and where the jamming will happen," Brower says. "But one thing for sure is that it will happen. Whether it's out on the sidewalk, on the roof decks, in the parking lot or in rooms as in years past, I am sure that people will be getting together to jam."
The bluegrass-week jamming scene is pretty informal, in that it happens when and where it happens with no set schedule. But there is one scheduled event, a preview PineCone Bluegrass Jam to kick off bluegrass week from 7-9:30pm, Mon., Sept. 27 at Transfer Co Food Hall.
Who and what to see: A few suggestions (and the full schedule)
Bela Fleck (7:30pm, Fri., Oct. 1, at Red Hat Amphitheater): Banjo-playing legend Fleck's new double-album "My Bluegrass Heart" is a star-studded affair featuring some of the biggest names in the genre. Many of those players will join Fleck onstage at this show, including mandolinist Sierra Hull and fiddler Michael Cleveland. And for a bonus, immediately following Fleck at Red Hat Fri. night is the great Del McCoury. 
Come Hear N.C. Stage (all day Fri. and Sat., Oct. 1-2): Sponsored by the North Carolina Arts Council's Come Hear N.C. program, this stage will feature A-list lineups both days including bluegrass festival regulars like Po' Ramblin' Boys, Jim Lauderdale, Darin & Brooke Aldridge and local favorites Hank, Pattie & the Current. With food trucks and a beer garden in the vicinity, it should be a great hangout spot.
Hubby Jenkins (2:30pm, Fri., Oct. 1, on the Capitol Stage): Jenkins hails from Brooklyn, but he's a great purveyor of the old-time music that originated in the South. He's also a onetime bandmate of Rhiannon Giddens in Carolina Chocolate Drops.
Carolina Bluegrass Band from the University of North Carolina at Chapel Hill (4:30pm, Sat., Oct. 2, on the Youth Stage): The Youth Stage schedule features bluegrass ensembles from an array of institutions of higher learning. East Tennessee State (the longest-running bluegrass program in America), Clemson, Morehead State and Colorado College are among the groups on the bill. So is the bluegrass band from UNC, which got it's start just a few years ago.
Steep Canyon Rangers (7:30pm, Sat., Oct. 2, at Red Hat Amphitheater): Speaking of UNC, the Steep Canyon Rangers formed there more than 20 years ago and went on to a Grammy-winning career. They're back to play Red Hat in the penultimate slot Sat. night, right before Yonder Mountain String Band closes out the festival.
More major events upcoming in Raleigh, N.C.
Comments