Why Raleigh Chef Ashley Christensen is the Face of North Carolina Tourism
Wednesday, January 08, 2020, 10am by visitRaleigh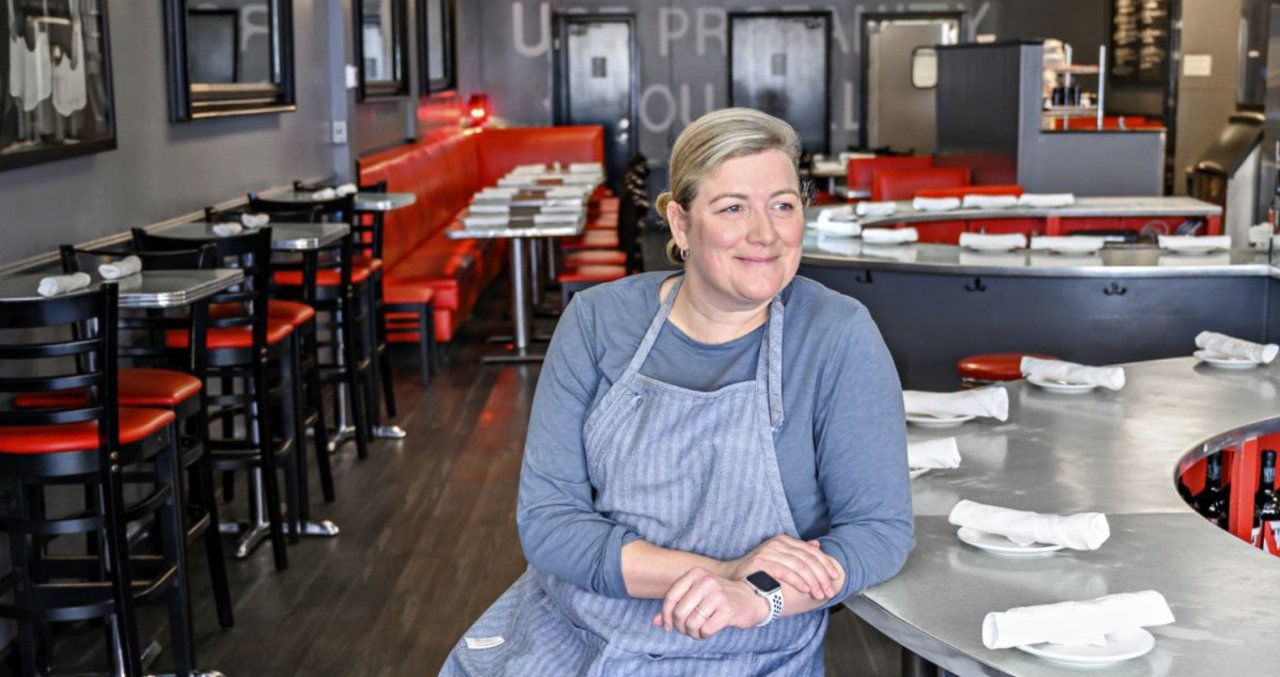 Score another one for the City of Oaks!
Chef Ashley Christensen—known to many as the face of Raleigh's booming food scene—has been revealed as the featured cover subject of the Official 2020 North Carolina Travel Guide.
A fierce philanthropist and accomplished restaurateur, Christensen's downtown Raleigh culinary empire now spans six eating and drinking establishments. Her latest concept, Poole'side Pies—a Neapolitan-style pizza shop—opened in summer 2019, and a coming-soon fried chicken restaurant could open this year. 
It makes sense, of course, to have America's best chef be the face of tourism in the Tar Heel State. Christensen earned the James Beard Foundation's Most Outstanding Chef award—the highest honor for a chef in the U.S.—in early 2019, making her the only North Carolinian to ever win the award.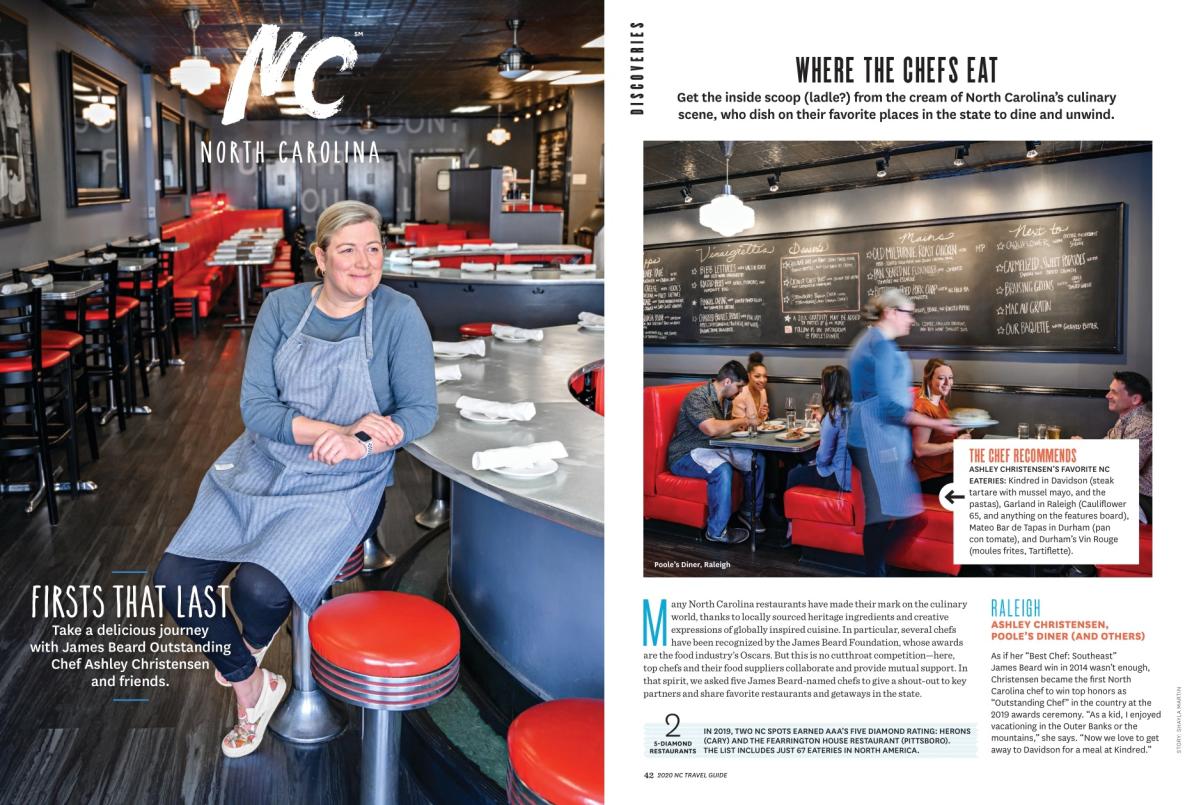 Since opening the flagship Poole's Diner in 2007, Christensen's work—both in the kitchen and the community—has earned the attention and admiration of foodies everywhere.
In addition to her Most Outstanding Chef award from the James Beard Foundation, in recent years Christensen has been named National Chef of the Year by popular food and drink website Eater; had her cookbook "Poole's: Recipes and Stories From a Modern Diner" raved about by The New York Times; and had another of her restaurants, Death & Taxes, named one of America's best new eateries when it opened in 2015.
Featured in the photographs above, Poole's, a modern diner with retro-chic charm, will always be the original Christensen restaurant that breathed new life into downtown Raleigh. You may know it for serving America's most famous macaroni and cheese (more than 15,000 dishes are sold each year!) or for the signature double-horseshoe bar meant for enjoying good drinks and late-night eats (first-come, first-served seating begins every day at 5pm).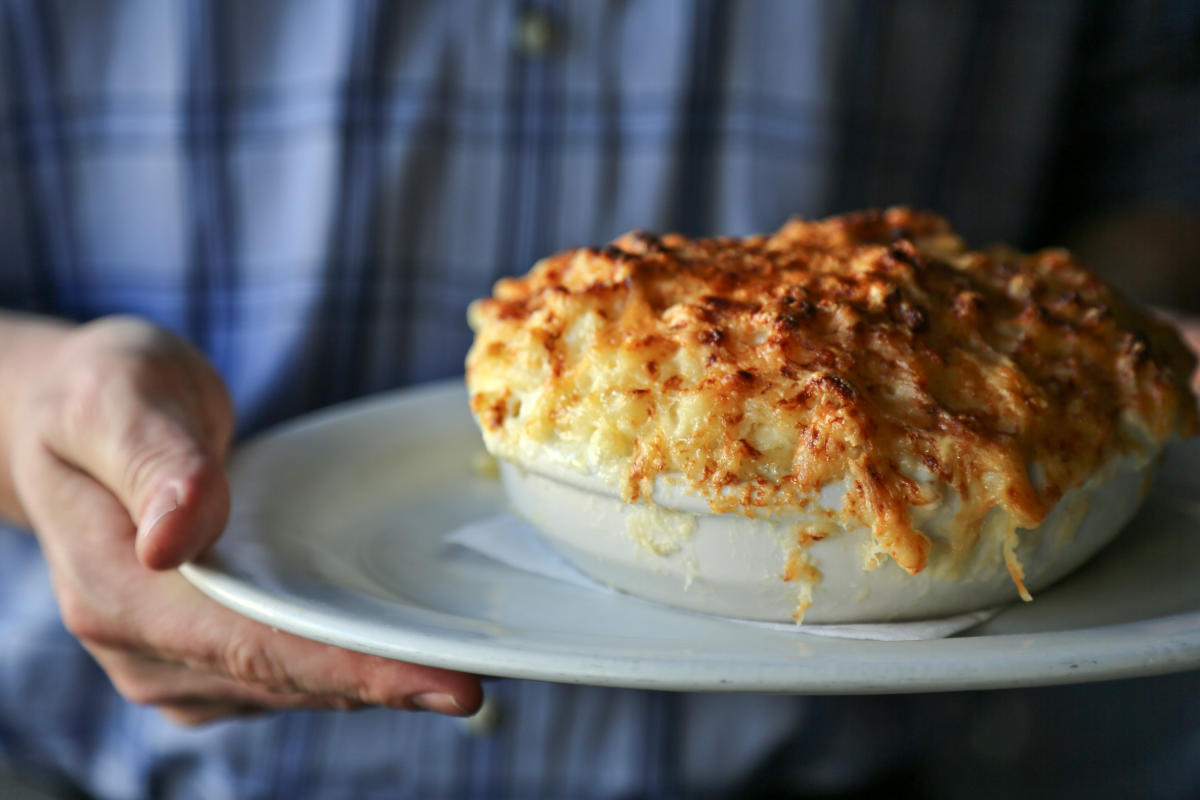 Each year, the Official North Carolina Travel Guide inspires travelers to seek first-time experiences that create enduring memories in destinations across the state. Three different travel guide covers were produced for 2020, with the Piedmont version showcasing chef Ashley Christensen and Poole's Diner (the two additional covers showcase flyfishing near Cullowhee and camping along the Tar-Pamlico River Water Trail near Washington). All three covers can be viewed with the guide's digital magazine version.
The guide—of which 500,000 printed copies are made—is produced by Visit North Carolina, the official state tourism office of N.C., and is free. The 172-page print edition is available at the state's nine Welcome Centers and can be ordered at VisitNC.com and via (800) VISIT NC (847.4862). Readers can download a digital magazine version via VisitNC.com/travel-guides.
Poole's Diner is located at 426 McDowell St. in Raleigh, N.C., open 5pm-midnight every day and 11am-3pm on Sat. and Sun. Learn more about Ashley's eating and drinking establishments here.
Travel Guide photos courtesy of Visit North Carolina; macaroni photo by Angie Mosier
Comments