Top 10 Reasons to Meet in Downtown Raleigh, N.C.
Wednesday, April 06, 2022, 3pm by Visit Raleigh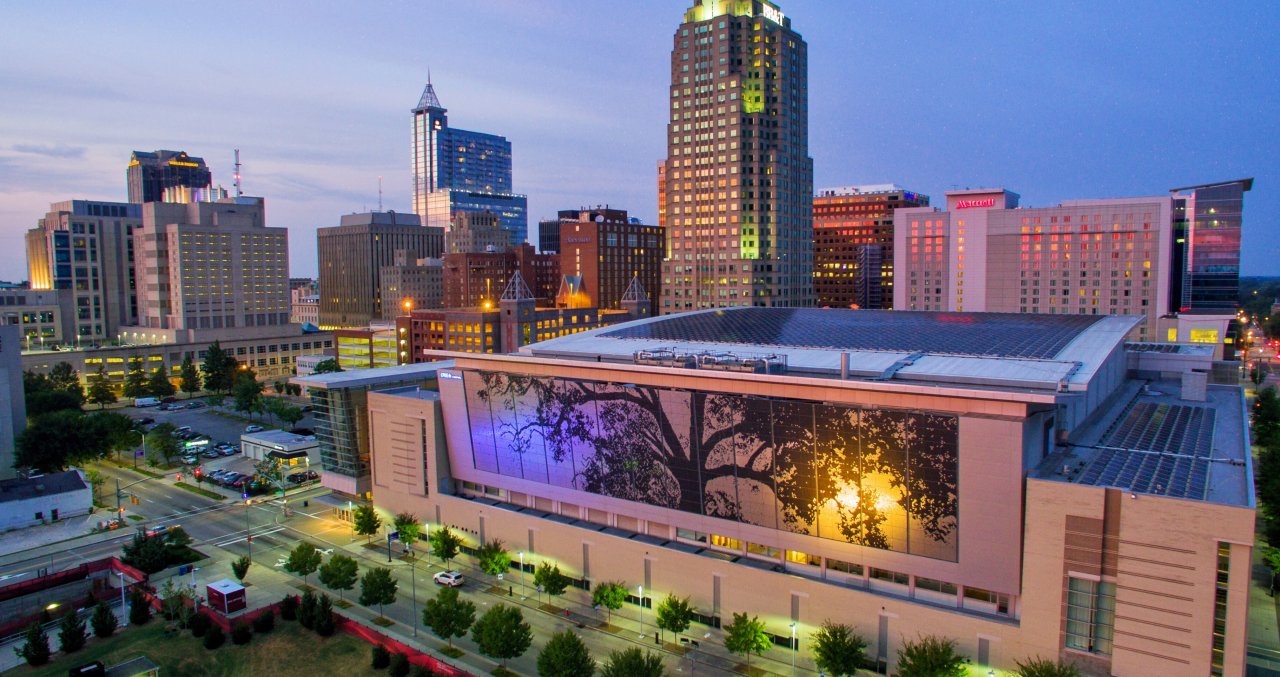 When deciding where your group should meet in the Raleigh area, the downtown Raleigh meeting district is an excellent choice. The district is full of energy and vibrant, Southern culture, and with unique meeting spaces and James Beard Award-winning restaurants to world-class museums and an expansive arts scene, it's no surprise groups often pick downtown Raleigh as a central hub for their meetings.
If you need convincing on why the meeting district is a perfect spot for your next gathering, we've compiled a list of the top 10 reasons.
 
Raleigh Convention Center campus and downtown hotels
Since opening in Sept. 2008, the Raleigh Convention Center (pictured in header) has been a remarkable resource for groups from 50 to 15,000. The modern, 500,000-square-foot facility includes a soaring street-level lobby, an elegant ballroom and a massive exhibit hall as well as reliable, upgraded tech amenities and award-winning culinary delights. EXHIBITOR Magazine recently named it one of the best in North America! Read more on this achievement here. 
Multiple other major properties sit on the Raleigh Convention Center campus and provide meeting planners and attendees with convenient, modern and upscale accommodations. The campus consists of the Raleigh Convention Center, Raleigh Marriott City Center (400 rooms), Sheraton Raleigh Hotel (353 rooms) and the Residence Inn Raleigh Downtown (175 rooms). Plus, unique meeting venues on the campus are designed to augment the convention experience: Martin Marietta Center for the Performing Arts, Red Hat Amphitheater and City Plaza offer a combined seven stages and numerous meeting spaces. 
Downtown Raleigh is filled with a variety of great places to stay. Numerous additional high-quality hotels are within a short drive.
 
Dining and drinks
Looking for eats and drinks? For starters, check out Poole's Diner (from James Beard Award winner chef Ashley Christensen, who owns Beasley's Chicken + Honey, Death & Taxes, Poole'side Pies and Fox Liquor Bar in downtown Raleigh). Then head to Raleigh Beer Garden (with 350+ beers on tap!) or Watts & Ward, an underground speakeasy teeming with a 1920s feel. Those looking for local beer will want to swing by Crank Arm Brewing, Clouds Brewing or Little City Brewing + Provisions Co.
Unique meeting spaces
Downtown Raleigh has more than 50 unique meeting sites for off-site events, receptions, engagements and more, ranging from museums to live music venues to award-winning chefs' restaurants to historic buildings full of stories and personality.
The aforementioned Duke Energy Center for the Performing Arts has five unique venues available to rent—including Lichtin Plaza, Meymandi Concert Hall, A.J. Fletcher Opera Theatre, Kennedy Theatre and Memorial Auditorium.
Easily accessible
RDU international Airport is a short distance from the downtown Raleigh meeting district. It takes about only 20 minutes to get from the airport to the Raleigh Convention Center campus.
Also, a notable fact: about one-half of the U.S. population lives within a day's drive of Raleigh. Two major north-south interstates, I-95 and I-85, pass within 25 miles of Raleigh, and I-40, which runs east to west, passes right next to downtown Raleigh.
Museums and attractions
Have a group that's into museums and such? Combine your meeting with sightseeing at these downtown museums: North Carolina Museum of Natural Sciences, with four floors of exhibits, live animals, gift shops and cafés; North Carolina Museum of History, showcasing more than 14,000 years and 150,000 artifacts of N.C. history; and City of Raleigh Museum (COR Museum), where visitors can learn more about the capital city.
Many of Raleigh's top free attractions—including the aforementioned museums, plus parks and the North Carolina State Capitol—are located downtown.
Public art
Downtown Raleigh is home to more than 100 pieces of public art. Slip on your walking shoes and hit the streets to find inspiring pieces that will have you clamoring for the perfect Instagram photo or TikTok.
Shop 'til you drop
After your meeting, head to the streets of downtown Raleigh to shop local. Many Raleigh-based brands are located in its downtown area. For unique T-shirts, bags, Koozies and more, House of Swank Clothing Company is creating fun designs with a nod to Raleigh and N.C. While Pam Blondin's DECO Raleigh is an excellent gift shop featuring all sorts of handmade cards, crafts, home decor and more.
 
Nightlife
There's a lot going on after dark in downtown Raleigh. One of Raleigh's hottest hot spots is Glenwood South, with bars, restaurants, live music venues and more, open well into the wee hours. Grab a drink from The Willard Rooftop Lounge and enjoy spectacular views of downtown!
Always something to do
Raleigh, N.C., hosts thousands of events every year, including many enriching experiences for your visit. Looking to build your trip around something exhilarating? We've got the most music in N.C., a hopping collegiate and professional sports scene and a host of accolade-worthy, homegrown culinary and cultural festivities pioneered by our smart and passionate locals. Check out our calendar of events to find out about events happening in Moore Square, the Warehouse District and on Fayetteville St.
Visitor Information Center
Stop by our Visitor Information Center in downtown Raleigh for personal assistance with all types of visitor information! It's a great way to find exactly the visitor experiences you're looking for—things to do, shopping, events, dining and more.

Author: Visit Raleigh
Visit Raleigh is the official and accredited destination marketing organization (DMO) for all of Wake County.
Comments