Virtual Tours: Downtown Raleigh Convention Center Campus
Wednesday, September 07, 2022, 1pm by Visit Raleigh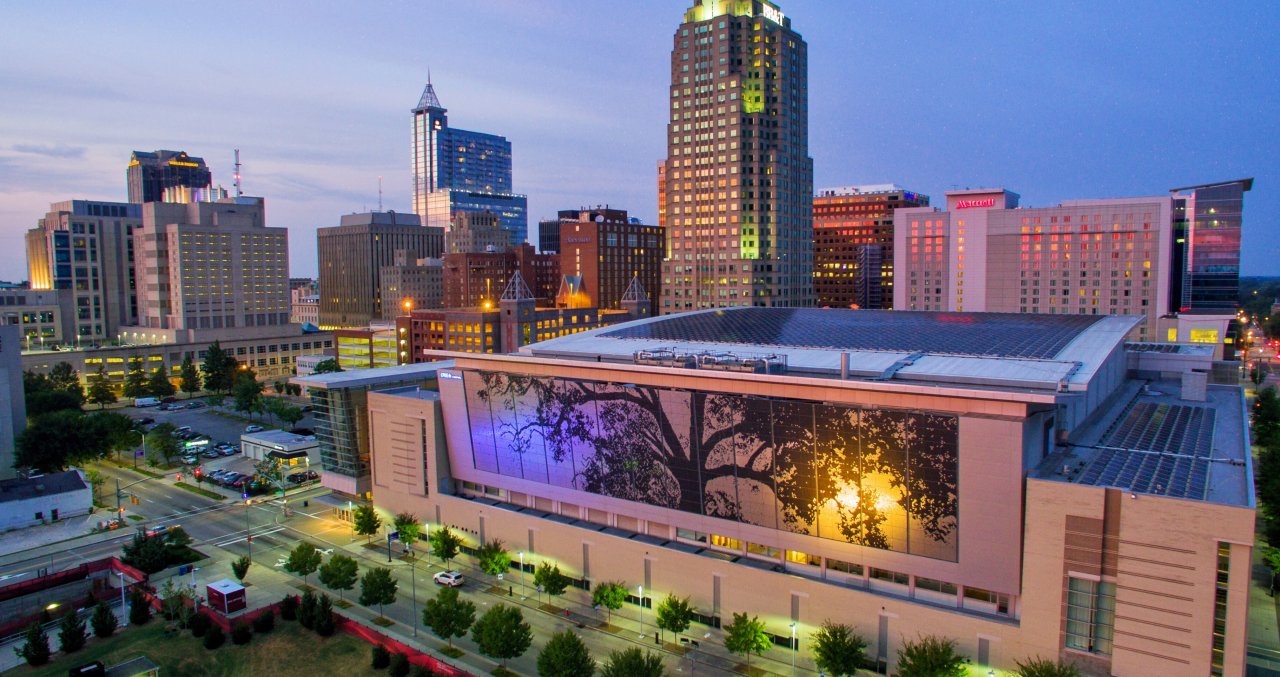 Aug. 15, 2022, update! New in downtown Raleigh: Sip n' Stroll Downtown social district
Launched as of Aug. 15, 2022, visitors to downtown Raleigh can drink beer, wine or cocktails as they walk through a defined area of downtown Raleigh, seven days a week from 11am-10pm! See the district boundaries and participating businesses (and their level of participation) here!
---

You can now take a look around the downtown Raleigh, N.C., convention center campus with Threshold 360 virtual tours!
Of course, nothing compares to touring in person—not only to fully experience each campus venue, but also to soak in downtown Raleigh by tasting incredible dishes at nearby restaurants like Poole's Diner (from James Beard Award-winner chef Ashley Christensen) or visiting the free-admission North Carolina Museum of History and North Carolina Museum of Natural Sciences among tons of other activities, all within walking distance. But if you're not traveling for site visits right now, we have the next-best thing for campus touring: take a virtual walk around the Raleigh Convention Center, Raleigh Marriott City Center, Sheraton Raleigh Hotel, Residence Inn Raleigh Downtown and Martin Marietta Center for the Performing Arts.
If you have any questions about the venues or the Raleigh area in general, feel free to contact us any time! We can also give guided virtual tours with insider info throughout each space.
 
The Raleigh Convention Center (RCC) is 500,000 square feet of dazzling event space—including an impressive, street-level lobby, a massive, 150,000-square-foot exhibit hall, 20 meeting rooms and a 32,000-square-foot, elegant ballroom. The convention center is surrounded by bustling, energized eateries, museums and entertainment throughout downtown Raleigh, giving attendees plenty of rich, off-site experiences before and after meetings. The center was recently Global Biorisk Advisory Council (GBAC) STAR™ facility accredited, making it the first multi-venue complex in N.C. to achieve the prestigious accreditation.
Connected to the RCC by an underground walkway, Raleigh Marriott City Center has 400 well-appointed guest rooms, featuring Marriott's luxury bedding. Within the Marriott, there's 15,000 square feet of multifunctional, flexible event space, the delicious Rye Bar & Southern Kitchen—which offers even more gathering and dining space—plus more.
Located right across the street from the RCC, the Sheraton features 353 luxurious rooms, 19,663 square feet of recently revitalized meeting and banquet space (with an 800-guest capacity), room service and a workout facility. The Sheraton also features Jimmy V's Osteria + Bar, a full-service restaurant featuring seasonal and local dishes with an emphasis on Italian cuisine. 
The 175-room Residence Inn Raleigh Downtown is another hotel property conveniently located across the street from the RCC and is one of the newest hotel properties downtown. It features three event spaces, totaling 2,528 square feet and accommodating meetings for up to 100. Plan an unforgettable reception on the 10th-floor rooftop or meetings over meals at the hotel's restaurant, 10th & Terrace.
Home to some of best live performances in N.C., the Martin Marietta Center is home to Kennedy Theatre and Memorial Auditorium where some of the most innovative theatrical productions in the state have taken place. Located right at the end of Fayetteville St., the unique venue gives groups walking access to more than 40 restaurants and bars. With a total 80,000 square feet of meeting space, the center features five meetings spaces and a theatre capacity of 4,770. The venue also features Lichtin Plaza, a great outdoor event space with a view of the North Carolina State Capitol down Fayetteville St.

Author: Visit Raleigh
Visit Raleigh is the official and accredited destination marketing organization (DMO) for all of Wake County.
Comments