AudioEye Launches on visitRaleigh.com
Friday, December 13, 2019, 11am by Vimal Vyas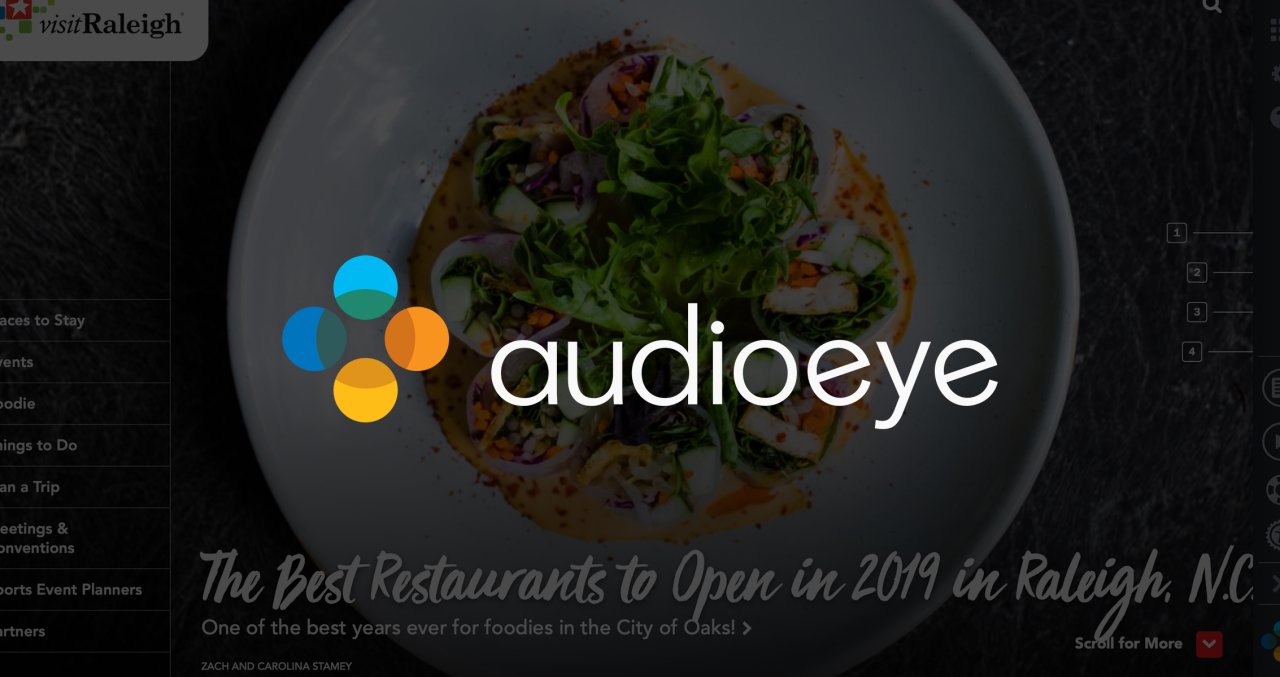 If you attended "All Access Wake County" on Nov. 18, you know that accessibility is an important priority for GRCVB right now. You might also have noticed that, since July, visitRaleigh.com has been undergoing a certification process for AudioEye, a tool that provides valuable resources for people with disabilities to be able to use our official tourism website more easily.
That process was completed in November, and now visitRaleigh.com is a fully-certified accessible site, according to AudioEye's rigorous guidelines. Here, Vimal Vyas, GRCVB's director of information, security and digital innovation, answers a few questions about AudioEye and what it brings to visitRaleigh.com.
Why did we deploy AudioEye on visitRaleigh.com?
The AudioEye solution will improve the usability of visitRaleigh.com, providing everyone with an optimal, customizable and fully inclusive digital experience. This technology helps ensure that the website is optimized to provide an accessible user experience by conforming to Web Content Accessibility Guidelines (WCAG) 2.0 Level AA standards.
What technology will be placed on the website to allow for web accessibility functionality?
The AudioEye technology, Accessibility Toolkit, is a toolbar that loads after the website has loaded content and sits on top of the website. It includes a suite of free assistive web personalization utilities that allow visitors to customize their user experience.


What does this mean for visitRaleigh.com?
AudioEye certifies that visitRaleigh.com is optimized to substantially conform with AudioEye's interpretation of the informative guidance provided by WCAG 2.0 AA. Through an ongoing effort with AudioEye, certified accessibility professionals will continue to enhance this site on the back end for optimal accessibility and usability for all users.
How do I find out more details on the product and what other CVBs are doing?
There's a video that explains the product here:

Which other CVBs are using this product?
Here are a few other CVBs around the country that are already using AudioEye. You may see the AudioEye icon on other business websites such as kia.com, too.
A representative from AudioEye, Ty D'Amore, vice president for strategic partnerships, was part of GRCVB's "All Access Wake County" event on Nov. 18, 2019, and you can watch his presentation here:

Author: Vimal Vyas
Vimal Vyas is an industry leader in the technology of marketing (martech), directing the Greater Raleigh CVB's marketing technology efforts since 2004. He is responsible for the Bureau's digital innovation efforts, including digital product (web/mobile) development, data integration, cloud-based software solutions, infrastructure, content and Internet marketing technologies and business intelligence.
Comments