Coronavirus Briefing from Aug. 12, 2020
Friday, August 14, 2020, 9am by visitRaleigh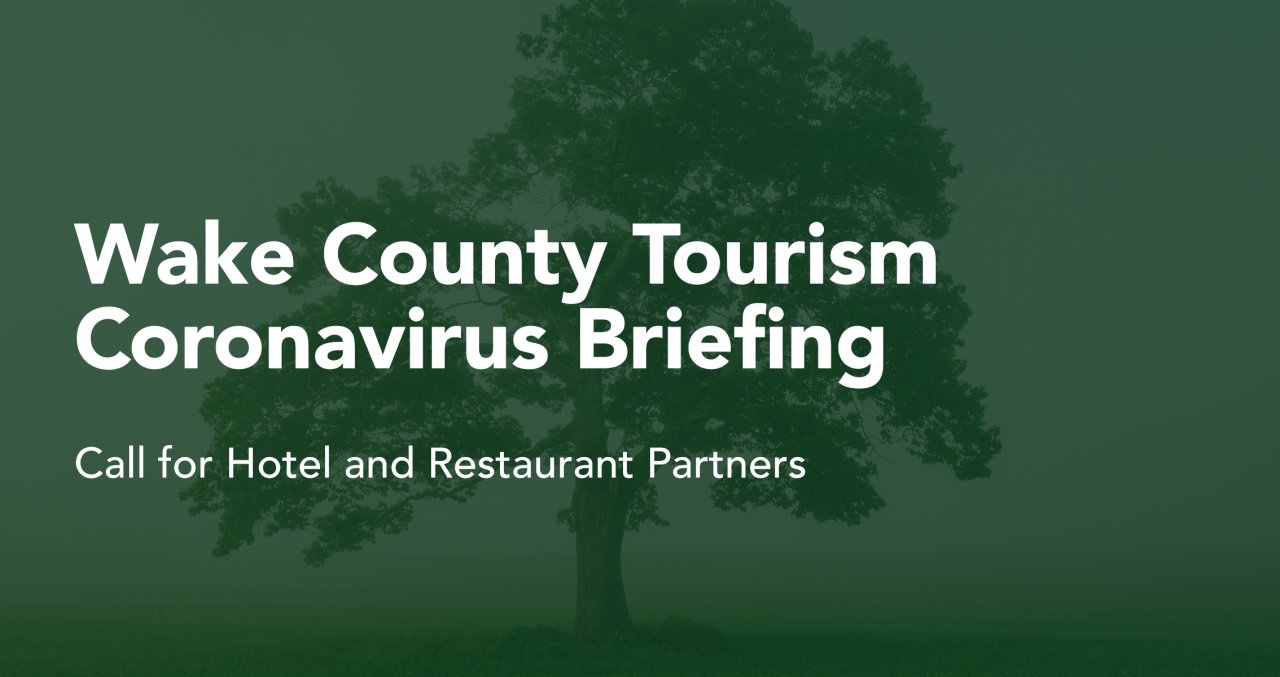 Leaders in the hospitality sector and local community have been reporting when necessary by way of Zoom conference calls during the COVID-19 crisis. Here is a summary of the call from Wed., Aug. 12, 2020 (or if you prefer to listen to the full recording, please find it here)...
Dennis Edwards, GRCVB president and CEO
The Wake County hotel occupancy rate for the week of Aug. 2-8, 2020, was 47.4%.
Year-to-date, 227 meetings and conventions have canceled, events that would have brought 278,000+ people to the area and totaled 99,000 hotel room-nights used.
Those cancellations add up to a direct economic impact loss of $118 million.
Lynn Minges, president and CEO, North Carolina Restaurant and Lodging Association (NCRLA)
Lynn noted this is the 21st week of the COVID-19 crisis.
Many restaurants are open but operating at 50% capacity and maintaining social distancing. Most aren't able to make a profit or sustain staff in these circumstances. The issue is a lack of confidence on the part of consumers who are still reluctant to be in public or to travel.
Another significant issue is the current limitation on mass gatherings. Gov. Roy Cooper's current guidelines call for indoor gatherings of no more than 10 people and outdoor meetings with no more than 25 people in attendance.
NCRLA is ramping up a call for action and encouraging partners to inundate the Governor with requests that the mass gathering ruling be relaxed. (N.C. currently ranks in the bottom 10-12 states in the stringency of its measures.) Lynn believes we are ready to move, if not to Phase 3 of reinstating mass gatherings, at least to "Phase 2.5."
NCRLA is also lobbying lawmakers for additional assistance and legislation for the hospitality industry as a whole, including bills regarding PPP funding, eviction relief and loan delinquency.
Chris Dillon, assistant county manager for Wake County
There are currently 12,260 positive cases of COVID-19 in Wake County and 179 deaths. The average age of persons testing positive is 39 years old.
County officials are concerned about colleges getting back into session and believe we may see a spike in cases in the next couple of weeks because "students are not taking this seriously."
The County has administrated several relief programs for residents including utility-bill aid and eviction protection. The County has also funded 2.5 million meals for those in need.
He noted the importance of the current U.S. Census and the importance of collecting accurate data because it will affect a range of funding down the road.
Chris also provided an overview document of how Wake County will spend its CARES Act funds, which includes a new allocation to GRCVB in support of destination economic recovery.
Bill King, president and CEO, Downtown Raleigh Alliance (DRA)
Bill reported updates about downtown Raleigh and plans for recovery. To see the full presentation and hear his remarks, you may view the presentation here.
Current metrics from DRA:
Office occupancy (real not leased): 20%
Hotel occupancy is still low and fluctuating between weekday and weekend
Pedestrian traffic down 74%
Food and beverage sales down 56% from the same month last year; improved 46% from the previous month and triple the sales of April, which were only 16% of the previous year's sales
55 storefronts still with boarded windows, approximately 33% of the affected storefronts
Over 100 restaurants open in some capacity
Downtown has the largest collection of locally owned businesses in the region
93% of downtown retailers are locally owned
Development and sales continue
Residential occupancy is still high
80% of stakeholders still feel safe in downtown
New Publix grocery store is scheduled to open in September 
He also outlined the fundamental questions that downtown officials are working to answer:
How do we help businesses survive current crises and then return in the future?
How do we restore downtown's reputation as a safe place to be?
How do we make downtown more diverse and welcoming?
How do we continue to make living downtown attractive?
How do we prepare for changes and commercial real estate trends to position downtown for
the future?
How do we encourage the rest of Raleigh to support downtown's revival? And what do we learn from this for the future?
The recovery plan in the near term includes the removal of the plywood boards on more windows downtown, an emphasis on public health and a focus on diversity and safety.
An additional update/briefing call for GRCVB's partners and stakeholders will be held on Wed., Sept. 30, at 1pm. Look for an advance registration option coming soon.
-------
For a more in-depth presentation about the state of tourism in Wake County, please register for the:
GRCVB Annual Meeting
< Virtually >
on Wed., Aug. 26, 2020, at 10am
thanks to our technology sponsor celito.net
The presentation will include:
Tourism impact numbers from 2019
Highlights of the work of GRCVB in the last year
The impact of COVID-19 on Wake County tourism
GRCVB's response to COVID-19
The plan for destination recovery
Time will be allowed after the presentation for questions and answers.
As with all virtual presentations, the number of participants is limited. Please submit your registration today to secure your free spot; register by Aug. 24 at noon.
Registrants will receive a link on Tues., Aug. 25, 2020, for joining the virtual event. We hope you will be able to join us!

Author: visitRaleigh
The Greater Raleigh Convention and Visitors Bureau (GRCVB) is the official and accredited destination marketing organization (DMO) for all of Wake County.
Comments