GRCVB Debuts New Trade Show Booth
Friday, August 11, 2023, 4pm by Karen DeSollar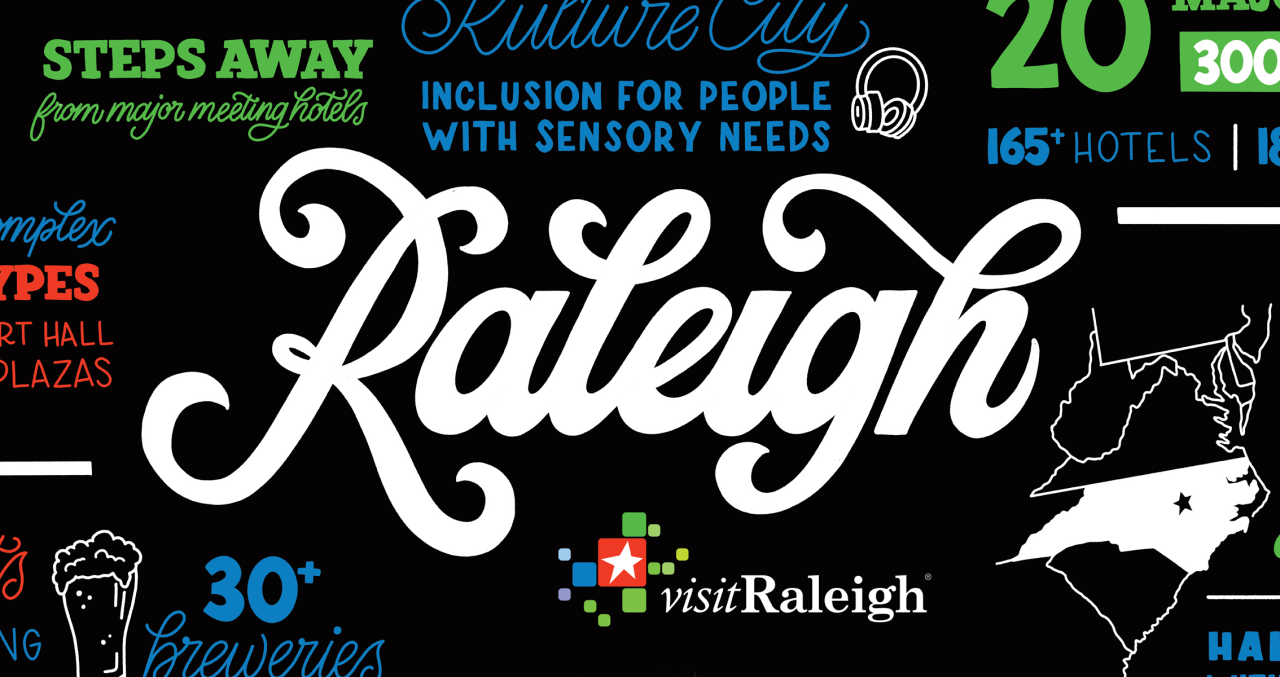 We thought you might be interested to see the new trade show booth design that we debuted at the American Society of Association Executives (ASAE) Annual Meeting & Exposition in Atlanta the first week of August.

The new 10' x 20' booth was a shared project with the co-op partners who were present with GRCVB staff in the booth: Raleigh Convention Center, Raleigh Marriott City Center, Raleigh Marriott Crabtree Valley and Sheraton Raleigh Hotel. 

Here's how it came together...

You may remember that, for South by Southwest (SXSW) in 2019, the centerpiece of the Raleigh/Wake County booth there was a 12' x 9' illustrated mural created by The Assembly in Raleigh. Since it was such a hit, the team created a second version for SXSW in 2020. Unfortunately, because of the pandemic, the 2020 event was canceled, and that striking and effective piece of illustrative work was never used. (Economic development data dates very quickly.)

When it came time to create a fresh design for Raleigh at ASAE's expo, we all agreed that the illustrated mural option offers a lot of advantages, the primary one being an illustration can represent whatever we want. No matter how great of a photo or photos you include, they can't convey every message we want to send in one image (or a collection of images for that matter).

The CVB's Sales and Marketing teams set about collecting the kind of data and information that meeting planners tend to look for and care about. We started with a long list of options that could be included in the piece and then narrowed it down for space and significance.
---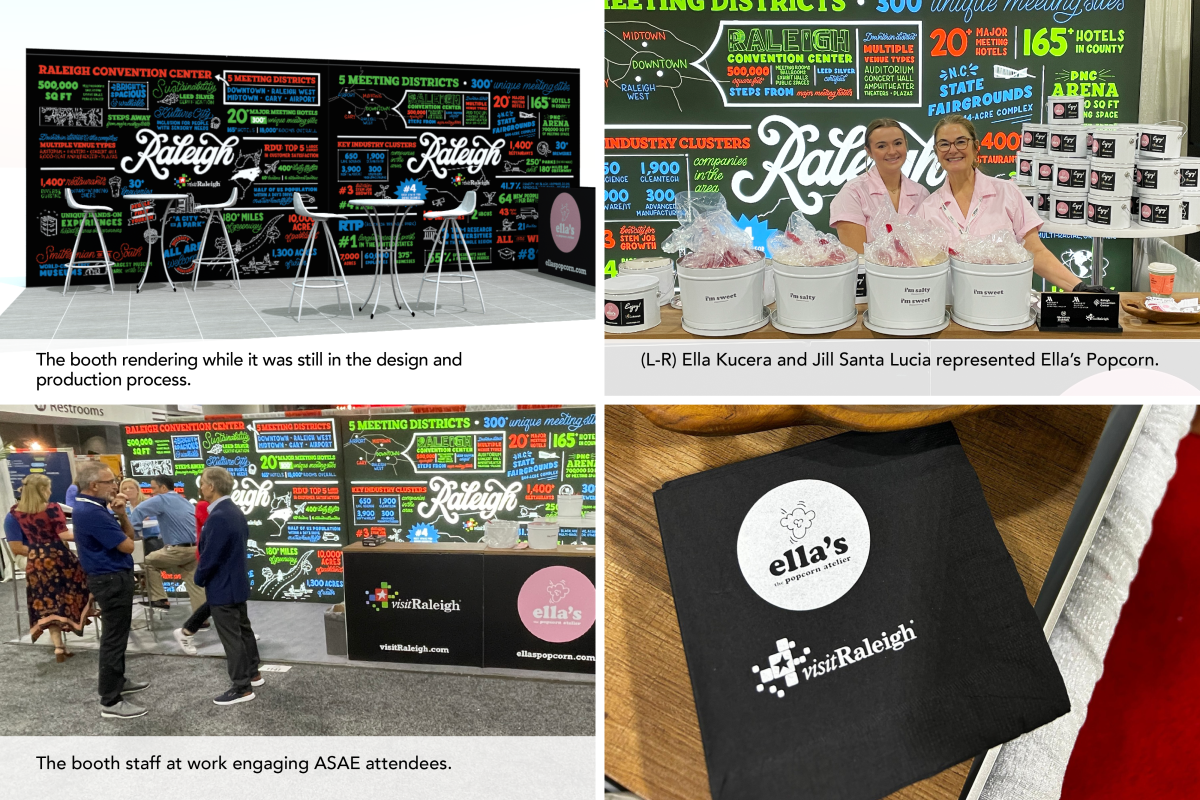 ---
Once that was done, we turned to our Bureau's advertising and creative agency, Avenir Bold, to help us manage the design and production process. Now we had all the pieces in place except one—who would create the illustration for us?

That's when we discovered Amber Share. Amber is an illustrator specializing in hand-lettering, and she happens to live in Raleigh. She has published several books, has experience in tourism and economic development, and because she lives here, she understands our destination.

She graciously accepted the assignment and set to work. In case you have never been a part of a project like this, it takes several weeks to conceptualize, draft, execute, proof and polish the art alone, plus several more for actual production of the large-format output and delivery of the hardware. Oh, and by the way, the actual booth we selected included backlighting; the illustration was illuminated so it could really shine, both literally and figuratively.  

Together, we arrived at a mural-centric booth that showcased Raleigh at ASAE, and by all reports, it was a great success impact-wise.
"I heard attendees say many times while looking at the information on the mural, 'Wow, I didn't know that about Raleigh!'", said Stephen Jackson, CMP, associate director of sales, who was on site.

Also present in the booth with the Raleigh, N.C., team were Ella Kucera and Jill Santa Lucia from Ella's Popcorn. They served over 250 samples of some of their (and our) favorite flavors of popcorn, including gold rush (white cheddar and caramel mix), raspberry lemonade, bourbon praline and cheesy ranch.

"We love having the team from Ella's with us," Stephen said. "Not only does it make the booth smell fabulous, but meeting attendees love it and it is a great example of Raleigh's creative culture."
---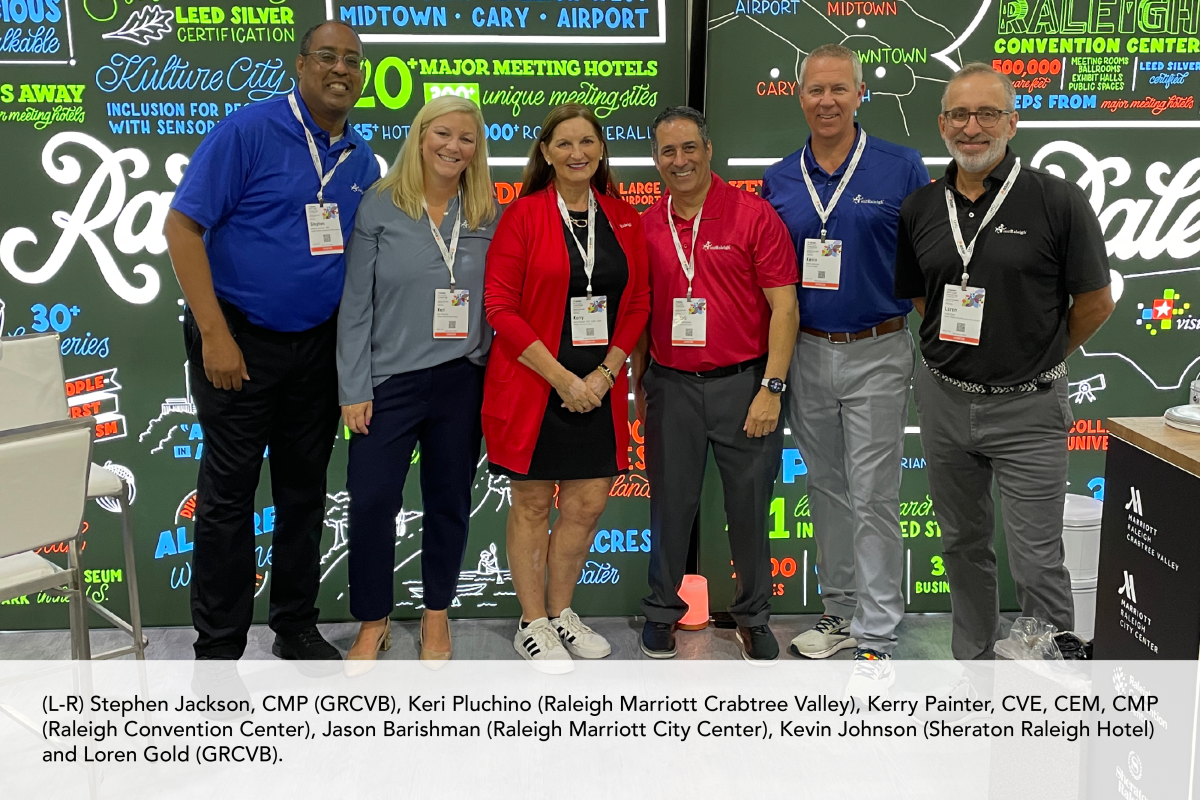 ---
When our Sales team is traveling the next few months and are at shows where they will have a traditional 10' x 10' space, they will be taking the new booth (the content of the mural was divided based on what kind of show it might be seen at). And if you're planning to be at the GRCVB Annual Meeting this Thurs., Aug. 17, 2023, at A.J. Fletcher Opera Theater, you will get to see the mural in person (and take a photo, if you'd like).

A great big thanks to Scott Scaggs and Stephanie Perri at Avenir Bold for their assistance, to Amber Share for "sharing" her talent with us, to Ella's Popcorn for being there with us and to Godfrey Group for production of the booth.  

Author: Karen DeSollar
Karen DeSollar is creative director at the Greater Raleigh CVB and has worked for over 15 years in the tourism sector. She started her career as an editor and earned a bachelor's degree in speech communications and English and a master's in journalism. She added graphic design to her bag of tricks when she spent 13 years as director of communications at a university in San Diego.
Comments