Raleigh, N.C., at South by Southwest 2019
Monday, March 18, 2019, 7am by Karen DeSollar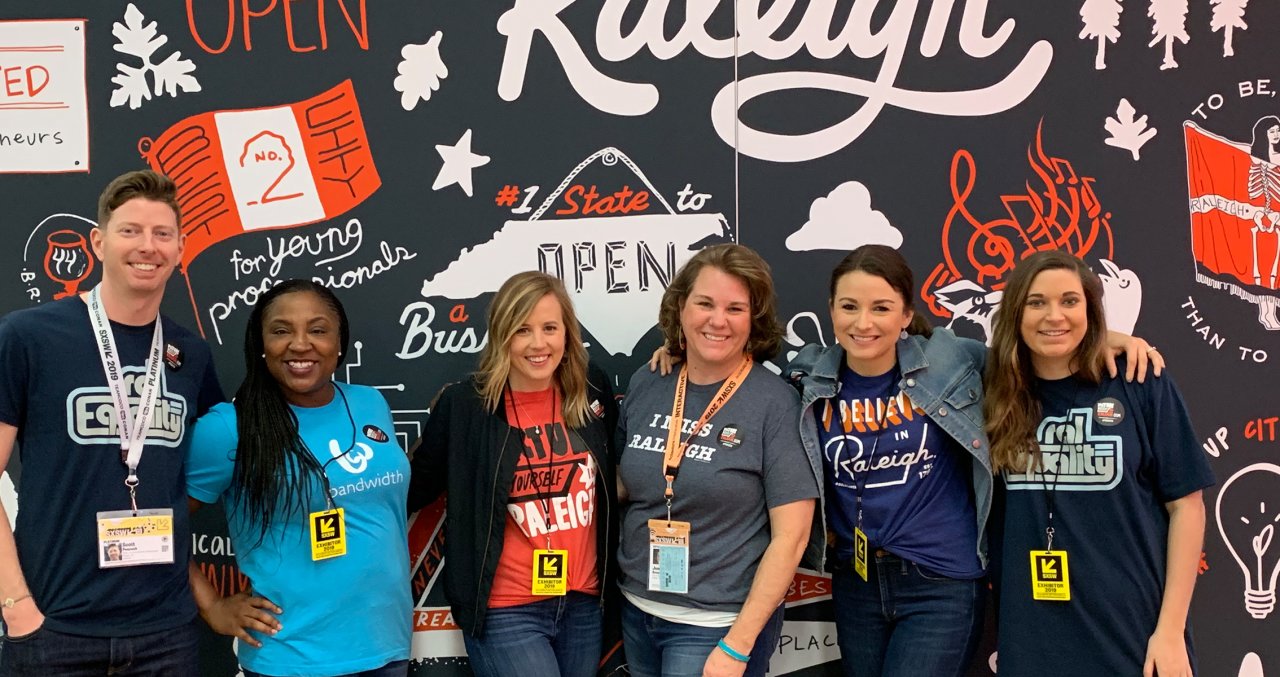 The story of Raleigh, N.C., at South by Southwest (SXSW) 2019 is one of collaboration. We talk about Raleigh being "a city that prides itself on our collaborative spirit," which I suspect many cities say about themselves, but not so many do.
You might have seen tweets and Instagram posts last week from Wake County Economic Development (WCED), the City of Raleigh and some of our participating allies, featuring a striking, black-and-white mural graphic with a chubby "RALEIGH" in the center and a series of hand-drawn images surrounding it.
That image was the result of an epic collaboration between multiple partners—all of whom have at least two things in common—we love Raleigh and we like bragging about it.
A little history
This is the third year that GRCVB has been part of Raleigh's presence at SXSW. (To know the full story, read Jennifer Bosser, CeCD's blog post.)
In past years, GRCVB has worked with the Greater Raleigh Chamber of Commerce/WCED, Raleigh Economic Development and Raleigh Convention Center to showcase the area and the best of what we have to offer. Several of our "passionate-minded" entrepreneurs have also been on hand to demonstrate their talents and provide samples of their work. And those first and second years were successful, but there was something special about 2019.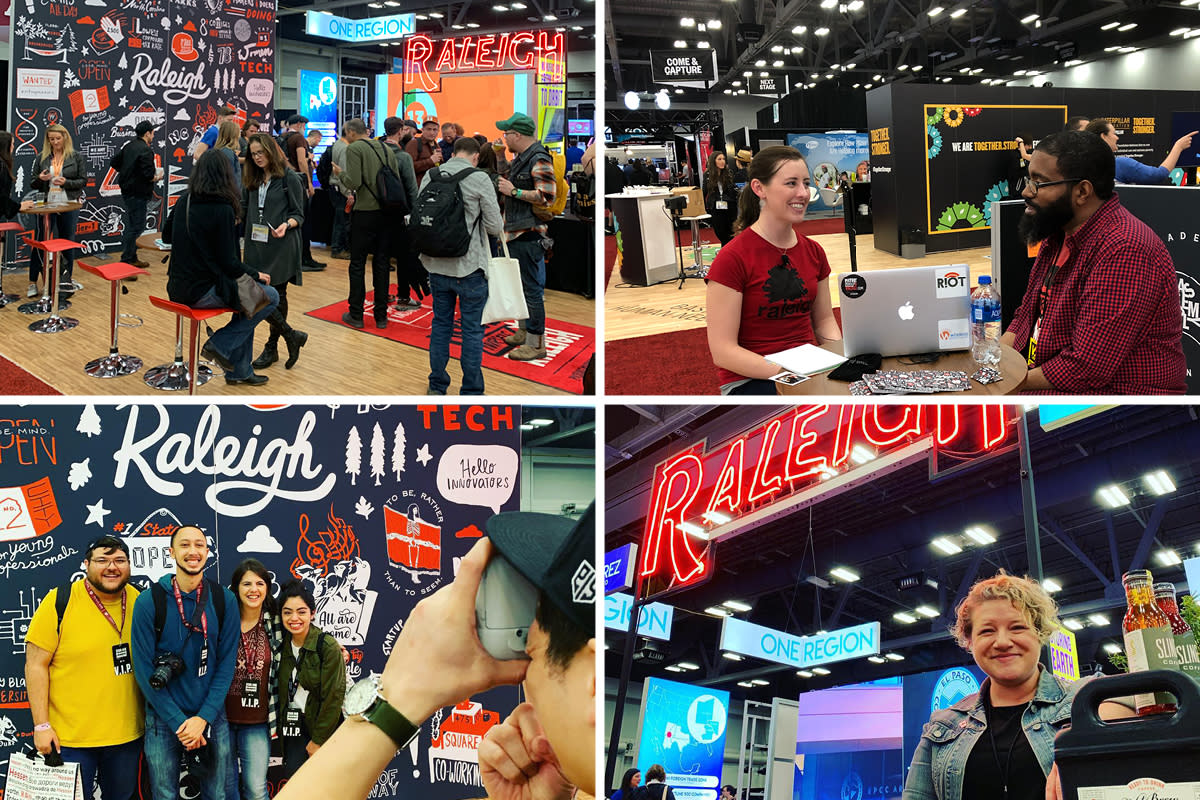 SXSW 2019
A team of representatives from this year's three participating organizations (GRCVB, City of Raleigh and WCED) started meeting last fall to talk about what this year's activation might look like.
We knew early on that we wanted to communicate three key concepts—(1) that Raleigh prizes diversity and inclusion; (2) our area is fertile ground for tech companies and (3) we embrace startups and entrepreneurs.
Those three concepts are not necessarily easy to communicate in one piece of artwork and a 20' x 20' show footprint. So for input and inspiration, we first turned to: 
Sarah Powers, executive director of the Office of Raleigh Arts
Sarah, who knows everything and everybody with a creative bent in Raleigh, listened to us talk and dream and imagine. We discussed using all kinds of options for presenting the concepts we wanted to emphasize—electronic and otherwise. And after hearing us, Sarah offered two suggestions:
Connect with Nate Sheaffer, neon artist at Glas, just north of downtown Raleigh
If you were downtown for First Night Raleigh on New Year's Eve, you probably spotted a luminous, neon "RALEIGH" on the balcony of The Dillon—that was the work of Nate Schaeffer. We asked Nate, who said he would be willing to transport that same neon sign to Austin for us.
Sarah's second suggestion was:
Meet with Jedidiah Gant and JT Moore of the Raleigh Murals Project
You also can't help but notice a virtual gallery of murals around Raleigh, and many, if not most, exist because of the behind-the-scenes work of Jed and JT. We regaled them with our story of what we wanted to accomplish and sent them off to come back with ideas. They researched and did some dreaming of their own and returned with several iterations that we could use to communicate Raleigh's message at SXSW.
From the options that Jed and JT pitched, we saw one particular artwork style that caught our attention, to communicate our uniquely Raleigh message. But who to turn to, to create it for us?
Enter Gino Reyes and The Assembly
The Assembly is a consortium of incredibly talented artists and illustrators who work together in downtown Raleigh. It was The Assembly who designed the City of Raleigh's new logo and Gino Reyes who ran point on the project.
The SXSW team generated a long list of superlatives, accolades and qualities that we wanted to highlight about Raleigh as part of a new piece of art, including the three original concepts we had talked about at the beginning—inclusion and diversity, a tech-savvy climate and a culture that embraces entrepreneurship.
The team at The Assembly took that list, and 13 separate artists contributed hand-lettered imagery to illustrate those concepts for the mural background.
Once we signed off on The Assembly's artwork, it came back to us at GRCVB, and we turned to one of our tradeshow vendors for the manufacture and fabrication of the hardware and the mural.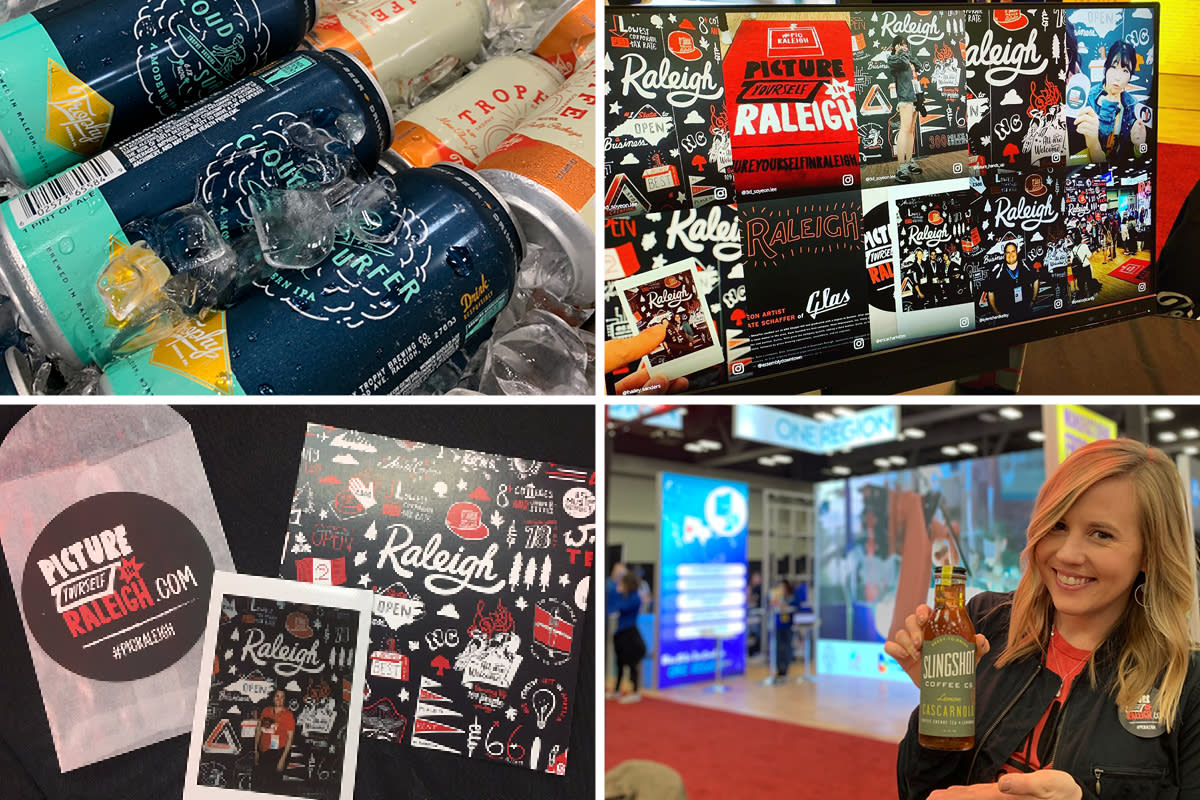 Make it interactive
In the meantime, the SXSW Raleigh planning team continued to work on a theme that we could use to tie these elements together. We wanted a way for booth visitors to interact with the artwork, to have something to take with them and to share on social media.
We settled on the concept—"Picture Yourself in Raleigh." Our on-the-ground team then took Polaroids of booth visitors with the mural, which they, in turn, hashtagged using #PicRaleigh and posted them on social media. Booth visitors also got to take the Polaroid home.
In addition, two of Raleigh's most successful entrepreneurs, Jenny Bonchak, founder of Slingshot Coffee Co., and Christopher Powers, co-owner of Trophy Brewing Company, served samples of their respective beverages to show attendees.
Design by committee… in the best possible way
My best estimate is that at least 30 people were involved in the creation of Raleigh's presentation at SXSW. (If you have any design experience, you know that designing by committee can be a nightmare. But in this case, it was a dream.)
And it came true.
Jennifer Miller, senior marketing manager at WCED, was there and she reported, "Throughout the entire week, hundreds of conversations occurred within our booth. The conversations touched on topics like our innovation ecosystem, corporate companies in the Research Triangle, our quality of life, the options residents have from housing to eating and the importance of visiting a place like Raleigh to see just how incredible it is."
[To read first-hand accounts from our economic developers who attended, check out these blog posts from WCED.]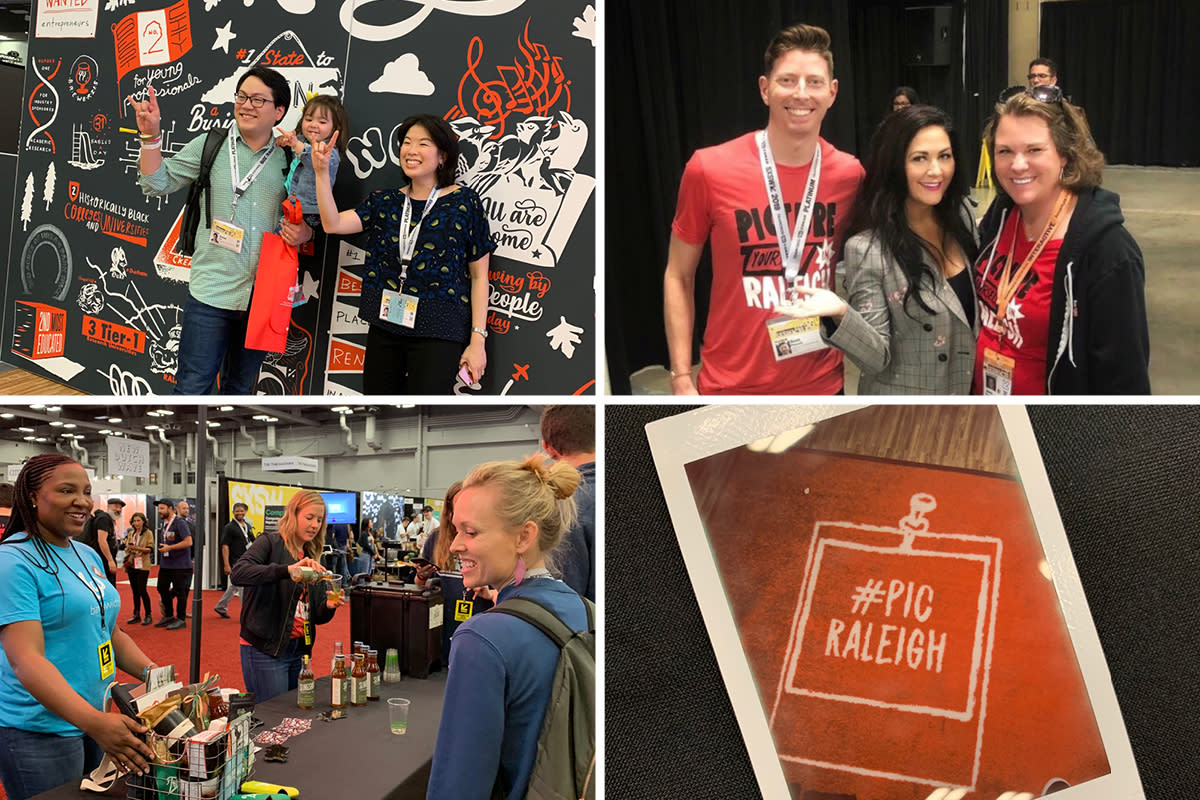 Thanks to the 30+ people who were involved in the project and special kudos to Jen Miller, who managed the project from start to finish and did it beautifully. (To quote GRCVB director of public relations and international tourism Scott Peacock, Jen "could teach a class.")
Only time will tell what connections and long-term impressions were made. But don't be surprised if, sometime in the near future, we hear of a major company either moving here or a new startup putting down roots in Raleigh. And before that, we anticipate many visitors who will want to see first-hand what the hubbub is about.
Until SXSW next year!…

Author: Karen DeSollar
Karen DeSollar is creative director at the Greater Raleigh CVB and has worked for over 10 years in the tourism sector. She started her career as an editor and earned a bachelor's degree in speech communications and English and a master's in journalism. She added graphic design to her bag of tricks when she spent 13 years as director of communications at a university in San Diego.
Comments