GRCVB How-To: Request Official Visitors Guides
Thursday, April 06, 2023, 1pm by Andrew H. Baker, CGSP®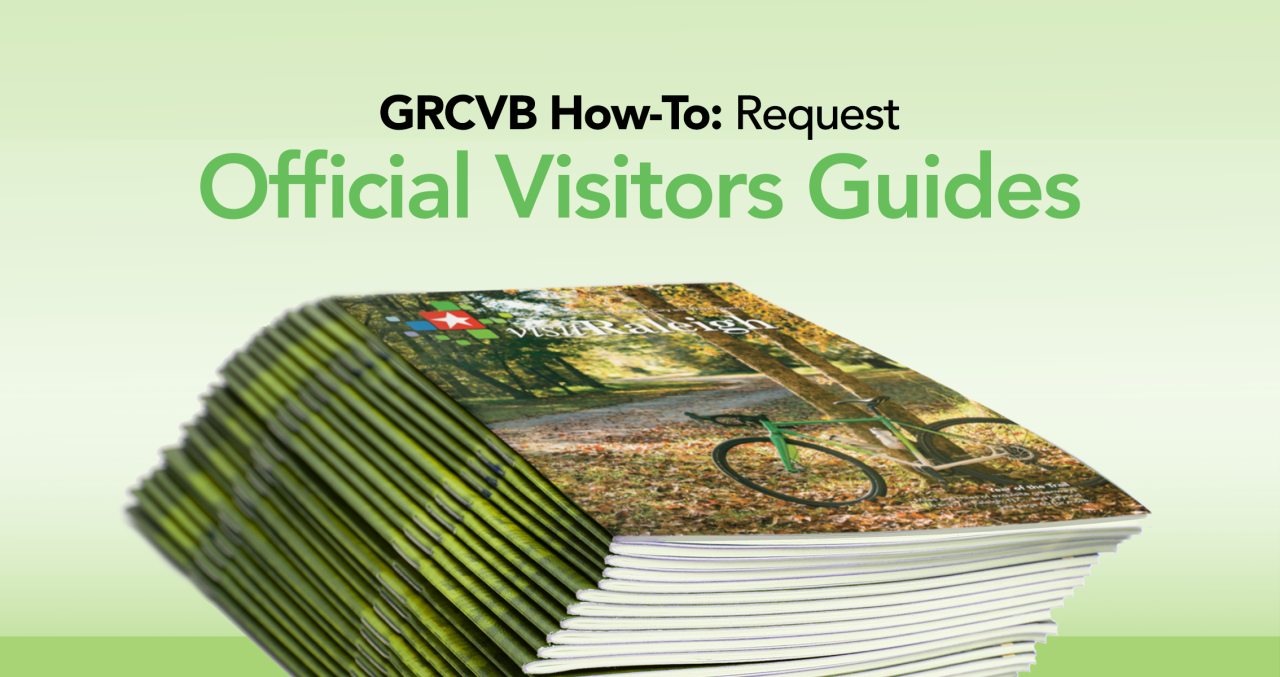 You have probably seen GRCVB's Official Visitors Guide to Raleigh, Cary and Wake County. We publish 100,000 visitors guides each year and circulate them free of charge to local partners (e.g., hotels, museums and other attractions) and regional partners (train stations, interstate welcome centers, other CVBs)... all with the goal, in turn, of inspiring more and more visitors to come experience everything Raleigh and Wake County has to offer. 

But you don't have to go out searching for visitors guides in the wild. GRCVB is happy to send you some; all you have to do is ask!

There are lots of ways to receive a guide. When a large group comes to the area for a convention/meeting or sports event, GRCVB ensures each attendee has access to visitors guides for things to do, places to eat and sites to see. And when visitors and locals swing by our official Visitor Information Center in downtown Raleigh, they are welcome to take a copy with them too. They make a great resource for a variety of events/people:
as part of a welcome bag for meeting attendees,
on the registration table for conventions,
in your group's rooms when staying for a family reunion, 
or at a hotel's front desk for both guests and front-line staff (your staff will learn more about what is around your property and all other areas in Wake County to better serve your guests).
Depending on your specific needs, we have multiple GRCVB team members available to request visitors guides from:
For Wake County hospitality partners (hotels, restaurants, attractions and economic development allies around Raleigh and Wake County), visitor information assistant Ernest (Ernie) Beauregard is your man! Ernie delivers visitors guides directly to partners within 1-3 business days of their request, from Apex to Zebulon.

Contact Ernie here or at 919.812.7934.

For N.C. Welcome Centers and venues located outside Wake County, destination services coordinator Katie Clark, CGSP®, can ship you cases when you run low. Many of these venues initially receive a shipment when new guides come out but, due to high traffic, often are in need of more throughout the year.

Contact Katie here or at 919.645.2675.

Having a meeting, conference, wedding or reunion here in Raleigh or Wake County? If you are already working with GRCVB for your event, your designated destination services manager can provide you with guides. If you are not working with the CVB already, contact Visitor Information Center manager Kessa Stevens, CGSP®, and she will arrange a pickup date for your guides at our Visitor Information Center.

Contact Kessa here or at 919.645.2677. (For these requests, we usually need 24-48 hours' notice to ensure your order is ready and available for pickup in our Visitor Information Center.)

Lastly, if you are interested in a single physical copy of our guide but do not live in the area, we will happily mail you one! Visit this request page here, and we will mail you one within two weeks of your request. Can't wait for a physical copy? We also have our trusty online version available too at www.raleighvisitorsguide.com.
We're happy to share these guides with anyone interested in Raleigh and Wake County and hope you will not hesitate to contact us if you're in need of more.

Author: Andrew H. Baker, CGSP®
Andrew H. Baker, CGSP®, is marketing manager at the Greater Raleigh CVB and works directly with local partners to help promote Raleigh, N.C., as a destination of smart, savvy and passionate people.
Comments