Meet Whitney Knollenberg, Ph.D., Assistant Professor at N.C. State University
Thursday, June 03, 2021, 9am by visitRaleigh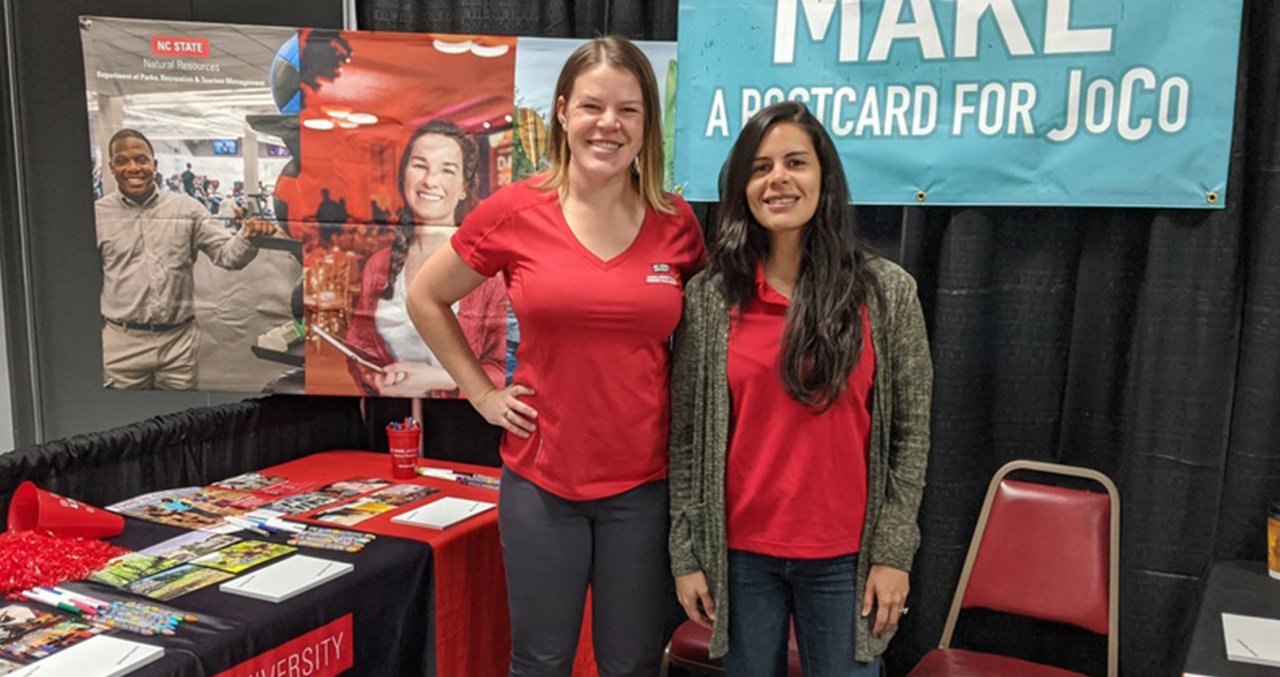 We believe there are some people in our area whom every hospitality partner ought to know (or at least know about). And we're planning to introduce you to them in a series of Q&A interviews during 2021.
Today we want to introduce you to Whitney Knollenberg, Ph.D., assistant professor in the Department of Parks, Recreation and Tourism Management at N.C. State University. We asked her a few questions about her background and her perspective of tourism in Wake County.
Tell us about your educational background and current role at N.C. State.
I am a Spartan Pirate Hokie member of the Wolfpack! I earned a B.S. in Parks, Recreation and Tourism Resources from Michigan State; an M.S. in Sustainable Tourism from East Carolina University; and a Ph.D. in Hospitality and Tourism Management from Virginia Tech. Currently, I am an assistant professor in N.C. State's Department of Parks, Recreation and Tourism Management which is the perfect place for me to teach and research what I am most passionate about—how advocacy, planning and policy contribute to sustainable tourism development.
What would you like Wake County hospitality partners to know about the Department of Parks, Recreation and Tourism Management?
The faculty, staff and students in our department are a world-class resource, right here in your own backyard. Our faculty includes some of the world's most well-respected researchers in subjects such as agritourism, sport and the environment, park and greenway use, environmental education, community-based resource conservation and youth development. All of our faculty and students live by N.C. State's Think and Do approach to education and research. We do our best work when we partner with our community, so please reach out to any of us to learn about our research, connect with our students (they will be your best interns, I promise!) and start a conversation about how we can Think and Do together.
What made tourism and tourism education interesting to you?
I grew up in a family that put Griswold road trips to shame, in the best possible way! We traveled from Michigan to Wyoming every summer to visit family, and my mom planned each trip so that we never drove the same way twice. We camped and hiked in countless state and national parks and saw so many beautiful places through our travels. I recognized how much that shaped who I was and the impact tourism had on those places I loved to visit. That interest, combined with my love for working with people, made tourism the perfect industry for me. In my role in the industry today I remain interested in using research and education to help tourism maximize its positive impacts. Through my research, I help the industry solve problems and through teaching I prepare the next generation of industry leaders.

What do you think are Wake County's greatest advantages as it relates to tourism?
As a tourism researcher, I am always looking for the factors that make a destination thrive. From looking at destinations across the state of North Carolina and the United States I see that resilient and sustainable destinations are built upon good planning and the maintenance of strong relationships among industry partners. Wake County has an incredible advantage over other destinations because of the genuine interest our tourism industry members have in working together towards a collective goal.
I've done a couple of studies in Wake County recently, one about how to develop advocates for the tourism industry (more on that below) and one about the growth of craft beverage tourism. In both studies what came out as a major strength for Wake County was the depth and breadth of partnerships among tourism stakeholders. This is a sign that we as an industry are doing it right! We don't (always) see each other as competitors. We know that together we can make Wake County this best place for visitors to enjoy.

If you were writing a Tourism Talk blog post today about pressing issues facing the tourism community, what would it be about?
As I mentioned above, I've recently worked on a study focused on how the Greater Raleigh CVB can increase tourism advocacy in Wake County. This study demonstrated the value of community engagement strategies to connect with and educate tourism stakeholders on the value of tourism. If I were writing a Tourism Talk blog post today I would focus on how crucial it is for all members of Wake County's tourism industry to educate others about the value of tourism. By increasing knowledge of tourism's value in Wake County among residents, leaders of other industries and policymakers, we will build advocates for the industry who can help it continue to thrive. 

What do you think tourism in Wake County will look like 20 years? What would your dream scenario be?
My dream for tourism in Wake County in the year 2041 would be for the majority of tourism stakeholders (e.g., residents, employees etc.) to recognize at least one positive impact that tourism brings to their lives. Processes would be in place so that tourism industry members could see what positive impacts stakeholders recognize so that they could strive to maximize those positive impacts. Through this exchange, Wake County would be a leader in creating partnerships with tourism stakeholders who would serve as advocates for the industry, participate in planning efforts and contribute toward making tourism in Wake County great for all.
.............
Top photo: Dr. Knollenberg (left) with her first Ph.D. student, Sara Brune. Dr. Brune graduated from N.C. State in May.

Author: visitRaleigh
The Greater Raleigh Convention and Visitors Bureau (GRCVB) is the official and accredited destination marketing organization (DMO) for all of Wake County.
Comments