The Study of Community Engagement
Friday, March 05, 2021, 8am by visitRaleigh
In addition to the public projects and initiatives that you see regularly reported as part of the work of GRCVB, there are a few that go on behind the scenes designed to make our efforts more effective. One of those revolves around community engagement.

In 2018, we formed an internal Community Engagement Strategy (CES) team and then launched a few initiatives you might have seen and that we have talked about in previous Tourism Talk blog posts. One of the significant tactics was "Tourism U," GRCVB's learning track for tourism and destination education. 

The Tourism U 100 Level was supposed to be a 30-minute, in-person presentation by a GRCVB staff member, including a "Why Tourism Matters" video, an explanation of the cycle of tourism, why it benefits every one of us and time for Q&A from the audience.

Drat, COVID-19.

In March 2020, the in-person plans went out the window, but not to be deterred, we turned the in-person presentation into a virtual one and made it available in summer and fall 2020.

A concerted effort
Around the time plans for the in-person Tourism U were first being finalized, we were in communication with North Carolina State University's Department of Parks, Recreation and Tourism Management and two of our key contacts there—assistant professor Whitney Knollenberg, Ph.D., and Hailey Post, master's degree student.

We found we were all interested in community engagement as applied to destination marketing/management and why and how to make an engaging difference. And Hailey was ready to work on her master's thesis.
---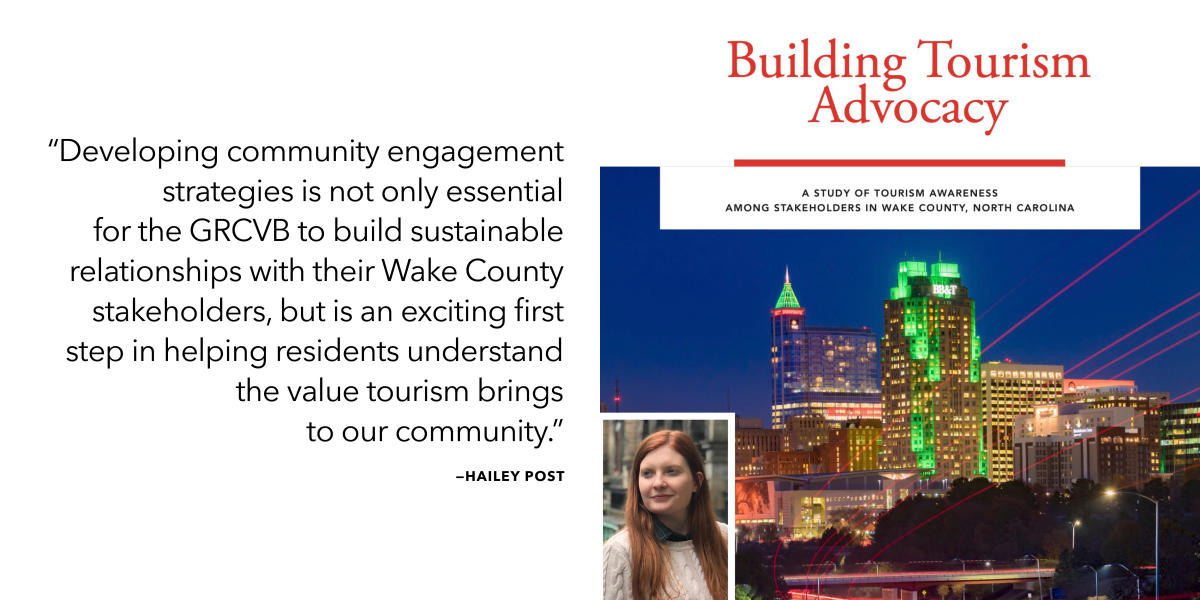 ---
So in concert with them, we agreed to commission N.C. State to conduct a study around Tourism U and our newly developed strategies—in other words, how effective was Tourism U 100 at educating and persuading its "students" that tourism development was valuable and had an impact on residents' own quality of life in Wake County.

"As a resident of Wake County and tourism advocate," Hailey reported, "I was thrilled to work on this project. Developing community engagement strategies is not only essential for the GRCVB to build sustainable relationships with their Wake County stakeholders but is an exciting first step in helping residents understand the value tourism brings to our community."

The project went like this—we suggested about 130 of our partners and stakeholders for Dr. Knollenberg and Hailey to interview before they might participate in Tourism U. In summer and fall 2019, they conducted in-depth interviews with a sampling of 22 of these locals.

Then in 2020, those same stakeholders were in groups of Tourism U virtual participants, led through the 100 Level presentation by GRCVB's assistant marketing manager Andrew Baker. Then Hailey followed up with a post-Tourism U interview to gauge the results.

This was a qualitative study so the findings were assessed from the interview data collected. Some of the takeaways were:
Stakeholders perceive tourism as a beneficial economic driver but recognize opportunities to expand these benefits to smaller communities. 
Stakeholders connect how tourism benefits quality of life in Wake County but recognize that not all residents may understand this relationship. 
There is strong support from stakeholders, but they need a specific ask (e.g., speak to policymakers) and strengthened communication.
Tourism U contributed to a deeper understanding of tourism's role in economic development in Wake County.
Tourism U also generated a broader view of how GRCVB should improve knowledge of tourism's role in economic development in Wake County. 
"We were excited to see how Tourism U helped residents think more broadly about the contribution tourism has on their quality of life," said Hailey. "Residents also indicate that they want to be more involved and provided many opportunities for the GRCVB to improve and broaden their engagement strategies to encompass more members of the community." 
Dr. Knollenberg concurred. "What I found most striking about the results of this study is the level of interest that stakeholders have in talking about the value of tourism. Having a strong bench of advocates is an incredible resource for the tourism industry in Wake County. This study shows what the GRCVB can do to share the value of tourism through these advocates."

From the study, Dr. Knollenberg and Hailey formulated a series of recommendations for GRCVB to consider moving forward, which the internal CES team is currently studying.
"We can't thank Dr. Knollenberg and Hailey enough for their work," said Loren Gold, GRCVB's executive vice president. "We are thrilled to have them as part of our extended team and will be talking with them more about these recommendations and how they might form the basis for our progress moving ahead."

The Bureau's CES team and the two researchers have presented the findings of the new study to GRCVB's board of directors and entire staff.  Both board and staff will continue to reference results of the study in formulating future GRCVB Business Plans and continuing community engagement strategies into the future.

To read a summary of the study, click here.
To read the full study, click here.
For more information about Tourism U, click here.
Cover photo by Marc Hall/N.C. State University

Author: visitRaleigh
The Greater Raleigh Convention and Visitors Bureau (GRCVB) is the official and accredited destination marketing organization (DMO) for all of Wake County.
Comments