On the Road to SXSW 2020
Wednesday, February 26, 2020, 8am by visitRaleigh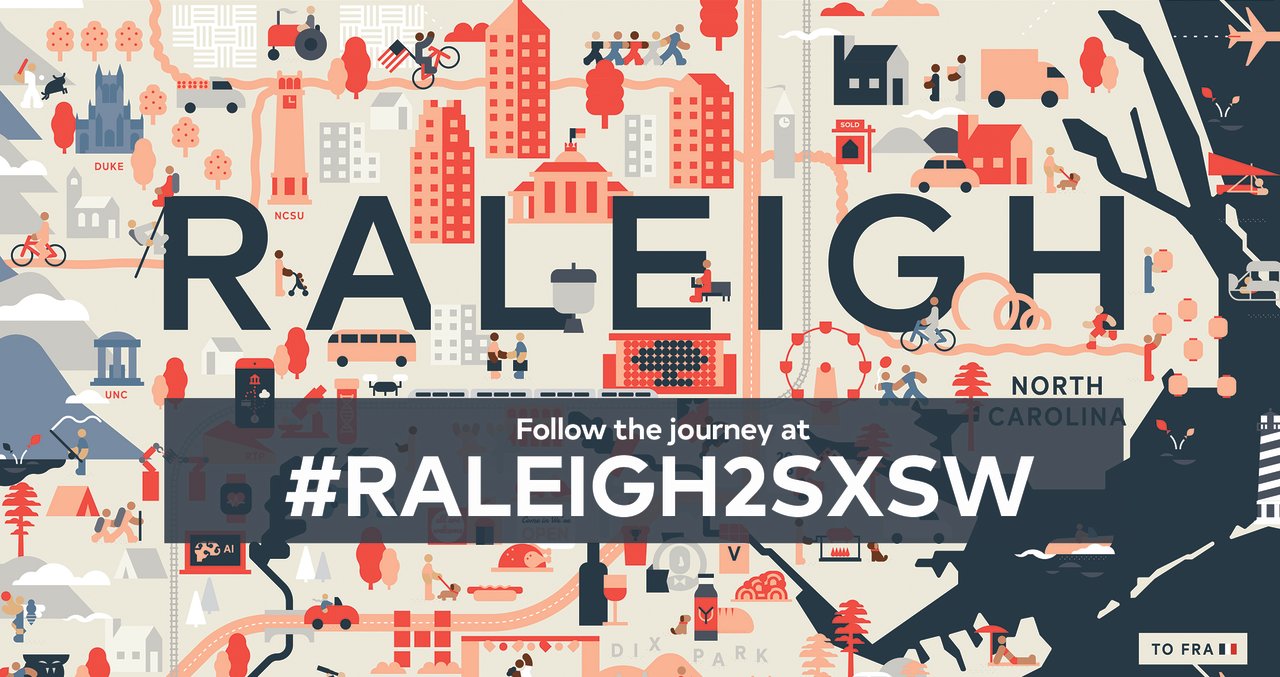 Earlier this week in Tourism Talk, we mentioned that GRCVB along with several local allies will be traveling to Austin, Texas, in March to represent Raleigh at South by Southwest (SXSW) 2020. In case you missed it, here is information that was released to the press on Tues., Feb. 25, 2020.
Raleigh Economic Development Collective Unveils SXSW 2020 Initiative
Three Wake County organizations partner in destination awareness and talent acquisition effort.

Raleigh, N.C. (Feb. 25, 2020) – March 15-18, a team of economic development partners representing Raleigh and Wake County will travel to the South by Southwest Interactive Trade Show in Austin in an effort to promote Raleigh and Wake County as a great place to visit, live, work or start a business. The initiative is a partnership between Wake County Economic Development, the City of Raleigh Office of Economic Development and Innovation and the Greater Raleigh Convention and Visitors Bureau (Visit Raleigh).
The group's presence at SXSW is critical to the organization's combined strategic goals of showcasing Raleigh as a diverse and inclusive community as it relates to people, business, industry and culture. The SXSW activation drives the following:
Brand awareness of Greater Raleigh
Promote Greater Raleigh as a destination
Attract top talent to Greater Raleigh
Share the Greater Raleigh ecosystem story - from startups to global giants
Drive business development in Greater Raleigh - small and large business
2020 represents the seventh year that Raleigh and Wake County have had a presence at the trade show. This year's activation will unveil a new campaign spearheaded by Wake County Economic Development with inclusion and support from the other partner organizations as well as the private sector titled, "East Coast Made Easy". The campaign aims to position Raleigh as "A city built by thinkers and doers looking to make a difference. A community with big-city hustle without the hassle. A home that is welcoming and open. A culture that is kind and a life that is just easier. Raleigh—East Coast Made Easy."
The development of the campaign is the result of a talent perception study that drove the creation of strategic messaging for marketing efforts. The perception study was conducted with guidance and support from the City of Raleigh Office of Economic Development, Wake County Economic Development and Development Counsellors International.  Following the completion of the survey, Wake County Economic Development's marketing advisory committee selected the "East Coast Made Easy" messaging to further develop into a campaign for SXSW.
The "East Coast Made Easy" trade show booth activation will invite SXSW attendees to step into Raleigh to experience what makes Raleigh and Wake County a welcoming and inclusive place for all. Attendees in the booth will have a chance to interact with a mural created by local artist and designer Gino Reyes, of Creative Offices Of. The mural depicts Raleigh's ecosystem and showcases its quality of life by highlighting some of the area's key industries, its connectivity, quality of place, diverse culture and culinary scene all in a way that expresses the notion that Raleigh is truly "East Coast Made Easy."
Attendees will be invited to sample innovative and award-winning products from local companies Trophy Brewing Co., Slingshot Coffee Co. and Videri Chocolate Factory and learn more from the company's founders about the innovation behind their products and processes and what makes Raleigh such a great location for small businesses and start-ups.
"We are counting down the days to showcasing Raleigh as the inclusive, international community we are while at South by Southwest (SXSW). The interactive trade show offers us a strategic opportunity to share what makes Raleigh an engaging community for all people and businesses," said Veronica Creech, director of economic development and innovation, City of Raleigh. "We invite everyone to join us in sharing our culture and entrepreneurial community with SXSW's global audience and look forward to telling the Raleigh story and sharing our hospitality."
"This collaborative initiative has become very important to us over the years," said Loren Gold, executive vice president of the Greater Raleigh Convention and Visitors Bureau (Visit Raleigh). "Research has shown time and again that tourism is economic development. Quality of place is just as important as talent and ecosystem to site selectors worldwide, and our mission as it pertains to supporting talent acquisition and recruitment is to turn tourists into talent and this is a prime example of that."
The team behind this year's SXSW campaign has created a thoughtful and strategic activation to help share what makes Raleigh "East Coast Made Easy." Through the use of design and messaging we will be sharing our dynamic ecosystem story with people from around the world," said Michael Haley, executive director, Wake County Economic Development. "The SXSW trade show is truly a place where Raleigh can shine. We are excited to represent this incredible community." 
The economic development collective will be joined at SXSW this year by other well-known Raleigh names, including:
The Raleigh SXSW team will be sharing live updates on the trade show, booth activities, relevant panel content from Raleigh area presenters and photos from the show. This information can be found at eastcoastmadeeasy.com, Raleighwake.org/blog, Visit Raleigh's Tourism Talk blog and on social media @RaleighWake, @Raleigh4u, @VisitRaleigh and #Raleigh2SXSW.
 

Author: visitRaleigh
The Greater Raleigh Convention and Visitors Bureau (GRCVB) is the official and accredited destination marketing organization (DMO) for all of Wake County.
Comments