visitRaleigh.com's Directory of Event Services & Suppliers
Friday, May 19, 2023, 12pm by Andrew H. Baker, CGSP®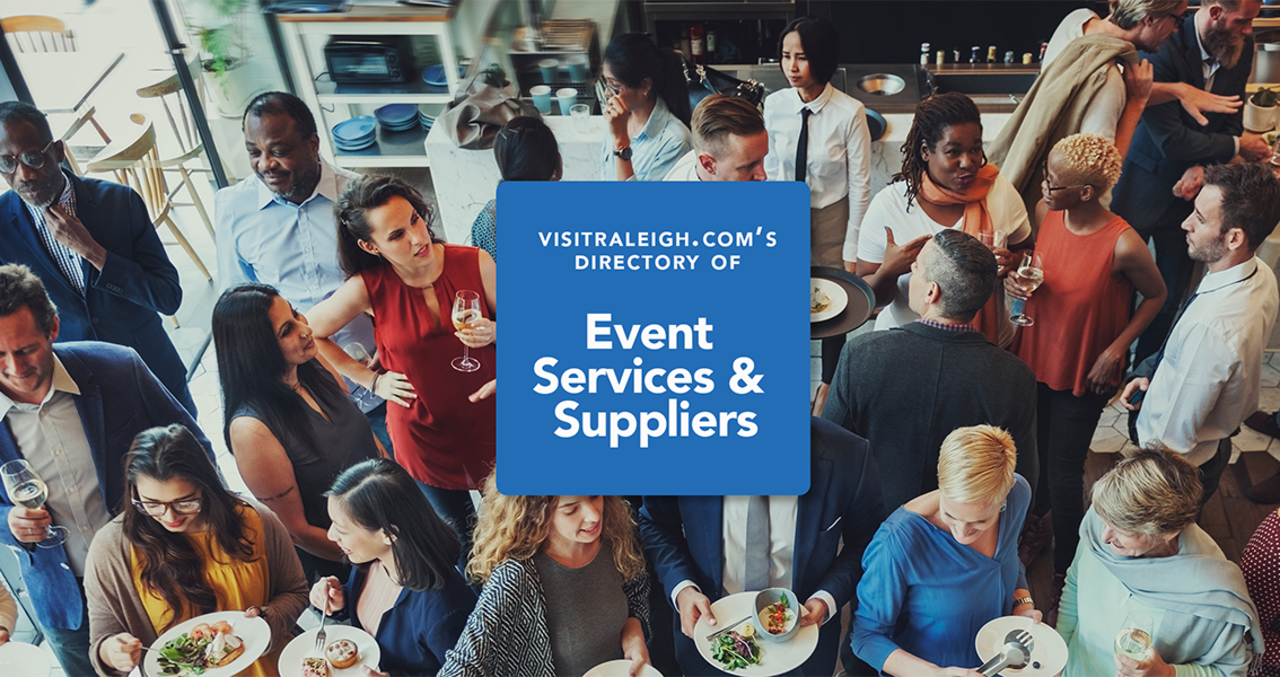 GRCVB is a fount of resources for Raleigh and Wake County hospitality businesses. From personally connecting meeting planners with venues or hotels to free listings for hospitality businesses around the county on visitRaleigh.com, we serve tirelessly to promote our business partners and problem-solve through multiple channels. 
One channel we are highlighting this week is our Directory of Event Services & Suppliers listings located under the Meetings & Conventions side of visitRaleigh.com. This search webpage is our repository of any Wake County-based companies that assist with meetings/events, venue setup or any related service needed by event planners. Be it audio/visual, catering, team-building and activations or even balloon services, the Event Services listings (ESL), as we affectionately call them, have numerous options that are of importance to professionals who plan events here.
New to utilizing this directory or looking to be listed? Here are five things to know before diving in: 
• For planners, make your search easier and sort by category or area.
Initially the webpage shows every partner business listed in the directory, regardless of their category, which can be a bit overwhelming as there are more than 500. By filtering the companies via the dropdown selector "Category," your search will be easier and results more aimed at your needs. Looking for an audio/visual company in Apex? Or hosting a party in Wake Forest and want a caterer in that locale? Event planners can search for companies in 18 different areas around the county—very helpful when trying to save on time and delivery/transportation costs.
• For Wake County partners, our Services Department can send you leads! 
While some meeting/event professionals utilize our ESL to find providers on their own, others work in-tandem with our Destination Services Department to conduct requests for proposals (RFPs) through our Partner Information eXchange Login (PIXL, for short). Users can find and respond to Service Requests within PIXL under the Opportunities section. (For more information on utilizing PIXL or getting set up with access, see our previous "Five Things" blog post.)
• For planners, "Around Raleigh and Wake County" means this is a mobile service.
If suppliers listed note this as their address, they are a mobile service that can come to you. Flexibility is the key to pulling off a successful meeting or event, and suppliers that can meet you where you are can save everyone time and energy.
• For Wake County partners, help us keep your listing up-to-date.
GRCVB works hard to maintain all hospitality-facing business listings for Wake County, but that's a hefty task with more than 4,000 businesses and organizations serving area visitors and destination clients. For current GRCVB partners, if any information appears incorrect, contact us, and we will update your account's listing(s); you can also make updates yourself within PIXL. (Note: Changes made in PIXL take roughly an hour to show on visitRaleigh.com after internal review.)
• For everyone, we're always looking for partners we missed!
Are you an event services supplier and don't see yourself in our directory? Are you an area chamber executive and notice that some of your members are missing? Let us know! As long as a business is within Wake County, we will freely list your services to convention/meeting/wedding/reunion planners holding events here. Contact the Destination Services team or marketing manager Andrew Baker, CGSP®, to get started with new account setup.
For professional planners (and even area hotels' or venues' in-house services managers), we hope the ESL can help you save time, stay within budgets and get inspiration from the Raleigh area's creative entrepreneurs. And for Wake County suppliers, we hope to drive new business through incoming groups and existing events returning to the area (keeping as much spending "local" as is possible)!

Author: Andrew H. Baker, CGSP®
Andrew H. Baker, CGSP®, is marketing manager at the Greater Raleigh CVB and works directly with local partners to help promote Raleigh, N.C., as a destination of smart, savvy and passionate people.
Comments