Boutique Music Instrument Retail in Raleigh, N.C.
Thursday, November 12, 2020, 4pm by David Menconi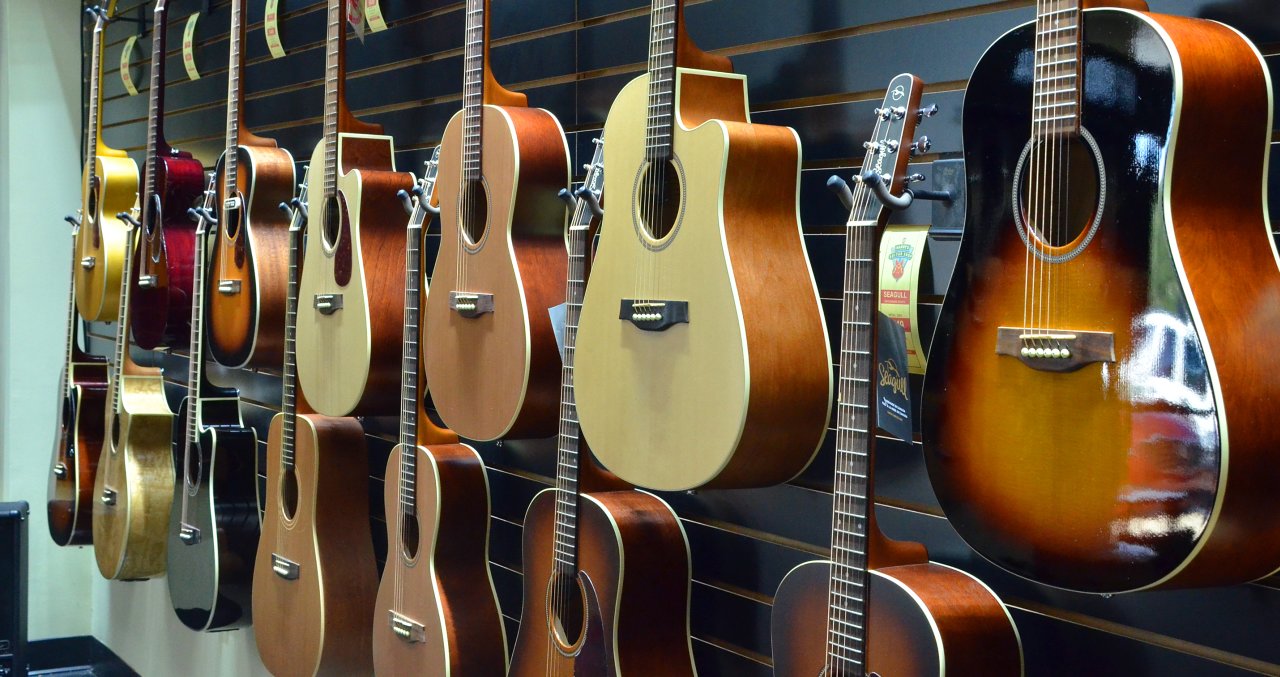 Note: Authored by David Menconi, this piece has been produced in partnership with Raleigh Arts. Menconi's latest book, "Step It Up and Go: The Story of North Carolina Popular Music, from Blind Boy Fuller and Doc Watson to Nina Simone and Superchunk," was published in Oct. by University of North Carolina Press.
---

It's true that online shopping can bring literally anything to your door. But for certain items, there's just no replicating the in-store experience of trying before buying—especially when it comes to musical instruments. Raleigh, N.C., is blessed with a number of first-class independent boutique retailers offering a wide range of instruments, accessories and gear, four of which are profiled below.
All four are open and still doing business in the COVID-19 era, with appropriate safety and social-distancing protocols, but hours and on-site availability may vary. Best to check ahead of time before dropping in (or even make an appointment if necessary).
 
Proprietor John Montgomery's violin sales and repair shop has sat a few blocks west of the North Carolina State Capitol since 1986, long enough to witness Raleigh's music culture industry reach critical mass. With more people playing more music in more styles and more places than ever before, he keeps busy making, selling and fixing instruments for players and teachers in a wide range of styles.
"We start and end with bowed strings," Montgomery says. "No guitars—just violin, viola and cello, and we do every kind of music played on those three instruments. I'm trained and experienced in period performance practice and setup, but there's also the bluegrass and old-time crowd, and even a few jazz and rock players thrown in. With World of Bluegrass being in Raleigh now, it seems like bluegrass and old-time is more popular than ever here. But it's popular all over, everywhere."
A Raleigh institution since the mid-1980s, Harry's Guitar Shop was located for many years on Glenwood Ave. near Peace St. It moved to a bigger space in an office park in 2015 (not far from The Raleigh Market and the North Carolina State Fairgrounds). In both places, it's been a hub of the local music scene for instruments, gear, repairs and lessons (although the teaching program is offsite and virtual while the virus prevails). Proprietor Harry Tueting reports that business remains brisk despite the pandemic.
"A lot of people are working at home and realizing they should get back to their guitar," Tueting says. "So we've been doing a lot of repair work on guitars coming out from closets or from under the bed. Just people rekindling things they can do at home, and music is one of those things—unlike football, it's something you can go back to when you're 44. It's weird times, but heartening that so many people have come into music again. We're still in a vibrant business period, just different because nobody has any gigs right now."
Guru Guitars started up around 13 years ago not far from the North Carolina State University campus on the Hillsborough St. main drag. The same year Harry's said goodbye to Glenwood Ave., Guru also moved west, ending up less than a mile from their fellow guitar shop friends. Service and repairs account for a good chunk of Guru's business, with in-house luthiers also turning out instruments.
"It's a place where people come in and know they're talking to someone who knows a lot about guitars and how they work," says co-owner Howard Critcher. "Our service side is what people get a good feeling about, along with us having unusual old items around that you don't usually see. It's an interpersonal relationship when you work on someone's guitar and have a back and forth about their playing style and the sound they're trying to produce. We'll go out of our way to get that right."
Billed as the state's largest drum specialty store (and named after the 1976 progressive-rock/drum-heavy landmark album by the band Rush), 2112 Percussion has always been a "Drums Spoken Here" kind of place. Original owner Steve Johnson first started doing business out of a storage shed in nearby Zebulon in the mid-1980s before moving to a now fast-growing area just north of downtown Raleigh off E. Whitaker Mill Rd. And even though Johnson is gone, having passed from cancer in 2016, current co-owners Tony Williams and Chris Henderson consider it a point of pride to keep the atmosphere the same as it ever was.
"We try to keep the same vibe that Steve had back in the day," says Henderson. "The general vibe is an old-school neighborhood place. Like Tony says, we try to be the 'Cheers' of drum shops and offer what the other guys don't—knowing your name, service, doing a lot of repairs. When people need their stuff worked on, most other shops can't do that. Everybody here has been doing it for a long, long time and we all play, too. So there's an element of trust. People want to hear your opinion when you really use the gear and know what you're talking about."
Header photo of Harry's Guitar Shop by Mark Boytos
You might also like...
Comments