A Guide to Carolina Hurricanes Hockey in Raleigh, N.C.
Tuesday, October 10, 2023, 12pm by visitRaleigh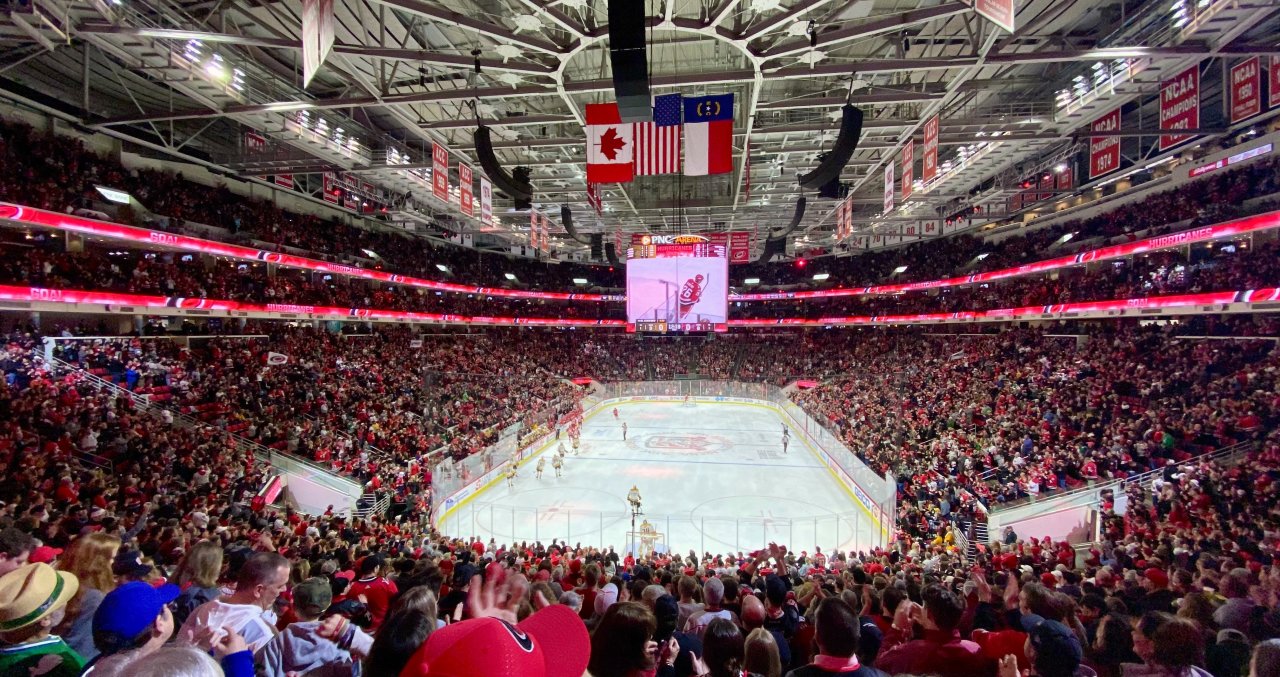 The most fun team in hockey.
The loudest house in the NHL. 
A lineup loaded with talent and a top contender for the Stanley Cup. 
The last five seasons have been a heck of a ride for the Carolina Hurricanes. 
Owner Tom Dundon purchased the franchise in late 2017, former Canes player Rod Brind'Amour was brought on as head coach just a handful of months later, the team made five straight playoff appearances (including two trips to the Eastern Conference Finals), annihilated the Washington Capitals at the 2023 Stadium Series game and finished the most recent season with an average attendance of 19,526 fans filling the seats at PNC Arena (good for second best in the league). 
With the puck dropping on the team's 26th season in the Tar Heel State this month (Oct. 11 vs. Ottawa is opening night!), this new era of Canes hockey has made one thing loud and clear: Raleigh is a hockey town. 
"North Carolina is a hockey state. Raleigh is a hockey town. We are grateful for the opportunity to be able to go to these games."

--@RoyCooperNC https://t.co/VRq7jfRq5z

— Carolina Hurricanes (@Canes) June 13, 2019
Expectations are sky high again for the 2023-2024 season. 
Coming off back-to-back record-setting regular season finishes, the entirety of the Canes' core roster returns to the ice this year (forwards Sebastian Aho and Andrei Svechnikov, plus defensemen Jacob Slavin and Brent Burns, are among the fan favorites and best-selling jerseys), and the team added lefty veteran defenseman Dmitry Orlov as a free agent signing, to boot. 
Four staff writers for NHL.com predicted the Canes as the winner of this season's Stanley Cup. Put simply, this team is going to be good.
Whether you're new to hockey, new to the Canes or just don't want to miss out on the hottest ticket in town, we have some frequently asked visitor questions answered here to help guide your game day!
How do I get tickets to Hurricanes games?
Individual game tickets for Carolina Hurricanes games can be purchased online through Ticketmaster, or at the box office at PNC Arena (open Tues.-Thurs., 10am-4pm; also open on event days).
Ticket prices vary but start at approximately $30. 
Where is PNC Arena? How do I get there?
PNC Arena is located at 1400 Edwards Mill Rd. in Raleigh, approximately 6.5 miles from downtown Raleigh (15-20 minutes by car with normal traffic). 
Most fans arrive at PNC Arena by car. The cost to park at PNC Arena is $40 (card only), or $25 if you purchase your parking in advance (add parking when completing your ticket purchase, or purchase separately later through ParkWhiz).
Rideshare services are available, with a dedicated drop-off and pick-up zone located at Gate C off Trinity Rd. (Carter-Finley Stadium Gate C is the named entrance location on Google Maps).
I also hear there's....tailgating? For hockey? 
Yes—this is the South, after all—so good weather means a good time inside and outside the arena. 
You'll find tents, tailgaters, beer, barbecue, corn hole, street hockey, music and more happening in the parking lots beginning three hours prior to puck drop. Tables, chairs, grills, coolers and more are all allowed, though you need to be mindful of leaving other parking spots clear.
If you're coming from out of town and can't bring your own setup, no worries, it doesn't take much to make new friends (though it does help if you bring your own alcohol). 
Where can I get some Canes gear?
It's no secret that hockey fans love to rep their team with all kinds of swag: jerseys, hats, beanies, T-shirts, scarves, hoodies and more. The Canes' yearly uniform announcement is always front page news around here (they'll be wearing black sweaters for most home games this season). 
The Eye is the official team store of the Carolina Hurricanes, and it's located at PNC Arena (open Mon.-Fri., 10am-4pm, plus during games). For shopping official team gear online, visit CarolinaProShop.com.
Is there any good food sold during Canes games at PNC Arena?
Barbecue and nachos and pizza and more (even specialty coffee)—yes! Much of the food at PNC Arena is served up by Raleigh area restaurants—Gonza Tacos y Tequila, Buena Papa Fry Bar, Buffalo Brothers Pizza & Wing Co., Happy + Hale and others. 
You can read more about the food options for this season here.
Where can I find a good sports bar?
The closest restaurant to PNC Arena also happens to be a happenin' sports hangout. Since 2009 Backyard Bistro has delivered barbecue, burgers, wings and other elevated sports bar favorites to Caniacs for pre- and post-game eats. The restaurant is also home to Canes Corner, a one-hour live radio show hosted by Mike Maniscalco that features a Hurricanes guest on select Mondays. The schedule for this season is still being developed, but you can keep an eye on it here. 
Other favorites in the Raleigh area:
Are there giveaway nights? Theme nights?
Yes and yes!
Oct. 11, all fans receive opening night LED rally towels
Oct. 26, first 10,000 fans receive schedule magnet
Mar. 7, first 10,000 fans receive Brent Burns bobblehead
Mar. 28, first 10,000 fans receive Martin Necas bobblehead
And theme nights:
Oct. 11, Opening Night
Nov. 15, Hockey Fights Cancer Night
Dec. 15, Hall of Fame Night
Jan. 11, Star Wars Night
Jan. 21, NASCAR Day
Feb. 10, Whalers Night
Feb. 22, Pride Night
March 2, Kids Day
March 14, Military Appreciation Night
April 7, North Carolina Day
What else is there to do near PNC Arena? Around town?
It's easy to round out a 36-hour itinerary anchored by a Canes game. 
Just down the road from PNC Arena is the free-admission North Carolina Museum of Art (open Wed.-Sun.)—one of the premier visual art museums in the South—featuring two buildings filled with galleries, educational studios and special exhibitions (the museum's 164-acre outdoor park is the biggest of its kind in America, too). In downtown Raleigh, the North Carolina Museum of Natural Sciences and North Carolina Museum of History (home to the North Carolina Sports Hall of Fame) are open Tues.-Sun. with free admission as well. 
About one mile from the arena is Drive Shack, an interactive, three-story golf complex that delivers big entertainment (96 climate-controlled golf bays, a full-service restaurant, a rooftop bar, more than 300 televisions, an arcade area and more). 
Opened early in 2023, a second location for Rush Hour Karting—this one 12-15 minutes away from PNC Arena in Morrisville—features the state's first two-story race track with speeds of up to 40 mph (plus axe throwing, both racing and golf simulators and a full restaurant).
For outdoor exploring, nearby William B. Umstead State Park is a peaceful getaway with 13 miles of multi-use trails that follow a series of rolling hills (perfect for horseback riding, jogging and cycling) and 22 miles of dedicated hiking trails.
And of course there's no shortage of good eats and drinks, but for starters you can read up on some of the best restaurants that opened in the first half of this year, plus take a look at the Raleigh Beer Trail to see how you can earn rewards for visiting local breweries (Ancillary Fermentation, Funguys Brewing, Neuse River Brewing Company and Standard Beer and Food are among the standouts, and R&D Brewing is the maker of Storm Brew, the official beer of the Hurricanes that you'll find at PNC Arena).
Can you recommend a few games to consider attending?
Absolutely. And frankly, it's hard to go wrong, so if you see something on the home schedule that works for you—go for it. 
But if you're coming from out of town, why not make the most of it? The games we've selected below are paired with another event to make for back-to-back nights (or even double-header days) of fun at PNC Arena. You can find a full schedule of events at PNC Arena here.
Oct. 25, Dave Chappelle (comedy); Oct. 26 Canes vs. Kraken
Nov. 6, North Carolina State University (NCSU) Men's Basketball vs Citadel; Nov. 7 Canes vs. Senators
Nov. 14, Rod Wave (music); Nov. 15 Canes vs. Flyers
Nov. 17, NCSU vs Charleston Southern; Nov. 18 Canes vs. Penguins
Dec. 23, NCSU vs Detroit, Canes vs. Islanders**
Jan. 6, NCSU vs Virginia, Canes vs. Blues**
Jan. 10, NCSU vs UNC, Jan. 11 Canes vs. Ducks
Jan. 19, Canes vs. Red Wings; Jan. 20 NCSU vs Virginia Tech; Jan. 21, Canes vs. Wild
Feb. 24, NCSU vs Boston College, Canes vs. Stars**
** indicates two events in one day at PNC Arena
Comments