The Best New Restaurants in Raleigh, N.C.
Friday, July 28, 2023, 8am by visitRaleigh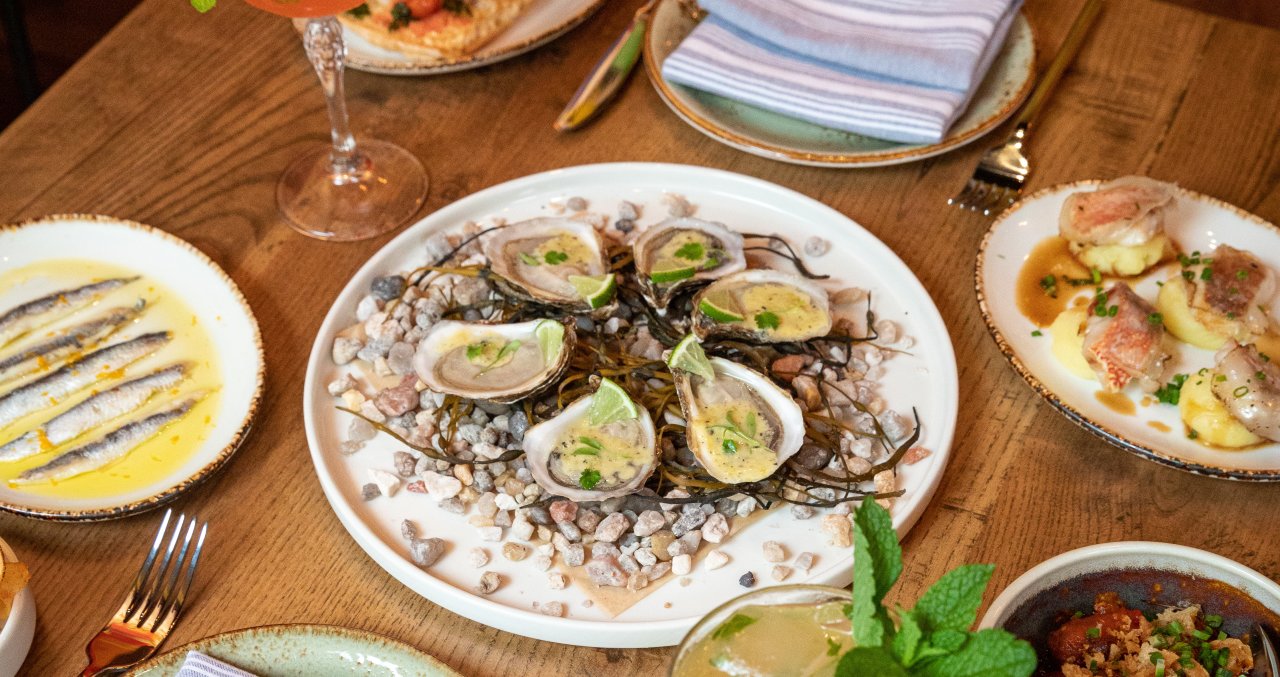 It's been a sizzling first half of 2023 for great new food in the Raleigh area, for BBQ spots to sandwich shops and more. We have 10 new places—a range of unique concepts—to help find new favorites and expand your horizons for your next night on the town. Let's dig in!
Undoubtedly one of the year's most hotly anticipated restaurant openings in the Raleigh area, this Mediterranean small-plates restaurant was created and named in celebration of motherly hospitality. Opened at the end of June within Raleigh's lively Smoky Hollow district, Madre's menu—salmon crudo, Spanish octopus, Calabrian chicken, salchipapas and more bright flavors—pairs perfectly with the interior vibe: warm, upscale and sleek, with just enough restraint for relaxed date nights and late nights with friends.
Address: 518 N. West St., Raleigh, NC 27603
For five-time James Beard Award nominee chef Cheetie Kumar, Ajja is not so much an attempt to reinvent her beloved restaurant Garland—which shuttered after a near decade run in downtown Raleigh in 2022—as it is a chance to build upon its legacy. 
Tucked within a growing neighborhood just north of downtown Raleigh, Ajja matches Mediterranean and Middle East eats (grilled meats, dips, spreads and warm bread) with an impressive bar menu, retro decor and perhaps the best new patio dining in town. 
Address: 213 Bickett Blvd., Raleigh, NC 27608
A sister concept to the critically acclaimed M Sushi (opened in 2022 at Fenton in Cary), M Test Kitchen is chef Michael Lee's newest travel-worthy dining destination, acting as a testing ground for dishes that could eventually make their way to Lee's other restaurant menus, and a no-limits creative space for a chef team working on an ever-rotating menu of Asian-focused small plates (a sample of which you can scroll through below). 
Address: 4 Fenton Main St., Ste. 120B, Cary, NC 27511
Opened in February—also at Smoky Hollow just a couple doors down from the previously mentioned Madre—this wildly popular barbecue joint is known for its all-hickory-smoked 'cue that draws influence from Texas, the Carolinas and beyond. 
First opened in Charlotte just over a decade ago and thriving with a handful of other locations in the Carolinas now, the Raleigh menu brings the same raved-about smoked meats to the City of Oaks that Lexington-native pitmaster Matthew Barry has had so much success with elsewhere. Can we sign you up for Carolina pork, burnt ends and beef brisket?
Address: 409 W. Johnson St., Raleigh, NC 27603
The greatest hits of East Coast sandwich culture—cheesesteaks, hand-breaded cutlets, roasted turkey, Italian heroes and more—rolled into one super sandwich shop run by a couple of guys from Jersey and the Bronx.
Eastcut Sandwich Bar is the first restaurant to open at the in-progress Raleigh Iron Works development in a booming part of town, and it won't be long before they're joined by a new Raleigh location from fellow Bull City favorite Ponysaurus Brewing later this year (Eastcut originally opened in Durham in 2017). 
Address: 1101 E. Whitaker Mill Rd., Ste. 126, Raleigh, NC 27604
Now open at the new Westin Raleigh-Durham Airport, Il Falò—which means "bonfire" in Italian—is an upscale restaurant offering wood-fired Italian cuisine in a gorgeous, modern dining room. James Beard Award-winning chef Bradford Thompson developed the menu that takes full advantage of the restaurant's stone hearth, wood-fired pizza oven: sourdough pizza, wood-roasted chicken, dry-aged meats, hand-made pastas, an array of charred vegetables, desserts and more are sure to keep guests plenty happy. 
Address: 3931 Macaw St., Raleigh, NC 27617
Simply put, this fun Mexican restaurant in the heart of Fuquay-Varina is named for the citrusy, tequila-based concoction served in "jarritos de barro grandes"—a big clay cup—like you see below. And it's no mistake that a cantarito (or a margarita, mangonada, mojito, mezcalita etc.) will pair magnificently with the restaurant's full menu of fajitas, burritos, chips, guac and queso. 
Address: 155 S. Main St., Fuquay-Varina, NC 27526
A modern day fine dining experience, East End Bistrot's unique decor and design (whimsical, chic and romantic) keeps things playful, while executive chef William D'Auvray and his team deliver absolutely stunning French flavors and wine pairings that make any night out a special occasion. Chef D'Auvray is no stranger to great food in Raleigh—he opened his first restaurant, Fins, to serious acclaim all the way back in 1997. 
Address: 2020 Progress Ct., Ste. 110, Raleigh, NC 27608
One of the Tar Heel State's most prolific restaurateurs, Giorgios Bakastias has focused on building his eatery empire within the City of Oaks in recent years. 
He opened East End Bistrot (above), the critically acclaimed Rosewater Kitchen & Bar in Raleigh's North Hills in 2019 and now Las Ramblas in the same area early this year. 
This Spanish tapas spot, named for the famed boulevard in Barcelona, features a bustling bar and open kitchen, with a menu highlighted by modern updates to traditional tapas dishes—patatas bravas, suckling pig, fried calamari, beef carpaccio and a dozen other shareable favorites (plus desserts, too).
Led by chef Brian Jenzer—whose background includes work at Momofuku Noodle Bar in New York City and the Michelin-starred restaurant Iggy's in Singapore—Las Rambles opened on Jan. 17. 
Address: 141 Park at North Hills St., Ste. 100, Raleigh, NC 27609
For husband and wife duo Rashad and Saadia Smith, the journey from neighborhood cookouts to pop-up markets to a new brick and mortar restaurant in Wake Forest has been a long grind—and a dream come true.
The number one question they're asked—"why barbecue and smoothies?"—is met with an easy answer: this is what they know and love. Florida natives who spent time in Texas while in the Army, the restaurant now serves Texas-style barbecue (brisket, burnt ends, beef oxtail, smoked chicken and more) paired with dessert smoothies (banana pudding, blueberry cobbler, strawberry apple pie and so on). So yes, bring your appetite!
Address: 1318 S. Main St., Wake Forest, NC 27587
Header photo of Las Ramblas by Forrest Mason Media
Comments