Celebrating 50 Years of Hip-Hop with the City of Raleigh Museum
Monday, August 07, 2023, 9am by David Menconi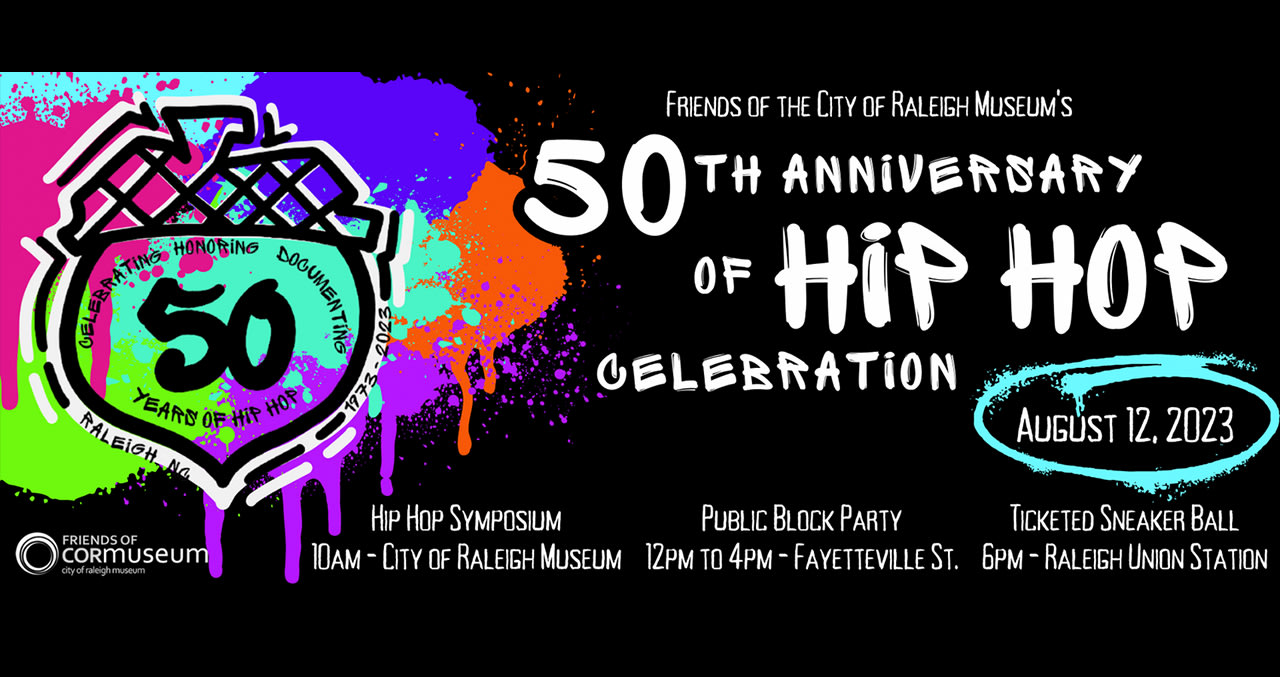 Note: Authored by David Menconi, this piece has been produced in partnership with Raleigh Arts. Menconi's next book, "Oh, Didn't They Ramble: Rounder Records and the Transformation of American Roots Music," will be published in the fall of 2023 by University of North Carolina Press. His podcast, Carolina Calling, explores the history of the Tar Heel State through music.
---

The Raleigh area has a vibrant modern-day hip hop scene with high-profile luminaries including J. Cole (and his annual Dreamville Festival), Little Brother, 9th Wonder, Rapsody and Petey Pablo (whose 2001 hit "Raise Up" has been the Carolina Hurricanes hockey team's goal-scoring song for the past five seasons).
But the city has an equally vital history that goes back decades, all of which is worth pondering as hip-hop reaches the half-century mark in 2023. The musical style was invented in the Bronx in the summer of 1973, and there are various events and concerts happening in cities across America to mark the genre's 50-year anniversary.
Downtown Raleigh's City of Raleigh Museum has a full slate of events—symposium, block party and concert—scheduled for its 50th Anniversary of Hip Hop Celebration on Sat., Aug. 12. The City of Oaks' celebration is going to have a decidedly local flavor, however, in that organizers plan to celebrate the community as much as the culture and music.
"We wanted to create more of an organic hometown feel that's different from events happening elsewhere," says Grady Bussey, a City of Raleigh Museum board member (and community-relations analyst for the city's Neighborhood Enrichment Services Division), who is one of the event organizers. "Our purpose here is to make it reachable and feelable for people who were there. Most were not getting onstage and rapping themselves, but they still have a connection—'I was at a party, and this was my favorite song playing.'"
To that end, the museum turned to crowd-sourcing by putting out a call for local residents to submit photos depicting hip-hop music and life in Raleigh and across the state. A substantial number of the photos that came in were from the period of Raleigh's first major hip-hop peak, the early 1990s, on campuses at historically black colleges and universities in the area. That was the era when major acts including Lords of the Underground and Yaggfu Front emerged.
 
---
10am-noon: Hip-hop symposium at City of Raleigh Museum (free)
Noon-4pm: Block party on Fayetteville St. (free) with live music, car show, graffiti artists, dance performances, deejays, vendors, food trucks
6-10pm: Raleigh's Sneaker Ball concert at Raleigh Union Station (ticketed), with Terminator X, Brand Nubian, DJ Skillz, Butta Brown, Nacynze, DJ Damu 3AM Sound, Southside Heat and Toosii
---

A trio that formed at Raleigh's Shaw University in 1990, Lords of the Underground would be particularly important. The Lords put two albums into the top half of Billboard's main Top 200 album sales chart while scoring eight singles on Billboard's rap chart, including one that went all the way to No. 1 (1993's "Chief Rocka"). They paid tribute to their on-campus origins by filming a video on the Shaw campus, 1993's statement of purpose "Here Come the Lords."
The Lords' three members were transplanted Northerners who had come south for college. In that, they were part of a large reverse-migration wave that happened in the 1990s--one that brought St. Augustine's University alumnus Bussey to Raleigh, too.
"I'm from Long Island, so I was also part of that new migration back to the South," says Bussey. "When I was at St. Aug's, I knew a lot of people who had come from New York back down to North Carolina, and they brought their rap, hip hop and poetry experiences. The HBCUs here really were breeding grounds for it."
Events on Aug. 12 include a morning discussion at City of Raleigh Museum, where the solicited hip-hop photos will be on display. Following that will be an afternoon block party and car show outside the museum on Fayetteville St., including musical performances, break dancers, graffiti public art, hip-hop karaoke, food trucks and more. The symposium and block party are free and open to the public.
Closing things out that night will be the Hip-Hop Sneaker Ball at Raleigh Union Station, a concert complete with a red carpet walk and a lineup that features local as well as national acts, highlighted by 1990s hitmakers Brand Nubian and Terminal X, legendary deejay of Rock and Roll Hall of Fame act Public Enemy (who has lived in the Raleigh area for decades). The concert is a ticketed event.
"This event will be something that puts Raleigh in a different light," says Bussey. "I think we're creating the bar for what a community-engaging event looks like. People are accustomed to things like Dreamville, but this is more of an organic experience where people have a sense of ownership. They can feel part of something important and tell their story."
The City of Raleigh Museum is located at 220 Fayetteville St. in downtown Raleigh. Get full details for the Aug. 12 day of events here.
Comments