Craften Food Hall Now Open in Knightdale, N.C.
Thursday, February 10, 2022, 7am by visitRaleigh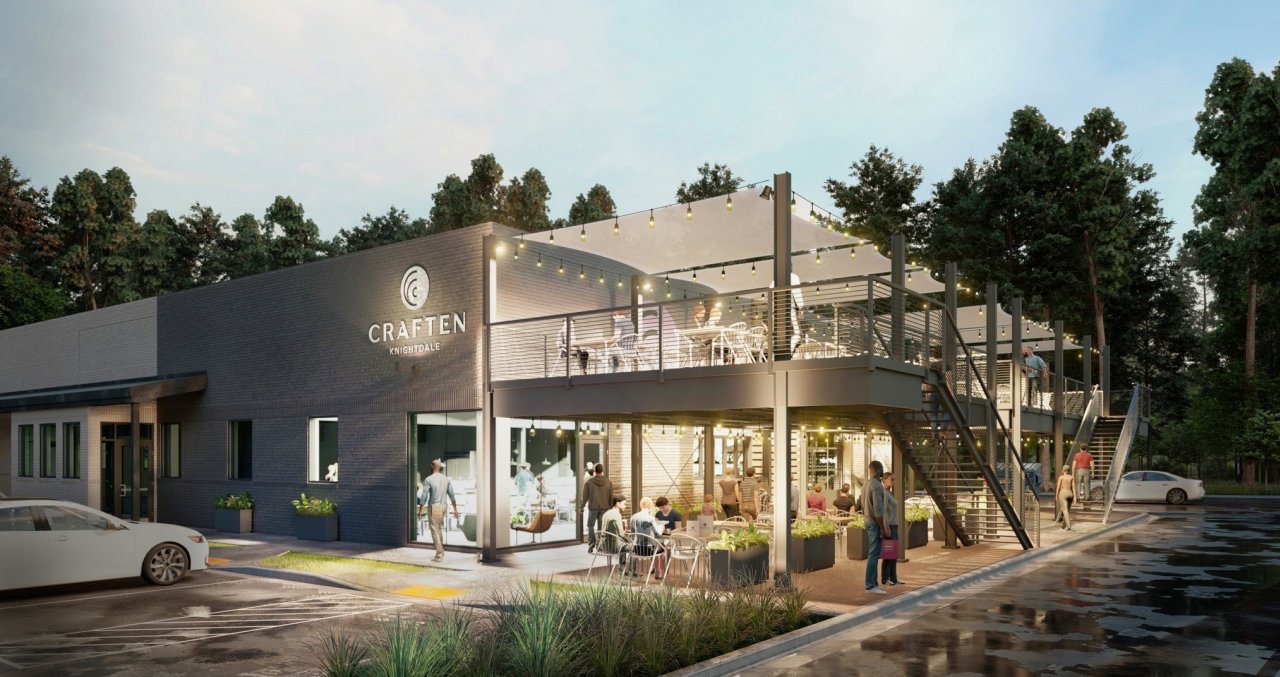 Are you ready for big news about good food in the Raleigh area?
Craften Food Hall—a 4,500-square-foot indoor and outdoor dining concept—is now open near downtown Knightdale, N.C.!
Created by local entrepreneurs Max Trujillo and Kip Downer, Craften's food hall space is home to four restaurants, a bar, a coffee shop and a double-decker patio (for good measure!). 
The grand opening was Fri., Feb. 11, from 4:30-11pm. 
The four food concepts serving within Craften are: 
The Craften bar will offer local beer and craft cocktails, and coffee from Workbench Roasters in nearby Wendell will be on hand. 
Craften—one of the first foodie spots to open among a slew of major new offerings coming to the Raleigh area in 2022—will differ from other food halls in one significant way. Instead of having parties splitting up to order with their chosen food vendor and waiting for their food before finding each other again, groups can grab a table and place their orders with a server or online, giving them as much as 15 or 20 extra minutes together.
"I love and hate food halls. What I hate is that you all have to split up to get your food. That's challenging with kids and can be impractical if you want to take your staff out to lunch, or something like that," co-founder Max Trujilio told food media website Flavor & The Menu last year. "But still, I go because there are so many great things about food halls, particularly the opportunity to experience different types of food. We wondered why we couldn't do what restaurants do and use technology to synchronize orders."
Trujilio, who hosts the popular North Carolina Food & Beverage podcast, is a longtime veteran of the food industry. He moved to Raleigh with his family in 2013 to help run the legendary Midtown Grille (and has worn many hats in the Raleigh area since).
Of course Raleigh is no stranger to the booming food hall trend. In summer of 2018, Morgan Street Food Hall opened in downtown Raleigh's Warehouse District as the first of its kind in the City of Oaks (and subsequently was named one of America's best new food halls by USA TODAY). Transfer Co. Food Hall followed shortly thereafter, opening in Feb. 2019 on the opposite side of downtown Raleigh, not far from Raleigh's Moore Square and historic City Market, and includes a number of standout vendors, including Benchwarmers Bagels (named one of America's best new restaurants in 2019 by Bon Appétit).
For its part, Knightdale—one of the fastest-growing towns in the Tar Heel State—is also attracting new hospitality businesses that appeal to residents and visitors in order to help keep up with the growing demand. In 2016, Oak City Brewing Company opened just down the street from Craften, becoming the town's first brewery since prohibition. In 2020, Christopher Prieto's Prime BBQ opened to rave reviews, instantly becoming one of the state's most sought-after 'cue joints. And expected to open this spring, The Depot on First will be an upscale, fast-casual restaurant located in a historic home in the heart of Knightdale. 
Craften Food Hall is located at 706 Money Ct. in Knightdale, N.C. Business hours will begin as Tues.-Thurs., 5-9:30pm; Fri. and Sat., 5-10:30pm; and Sun., 5-9:30pm. Lunch hours may be announced soon. Craften Food Hall is approximately 22-25 minutes by car from the heart of downtown Raleigh.
Header image courtesy of Craften Food Hall
Comments