The Most-Anticipated Restaurant Openings of 2022 in Raleigh, N.C.
Thursday, January 20, 2022, 9am by visitRaleigh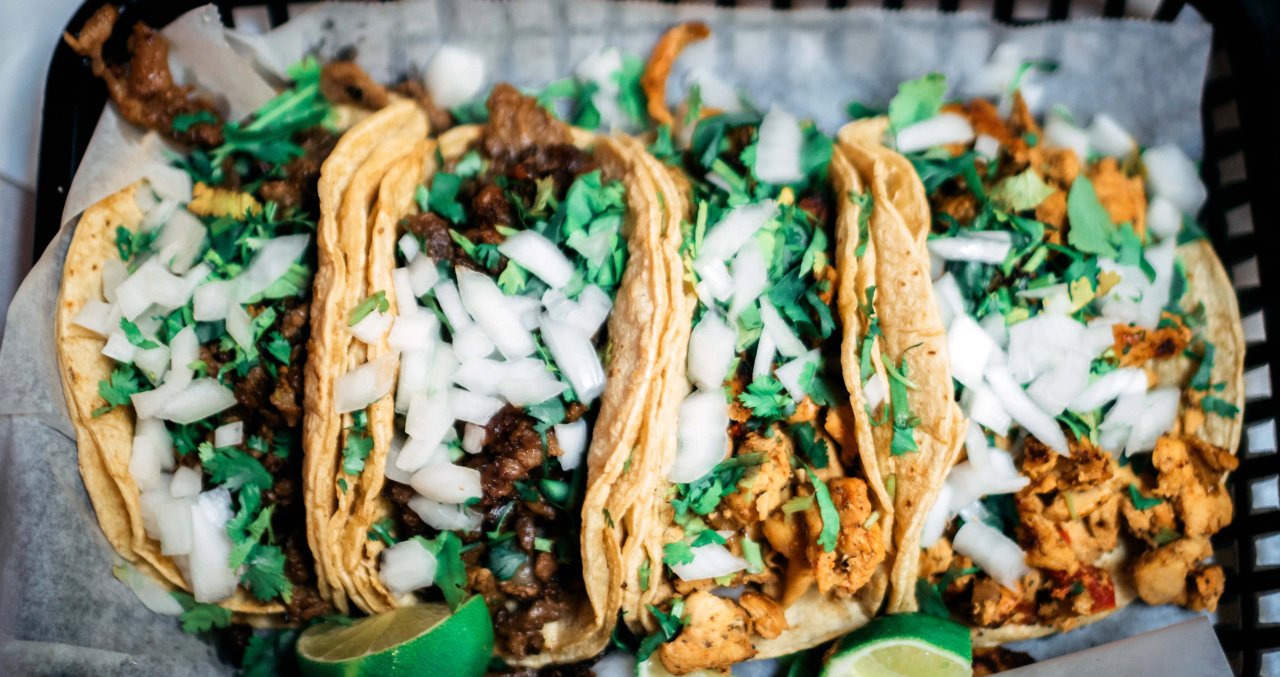 It looks like 2022 is going to be a big year for food in Raleigh, N.C. These highly anticipated restaurants—some of which delayed their original plans to open over the last year or more—have their eyes set on bringing new flavors to the City of Oaks in the coming months, a good sign for the hospitality community in Raleigh (and a great reason to plan a future visit). This may be one of the strongest collections of coming-soon restaurants the Raleigh area has seen in many years—read below about the barbecue, burgers, taco shops and sushi spots headed this way!
 
Gym Tacos
If there was a breakout star of Raleigh's culinary scene over the last few years, it may well be Gym Tacos. The blazing orange food truck made the leap from underground cult hero to darling foodie spot in the City of Oaks thanks to good word of mouth (plus tasty tacos, tortas and more), drawing seriously big crowds at a Valero gas station off Six Forks Rd. This year they'll make another leap, opening a brick-and-mortar location on Hillsborough St. across from Meredith College. Opening date is now set for Jan. 31!
Superica Cary
Five-time James Beard Award semifinalist chef Ford Fry has put his Texas roots to good use with his boutique Tex-Mex chain Superica, first opened in Atlanta in 2016. With eight locations across the Southern U.S. now, Fry has eyes set on Cary's upcoming 92-acre Fenton development for a ninth restaurant opening (Superica is the first of five restaurants from this list opening in Fenton this year). The menu should feature tacos, enchiladas, fajitas and the restaurant's hallmark wood-fired steaks, paired with a beverage menu that includes margaritas, tequilas and Mexican beers. As for the vibe? Honky-tonk music, chili-pepper adorned chandeliers and cowboy hats, of course. 
M Sushi Cary
Chef Michael Lee's M Sushi restaurant in Durham, slated to open a second location in Cary's Fenton development this year, is among the most decorated sushi restaurants across the Tar Heel State (or perhaps the country). Just this month, M Sushi was listed among OpenTable's top 100 restaurants in America. The Cary location is expected to be bigger than the original at nearly 4,000 square feet and will also feature a totally new menu (and the most highly coveted seats will still be up close and personal with the chefs at the sushi bar). 
Crawford Brothers Steakhouse
Scott Crawford—a five-time James Beard Foundation semifinalist for Best Chef: Southeast—has more than made his mark on Raleigh's booming food scene. A chic neighborhood eatery, Crawford and Son opened in the fall of 2016 in downtown Raleigh (and was subsequently named the area's "restaurant of the year" twice by local media), and Jolie, an intimate French bistro with a rooftop dining space, opened right next door in 2019 to rave reviews. 
Located in Cary's Fenton development, Crawford Brothers Steakhouse is expected to utilize a 4,500-square-foot modern dining space, specialize in house dry-aged beef and provide a full wine and cocktail program. First announced in 2018, this long-awaited restaurant is expected to open in late 2022. 
Midwood Smokehouse Raleigh
This wildly popular barbecue joint, known for its all-hickory-smoked 'cue that draws influence from Texas, the Carolinas and beyond, is set to open in Raleigh's Smoky Hollow district in the first half of this year. First opened just over a decade ago and thriving with four locations in Charlotte now (plus one in Columbia, S.C.), the Raleigh menu will bring the same raved-about smoked meats to the City of Oaks that Lexington-native pitmaster Matthew Berry has had so much success with elsewhere (sign us up for Carolina pork, burnt ends and beef brisket!). 
Craften Food Hall
Created by local entrepreneurs Max Trujillo and Kip Downer, Craften Food Hall ("Craften" is a blend of "craft" and kitchen") is a new food hall concept coming to the downtown area of Knightdale. The 4,500-square-foot space is expected to house four restaurants, a bar and coffee shop. The concept will be unlike other area food halls in that customers will order from their table like any full-service restaurant (as opposed to standing in lines at different vendors to order). Hamburgers, tacos and arepas are among the restaurant concepts to be included. Expected opening is spring of 2022.
Fine Folk
This pandemic-born pop-up shop that earned a cult following over the last two years is now ready for prime time with its own full-service restaurant. Led by chef Chris Lopez, Fine Folk has been described in a lot of ways since opening shop, but the restaurant's menu may say it best: "a high-end hole-in-the-wall bringing you well curated dishes with rad ingredients and a super rad rotating wine list." Until the grand opening, you can find the pop-up shop (Wed.-Sat. nights) right next door to its future permanent home, serving up dinner dishes like loaded steak frites, mushroom stroganoff, shrimp scampi and much more. 
Colletta Italian Food & Wine
This Georgia-based eatery will open a second location this year in Cary's Fenton development. Drawing influence from largely from Northern Italy, Colletta—"collection" in Italian—aims to provide a compilation of lively dining experiences, putting a twist on treasured classics and introducing modern culinary techniques with the changing of the seasons (house-made pastas, cheeses and other hand-crafted ingredients abound). 
The team behind Colletta—Indigo Road Hospitality Group—has already had success in the Raleigh area with the openings of O-Ku Sushi and Oak Steakhouse in recent years.
A'Verde Cocina and Tequila Library
Katsuji Tanabe—a renowned chef and three-time alum of Bravo TV's hit competition series Top Chef—has opened restaurants stretching from Los Angeles and Las Vegas to Chicago and New York City. But Tanabe relocated to Raleigh in late 2019, right before the pandemic shut down restaurants. Tanabe's newest project is ready for lift off, however, with A'Verde Cocina and Tequila Library set to pay homage to Tanabe's roots in Mexico City while featuring ingredients found local to the Raleigh area. A menu that offers a variety of the chef's favorite dishes, from cornbread and refried beans to pork shanks, octopus tacos and vegetable-forward offerings, is expected to be served starting in spring of this year. A'Verde Cocina and Tequila Library will be located in Cary at 2300 Walnut St.
Las Ramblas
This Spanish tapas bar, named for the famed "Las Ramblas" boulevard in Barcelona, is one of several upcoming projects from Giorgios Bakatsias. One of the Tar Heel State's most prolific restaurateurs, Bakastias also opened the critically acclaimed Rosewater Kitchen & Bar in 2019 in Raleigh's North Hills (where Las Ramblas will also open this year). Look for classic Spanish tapas with old and new world influences, complemented by Spanish wines and sherry. Seating for 90 indoors and 30 outdoors will offer ample areas for guests to enjoy, from the bustling bar and open kitchen to the festive dining room with windows open to the street. 
Giorgio Pizza Bar
Speaking of Bakatsias, how about a pizza place named for the man himself? This pizzeria and bar will serve signature thin-crust sourdough pizzas, plus a variety of seasonal salads and vegetable and pasta dishes slow cooked in earthen clay pots, alongside Italian wines and craft cocktails. Guests will enjoy the large bar with views of pizzas being hand tossed, including 100 seats total indoors and 25 outdoors on the terrace garden. Giorgio Pizza Bar will open in the same building as Las Ramblas at 141 Park at North Hills this year.
Honeysuckle Gelato
This Atlanta-based food truck-turned-gelato shop will join the fun within Cary's Fenton development this year, opening their fifth retail location and offering seasonal baked goods, gelato scoops and sandwiches plus sorbet offerings.
Longleaf Swine
Having just announced that construction has now started on their highly anticipated brick-and-mortar restaurant in downtown Raleigh, Longleaf Swine is bringing all the smoked meat eats to the party for your enjoyment. From food trailer in 2016 to locally loved 'cue truck—named for the state's signature pine—the partnership between Adam Cunningham and Marc Russell has built a following through hard work and great pork, offering a taste of what's to come through various pop-up locations over the last two years. The restaurant's menu plans to showcase whole-hog smoked pork, ribs, brisket, sausages, homemade sides and more (and you can score some takeout meals from the restaurant while waiting for the dining room to open later this year!).
The BBQ Lab at North Hills
The first spinoff barbecue joint from the team behind The Redneck BBQ Lab in Benson, N.C. (where 'cue scientists Jerry Stephenson and Roxanne Marley have brought home more than 40 Kansas City Barbecue Society Championship awards), The BBQ Lab at Raleigh's North Hills comes with big expectations and likely big crowds—weekends at the original location have been described as "a beautiful circus." 
Despite Stephenson's upbringing on whole-hog barbecue in Eastern N.C., the menu at The BBQ Lab was created with a different idea in mind—you'll find competition-style, slow-smoked cuts of beef brisket, pork, chicken, turkey and sausages. That means an early start to every morning and often a sellout by early afternoon (and once the day's food is gone, it's gone—so plan to be there early!).
The Rainbow Luncheonette
An old-school lunch counter with a vibrant flair, this short-order restaurant is planned for downtown Raleigh's Rainbow Building (the home of Rainbow Upholstery and Furniture Company for 36 years, now home to a number of tenants including the incredible Layered Croissanterie). The 23-seat restaurant is expected to be open for breakfast, lunch and dinner and boast a diner-like menu that doesn't disappoint. Proprietor Jason Howard is also behind The Cardinal just around the corner, so pop in there for a darn good hot dog while you impatiently wait for the doors to open up here.
Upcoming food and drink events in Raleigh, N.C.
Triangle Restaurant Week 2022, Jan. 24-30, 2022
5th Annual Frosty Beer Festival, Feb. 5, 2022
Krispy Kreme Challenge (virtual), Feb. 5, 2022
Mid-Town Square Spring Festival, April 2, 2022
Tacos 'N Taps, April 2, 2022
Casks on Fools, April 3, 2022
Cary Downtown Chowdown, April 10, 2022
North Carolina 'Cuegrass Festival, April 16, 2022
Brewgaloo, April 22-23, 2022
Downtown Raleigh Food Truck Rodeo, May 1, June 12 and Aug. 7, 2022
Town of Cary's Pimento Cheese Festival, June 11, 2022
Peak City Pig Fest, July 22-23, 2022
Beer, Bourbon & BBQ Festival, Aug. 5-6, 2022
Comments