Now Open in Raleigh, N.C.: North Carolina Freedom Park
Friday, August 25, 2023, 8am by visitRaleigh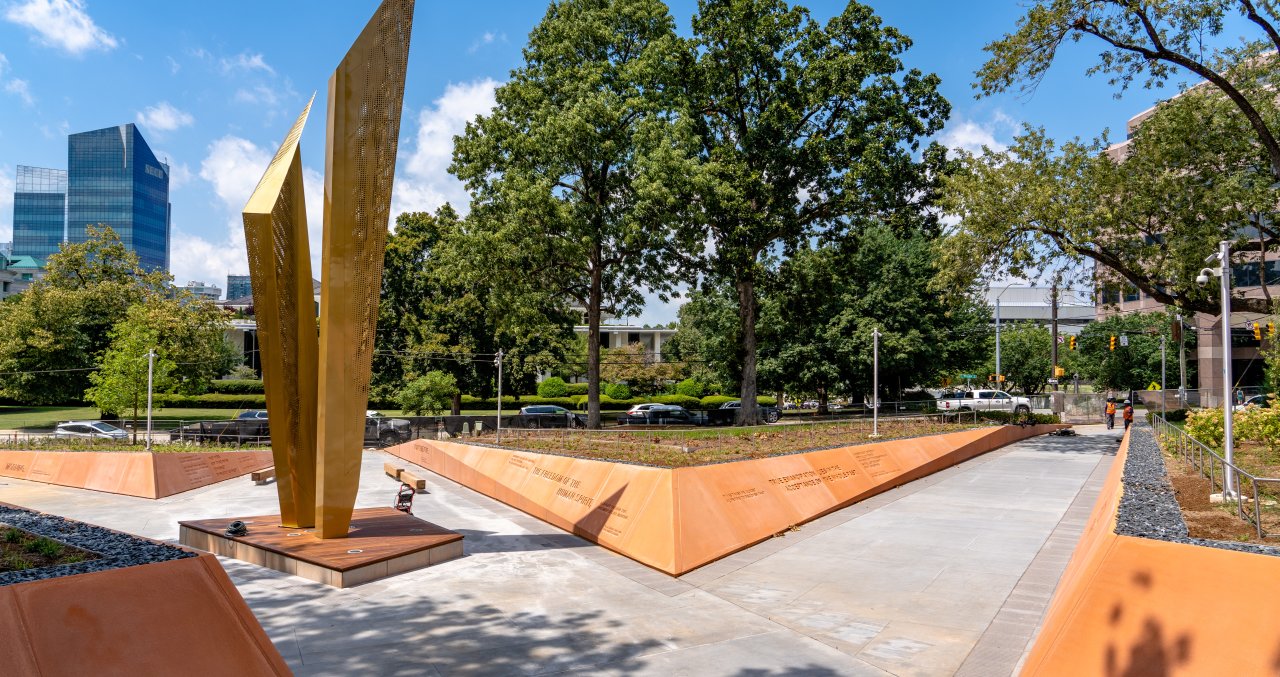 The state's first park to honor the African American struggle for freedom—plus powerful triumphs along the way—is now open in downtown Raleigh. 
An idea many years in the making, North Carolina Freedom Park is a one-acre site that offers inspiring words and a space for reflection.
Built using a mix of private and public funds, the park is managed by the North Carolina African American Heritage Commission (NCAAHC), who describes it as "a timeless tribute to the universal ideals of liberty, resilience and equality."
The park is located at 218 N. Wilmington St., just steps from the North Carolina Museum of History, North Carolina Museum of Natural Sciences and North Carolina Executive Mansion.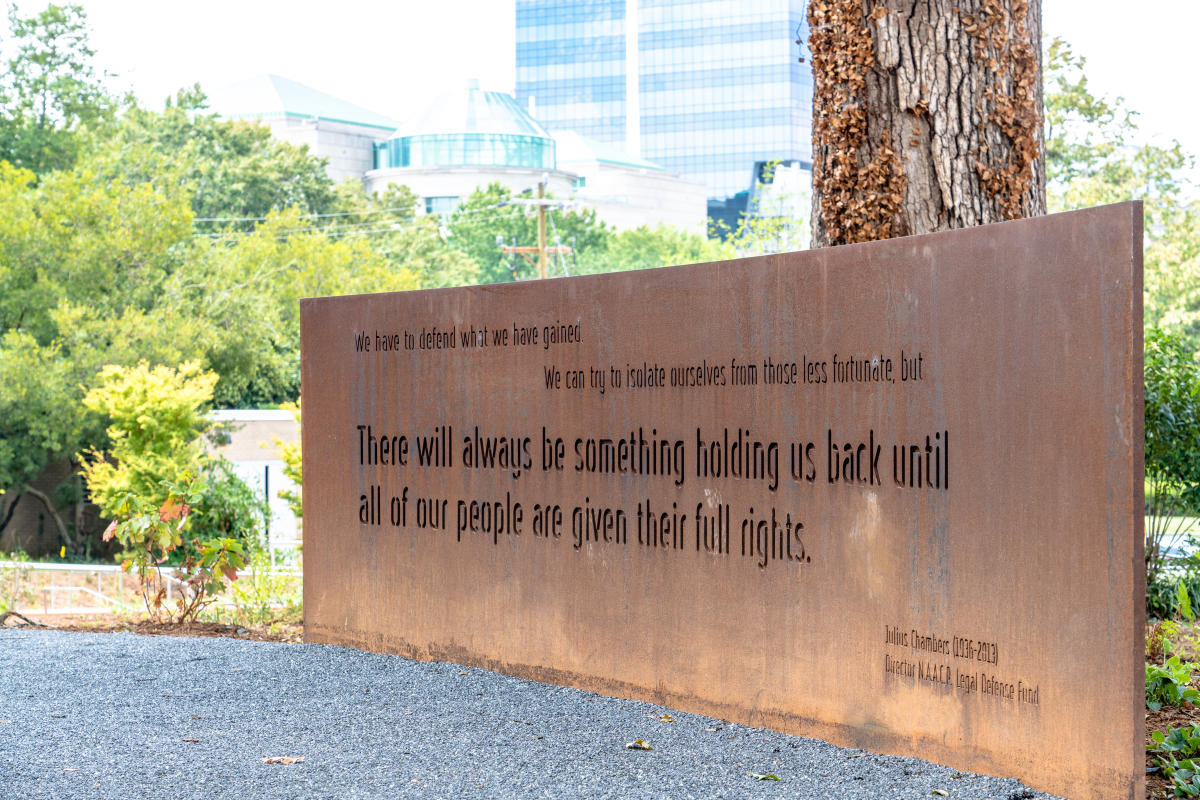 Built by Holt Brothers Construction—a Raleigh firm founded by former NFL players Torry and Terrance Holt—and designed by the late architect Phil Freelon—widely known for his exceptional work on projects including the Smithsonian National Museum of African American History and Culture in Washington, D.C.—the park is defined by two main features. 
The park's walkways and benches are surrounded by inscriptions of words from African Americans that played an important role in Tar Heel State history—Ella Baker, Maya Angelou, Pauli Murray, Anna Julia Cooper, James E. Shepard and more. A total of 20 quotations and markers make up a feature called the Voices of Freedom.
According to the NCAAHC, "Voices of Freedom is an inspiring compilation of quotes that resonates with the enduring spirit of African American North Carolinians who emerged as trailblazers in the pursuit of equality, civil rights and societal transformation....Through their wisdom and unwavering determination, they not only shattered the chains of oppression but also paved the way for a more just and inclusive society. Each quote encapsulates a unique perspective, reflection or a stirring call to action, reminding us of the strength that arises from unity and the tireless pursuit of justice." 
The second feature lies at the center of the park, where five walkways converge. The Beacon of Freedom is a 45-foot-tall work of art that will be lit up each evening, shining a light into the night sky as it represents freedom's flame. The gathering area surrounding the Beacon of Freedom will serve as a place for speeches and readings, musical events, dramatic productions and other community activities.
At the ribbon-cutting ceremony on Aug. 23, North Carolina Freedom Park board member and former UNC-Chapel Hill history professor Reginald Hildenbrand noted that the "Beacon of Freedom will shine into the night sky beginning tonight. Long after all of us are gone, these walls will still be reminding people that the battle for freedom begins every morning....Whatever challenges you may face, like [the Voices of Freedom], keep your eye on the Beacon."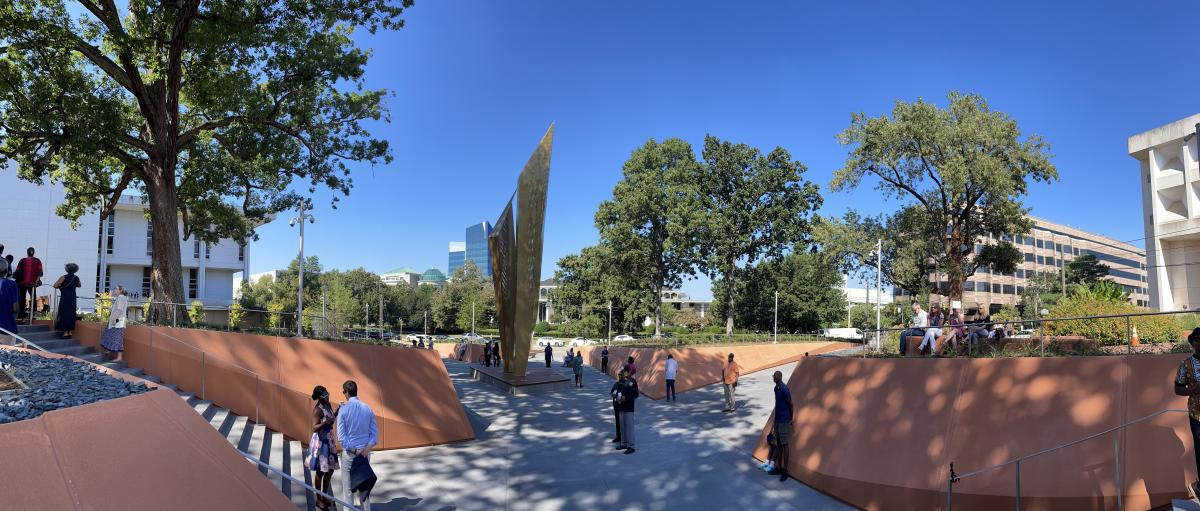 North Carolina Freedom Park is now open daily from dawn to dusk at 218 N. Wilmington St. in downtown Raleigh. You can learn more about the park, plus read all of the quotations included in the Voices of Freedom, at aahc.nc.gov. 
Comments