Seven Places to Eat Near the Duke Energy Center for the Performing Arts in Raleigh, N.C.
Friday, December 14, 2018, 4pm by Tabletop Media Group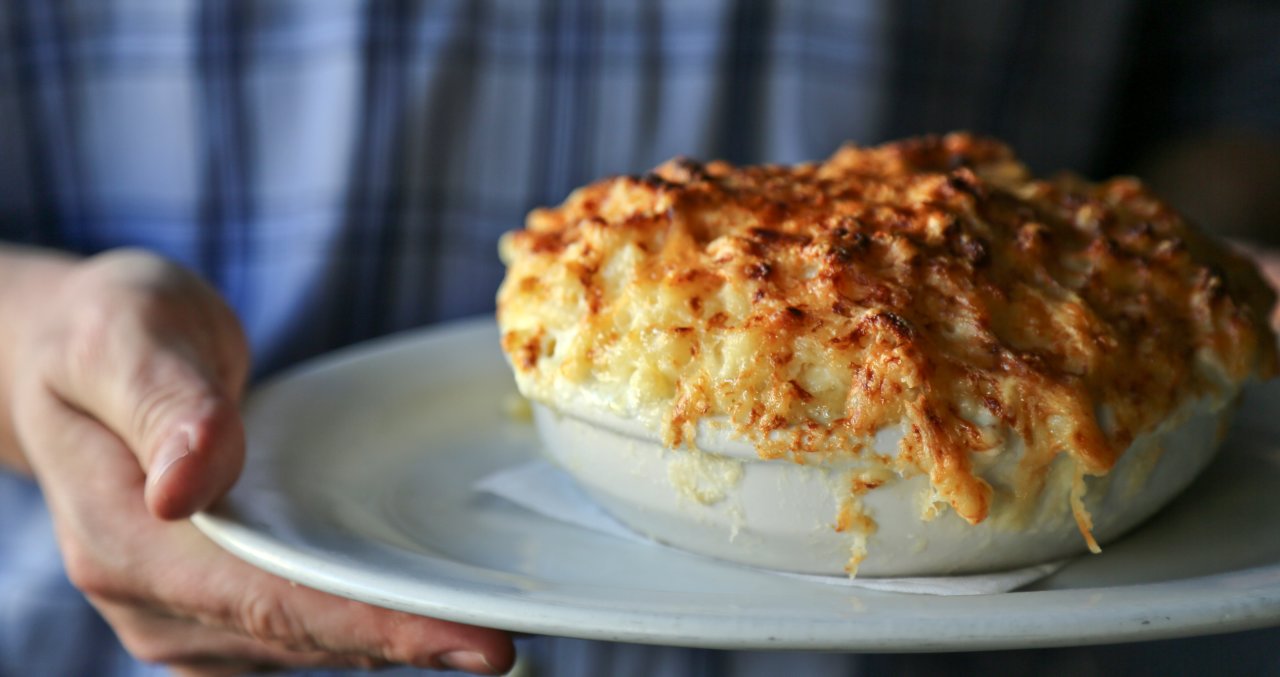 Bookending the south end of downtown Raleigh's Fayetteville St. (and with the Downtown Raleigh Christmas Tree this holiday season!), the Duke Energy Center for the Performing Arts is packed with plenty of festive performing arts productions. Shows including Rudolph the Red-Nosed Reindeer: The Musical and Carolina Ballet's The Nutcracker, plus holiday concerts from the North Carolina Symphony fill out the Dec. calendar—pair one of those with a delicious dinner, and you have the perfect date night or evening with friends and family. And there's no shortage of top-notch restaurants just a hop, skip and a jump away from the Duke Energy Center, with choices from vegan and Italian food to craft cocktails and beer. Grab a seat and enjoy food and drink at one of these seven restaurants when you come for a show!
 
Three-minute walk
The brainchild of James Beard Award-winning chef Ashley Christensen, Poole's is a modern diner with retro-chic charm that includes its signature double-horseshoe bar and a menu inspired by the season, offering carefully-executed, creative and simple foods. A super-popular dish to chow down on is the macaroni au gratin, one of a few items that never leaves the chalkboard menu and is made with three cheeses, topped with sea salt and finished with the broiler (more than 15,000 dishes are sold each year!). Tip: Get there early so you can grab a seat since the restaurant doesn't take reservations—and if you have to wait, trust us, it's worth it.
Three-minute walk
The expansive restaurant of the Raleigh Marriott City Center, Rye is a favorite pick for show-goers—you'll see people dressed up on dates and with family and friends before or after shows filling up on the restaurant's Southern dishes or with a cocktail in hand. Rye's menu is a refined take on traditional Southern cuisine and includes options like sweet potato hush puppies to start with and a ribeye steak with a garlic herb butter, roasted potatoes and grilled broccoli rabe. Sit by their fireplace and try the Chocolate Raspberry White Russian, garnished with fresh raspberries and a candy cane.
Living Kitchen
Three-minute walk
One of the closest restaurants to the Duke Energy Center on this list is Living Kitchen, a raw and organic restaurant with a menu consisting of plant-based items and juices. Try a bowl of their delicious spin on pad thai or the manicotti created with zucchini noodles. Of course, you have to finish off a meal with dessert. Order a coffee drink from their espresso bar along with a slice of lemon berry cheesecake, which is made from cashews. 
Five-minute walk
The restaurant of the Sheraton Raleigh Hotel, Jimmy V's serves up delicious Italian/American comfort food using locally-grown ingredients. Stop by before a show to grab a pizza made from their woodstone fire deck pizza oven. You can even watch Jimmy V's talented pizzaiolos create world-class pies right before your eyes! Not in the mood for pizza? Try a few of their pasta dishes like the short rib pappardelle or smoked chicken ravioli, or choose from their wood-fired specialties menu with options like crab dip or brown butter and sage chicken.
Nine-minute walk
Fiction Kitchen is a 100-percent vegetarian kitchen thoughtfully preparing both vegan and vegetarian cuisine, and the beer, wine and crafted cocktail menu is always impressive. Some favorite menu items include the crispy fried "chicken" and waffles, as well as the curry bowl with house-made yellow curry, coconut milk and seasoned vegetables served with basmati rice on the side. Located just a few blocks away from your show and housed in a lime green building, you won't miss this restaurant on your short walk over.
b.good
Three-minute walk
A recognizable name around the country, you may be familiar with b.good's fresh, made-to-order seasonal salads, locally-raised beef burgers and turkey burgers. If you want a quick, fresh bite before a production, b.good is a great place to hit. Want a brew with that burger? b.good offers up local beers to give you a taste of the area's beer scene.
Gigi's Pizza
Four-minute walk
Pizza is the star at Gigi's but this restaurant also offers tasty calzones, strombolis and salads. It's another quick-bite, sit-down place very close to the Duke Energy Center and particularly a good option for families with kids (who might be catching that Rudolph production!). For the adults: Gigi's offers a self-service beer wall to select craft beers from!


See a full list of downtown Raleigh restaurants here!
 
Header photo: Angie Mosier
Comments